Information on the "IKE DIKE" Coastal Barrier
---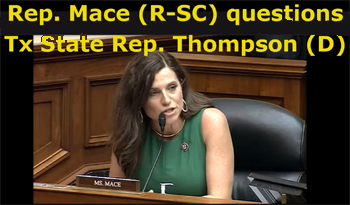 July 31: One America News Network: Representative Mace (R-SC) takes on Texas Democrat representatives about voter ID (video)
Republican House member Nancy Mace grilled Texas State Democrat Representative Thompson about voter ID requirements.  She started asking if a person needed an ID to buy alcohol, cigarette, to pick up prescriptions.  She went on ask to whether Thompson needed an ID in order to fly a charger airplane to Washington, DC and then shifted asking what percentages of white and black Texans were registered to vote (72% | 70%).  It was a very interesting exchange which is worth watching.

July 30: The Washington Times: Biden, Harris, Pelosi, and Schumer meet; agree to continue to press for nationalizing voting rules
Joe Biden and congressional Democratic leaders, stymied by Republican opposition to their highly partisan voting-rights bills, agreed Friday to keep pushing for legislation "reflecting the priorities and values" of two stalled measures.  Biden and Kamala Harris met at the White House with House Speaker Nancy Pelosi and Senate Majority Leader Charles Schumer ahead of a month-long congressional recess. Their discussion focused on what to do about Democrats' inability to advance the two measures that would nationalize election standards for federal elections; including the prohibition of voter ID.  A large percentage of Americans favor having voter ID requirements Republicans oppose both measures, and the prospects of passing the evenly divided Senate are probably nil. 

July 30: The Daily Caller: Documents show group worked secretly with school board members to get Loudon County Christian teacher fired; recall election efforts gain steam to remove those school board members
Members of an activist Facebook group, including a member of the Loudoun County school board, secretly planned to get a gym teacher fired by disrupting "school activities," according to screenshots of the post.  The group, "Anti-Racist Parents of Loudoun County," targeted Leesburg Elementary School gym teacher Tanner Cross after he had publicly opposed a proposed policy regarding transgender students.   A court decision ordering Cross's reinstatement after he sued is currently being appealed by the Loudoun County school board.  An "action item" regarding Cross was posted in the group on June 1. In March, a post in this group calling for the creation of a list  of parents opposed to the use of critical race theory in Loudoun County public schools with the intention to "expose these people publicly" came to light and triggered a recall campaign  aimed at six members of the Loudoun County school board.  As of July 26th, over 90% of the needed signatures to force a recall election had been obtained. 

July 30: The Washington Examiner: DOJ sues Abbott for executive order prohibiting the transportation of migrants with Texas
The U.S. Justice Department is suing Governor Abbott (R-TX) of an executive order he signed on Wednesday.  The executive order states that "No person, other than a federal, state, or local law-enforcement official, shall provide ground transportation to a group of migrants" who are detained by federal immigration officials for illegally crossing the southern border.  It directs DPS to "stop any vehicle upon reasonable suspicion of a violation," providing department officials the authority to "reroute such a vehicle back to its point of origin or a port of entry." Abbott said this was necessary because Joe Biden is refusing to enforce laws passed by the Congress and because of Texans being exposed to COVID-19 and the delta variant brought into the country by these migrants.  DOJ's suit claims "No State may obstruct the Federal Government in the discharge of its constitutional responsibilities." 

July 29: One America News Network: AZ Senate subpoenas Dominion (video)
For months, the Arizona Senate has been in a standoff with Maricopa County over the routers, passwords and logs for the voting machines. In a last attempt to resolve the dispute out of court, the state subpoenaed the county and Dominion whom officials says is the only entity who has the administrative passwords to the machines. 

July 29: The Epoch Times: Capitol police walk back directive for arresting people who don't wear masks in the US Capitol — Mask are required on the House chamber, not the Senate… the "science" changes as you walk from one side of the building to the other
The United States Capitol Police (USCP) reversed a decision to arrest people who do not comply with Tuesday's reinstatement of the mask mandate.  "Regarding the House mask rule, there is no reason it should ever come to someone being arrested. Anyone who does not follow the rule will be asked to wear a mask or leave the premises. The Department's requirements for officers to wear masks is for their health and safety," the USCP said. Rep. Kat Cammack (R-FL) said she has received a memo in which Speaker Nancy Pelosi (D-CA) told police to arrest visitors who did not comply with mask mandate and report members of congress.  "In today's edition of Pelosi's abuse of power, Capitol Police have been directed to arrest staff and visitors to comply with her mask mandate for vaccinated individuals. For Members, they advise not arresting but 'reporting Members to SAA for their failure to comply,'" wrote Cammack in a statement. 

July 29: The Daily Caller: Sen. Kennedy (R-LA): You want me to vote for your nomination after you post this pro-abortion stuff on Twitter?
Sen. John Kennedy (R-LA) flustered Joe Biden's nominee to a senior position in the Department of Justice (DOJ) by quizzing him on a tweet during a confirmation hearing.  Kennedy pressed Dellinger on a 2019 tweet in which he claimed that "if there were no Republican men in elected office, there would be no abortion bans."    "You wrote it. Here it is, bigger than Dallas," Kennedy said as he held up a photocopy. "Do you think that my votes with respect to abortion are based on the fact that I want to control women?"  "You said every Republican, other than the ones that you like, have their position on abortion because they're misogynistic … Did it ever occur to you that some people may base their position on abortion on their faith?" Kennedy asked.  "You're up to be nominated. You want me to vote for you?" Kennedy asked.

July 29: Fox News: "Kiss My Mask;" Dem mayors and governors face blow back as they attempt to mandate mask wearing again
Democratic leaders around the country are facing criticism and blowback after they rushed to reimpose unpopular mask mandates following updated coronavirus guidance from the Centers for Disease Control and Prevention.  The CDC said this week that even vaccinated individuals in areas deemed as high-risk should return to wearing masks indoors – prompting the new wave in face-covering requirements.  But the mandates are unpopular for numerous reasons. Some say the masks irritate them or hinder their breathing. People who wear glasses have to deal with fogged-up lenses that make it nearly impossible to see when they enter a building. And many critics have argued that requiring face coverings is government overreach.   The pushback has been especially pronounced among House Republicans, who have criticized Speaker Nancy Pelosi's rush to embrace mandates once again.

July 29: The Epoch Times: ME church seeks SCOTUS relief from Maine governor's mandates
A Maine church filed a motion in the SCOTUS on July 27, seeking to prevent Gov. Janet Mills from issuing new COVID-19 restrictions.  Calvary Chapel of Bangor, alleges that the governor "continued to impose discriminatory and unconstitutional restrictions on religious worship services," and even though Mills suspended the restrictions, "Calvary Chapel 'remains under a constant threat' that the governor will reinstate her unconstitutional restrictions at any time."   Mills had issued a series of executive orders declaring religious services to be non-essential and illegal if they contain more people than she mandated.  The petition points out that in March 2020, Mills allowed businesses such as "Marijuana Dispensaries," "Spas," or "Tattoo Parlors" to operate, by the Calvary Chapel's religious worship was not allowed.

July 29: The Washington Free Beacon:  Federal government gives defund the police group $89 million this year
The federal government provides tens of millions of dollars each year to a nonprofit group that supports the movement to defund police departments and dismantle the criminal justice system.  Officials with the Brooklyn-based Vera Institute of Justice have urged the government to "radically dismantle" police departments in order to fix a system they say dehumanizes people of color. The institute is heavily funded by the federal government. So far this fiscal year, the Department of Justice, Department of Health and Human Services, and other agencies have awarded the Vera Institute more than $89 million in contracts and grants. The organization has received $811 million in federal funding since 2008, according to USA Spending, a federal budget database.  Meanwhile some Democrats see these, and other, defund the police efforts as an electrified third rail in the upcoming election cycle.

July 28: Zero Hedge: USA Today "scrubs" references suggesting vaccinated individuals may spread COVID with "Higher Levels" of the virus
"NBC News, citing unnamed officials aware of the decision, reported it comes after new data suggests vaccinated individuals could have higher levels of virus and infect others amid the surge of cases driven by the delta variant of the coronavirus," the USA Today reported in a passage that was later scrubbed from an article.  The story from the USA Today drops the reference to NBC News, but nonetheless corroborates the news: "CDC says vaccinated people may transmit virus, recommends masks indoors."   "CDC Director Dr. Rochelle Walensky said new data shows the delta variant, which accounts for more than 80% of the new infections in the U.S., behaves 'uniquely differently' from its predecessors and could make vaccinated people infectious," the article notes.

July 28: The Epoch Times: Biden seriously considering requiring vaccinations for all federal employees
Joe Biden said on Tuesday that his administration is considering mandating that all federal workers get the COVID-19 vaccine.   "That's under consideration right now," Biden said when asked if federal employees should be required to get vaccinated.  Biden was addressing members of the intelligence community.  Biden also blamed people who are unvaccinated for fueling the pandemic, in a response to a question about whether the Centers for Disease Control and Prevention (CDC)'s new mask guidance sowed confusion in Americans. 

July 28: The Washington Examiner: DOJ bullies and escalates warnings to GOP states over election integrity laws and audits; blue states need not be concerned
The Justice Department fired a fresh round of warning shots at Republican-led state voting laws and GOP-led 2020 election audits on Wednesday.   With the release of two new federal guidance memos, Attorney General Merrick Garland made it abundantly clear he's not easing the pressure after he filed a high-profile lawsuit against Georgia last month and threatened action against the Arizona Senate's audit of the Maricopa County election ahead of its release of a report expected later this summer.   DOJ made it clear that it will use all its resources if eligible citizens are denied voting rights and access.  Having read the Texas voter integrity legislation I can tell you that I have not seen any provisions that are designed to keep eligible voters from voting, while increasing penalties for mail in vote harvesters.   In its move, DOJ is going beyond normal bounds by stating that states that go back to conducting elections as they did prior to Covid-19 are not excluded from a detailed review of their election practices. 

July 28: The Washington Times: Senior Dems bristle at being excluded from infrastructure discussion; threaten to bolt
Senate Majority Leader Charles Schumer (D-NY) is rushing to prevent a revolt by senior Democrats in his caucus who bristle at being cut out of the bipartisan $1.2 trillion infrastructure deal.  The anger is most notable among committee chairs. Many have waited more than a decade for Democrats to control both the White House and Congress only to see their hopes for passing a big infrastructure package usurped by a bipartisan group of 10 lawmakers.  "Some of these guys have never chaired a committee," said an aide to a senior Democrat. "They're angry at having a potential spending bonanza bypass them, when their committees rightfully have purview over the matter."  Schumer plans on holding the cloture vote Wednesday amid concerns that waiting longer will only give the committee chairs more time to stew about being left out of crafting the deal.  [Update:  Later in the day 17 Senate Republicans joined with the Democrats to allow the infrastructure bill to be debated, even though the bill has yet to be written.  The vote was 67-32.] 

July 28: The Daily Caller: Federal Reserve: Inflation could be "higher and more persistent" than initially predicted
The Federal Reserve admitted Wednesday that inflation could increase quicker and for longer than the central bank has projected in recent months.  Inflation could turn out to be "higher and more persistent" than previously expected if supply constraints continue to plague many economic sectors as they are now, Board Chairman Jerome Powell said during a press conference. According to Forbes, Fed officials have repeatedly stated that consumer price increases would be "transitory," lasting 6-9 months.  "Inflation has increased notably and will likely remain elevated in coming months before moderating," Powell said.  "As the economy continues to reopen and spending rebounds, we are seeing upward pressure on prices, particularly because supply bottlenecks in some sectors have limited how quickly production can respond in the near term," he contended.

July 27: The Daily Caller: If you can't get your way then bully those who disagree with you?  Rev. Jesse Jackson and 38 others arrested in Arizona refusing to leave Democrat Senator's office
Jesse Jackson and 38 others were arrested Monday for refusing to leave Arizona Democratic Sen. Kyrsten Sinema's office in Phoenix, Arizona.  Jackson urged activists to fight for voting rights and an end to the filibuster, according to the Arizona Independent.  Hundreds of activists marched a mile to Sinema's office chanting "end the filibuster now." They said removing the filibuster would allow Democratic senators to pass voting-rights laws and raise the federal minimum wage, the outlet reported.  Warning:  Be careful what you ask for.  When Senator Harry Reid (D-NV) got rid of the filibuster for nominations – because some of the Democrat nominations were being held up – it allowed President Trump, a few years later, to appoint and get confirmed a large number of constructivist judges when the Republicans took over the chamber.  Senator Byrd (D) warned Reid against changing the filibuster rules, but he didn't listen!

July 27: Fox News: Cliff hanger in the making as Newsom's challenger takes the lead among likely California voters in the Governor's recall election
Californians likely to vote in September's recall election of Governor Gavin Newsom are divided on whether to oust the Golden State's first-term embattled Democratic governor, according to a new poll.  And a UC Berkeley Institute of Governmental Studies/LA Times survey released on Tuesday indicates that conservative talk radio host Larry Elder, who won a court battle last week to appear on the ballot, is the current front-runner among the nearly four dozen candidates running to replace Newsom, should he be recalled.  The poll indicates how crucial turnout will be in the September 14th election in a state where registered Democrats greatly outnumber registered Republicans, but Republicans appear to be more motivated to cast ballots in the recall contest. Although Republicans only account for roughly a quarter of all registered voters in California, the poll indicated they made up a third of those most likely to vote.

July 27: Townhall.com: Interesting question; if the vaccine is supposed to protect people from the Chinese Communist Party coronavirus, why are masks necessary?
Speaking to reporters at the White House Tuesday afternoon, Press Secretary Jen Psaki confirmed the CDC will recommend masks be worn by vaccinated individuals who live in areas with high numbers Wuhan coronavirus cases. The CDC will also recommend masks for unvaccinated children under the age of 12 at school and inside the home. During a back and forth with Fox News correspondent Peter Doocy, Psaki was asked why vaccinated individuals have to wear masks at all if the vaccines are effective against the disease. She was unable to provide a meaningful answer based upon science.   In addition, Psaki said federal agencies, such as the Veterans Administration, may institute vaccine mandates.  VA Secretary Denis McDonough was the first to do so on Monday for thousands of VA employees working in the government healthcare system.

July 27: The Washington Times: CDC looking at flip flopping guidance and calling for vaccinated individuals to wear masks
The Centers for Disease Control and Prevention on Tuesday will reportedly advise vaccinated persons to wear masks in indoor public spaces in parts of the U.S. with high or substantial transmission of the coronavirus, a major reversal of guidance issued two months ago as fears around the delta variant grow.  Officials will also tell vaccinated persons who live with vulnerable persons, such as young children and immunocompromised, to wear masks when they enter indoor public spaces, according to CNN and The Washington Post.  And it will recommend that all students, teachers and staff wear masks when school reopens in the fall.

July 26: Fox News: Biden; "You're a pain in the neck" but I will answer your question
Joe Biden called a reporter a "pain in the neck" Monday in the Oval Office for asking him a question that was off his preferred topic of Iraq.  Sitting in the Oval Office with Iraqi Prime Minister Mustafa Al-Kadhimi, Biden smiled as NBC's Kelly O'Donnell asked him to comment on Veterans Affairs Secretary Denis McDonough's announcement that front-line VA workers would be required to get a coronavirus vaccine.  "You are such a pain in the neck, but I'm going to answer your question because we've known each other for so long," he said. "It has nothing to do with Iraq … I'll answer your question. Yes, Veteran Affairs is going to, in fact, require that all doctors working in their facilities are going to have to be vaccinated."

July 26: Fox Business: Unemployed Floridians sue state for cutting off additional benefits that, for some, is more than they could make by working in the middle of worker shortages
Out-of-work Americans in Florida filed a lawsuit against Republican Gov. Ron DeSantis on Monday seeking to reinstate a pandemic relief program that paid out an extra $300 a week in unemployment benefits.  In a complaint filed late Sunday on behalf of 10 unemployed Floridians, three attorneys argued that DeSantis, as well as the Florida Department of Economic Opportunity and its director Dane Eagle, violated their "clear legal and statutory duty to secure such benefits for employees" by prematurely ending the benefits.  The attorneys are requesting an emergency injunction to force Florida to reinstate the $300 a week benefit until the case is decided, as well as provide four weeks of retroactive benefits.

July 26: One America News Network: 430 people killed in shooting over the last week
Shocking numbers from the GVA indicate more than 900 shootings took place in the U.S. between July 17 and July 23. In the 915 shootings accounted for, at least 430 people were killed with more than 1,000 injured. This comes as people across the nation are urging government officials to take action as gun violence surges.  The Gun Violence Archive (GVA) is a non-profit group that tracks data and numbers are constantly changing. GVA numbers show there were more than 43,000 gun deaths last year, marking the highest total in 20 years. On top of that, more than 170 of those victims were under the age of 12. However, the archive suggests the number of gun fatalities is expected to grow even higher this year with more than 24,000 gun deaths already recorded in 2021.

July 25: Fox News: Trey Gowdy; hypocrisy of Rep. Bush on personal security
"Sunday Night in America" host Trey Gowdy tore into progressive "Squad" member Rep. Cori Bush, (D-MO) after campaign filings revealed she spent a shocking $70,000 on private security while publicly calling for reduced police budgets nationwide.  "Members of Congress are spending more money than ever on their personal security," Gowdy, a former GOP congressman told viewers. "It's a track tragic reflection of the times we live in. Members of Congress have been threatened with all acts of violence. Because of these threats of violence, members of Congress are allowed to spend campaign money on their safety… safety is priority number one for members of Congress, as it should be. But what about you?" he said in his opening monologue.  He encouraged viewers to consider their personal safety as the country grapples with an unprecedented crime wave.

July 25: One America News Network: Many parents moving to homeschooling after pandemic
As schools plan to resume in-person learning, more parents have decided to homeschool their children. According to an Associated Press report, parents found homeschooling during the pandemic to be beneficial for their children.  "In the beginning, the biggest challenge was to unschool ourselves and understand that homeschooling has so much freedom," said Arlena Brown, mother of four. "We can go as quickly or slowly as we need to."  Across the board, parents claim more one-on-one time and flexible schedules allow them to take ownership of their child's education.

July 24: Detroit Free Press: Michigan Gov. Whitmer stripped of emergency powers
Michigan legislators have stripped Gov. Gretchen Whitmer of the emergency powers she freely wielded during the coronavirus pandemic.   The state Senate approved the Unlock Michigan initiative on July 15. On Thursday, the state House passed the measure with a 60-48 vote largely along party lines.   The move will take effect in 90 days.  Whitmer utilized powers granted by the Emergency Powers of Governor Act of 1945, which allowed her to enact significant health and safety restrictions in the early days of the pandemic.  "Hundreds of thousands of our families, friends and neighbors changed Michigan forever when they decided they had enough and stood up to make a difference," Republican Speaker Jason Wentworth said in a statement.   "They deserve a state government that is willing to do the same. They've earned that much. That's why we had their back today and put this petition into law."

July 24: Breitbart News: Herschel Walker blasts Olympia protests saying "if people don't like the rules, then why are you here?"
Football legend Herschel Walker recently sounded off about Olympians protesting the American flag and kneeling before the games.  He questioned if the Olympics is the "right place" for Americans to protest their own nation in light of athletes from other countries "who would love to represent the United States of America" if they had the opportunity.  Walker competed in the 1992 Olympics when he raced with Team USA's two-man bobsled team. He described the experience as one of his proudest moments "coming from South Georgia and representing the United States."  Walker noted, adding, "I couldn't have been more proud of anything."

July 24: The Washington Times: Dems' embracing of BLM nominee may put their domestic terrorism message at risk
By falling in line behind Tracy Stone-Manning, Democrats may have ensured her confirmation to head the Bureau of Land Management (BLM) but they also muddied the Biden administration's message on domestic extremism — and handed Republicans an explosive ecoterrorism narrative.  Moments after the Senate Energy and Natural Resources Committee advanced the nomination Thursday on along party-lines, the Colorado Republican Party ripped Democratic Sen. John Hickenlooper for supporting Stone-Manning when the Senator knew full well her role in a 1989 tree-spiking plot which put the lives of people at risk. "This morning, John Hickenlooper voted to move forward an eco-terrorist and proven liar to lead the Bureau of Land Management," Colorado GOP chairwoman Kristi Burton Brown said in a Thursday press release. "I believe that Colorado ranchers, loggers, farmers, and outdoors enthusiasts all deserve a leader at the BLM who isn't an extremist."

July 24: The Washington Free Beacon:  Look what government-backed groups want to teach to your young children
Justin Thiel, 31, was ready to send his oldest daughter to kindergarten at the public school in his rural Nebraska town. He made a sudden change of plans once he read the new sex education standards adopted by the state.  The National Sex Education Standards, which provided a roadmap for Nebraska Department of Education, teach kindergartners the names of reproductive body parts and define gender identity and reproduction. Children in Grades 3-5 are taught about masturbation, hormone blockers used to transition pre-pubescent children, STDs, and the differences between cisgender, transgender, nonbinary, and "gender expansive." Grades 6-8 are taught about abortion, contraception, and differences between vaginal, oral, and anal sex. Grades 9-10 must teach "reproductive justice," which entails unlimited abortion access.

July 24: Townhall.com: Mississippi takes aim at Roe v. Wade as state law heads to SCOTUS
Is the Supreme Court going to overrule Roe v. Wade? That's the question raised by a Mississippi abortion case soon to come before court.  "The conclusion that abortion is a constitutional right has no basis in text, structure, history, or tradition, the attorney general of Mississippi, Lynn Fitch, writes in her brief. Specifically in question is a Mississippi law that prohibits abortion after 15 weeks, with exceptions for when the life or physical health of a mother is endangered, or in the case of severe, fatal abnormalities for an unborn child. Mississippi wants the court to throw out Roe and leave abortion legality up to the states. In states like New York, abortion would almost certainly remain.  The brief explains the reason for the law:  "At 5-6 weeks' gestation, 'an unborn human being's heart begins beating.'" And that at about eight weeks, the developing baby begins to move about in the womb. At nine weeks, "'all basic physiological functions are present.' As are teeth, eyes, and external genitalia." At 10 weeks, "'vital organs begin to function' and 'hair, fingernails and toenails ... Begin to form.'" At 11 weeks, there may be hiccupping as the diaphragm forms. At 12 weeks, there can be the opening and closing of fingers, "'sucking motions,'" and the baby "'senses stimulation from the world outside the womb.'" At that point, the child "'has taken on the human form in all relevant respects.'" In short, it describes what a mother and father who are welcoming their unborn baby see in ultrasounds. 

July 24: The Washington Times: 160,000 demonstrators reject France's proposal to have a special COVID-19 pass in order to enter a restaurant and the vaccination of all healthcare workers
Some 160,000 people protested Saturday across the country against a bill requiring everyone to have a special virus pass to enter restaurants and mandating COVID-19 vaccinations for all health care workers.  Similar protests were held in neighboring Italy.  Police fired water cannons and tear gas on rowdy protesters in Paris, although most gatherings were orderly.  Protesters chanting "Liberty! Liberty!" gathered at Bastille plaza and marched through eastern Paris in one of several demonstrations Saturday around France.

July 23: The Daily Caller: An analysis of what progressive bail reform is doing to American cities
One of the most popular policies among "progressive prosecutors" is creating headaches for many police officers and attorneys, not to mention individual citizens.    "Because we are sworn to protect and serve the public, we sincerely hope that we will not be proven right about this new law," the Illinois Law Enforcement Coalition said in a statement earlier this year. "Please don't let us measure its dismal failure by the shattered lives it produces."  The statement was in response to a new criminal justice reform bill signed into law by Democratic Gov. J.B. Pritzker in February. Among the provisions in the law is the elimination of cash bail by the year 2023.  Illinois is simply following in the footsteps of several other Democratic-controlled jurisdictions (like Houston) that have drastically reduced, or eliminated almost entirely cash bail. The policy is popular among progressive prosecutors, who argue that cash bail needlessly incarcerates people of color and those who are poor for crimes they haven't yet faced trial for.  Amid a skyrocketing murder rate in nearly all of America's major cities, some are beginning to question if this popular progressive policy is linked to the rise in homicides.  Many law enforcement agencies place the blame for the increase in crime squarely at the feet of elected officials, including mayors, city councilmen and judges.

July 23: The Epoch Times: 6th Circuit rules moratorium on evictions is unlawful
A federal court on Friday ruled that the U.S. Centers for Disease Control and Prevention (CDC) overstepped its authority by halting evictions during the Chinese Communist Party (CCP) coronavirus pandemic.  The Cincinnati-based U.S. Sixth Circuit Court of Appeals agreed unanimously with a lower court ruling that said the CDC engaged in federal overreach with the eviction moratorium, which the agency has consistently extended for months. Several weeks ago, the CDC announced it would allow the policy, which was passed into law by Congress, to expire at the end of July.  "It is not our job as judges to make legislative rules that favor one side or another," the judges wrote. "But nor should it be the job of bureaucrats embedded in the executive branch. While landlords and tenants likely disagree on much, there is one thing both deserve: for their problems to be resolved by their elected representatives."  Previously, the CDC's lawyers argued in court filings that Congress authorized the eviction freeze as part of its COVID-19 relief legislation, while simultaneously asserting that the moratorium was within its authority. Those arguments were rejected by appeals court.

July 23: One America News Network: Biden falling behind in 85 key Congressional districts by a nine point margin
The Biden administration has lost support on the key issue of border security in 85 battleground congressional districts. A poll conducted by the National Republican Congressional Committee throughout the month of July found that voters believed Republicans in Congress were better equipped to deal with the issue of borer security.  The data highlighted voters trusted Republicans more on the issue in districts represented by Democrats by a nine-point margin. In addition, the poll found Independent and Hispanic voters have shown increasing discontent with the Biden border crisis and found they disapproved of his policies by a 23-point margin.

July 23: The Daily Caller: Jan. 6 protestors at the Capitol branded by prosecutors as "terrorists" while admitting they don't meet the definition thereof
Federal prosecutors are attempting to pursue harsher sentences for those arrested for non-violent crimes in connection with the Jan. 6 protest at the Capitol by branding them as terrorists while acknowledging their actions don't meet the legal definition of terrorism.  Court documents from the case of Paul Hodgkins, the first Jan. 6 protestor convicted of a felony to be sentenced, show U.S. Attorney Mona Sedky saying that "we are framing this in the context of domestic terrorism," even though his actions do not meet any legal definition of terrorism.  "January 6th was an act of domestic terrorism," Sedky said at Hodgkins' sentencing hearing. "And we concede that Mr. Hodgkins himself is not under the legal definition a domestic terrorist, we're not assuming he is. But he was part and parcel of an act of domestic terrorism that was going on around him, and that context is relevant when the Court is deciding how to sentence him."

July 22: The Epoch Times: PA GOP to introduce new election integrity bill now that Democrat governor says he is willing to compromise
Pennsylvania state House Republicans will make another attempt at passing a voting overhaul bill after Democrat Gov. Tom Wolf signaled, he would support a measure that includes voter identification provisions.  House State Government Committee Chairman Seth Grove on Wednesday told other lawmakers in a memo that he'll reintroduce a bill that Wolf vetoed last month. Other than proposing new voter identification requirements, the bill would move up the voter registration deadline, limit drop-box usage, and would allow for the pre-canvassing of mail-in ballots.  Reports are that Gov. Wolf said he isn't opposed to voter ID.  Grove said, "The Pennsylvania Voting Rights Protection Act is solely predicated on the House State Government Committee's extensive election oversight hearings, the most extensive election oversight work in the entire country." Current law only requires voters in Pennsylvania to show identification when they vote for the first time, whereas the new bill proposes mandatory voter identification for every election. The new law would establish a department of election audits and fund it.  Although Wolf signaled he's open to discussions, other Democrats pushed back against Grove's latest proposal

July 22: The Texas Tribune: Beto funds Texas Dems' stay out of the state — $600,000 — of course he does!
Beto O'Rourke has funneled $600,000 to Texas House Democrats in Washington, D.C., to help fund their stay, which could last for up to another two weeks as the lawmakers attempt to block passage of an election integrity bill in the state Legislature. O'Rourke, who ran for the U.S. Senate, would favor getting rid of the filibuster in the U.S. Senate but supports what is essentially the same tactic by Texas Democrats who oppose election integrity legislation and who are "busting" the attainment of a quorum, thereby "filibustering" and stopping any legislation from passage. This includes bail reform, property tax relief, and guys competing as gals in women's spirting events. 

July 22: The Epoch Times: Biden opposes throwing out the filibuster altogether, well sort of
Claiming that "abuse of the filibuster is pretty overwhelming," Biden said he would support going back to the so-called "talking filibuster" standard, where to use the procedure to block legislation, at least one minority party senator would have to stand on the floor and keep talking. Current rules allow a senator to declare their intention to launch a filibuster against a bill or motion, and then what's known as a cloture vote is taken, which requires a 60-vote supermajority for further action on the matter.  "I would go back to that, where you have to maintain the floor," Biden said. "You have to stand there and talk and hold the floor."

July 21: The Washington Examiner: Voting machines in Fulton County PA decertified after audit of the 2020 vote count
Voting machines in Pennsylvania's Fulton County were decertified after local officials complied with a GOP-backed ballot audit and allowed a third-party contractor to access data.   The rural county, which borders Maryland, must do away with its Dominion Democracy Suite 5.5A voting system, employed in the 2020 presidential election, after Wake TSI, a software company, was allowed in December to gain access to and look over its "election database, results files, and Windows system logs," acting Secretary of State Veronica Degraffenreid told county officials in a letter on Tuesday.

July 21: Fox News<: Former Detroit Police Chief running to unseat Michigan Democrat Governor Whitmer
Recently retired Detroit Police Chief James Craig joined  "Tucker Carlson Tonight" Wednesday to expand on what he sees as the failed leadership of incumbent Michigan Governor Gretchen Whitmer, and announce a gubernatorial exploratory committee.   Craig, a Detroit native who spent the past 8 years leading the Motor City's law enforcement force – after tenures in Cincinnati and Portland – said that he "protected and served for 44 years" and now wants to do the same for the entire state of Michigan.

July 21: One America News Network: No chance it will go anywhere with Dems grip on House but GOP introduce bill to give funding to states that want to continue building a border wall
House conservatives have refused to back down against Democrats on border wall funding, saying it's their "hill to die on." This week the House Republican Study Committee revealed a bill to give $22 billion directly to border states that want to continue building President Trump's border wall.  Last month, the committee along with President Trump visited a section of the wall in Texas that was almost complete, but was stopped under Joe Biden.

July 21: The Epoch Times: Study: Texas' Oil and Gas industry supported 2.5 million jobs in Texas, 11.3 million nationally
Texas' oil and natural gas industry supported more than 2.5 million total jobs statewide in 2019, a new analysis found, contributing the most to the state's GDP and total income of any industry.  The industry contributed $411.6 billion to the state's gross domestic product, including $251.2 billion to the state's total labor income in 2019, the report found. 

July 21: Fox News: SC's GOP AG celebrates Biden reversal on use of the CRT handbook
The Biden administration claimed that it was an "error" when the Department of Education linked to a radical activist group's handbook that pushes critical race theory in schools, distancing itself from the organization to the relief of South Carolina Attorney General Alan Wilson.  Wilson hailed the administration's walk-back as a victory for families claiming that the reversal by Biden came after a large number of GOP Governors pressured the White House.  

July 20: Fox News:  Beyond belief!  Absent Texas Democrat lawmakers equate threat of arrest to force their presence at the Capitol in Austin to slavery
Texas State Rep. Senfronia Thompson – one of the Democratic lawmakers that fled Austin in order to shut down the Texas state legislature from considering legislation that would expand voting hours while tightening election integrity,  delivered a fiery speech in which she appeared to compare Texas officials threatening her arrest with the act of a slave escaping the plantation.   Speaking in Alexandria, Va., on Friday, Thompson, D-Harris County said her caucus "refuse[s] to be a hostage."  Interestingly enough, during a hearing earlier this month before the House Select Committee on Constitutional Rights and Remedies several witnesses provided proof of vote harvesting, dead people voting, and people voting in Texas who moved to New Orleans 20 years ago.  All of these election violations and incidents of election fraud occurred in Thompson's Harris County district and she is one of the leaders who fled the state in order to kill election integrity legislation.

July 20: The Washington Times: Runaway Texas Dems derailed as COVID-19
spreaders in group increase fears at the White House
The runaway Texas House Democrats framed their walkout as a bid to save democracy, but the message was swamped by a growing coronavirus outbreak that spilled Tuesday into House speaker Pelosi's office.  A Pelosi spokesperson confirmed that a fully vaccinated senior aide tested positive for COVID-19 after contact with the state legislators, the darlings of the Democratic Party until four days ago, when they started testing positive for the coronavirus.  Now six members, or more than 10%, of the caucus have contracted COVID-19, fueling a White House scare, eclipsing the group's civil rights narrative, jeopardizing their chances of meeting Joe Biden and prompting Republicans to accuse the legislators of stoking a superspreader event.

July 20: One American News Network:  White House:  Vaccines aren't 100%
effective or  "Fool" proof
White House Press Secretary Jen Psaki confirmed a fully vaccinated White House official tested positive for COVID-19. The comments came during a press briefing on Tuesday, where Psaki said the official contracted the virus "off campus."  The White House official, along with an aide for House Speaker Nancy Pelosi (D-CA), both tested positive despite both being fully vaccinated.  This comes after six Texas lawmakers, from the nearly 60 Democrats who went to Washington D.C., have reportedly tested positive for the virus. Reports mentioned at least one of the cases involving the two staffers could have been linked to the group of Texas Democrats.

July 20: The Daily Caller: Parents in Fairfax County VA force recall of
school board member over keeping schools closed
Virginia parents submitted thousands of signatures Monday in an attempt to recall a Fairfax County school board member over her opposition for returning to in-person learning during the COVID-19 pandemic.  Board member Elaine Tholen is accused of neglecting her duty for opting to keep schools closed for 12 months during the pandemic, WTOP News reported.  The Open FCPS Coalition claims to have submitted around 5,000 signatures for the recall, far more than the 3,500 that are required.  If a recall election is triggered, Tholen would become the first school board official in America to face a recall over support of school closures during the pandemic.

July 19: The Epoch Times: Texas state rep introduces measure to audit election results in the 13 most populous counties
A  Texas House representative announced Monday he's introducing a bill for a forensic audit of the most populous counties' election results.  According to the text of House Bill 241, introduced by Republican state Rep. Steve Toth, forensic reviews of counties with more than 415,000 population should be carried out before Nov. 1, 2021, and they should be completed before Feb. 1, 2022.  "Not later than March 1, 2022," the bill's text states, "the independent third party conducting the audit under this section shall submit a report to the governor, lieutenant governor, speaker of the house of representatives, and each member of the legislature detailing any anomalies or discrepancies in voter data, ballot data, or tabulation."  The counties that should be audited, would include Harris, Dallas, Bexar, Tarrant, Collin, Travis, Denton, Hidalgo, Fort Bend, El Paso, Williamson, Montgomery, and Cameron counties.  It's not clear whether the Republican-led Texas Legislature has the appetite for the sweeping audit, which would be one of the largest election reviews in U.S. history.

July 19: The Washington Examiner: Texas Democrat jaunt to shut down state legislature will cost $1.5 million
Texas Democrats' trip to Washington, D.C., attempting to block GOP-backed voting bills from passing in the state Legislature will cost $1.5 million, a state lawmaker said.   State Rep. Armando Walle projected the lawmakers'-chartered flights alone cost upward of $100,000, according NBC News. Other notable expenses will include food, hotel lodging, and transportation, he said.  Last week, nearly 60 Democrats fled Austin, paralyzing the state's House of Representatives and drawing ire from their GOP colleagues. The majority of the Democratic lawmakers boarded private jets to Washington to meet with federal officials after Republicans pushed two pieces of legislation that would tighten voter integrity procedures while increasing the number of hours polls are open across the state. It is unclear whether taxpayers will end up paying partially or wholly for the Democrats' trip.  Democrats have insisted that no taxpayer funds are being used in the excursion, but their Republican counterparts have posited said upward of $1 million will be paid by residents due to the prolonging of a special session.

July 19: One America News Network: Reports surfacing Biden is asking the FED
to curb the inflationary spiral administration started by their expansive spending
Joe Biden has reportedly begged the U.S. Central Bank to curb inflation that has been spiraling out of control under his watch. According to reports on Monday, Biden asked Federal Reserve Chair Jerome Powell to do "whatever it takes" to control inflation.   The reports indicate Biden officials have been worried that skyrocketing consumer prices would further erode his waning popular support. U.S. inflation rose 5.4 percent year-on-year this month, which was way above the Federal Reserve's two percent target.  Biden and his officials have refused to admit that inflation poses a problem.  Central Bank experts say the FED could raise interest rates to contain inflation. However, such a move would also increase interest payments on U.S. national debt, which is nearing $30 trillion and could make deficit spending even worse. 

July 19: Fox News:  China threatens to nuke Japan over Taiwan
The Chinese Communist Party aired a video in which it warned Japan of a nuclear response and "full-scale war" if the island nation interferes in China's handling of Taiwan.   The video, which appeared on a channel approved by the CCP, singles out Japan as the one exception to China's policy to not use nuclear weapons against non-nuclear powers. "We will use nuclear bombs first," the video said. "We will use nuclear bombs continuously. We will do this until Japan declares unconditional surrender for the second time."   The CCP claims that it will "liberate Taiwan," and it warns against Japan deploying "one soldier, one plane or one ship." The video was deleted from Chinese platform Xigua after gaining 2 million views, but copies were uploaded to YouTube.  The threats follow comments made two weeks ago by Japanese officials about Taiwan's sovereignty, with Deputy Prime Minister Taro Aso saying that Japan must "defend Taiwan," The Japan Times reported.

July 19: The Washington Times: Nearly two-thirds of likely voters polled
say Harris not prepared to be President
Kamala Harris apparently has some work to do with the voters before she seeks the top job.  Nearly two-thirds of likely U.S. voters, or 63.6%, said they are "not very confident" or "not confident at all" that Ms. Harris is "ready to be president," based on her six-month tenure as vice president, according to a poll released Sunday.  The Trafalgar Group poll of 1,000 likely 2022 voters found that only 31.6% were "somewhat confident of "very confident" in her ability to handle the job.  The lack of confidence was most pronounced among Republicans, 88.4% of whom said Ms. Harris was not ready, but a sizable percentage of Democrats — 42.6% — also showed little faith in the California Democrat. Independent voters fell in the middle at 61.8%.

July 18: The Washington Times: Judge's anti-DACA ruling has Democrats
scrambling to protect "dreamers"
A federal judge's decision against the DACA program injected new urgency into Congress ' desire to give "Dreamers" a permanent legal solution. Still, the court ruling did nothing to overcome the deep divisions that have blocked every attempt over the past decade.  Judge Hanen's bombshell opinion said the program, invented by the Obama administration in 2012, cut too many corners and cannot legally stand.  He halted approvals of applications, though he said the more than 615,000 active DACA recipients would retain their protections.  This puts the program back on the same footing it had during most of the Trump administration, and it tosses a political hand grenade into the laps of lawmakers on Capitol Hill.

July 18: The Washington Examiner:  GOP opposes expanded IRS enforcement
as part of the massive infrastructure bill
GOP senators working to negotiate a bipartisan $1.2 trillion infrastructure bill are ditching plans to strengthen enforcement at the Internal Revenue Service as a way to pay for the legislation, Senator Portman (R-OH) said, Sunday.  Portman is one of 22 senators working to negotiate a compromise solution.  The proposal to increase IRS enforcement was floating like a lead zeppelin among his colleagues.  "One reason it's not part of the proposal is that we did have pushback. Another reason is that we found out that the Democrats were going to put a proposal into the reconciliation package, which was not just similar to the one we had but with a lot more IRS enforcement," he said. 

July 18: Fox News: Former Surgeon General; the face mask mandates
might have been premature and wrong
Former U.S. Surgeon General Jerome Adams said coronavirus mask guidance may be "premature" or "wrong" in the face of potentially dangerous new variants.   Adams served as surgeon general under Trump, taking a prominent role throughout the early phase to fight off the pandemic. He recently voiced his own regrets and concerns over mask mandates since then.   "Last year Tony Fauci and I famously, prematurely, & wrongly advised against masks," Adams wrote in a rare admission of a misstep. "I felt it was the best call at the time, but now regret it."   "I'm worried the CDC also made a similarly premature, misinterpreted, yet still harmful call on masking in the face of [rising] delta variant."   He urged the Centers for Disease Control and Prevention to instead advise people to get vaccinated and wear masks in areas with higher cases of COVID-19 until numbers start to decline. 

July 17: One America News Network:  TEA Party president calls for GA
statewide ballot audit (video)
The president of Tea Party Patriots says in light of evidence of provable fraud in Fulton County, a forensic audit of ballots should be expanded to include all of Georgia. 

July 17: Fox News: US AG disregards pledge to be nonpolitical; blasts
states that strengthen election integrity laws
Attorney General Merrick Garland violated his pledge to avoid "politicizing" the Department of Justice (DOJ) by blasting states' election laws in a statement honoring the one year anniversary of the death of civil rights giant Democratic Rep. John Lewis.  "Since 2013, there has been a dramatic rise across the country in legislative efforts that make it harder for millions of citizens to vote. This increase accelerated after the 2020 elections," Garland said on Saturday.  "The recent further narrowing of voting protections only underscores the need for legislative action. The Department of Justice is using all the tools at its disposal to protect the voting rights of all citizens, but that is not enough. We need Congress to pass the John Lewis Voting Rights Advancement Act, which would provide the Department with important tools to protect the right to vote and to ensure that every vote is counted."

July 17: The Epoch Times: Legal teams seeking extent of Biden's coordination
with Big Tech in efforts to censor free speech  
A legal group is seeking information on the extent of the Biden administration's coordination with Big Tech after White House officials this week said they were in regular communication with the companies.  America First Legal filed on Friday a flurry of Freedom of Information Act requests seeking details on U.S. government agency communications relating to the current administration's effort to push Big Tech to censor speech.  White House press secretary Jen Psaki on Thursday told reporters that the administration is in regular touch with social media platforms and that officials are "flagging problematic posts for Facebook that spread disinformation."  Psaki, "from the White House press room, announced that the federal government is coordinating with social media platforms to silence Americans' voices," Matthew Whitaker, former acting attorney general and an America First Legal board member said.

July 16: The Daily Caller: "Any sane person would say hell no": Greg Gutfeld
says White House can't be trusted to identify "misinformation"
Fox News host Greg Gutfeld said Friday that the White House should not be trusted to identify and flag "misinformation" for Facebook.  Gutfeld and "The Five" co-host Jesse Watters argued that the White House did not have the best track record when it came to identifying false narratives — and that the "collusion" between the federal government and a social media platform like Facebook should be a huge red flag.  Watters began the segment with a clip of White House press secretary Jen Psaki, who explained that the White House was partnering with Facebook in order to stop the spread of misinformation specifically with regard to the coronavirus vaccines. Psaki argued that false narratives about the vaccines were putting people at risk.  "If you are a government official, you can crackdown on free speech and just say, 'Saving lives. We are going to take away your First Amendment. Saving lives,'" Watters said in response. 

July  16: The Washington Free Beacon: The U.S. could provide Cuban people
internet access cut off by the Communist regime
Federal Communications commissioner Brendan Carr says high-altitude balloons could be used to deliver internet to Cuba, as the country's communist regime shut down internet access to block protests from spreading across the country.  "There's an urgent need right now," he said, but "a lot depends on the level of federal support." The federal government could leverage a defunct google initiative that used stratospheric balloons like cell towers to deliver internet access.  Called Project Loon, the initiative was shuttered due to a lack of commercial viability. Sourcing the balloons and "de-mothballing" them from warehouses would pose a logistical problem but noted the technology had been successfully used around the world, including in Puerto Rico after Hurricane Maria destroyed cell towers in the country.  "The question is, how do we create the opportunity to continue to share videos and photos?"  Cubans have long struggled to access the web in Country due to censorship and poor internet infrastructure. According to the nonprofit Freedom House, Cuba has one of the lowest connectivity rates in the Western Hemisphere. Most Cubans don't have access to the outside world.  Here's a thought, how about using Gitmo as an internet hub.  At least that could reach the southeastern part of the island.

July 16: Fox News: Federal Judge: Biden Admin ordered to end
new DACA applications
A federal judge on Friday ordered the Biden administration to stop all applications for the Deferred Action for Childhood Arrivals (DACA) program, after a coalition of states sued and claimed that the Obama-era program was illegal.  DACA was established under the Obama administration in 2012 and granted protection from deportation for approximately 800,000 illegal immigrants who came to the country as children.  Judge Andrew Hanen, a Texas judge, found that DHS violated the Administrative Procedure Act (APA) in creating the policy. He found that the policy was "illegally implemented" and ordered DHS to stop approving DACA applications, although he said it does not affect the status of any current DACA recipients.  Joe Biden signed a memo after entering office to protect DACA, ordering DHS to take "all appropriate actions under the law" to preserve the program and calling on Congress to give a path to citizenship for recipients.

July 16: One America News Network: Effort to suppress free speech re: COVID-19:
Biden to monitor social media posts and to counter those it doesn't like
The White House announced their efforts with Facebook to take aggressive action on problematic social media posts. The administration said they would work to flag and censor anything they deemed to be disinformation about COVID-19.  Biden's surgeon general Dr. Vivek Murthy announced his advisory on the dangers of health misinformation, which he called a "public health threat."  The question one might ask is how would the mainstream media react if President Trump had attempted to take a similar action?  So far this time around there is little pushback from the media on this attempt to stifle free speech and to impose censorship.

July 15: One America News Network: More problems found in the
Georgia 2020 election (video)
In Georgia the law requires you to vote in the county you live in.  If you move to a new county within the state, you have 30 days to move your registration.  If you fail to do so, you will not be registered to vote.  Over all, in Georgia, the data indicates there were over 100,000 people who were in that position but still voted illegally, many unintentionally.  The data indicates that at least 35,000 cast votes in Georgia should be stricken from the election totals.  Joe Biden, reportedly won the election in Georgia by approximately 12,000 votes.

July 15: The Daily Caller: The White House is working closely with Facebook
to flag what they term "disinformation" on social media
White House Press Secretary Jen Psaki said Thursday that the White House is not only working with Facebook to flag disinformation on vaccines — it's also asking Facebook to share data on the reach and engagement of posts deemed disinformation.  "We're flagging problematic posts for Facebook that spread disinformation," she said.  Facebook was one of several social media platforms that attempted to suppress discussion of the theory that COVID-19 originated in a Wuhan lab, calling such discussion misinformation. Evidence has since been uncovered suggesting the theory holds merit.

July 15: Fox News Texas House Speaker charters flight for Democrats to
return to Austin
Texas' Republican House Speaker announced that he plans to charter a plane that will be on "standby" in Washington, D.C. waiting to bring home Democratic lawmakers that fled the state to avoid voting on an election integrity bill.   "I am demanding all of our colleagues in D.C. to contact my staff immediately in order to secure their seat on the plane and return to Austin in order to do the state's business," Speaker Dade Phelan said.  "The State of Texas is waiting." In addition to chartering the plane, Phelan also stripped El Paso Democrat Joe Moody of his leadership post.  Without the chamber quorum, Republicans have been unable to act on the legislation and voted on Tuesday to order state law enforcement officials to track down the fugitive members. 

July 15: The Epoch Times: Analysis of ballot images in Georgia shows
very probable voter fraud 
A group seeking to ensure that elections are run fairly said this week that an in-depth analysis of mail-in ballot images obtained through a court order shows that the hand-count audit in Fulton County Georgia last year "was riddled with massive errors and provable fraud."  The analysis of a sampling of ballots turned up at least 36 batches of mail-in ballots, containing 4,255 votes, that were added redundantly to the audit results, according to Voters Organized for Trusted Election Results in Georgia (VoterGA). Nearly 3,400 were for Democrat Joe Biden.  They also found seven audit tally sheets they believe were falsified to contain fabricated vote totals. In one example, the group said, a batch containing 59 ballot images for Biden and 42 for former President Donald Trump was reported as 100 for Biden and zero for Trump.  The analysis also revealed that 60% of the 1,539 mail-in batch files contained votes that were incorrectly reported by Fulton County election officials.

July 15: The Washington Free Beacon: Texas Democrat moves to counter
Biden decision to allow the mail order of abortion drugs
Texas Democrat Senator Eddie Lucio is leading the charge to outlaw mail-order abortions after the Biden administration made the controversial decision to legalize the practice.  He sponsored legislation to enact criminal penalties against companies and individuals who ship abortion drugs directly to women by mail. Joe Biden's federal regulators overturned a long-standing prohibition against abortion by mail in April, prompting pushback from pro-life lawmakers at the state level.  "The federal government has chosen not to enforce its regulations. … It will allow access to these drugs through the mail, and that is a major concern to me and to many people," Lucio said.   "Our thought here with this legislation is that pharmaceutical companies would not be able to mail the patient, or the woman, what we consider dangerous abortion pills."

July 14: Rumble.com: Tucker Carlson reports on the Georgia vote audit;
it's an eye opener (video)
Ballots scanned at least twice, mail-in ballots that were not folded as they would have to be if actually mailed, ballots that appear to have been filled in by a machine (printer) verses by a person and all voting for the same candidates, 35,000 voters who no longer lived in the county they voted in; it is all laid out in this Tucker Carlson Tonight video.  And this happened in a state where Joe Biden supposedly won by fewer than 13,000 votes.  But that is not all, the Senate races, two of them, could also have been impacted.

July 13: One America News Network: Arizona State Senator: Audit results
don't match the 2020 election results
Sen. Wendy Rogers (R-AZ) suggested the audit of 2020 elections was set to reveal massive fraud by Democrats. In a tweet on Tuesday, Rogers said the numbers from the Arizona audit did not match the purported outcomes of 2020 elections.  The senator added it was still unclear by how many votes or whether the audit would change election outcomes. This comes after Senate President Karen Fann (R-AZ) said the numbers didn't match in Maricopa County, as suspected previously.  "All we're doing is just counting number of ballots. It's a paper counting machine, is all it does," she explained. "They haven't released a number yet if you will, however, we do know that those do not match with the Maricopa County at this point."

July 13: Fox News: The Five host blasts Biden for lying about election
integrity legislation and inserting race into everything
Biden claimed Republican-led election security reforms in states such as Texas, Georgia and Pennsylvania are akin to "facing the most significant test of our democracy since the Civil War."  On "The Five," Greg Gutfeld said he was upset by Biden's race-infused rhetoric.  "He is a pathological, shameless liar," he said. "He ran on being a unifier, and all he does is bank on racial discontent. He is comparing this bill to the KKK [and] Jim Crow. All he does is foment racial conflict," Gutfeld said, additionally referencing the Texas election integrity bill that spurred the Democrats to leave the state. " In his speech, Biden said 17 states have enacted 28 new laws to "make it harder for Americans to vote."  Unfortunately, for those who actually read the Texas legislation, the opposite is the case with voting hours expanded and the option of correcting defects on absentee ballots (e.g., if a voter fails to sign the carrier envelope).

July 13: NewsMax: 4th Circuit Court says it is unconstitutional to keep
18-20 year-olds from having guns
A federal appeals court ruled Tuesday that regulations setting a minimum age of 21 for handgun purchases from licensed dealers violates the Second American rights of those citizens.  The three-judge panel delivered the ruling in a split vote 2-1, with an appointee of former President Donald Trump writing the majority opinion, arguing the laws relegated "either the Second Amendment or 18- to 20-year-olds to a second-class status."   "Looking through this historical lens to the text and structure of the Constitution reveals that 18- to 20-year-olds have Second Amendment rights," Judge Julius N. Richardson wrote. "Virtually every other constitutional right applies whatever the age. And the Second Amendment is no different."

July 13: The Washington Times: China deploys military early warning aircraft
to disputed South China Sea Islands
China's military recently deployed electronic warning and surveillance aircraft and helicopters on two disputed islands in the South China Sea in what analysts say is a sign that the People's Liberation Army has begun routine air operations from the bases.  Satellite images show deployments in May and June of PLA KJ-500 airborne warning and control aircraft to Mischief Reef in the Spratly Islands. Other satellite photos showed the stationing of a Y-9 transport aircraft and Z-8 helicopter to Subi Reef in June and this month.  Last year, KQ-200 anti-submarine warfare aircraft were deployed on a third island base on Fiery Cross Reef.

July 12: The Daily Caller: Texas Dems can't win in the legislature so their
legislators are in Washington, DC vowing to stay out of the state until
the special session is over
Texas Democrats fled their state Monday for a maskless flight to Washington D.C., with a case of Miller Lites in order to deny a quorum and prevent the passage of a Republican-proposed election integrity bill. Lt. Governor Patrick tweeted "Smiling House Dems fly off to DC on a private jet with a case of Miller Lite, breaking House quorum, abandoning their constituents, while the Senate still works. It's my hope that Senate Dems report tomorrow to do what they were elected to do. We will vote on SB 1."

Shortly after landing in Washington D.C. the House Democrats indicated they plan to remain out of state until the end of the special legislative session that ends Aug. 6.  The Democrats realize that they don't have the votes to stop the legislation any other way.  The problem with their tactic is that there's no limit on the Governor calling special sessions and he could continue to call them until the bills he wants considered are finally brought to the House floor for a vote. Additionally, the Senate Finance Committee has placed a hold on funding the State Legislature, a measure the governor used his line-item veto to strike from the state's funding measure during the regular session.  Funding for the state legislature runs out on September 1st, meaning they will no longer have any staff for the following two years.  The rumor is that the Texas Democrats picked Washington, DC so they could lobby Congress to pass federal election legislation.  However,  as long as the filibuster continues to be in play – and it seems unlikely to go away – there are not enough votes in the U.S. Senate to invoke cloture.
[This summary was expanded by our Editor to give you additional context and a fuller and more complete story]

July 12: The Epoch Times: Texas moves election bills forward; Will the
Democrats stay to allow them to be considered?
The Texas Legislature moved closer to passing several voting bills that prompted Democrat legislators in May to stage a walkout.  During a special legislative session called by Gov. Greg Abbott (R) over the weekend worked to advance several voting bills during oversight hearings. On Sunday, a Texas House Select Committee on Constitutional Rights and Remedies voted to advance a bill (HB 3) that would bring back a number of voting integrity-related proposals that didn't pass during the previous session that ended May 30. Later on Sunday, Senate lawmakers advanced its version (SB 1) of the voting legislation in a committee vote.

Chairman Hughes of the Senate State Affairs Committee said the debate over the measure is now "bitterly partisan" but argued that "most of the security measures in Senate Bill 1 are not aimed at individual voters." "The security measures in this bill, by and large, are directed at vote harvesters or folks who are trying to steal votes," he continued. 

Meanwhile state Democrats are calling the measure "racist" and object to prohibiting 24-hour voting, the prohibition on using unstaffed drop boxes for mail in ballots, protections to ensure poll watchers are allowed to observe what election officials are doing in polling places and the prohibition on drive thru voting.  From my reading of the measures, I see nothing directed at people of color or minority groups. The bills are laser focused on ensuring everybody can vote while ensuring integrity of the voting process.  It remains unclear whether Democrats will repeat their tactic of walking out, thereby denying the House a quorum in order to proceed.  Rumors are that some Democrat members have made plans to leave the state in order to block floor consideration of these measures.


July 12: Fox News:  US Democratic socialists ignore Cuban protestors demonstrating against their communist dictatorship
Anti-government protests broke out Sunday in Cuba demanding freedom and calling on the disbandment of the country's communist dictatorship, all while some of the U.S.' most outspoken, self-professed Democratic socialists appear to be in lockstep by not acknowledging the historic events unfolding on the island about 90 miles from Florida.  Fox News has emailed Reps. Ilhan Omar, Alexandria Ocasio-Cortez, Rashida Tlaib and Sen. Bernie Sanders and have yet to receive a response from any of them. As of early Monday, none have even mentioned the protest on social media.  Thousands of Cubans marched on Havana's Malecon promenade and elsewhere to protest food shortages, high prices and the coronavirus outbreak in one of the biggest anti-government demonstrations in the country ever. 

July 12: The Daily Caller: Democrats and media go ballistic over
Texas "heartbeat" bill
Media figures and Democrats melted down Monday over a new Texas law that gives Americans the right to sue abortion clinics or individuals who help mothers obtain abortions in the state of Texas.  Texas' Heartbeat Act, signed into law May 19, bans abortions after the unborn baby's heartbeat can be detected (usually by about six weeks). The law, which makes exceptions for medical emergencies but not in cases of rape or incest, gives private citizens both in and out of Texas the power to sue abortion clinics or individuals who help women obtain abortions. This may make the law more difficult to challenge in court, the Texas Tribune reported.

July 12: Fox News: Hume: Harris was really stupid to attack voter ID and
say rural voters cannot find an office supply store
Brit Hume reacted Monday to Kamala Harris bemoaning "rural" residents who apparently cannot find an office supply store to photocopy their driver's license to send to state election authorities. He told Special Report voter ID is a "tricky issue" for Democrats. "They're trying to label Republicans as people who want to suppress the vote." But many of the things the GOP is getting passed across the country are very popular "and voter I.D. Is very high on that list," he said. "I think it's politically really stupid to come out and criticize voter I.D."  Hume added that Biden advisers are likely contemplating the effectiveness of having Harris out front as the point person on several such controversial issues like election reform, illegal immigration and border security.  He contended that sometimes she seems like a lightweight.    Harris was criticized for her visit to El Paso, Texas, after months of being ripped by critics for failing to visit the southern border. Then critics pointed out El Paso is some 800 miles upstream on the Rio Grande from the epicenter of the illegal immigration and human and drug trafficking crisis in places like McAllen, Del Rio and Roma.

July 11: Fox News: Trump tops the list of potential GOP presidential
candidates in 2024 in CPAC straw poll
Twenty-four GOP presidential nomination poll at the Conservative Political Action Conference (CPAC) gathering in Dallas this weekend put Donald Trump way out in front in their poll of potential presidential candidates, with 70% for Trump.  Florida's governor Ron DeSantis came it second with 21%.  No one else among the 19 potential 2024 Republican White House contenders topped 1%.

July 11: One America News Network: Arizona awaits final verification
of election audit's results (video)
The Arizona state Senate has asked the election auditors to conduct a machine recount of the number of ballots to verify their findings. Sen. Sonny Borrelli (R-AZ) says the move is designed to confirm the audit results and provide an additional level of scrutiny.

July 11: The Epoch Times: Thousands of Cubans protest nation's
dictatorship across the Island
Thousands of Cubans took to the streets on Sunday in a number of cities to protest against human rights abuses, a lack of freedom, and a worsening economic situation in the communist-ruled country. Videos uploaded to social media appear to show demonstrations in a number of towns and cities, including the capital city of Havana.  Protesters, chanting in Spanish, said they "weren't afraid" of the regime led by Miguel Diaz Canel, and said they wanted access to COVID-19 vaccines and an end to the regime.  The protest come amid reports of widespread shortages of, electricity, and vaccine across the Caribbean Island nation. This appears to be the first demonstrations against the government since 1994 and the first time that so many had protesters have been involved.  Shouts of "down with the dictatorship," and "homeland and life" were also heard during the demonstrations, according to footage uploaded online.

July 10: One America News Network: 37 states suing Google for anti-trust
violations, Utah leads the charge (video)
Thirty-seven Attorneys General file a lawsuit against Google, alleging the company's control over its Android app store violates antitrust law. Utah's Attorney General, Sean Reyes, is leading the bipartisan lawsuit about the matter.

July 10: The Washington Times:  Parents groups vow to fight Critical Race
Theory and not to back down
Parents groups formed to combat critical race theory in K-12 schools vowed not to back down after teachers' unions said this week that they would go to court to allow the concept to be taught in the nation's classrooms.  The leaders of the American Federation of Teachers and the National Education Association have vowed to use their deep pockets and extensive political and lobbying muscle to defend teachers who support curriculums infused with critical race theory, which teaches that American laws and systems are inherently racist, and to employ opposition research teams to go after the groups hostile to that teaching.  "We aren't afraid of them," said Tina Descovich, a co-founder of Moms For Justice, a group that formed in large part to protest school shutdowns during the COVID-19 pandemic and is now opposed to what it regards as divisive and harmful critical race theory methods. 

July 10: The Washington Examiner: Harris lambasted for remarks on
rural voters' ability to cast ballots
Kamala Harris was decried for saying that some voter identification laws make it "almost impossible" for rural voters at the ballot box, with critics suggesting she doesn't think rural citizens have the wherewithal to use a copy machine.   Election laws requiring voters to include a copy of identification with their ballots threaten to shut out those who might not have access to a photocopier, Harris said.   Critics suggested Harris doesn't understand life in rural America.     This reminds me that they made Kamala Harris who has only ever lived in cities an envoy to rural Americans," said journalist Zaid Jilani.

July 9: The Epoch Times: Biden attempts to fire SSA Administrator,
but he refuses to leave
Joe Biden on Friday attempted to fire Social Security Commissioner Andrew Saul, according to the commissioner, who said he won't leave his post and will log into work on Monday morning because his term isn't over. Saul was appointed by Trump to a six-year term.   In an interview with the Washington Post, Saul said he received an email from the White House Personnel Office on Friday morning about their decision. However, Saul is challenging the legality of the Biden administration's decision.  Saul's term is slated to expire in January 2025.  "I consider myself the term-protected Commissioner of Social Security," he said, calling the attempted ouster a "Friday Night Massacre" and an "abuse" of power.  Republican lawmakers criticized the White House's move to oust him.  "This removal would be an unprecedented and dangerous politicization of the Social Security Administration," Senate Minority Leader Mitch McConnell (R-KY) wrote. Chuck Grassley (R-IA) noted Saul was confirmed by a "wide bipartisan margin" and has several years remaining in his term.

July 9: Breitbart News: Biden nominee tried to cover up Master's
Thesis advocating population control
Joe Biden's nominee to lead the Bureau of Land Management (BLM) requested last year that the University of Montana restrict access to her controversial master's thesis, which advocated for the creation of population control propaganda for environmental reasons. The university confirmed the request to limit access to the thesis entitled Into the heart of the beast | A case for environmental advertising, which Stone-Manning authored in 1992.  In it Stone-Manning advocated for U.S. population control propaganda through a series of advertisements intended to "tug at the root of many of our environmental horrors, overpopulation."  In other words she wanted to limit the U.S. population so that it would alleviate perceived stresses to the environment caused by humans.

July 9: The Washington Times: Rhetoric escalates over Biden's move to
go door-to-door "encouraging(?)" people to get vaccinated
The White House on Friday said GOP governors who rejected President Biden's door-to-door vaccine effort are fueling attitudes that are "literally killing people."  Biden's Press Secretary Psaki characterized the proposed door-to-door campaign as an effort to inform the public. She said the governors had mischaracterized the initiative.   South Carolina Governor McMasters had directed state health officials to thwart the door knocking effort saying it was akin to pressuring people to get vaccinated.  "The prospect of government vaccination teams showing up unannounced or unrequested at the door of 'targeted' homeowners or on their property will further deteriorate the public's trust and could lead to potentially disastrous public safety consequences," Mr. McMaster wrote.

July 8: Fox News: Ads running during All-Star game hitting GA Senator
Warnock over MLB move from Atlanta
The National Republican Senatorial Committee will run an ad in Georgia during the MBL's All-Star Game and Home Run Derby criticizing Sen. Raphael Warnock over the fact the MLB moved the event from Atlanta to Denver over Georgia's election security law. The ad will run during both the Home Run Derby on ESPN Monday, July 12 and the All-Star Game itself the following day.  The NRSC said the ad buy will cost about $100,000 in total. "The All-Star Game, a $100 million boost to Georgia's economy, until the radical left woke crowd took it all away, forcing the MLB to boycott Georgia," the ad says. "Even Stacey Abrams opposed the boycott, but Sen. Warnock refused to oppose it."

July 8: The Daily Caller: Obama ethics chief calls Biden out for helping
shield buyers of Hunter's artwork
Ethics experts and art critics are raising concerns about Hunter Biden's upcoming art show, in which his paintings are expected to sell for prices from $75,000 to as high as $500,000. The White House helped broker a deal under which the buyers of Biden's "artwork" will be kept entirely anonymous even to Hunter himself, according to the Washington Post. The owner of the New York gallery where Biden's show will take place, Georges Bergès, is also planning to set the prices for the art and withhold all sales records.  Walter Shaub, who led the Office of Government Ethics under President Barack Obama, also voiced his concerns to the Post. "Because we don't know who is paying for this art and we don't know for sure that [Hunter Biden] knows, we have no way of monitoring whether people are buying access to the White House," said Shaub. "What these people are paying for is Hunter Biden's last name."

July 8: One America News Network: HHS Secretary attempts to defend
door-to-door effort for people who refused to be vaccinated
While Joe Biden and his cabinet remain fixated on raising the American vaccination rate, Republicans are pushing back against their methods of doing so. During an interview Health and Human Services Secretary Xavier Becerra said the Biden administration has requested the names of Americans who have "refused" to take the experimental vaccine. Becerra failed to acknowledge that COVID-19 has a 99 percent survival rate. Instead, he claimed Americans must now give up their privacy to the government in return for stimulus checks.  "It is our business to try and make sure Americans can prosper, Americans can freely associate…and knocking on a door has never been against the law. You don't have to answer, but we hope you do because if you haven't been vaccinated we can help dispel some of those rumors that you've heard and hopefully get you vaccinated," said Becerra.

July 8: The Washington Times: Harris: The DNC voter registration drive is
needed to stop GOP from "taking our power"
Well we always knew it but now there is no doubt, Kamala Harris is all about "power!"  She announced Thursday that the Democratic National Committee is more than doubling its spending to $45 million on voter registration to combat new Republican-backed state election laws.  Speaking at Howard University in Washington Harris said 17 states have enacted laws this year "that will make it harder for Americans to vote" by curtailing early voting and vote-by-mail.  She said the DNC is countering those efforts by adding $25 million to its previous pool of $20 million to "protect" voting.  Harris said. "We will not let anyone take away our power."



July 7: One America News Network:
President Trump announces class action suit against Google, YouTube, Facebook, Twitter and their CEOs
President Trump announced a class action lawsuit against tech giants Google, Facebook and Twitter as well as their CEOs. While speaking at a press conference in New Jersey Wednesday, Trump said the suit demands an end to shadow bans and censorship of differing viewpoints.  He went on to say he believes the case is "very compelling" and has no interest in seeking a settlement before a trial. He added, tech giants are working in conjunction with the mainstream media to suppress opposing views.   He said,  "There is no better evidence that Big Tech is out of control than the fact that they banned the sitting president of the United States earlier this year, a ban that continues to this day.  If they can do it to me, they can do it to anyone and, in fact, that is exactly what they're doing."  The suit also seeks punitive damages and injunctive relief. Anyone who has been a user of any of the three platforms, has resided in the U.S. between June of 2018 to present day and has had their account banned or censored by the defendants can join the suit.

July 7: The Washington Times:
Tucker Carlson claims NSA leaked the content of his email to other journalists;
he got a call from one of them who read the contents thereof back to him
Fox News host Tucker Carlson claimed Wednesday that the U.S. National Security Agency [NSA] leaked to journalists the contents of his private correspondence.  "I learned that the NSA leaked the contents of my email to journalists in an effort to discredit me," Carlson disclosed on the Fox Business channel.  "I know because I got a call from one of them saying 'Oh, this is what your email was about'," Carlson said.  He said he received the call Tuesday night shortly before his latest show aired.   "I got a call before air, like 7:15, from a journalist I know and like … and he repeated back to me what's in my email.   He got it because the NSA had leaked it," Carlson claimed.  It is illegal for the NSA to spy on U.S. citizens in the U.S.A.  If it can happen to Tucker Carlson, it can also happen to anyone they choose and weaponizing the intelligence community for political purposes is a dangerous thing.

July 7: The Epoch Times: Pennsylvania Senate Chair initiates forensic audit
of PA 2020-21 elections
A Pennsylvania state senator on Wednesday announced that he has triggered a forensic investigation of the 2020 and 2021 elections.  Doug Mastriano issued letters to several counties requesting information and materials that he said would enable an investigation. The counties included Philadelphia and York which represent different geographical regions and different political majorities.  "… millions of Pennsylvanians have serious doubts about the accuracy of the 2020 General Election," Mastriano said. At least 40% "…of Pennsylvania voters are not confident that the results of the 2020 Election accurately reflected how Pennsylvanians voted" he contended. He believes there is a strong case for an investigation, noting that 2.7 million mail-in ballots were counted in the 2020 election, compared to just 263,000 in the prior presidential election, many without signature verification.  The counties were told to produce their records by July 31 which is within the federal 22-month records retention requirement.  If one or more counties do not comply, Mastriano plans to convene his committee and ask members to grant him subpoena power to force compliance.  He said his goal "…is to find out if our elections were safe and secure and if they weren't, what went wrong and how are we going to address this."

July 7: Fox News: Children of mothers who openly opposed CRT barred
from private school in Ohio
In a continuing effort to silence the voices opposing the segregationist approach to race relations a private Ohio school (The Columbus Academy) denied re-enrollment to several students, alleging that their mothers breached part of their contract by leading a public campaign against the school's purported attempt to "indoctrinate" students with left-wing ideas (i.e., Critical Race Theory).  "I feel like it is unfortunate that when you are speaking out and you are trying to say your truth, unfortunately, there are people who want to retaliate against you. In this case, they retaliated against our children, who are innocent," Andrea Gross said with Amy Gonzalez alongside her.  [Editorial Comment: The other side of the coin is who would want to have their child in a school that teaches CRT?  Instead of trying to bring people together, CRT is an effort to divide, or segregate, people based upon their race.  Shouldn't we all be looking for things we can agree upon and the different talents we can bring to the table as opposed to building barriers and pitting one group of people against another?]

July 6: The Daily Caller: Raytheon, Defense Contractor, pushing Critical Race
Theory; White employees to confront their "privilege!"
Newly leaked documents show the second-largest defense contractor in America launched a Critical Race Theory (CRT) program last summer in which white employees are encouraged to confront their "privilege," reject the principle of "equality," and "defund the police."  Activist Christopher Rufo published internal documents from Raytheon Tuesday that give an inside look into the company's CRT programs.  Raytheon CEO Greg Hayes launched the "Stronger Together" campaign, instructing employees on "becoming an anti-racist today," asked all employees to sign a "corporate diversity" pledge and check their biases, according to the leaked documents.  The program embraces the concept of "intersectionality," encouraging white employees to "identify their privilege" and "step aside" for minority voices that are "more important than your own," documents show.  CRT holds that America is fundamentally racist and teaches people to view every social interaction and person in terms of race.  Unfortunately, instead of trying to bring people together CRT is an effort to divide, or segregate, people based upon their race.

July 6: One America News Network: Well Hello! Nine key OECD nations
reject Biden "Global Tax Plan"
Joe Biden's proposal to impose a global tax on the corporate sectors ran into a pushback by a number of foreign countries. At least nine members of the Organization for Economic Cooperation and Development have rejected Biden's proposal to impose a 15 percent global tax. U.S. Treasury Secretary Janet Yellen announced 130 of the 139 nations reached an agreement of the global minimum tax. The remaining nine nations including Hungary, Ireland and Peru have rejected the proposal. These foreign countries have maintained low corporate tax rates and argued their economies greatly benefit from hosting the headquarters of global corporations, especially in the technology sector. And why should other nations try to cover for bad economic decisions made in the United States?

July 6: The Washington Times: SCOTUS hands Kamala Harris a defeat
with its donor privacy decision
Her name is no longer on the case, but Kamala Harris suffered a Supreme Court smackdown last week when the justices toppled California's donor-disclosure requirement for charities. As California attorney general, Harris turned up the heat on charitable nonprofits by insisting that they submit to her office the names of leading donors, then threatening to levy fines and suspend their state registrations if the groups refused to comply. After a six-year legal battle SCOTUS in a 6-3 decision that found California's demand for donor data "facially unconstitutional." The case now bears the name of the current California AG but it all started with Kamala Harris held that position and conservatives and free-speech advocates want to ensure that the pivotal role played Harris is never forgotten.

July 6: Townhall.com: Plan B: After falling short of the July 4th 70% vaccinated
target, Biden now wants to send people door-to-door to "convince" them
to take the shots
After falling short, the administration is trying to come up with new ways to get Americans vaccinated. During the daily White House briefing Tuesday, Press Secretary Jen Psaki revealed government officials plan to engage in vaccine outreach by going "door-to-door." "Targeted community-by-community, door-to-door outreach to get remaining Americans vaccinated by ensuring they have the information they need about how safe and effective the vaccine is," Psaki said. "Now we need to go community-by-community, neighborhood-by-neighborhood and often times, door to doors. Literally, knocking on doors," Biden said. Talk about coercion? This approach is raising eye brows, especially from those who have decided they don't trust the vaccine and don't want it. What if a person refuses after getting a personal visit from their federal government advocate? Will there be consequences? Who knows?

July 6: The Daily Caller: Gas prices reach their highest level in six years
amid low supply and high demand, stoking fears of inflation
Oil prices climbed to a six-year high Tuesday as OPEC and Russia continue to tamp down on global output. OPEC failed to meet in its third attempt to discuss surging prices and an increase in oil consumption amid an opening global economy. July 4th gas prices were reportedly among the highest in almost seven years at a national average of $3 a gallon. The price and demand increase is causing concern among executives and OPEC leaders that higher prices could impact the economic recovery from the pandemic and ramp up inflation.

July 5: One America News Network: Military: Many say they will quit if
forced to take Covid-19 vaccine
Rep. Thomas Massie (R-KY) launched an effort to prevent forced vaccinations in the military after a massive outreach by troops. In a tweet on Monday, Massie said Democrats have attacked his recent proposal to ban forced vaccinations of U.S. troops. The congressman added he introduced HR 3860 to outlaw vaccine mandates in the military, which has been already back by 24 lawmakers. This came after reports claimed Joe Biden's Pentagon might require vaccination for U.S. troops by September.  Maddie said service members reached out to him and warned of their resignation if vaccination mandates were to happen

July 5: The Washington Times: PA State Senate takes steps to conduct a
privately funded Arizona-type election audit
>Republicans in Pennsylvania's Senate are discussing launching a privately funded audit of the 2020 election.  A three-senator delegation led by state Sen. Doug Mastriano visited Arizona in June to receive an overview of the Maricopa County probe into the election and last week sought legal advice from a Pennsylvania law firm on the legality of using private funds to finance a similar endeavor, according to The Associated Press.  "Transparency is a must in our republic," the delegation said in a press release last month announcing their plans to visit the Maricopa Election Forensic Election Audit. "Every citizen should be confident that their vote counts."  The proposal for an Arizona-type audit in Pennsylvania is likely to face opposition from Democratic lawmakers and in state courts, but a Philadelphia-based lawyer said the probe could be permissible under state law.

July 5: The Washington Examiner: Calls are being made to defund NPR after it
tweeted the Declaration of Independence has "flaws and deeply ingrained hypocrisies"
Many conservatives are calling to defund National Public Radio after it tweeted that the Declaration of Independence is "a document with flaws and deeply ingrained hypocrisies."  After the liberal-leaning news organization posted a  Twitter thread on Sunday saying the Declaration "includes a racist slur against Indigenous Americans" while also "la[ying] the foundation for this country's collective aspirations — the hopes for what America could be," many on the Right called for NPR's to be defunded.

July 5: One America News Network: China reveals plans for invasion of Taiwan
The Chinese state media released Beijing's supposed plan of invading Taiwan, which has sparked concerns in Japan and South Korea. British Newspaper The Sun cited a Chinese propaganda outlet on Monday reporting Beijing's plans to invade and defeat Taiwan in three steps.  The first step would be a sudden attack of Taiwanese military bases, followed by the second step of cruise-missile strikes on infrastructure. The third step was described as a bombardment of Taiwan by Chinese warships. 

July 4: The Daily Caller: Stacy Abrams purchased two homes valued at $1.4 million
after reporting massive debts in 2018; How do you suppose that happened?
Former Georgia Democratic gubernatorial candidate Stacey Abrams purchased two homes worth a combined $1.4 million following her failed 2018 bid to lead the state, public records  show.  Abrams purchased the homes despite reporting in a financial disclosure in early 2018 during her gubernatorial campaign that she owed the IRS $54,000 in back taxes on top of $174,000 in credit card and student loan debt.  Abrams purchased a 3,300 square foot home in Stone Mountain, Georgia, for $370,000 in September 2019, according to Nexis real estate records. The home is now worth $425,000, according to Redfin.  Just over a year later, in October 2020, Abrams sold an Atlanta townhome she purchased in 2004 and bought a 4,100 square foot home in the city for $975,000, Nexis records show. Her new Atlanta home is now valued at just over $1 million, according to Redfin.  Abrams' financial situation appears to have improved considerably since her 2018 election loss to Georgia Gov. Brian Kemp.   According to the Atlanta Journal-Constitution she repaid her tax, credit card and student loan obligations entirely by May 2019.  Wonder how she did all that after reporting all the debts in 2018?

July 3: One America News Network: Dem. Biden's commission
on the SCOTUS discusses term limits
[Editorial Questions, why isn't this discussed when progressive justices are in the majority?
Why are they also not including term limits for Members of Congress?]
Joe Biden's Presidential Commission on the Supreme Court held its second virtual meeting this week, where some pushed for term limits for justices. Reports mentioned some on the commission claimed the court was a "political institution" and argued term limits could eliminate the political incentives of the appointment process.  One person proposed 18-year staggered term limits, but opposed adding more judges. The Supreme Court currently has nine justices. The staggered term limits would result in a vacancy every couple of years, which would give each president two appointees per term.  Biden created the commission through executive order in April. Republicans in both the House and the Senate have slammed the commission and argued it was a clear indication of the radical left's great influence over Biden. Other people are asking why not do the same for Members of Congress? After all, they too are part of the "political institutions!"

July 3: The Epoch Times: Federal judge strikes down tax provision of
the $1.9 trillion relief package
A federal judge issued a permanent injunction on Thursday to block the ambiguous tax mandate in Joe Biden's $1.9 trillion COVID-19 relief package. U.S. District Judge Douglas R. Cole [from the District Court for the Southern District of Ohio] ruled that the tax mandate in the America Rescue Plan Act (ARPA) exceeds the Congress's authority under the Spending Clause due to its ambiguity.  The Interim Final Rule (IFR) issued by the Treasury Department intended to clarify the tax mandate "does not cure that constitutional violation," the judge said.  The judge's decision granted the State of Ohio's motion for a permanent injunction that keeps the Department of the Treasury from enforcing the Tax Mandate.  The judge also expressed concerns that the tax mandate has breached the separation-of-powers principles laid down by the framers.  The Ohio Attorney General applauded the ruling and criticizing the Biden administration of overreaching.  "The Biden administration reached too far, seized too much, and got its hand slapped," Attorney General Yost said. "This is a monumental win for the preservation of the U.S. Constitution—the separation of powers is real, and it exists for a reason."

July 3: Fox News: Egyptian man with an expired visa violently attacks
Jewish rabbi in Boston
An Egyptian man who is accused of stabbing a rabbi outside of a Boston Jewish day school on Thursday overstayed his student visa and lost his legal status to be in the USA on May 14,  ICE officials confirmed.  Khaled Awad, 24, allegedly approached Rabbi Shlomo Noginski with a gun and demanded his car keys, at which point Noginski ran across the street to a park, where Awad stabbed him in the arm multiple times. Reportedly Awad came to the United States in August 2019 on a student visa.  He failed to stay in college and on May 14th lost his legal status to remain in the USA.  Rabbi Shlomo Noginsk is in stable condition and looking forward to resuming his Torah classes, Rabbi Dan Rodkin, wrote.  Awad allegedly pointed what appeared to be a firearm at police when they located him shortly after the stabbing. Three officers then drew their guns and told him to drop his weapon, which he did.

July 2: One America News Network: MO AG asks SCOTUS to hear
abortion case
The Republican Attorney General in Missouri has requested the U.S. Supreme Court to hear a controversial abortion case coming out of his state. On Thursday, Attorney General Eric Schmitt sent a formal petition to the U.S. Supreme Court to review a lower court decision against a state abortion law.  The lower court struck a 2019 law that banned abortion based solely on a prenatal diagnosis such as Down syndrome. Doctors were set to face up to 15 years in prison if found guilty of violating the law, which so far has failed to go into effect.  There is currently one remaining abortion clinic in Missouri, with state Republicans working to defund the Planned Parenthood in Saint Louis.

July 2: Fox News: Texas sheriffs sue Biden admin over immigration
policy barring deportations
Four Texas sheriffs, their counties, and ICE representatives have sued Joe Biden and officials as the Department of Homeland Security for preventing federal officers from deporting illegal aliens with criminal backgrounds.  Kinney, Edwards, McMullen and Hudspeth counties along with the Federal Police Foundation filed a complaint Thursday calling on the Biden administration to allow ICE officials to do their job.  The lawsuit alleges DHS paused deportations and enticed criminal immigrants to come into the U.S. without fear of reprisal. "The ICE officers involved in this case are absolutely astounded at what their superiors are asking them to do: releasing people charged with rape of a child, releasing people charged with dealing drugs and resisting arrest," Kris Kobach, the former Kansas secretary of state and the lead attorney for the plaintiffs, said.  "These are really serious criminals, and ICE is being ordered by the political leadership of the Biden administration to turn them loose."

July 2: The Epoch Times: SCOTUS to hear religious school tuition case from Maine
The Supreme Court has agreed to hear a challenge to a Maine law that bans families from a student aid program if they choose to send their children to religious schools.  Parents in the Pine Tree State argue in their petition to the court that Maine's prohibition against using taxpayer funds on sectarian schools violates the U.S. Constitution, contending that a SCOTUS decision last year held a state may not exclude families and schools from participating in a student-aid program because of a school's religious status.  "By singling out religion—and only religion—for exclusion from its tuition assistance program, Maine violates the U.S. Constitution," Senior Attorney Michael Bindas of the Institute for Justice, a public interest law firm that is representing the parents, said. 

July 1: Townhall.com: SCOTUS rules 6-3 that Arizona election integrity legislation does not violate the Voting Rights Act, Dems very disappointed
The Supreme Court upheld Arizona's voting law that cracks down on ballot harvesting and takes aim at mail-in ballot fraud, despite a challenge from the Democratic National Committee (DNC). The high court ruled that the reforms in Arizona's law do not violate the Voting Rights Act (VRA). Chief Justice Roberts and Justices Alito, Kavanaugh, Gorsuch, Thomas, and Barrett sided with Arizona Attorney General Mark Brnovich, while Justices Kagan, Breyer, and Sotomayor said that the law violates Section 2 of the VRA. The Court upheld two Arizona voting provisions: a ban on so-called "ballot harvesting," and a policy that throws out an entire ballot if it was cast in the wrong precinct. 

July 1: Fox News: Two final decisions by SCOTUS have reignited
Dems call for packing the Supreme Court
Democrats on Thursday expressed their displeasure with the Supreme Court's final decisions of its 2020-2021 term, accusing the justices of doing "severe damage" to the political system and in some cases re-upping their calls to pack the court with liberal justices appointed by Joe Biden.  The court, in its decisions, stopped cold one of the Democrats favorite tactics of using the courts and activist judges to overcome what they have been unable to accomplish through the legislative process. One of SCOTUS' decisions was to let stand an Arizona election law, including a ban on ballot harvesting. The other was to strike down a California law that required nonprofits to disclose their largest donors to the state government for law enforcement purposes.   Democrats saw the Arizona decision as voting rights restrictions and while Republicans saw as election security measures. They struck down the California law on the grounds that it chilled free speech.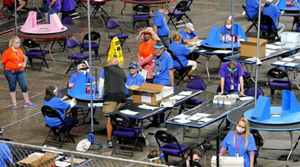 July 1: One America News Network: Arizona State
Senate to subpoena election routers and passwords
to complete its audit
Arizona election audit spokesman Randy Pullen said the state senate will subpoena the routers and passwords that are still being withheld by election officials. He announced the state's plans to issue the subpoena while noting it has been difficult to complete the audit without information on the routers and passwords.  He said the state senators will determine the timeline for the examination of electronic equipment that was used during the 2020 elections in Arizona and confirmed the ballot count is now complete, but some electronic data is still raising questions.  Maricopa County recently announced plans to replace all of its subpoenaed election equipment while noting the county will "never use compromised equipment that could pose a risk to free and fair elections."  Meanwhile while the Arizona Republicans believe it is a step in the right direction, the replacement of equipment is not going to undo the mistakes already made. They argue if the machines are not able to undergo a forensic audit to verify the presidential election result, then they never should have been approved to be used in an election in the first place.

June 30: The Washington Free Beacon: With 74% of PA voters supporting
Voter ID, Democrat Governor vetoes bill that would require one
Pennsylvania governor Tom Wolf (D) vetoed an election reform bill on Wednesday, citing its inclusion of voter identification requirements.  The bill would have mandated voter identification in all elections—a measure supported by 80 percent of Americans nationwide in numerous polls.   The bill would have also required signature matching for mail-in ballots, in addition to moving up the deadline for voter registration and mail-in voting applications. Wolf said the bill was a form of "voter suppression."   A June poll from Franklin and Marshall College found that 59% of Pennsylvania's registered voters believe state election laws needed to be revised. Support for signature matching for mail-in ballots stood at 81% and support for voter identification requirements polled at 74%.

June 30: The Daily Caller: Updated Vote Counts give Adams a narrow lead
in NYC Mayoral race
New York City's updated results for its mayoral primary show former NYPD officer Eric Adams with a slim lead over former city sanitation commissioner Kathryn Garcia a day after the city's Board of Elections mistakenly counted approximately 135,000 invalid ballots.  The results were identical to Tuesday's unofficial ones, with Adams at 51.1% and Garcia at 48.9%. Tuesday was the first election in the city's history to use ranked choice voting, and its initial tally included incorrect preliminary vote counts before the board withdrew them hours later.  Adams, who was the frontrunner in the campaign's final days, leads Garcia by 14,755 votes.  His lead, however, is not guaranteed, since New York City is waiting until July 6 to count approximately 125,000 absentee ballots that could decide who will likely be its next mayor.

June 30: One America News Network: Trump and Abbott visit the southern border
President Trump and Texas Gov. Greg Abbott (R) made a visit to the U.S.-Mexico border on Wednesday. The two visited Weslaco, Texas, where Trump held a roundtable with the governor and later visited a portion of unfinished border wall.  During the roundtable, the president said the country is in a "sick state," citing the state of the southern border under Joe Biden and the integrity of the 2020 elections. "But we have a sick country in many ways. It's sick in elections and it's sick on the border," said Trump. "If you don't have good elections and if you don't have a strong border, you don't have a country. 

June 30: The Washington Times:  Illegal alien deaths surge as summer heat
and disregard for human life by smugglers takes its toll
Border Patrol agents stopped a Honda driving suspiciously near the California-Mexico boundary on Saturday and ordered everyone out of the car, but one woman didn't get out. She couldn't.  Others in the car told agents they had walked five hours through the desert's midday heat without water until they were finally picked up. Once in the car, the woman slipped in and out of consciousness. She was airlifted to a hospital, where she was pronounced dead.  In Texas, agents were pulling bodies out of rivers, ponds and lakes all last week. They would have pulled out even more but for some heroic water rescues. It was the heat in Arizona, where authorities recovered bodies from the rugged terrain. Across the southwestern border, agents are reporting a disheartening number of people being thrown or ejected from vehicles as smugglers try to evade capture. The migrants themselves often plead for the drivers to stop.

June 29: Breitbart News: Dem spending bill strips border wall funding, increases funding for illegal aliens  
On Tuesday, the Democrat-controlled House Appropriations Committee released  their DHS funding bill for fiscal year 2022 that decreases funds for border controls and interior immigration enforcement, including stripping funding from border wall construction.  "I adamantly oppose my Democratic colleagues' proposed bill to fund the Department of Homeland Security," Rep. Chuck Fleischmann (R-TN) said.  The nearly $53 billion budget, cuts Customs and Border Protection (CBP) funding by almost $930 million and reduces Immigration and Customs Enforcement (ICE) funding by $1.5 million compared to the current fiscal year's spending levels.  The budget rescinds the previously appropriated $2.06 billion for border wall construction and provides no funding for additional U.S. Border Patrol agents. It also allows up to $100 million that was previously designated to build a border wall to instead go to the Department of Interior.

June 29: One America News Network: Judge decides:  My Pillow case against Dominion will move forward [Video] 
On April 19, My Pillow sued Dominion voting systems for suppressing speech and attacking the company.  My Pillow claims it suffered losses including actions taken by companies in response to the threats and attacks by Dominion -- such as Bed Bath and Beyond and Costco deciding to no longer carry their products.  On Monday, a judge in Minnesota ordered Dominion to stop trying to delay the case and is requiring Dominion to respond to the My Pillow allegations by July 6th.  Worthy of note is that the case separates Mike Lindell (the CEO of My Pillow) from the company itself.  The company, according to the $1.6 billion lawsuit, took no actions related to the 2020 election and nor allegations of election fraud.  Lindell, the individual, however has been an outspoken critic of how the 2020 elections were handled.  The judge's decision allows the My Pillow vs. Dominion lawsuit to proceed.  Lindell, is a separate video, contended that Dominion has been threatening companies associated with My Pillow.  Additionally, he contends Dominion has also threatened whistleblowers and poll watchers who have reported what they have seen and in some cases signed affidavits about their observations.

June 29: Breitbart News: Dem spending bill strips border wall funding,
increases funding for illegal aliens
On Tuesday, the Democrat-controlled House Appropriations Committee released their DHS funding bill for fiscal year 2022 that decreases funds for border controls and interior immigration enforcement, including stripping funding from border wall construction. The bill cuts Customs and Border Protection (CBP) funding by almost $930 million and reduces Immigration and Customs Enforcement (ICE) funding by $1.5 million compared to the current fiscal year's spending levels. It rescinds the previously appropriated $2.06 billion for border wall construction and provides no funding for additional U.S. Border Patrol agents. It also allows up to $100 million that was previously designated to build a border wall to instead go to the Department of Interior. Most consequential, the budget prevents ICE agents from deporting an illegal alien who applies to sponsor an Unaccompanied Alien Child (UAC) and illegal aliens whose only criminal history is possession of marijuana

June 29: The Washington Times: Trump says Herschel Walker plans to run
for GA US senate seat on 2022
Former football star Herschel Walker will run for the U.S. Senate seat in Georgia next year — at least according to one high-ranking Republican. Former President Donald Trump said in an interview Tuesday that the former University of Georgia Heisman Trophy winner will challenge Sen. Raphael Warnock in the 2022 race. "He told me he's going to, and I think he will," Trump said. "I had dinner with him a week ago. He's a great guy. He's a patriot. He's a very loyal person."

June 29: The Washington Examiner: NYC discrepancy in
test ballots disrupts primary election
A failure to clear nearly 135,000 test ballot images from an election management system led to significant confusion over the status of preliminary vote tallies in the New York City Democratic mayoral primary, the city's Board of Elections said Tuesday evening. Staff have removed the test ballot images from the system and will re-tabulate the results, the board said, apologizing for the mistake. The Board pleaded for patience as they attempt to remedy the situation that caused issues with the vote count for the June 22nd primary election.

June 29: Fox News: South Dakota answers Texas' call, sending
National Guard troops to the Southern Border
South Dakota Governor Kristi Noem announces that her state is sending dozens of National Guard troops to Texas to help the Lone Star State deal with the continuing crisis at the southern border, after an appeal for help from Gov. Greg Abbott. She said that 50 National Guard troops will be sent to Texas to help secure the southern border. The deployment is expected to last up to 60 days and is being paid for by private donations. "The Biden administration has failed in the most basic duty of the federal government: keeping the American people safe," Noem said. "The border is a national security crisis that requires the kind of sustained response only the National Guard can provide." Earlier this month, both Abbott and Arizona Gov. Doug Ducey asked for help to stem the crisis at the border, which has seen a massive number of migrants in recent months – with more than 180,000 encounters in May alone.

June 23-29: The Epoch Times [Print Edition]: GA conducted "secret" 2020 ballot
review keeping the plaintiffs and Judge in the dark
Fulton County Georgia poll monitors testified last year that a large number of absentee ballots were pristine, unfolded, and only marked for Joe Biden.  One would expect absentee ballots to at least be folded to be placed into a carrier envelope for return to election officials. Subsequently a Georgia judge ordered the ballots in question to be protected.  Any election official knows that seals on voted ballots (at least here in Texas) cannot be broken without an order from a judge, however it appears that the Georgia Secretary of State's office has been conducting a secret investigation which included breaking the seals and handling absentee ballots, doing so without informing the judge. Garland Favorito, a long-time poll watcher in Georgia said "If the secretary of state's office did that (break the seals and handle the absentee ballots that were to be protected by the order of a judge), they tampered with the ballots and violated Georgia state law."  Further muddling the waters is a report by Suzi Voyles (one of the whistle blowers) that she was pressured to recant her testimony about the pristine ballots.  "[They] grilled me for over two hours," she said.  "I did not recant.  The ballots that I saw had been preprinted.  It's a very serious thing… That's what I swore to under penalty of perjury."

June 28: One America News Network: Attorney Powell says there is a path to
overturn 2020 election results if state legislature audits discover election fraud
Attorney Sidney Powell outlined a path to overturn the fraudulent outcomes of last year's elections. In a new interview, Powell said election audits in Arizona and other states may produce hard evidence of fraud, which would render election outcomes invalid.  She stressed the importance of the recent election audits and argued people deserve to have as much information as possible and the truth.  She also said the audits were the most important for state lawmakers to understand by insisting state legislators "have the power to recall the electors for fraud."  Powell said election fraud could destroy the legal validity of the 2020 election. Subsequently, state legislatures would have to decertify 2020 results, which would subtract electoral college votes from Joe Biden. She went on to say some officials may be covering up the election fraud to protect the political system which could lead to more dangerous consequences in the long term.

June 28: The Washington Examiner: California Democrats want to change
the election rules prior to Governor Newsom recall vote
California Democrats hope to pass an election reform bill that would help Gov.  Gavin Newsom stave off a likely recall election later this year.  The bill would speed up the recall process, a move widely considered to benefit Newsom given the governor's improving approval ratings as California moved toward a full reopening this month, reversing shutdowns meant to stop the spread of COVID-19.  Over 1.7 million voters signed the petition calling for a recall of the Governor, well above the required 1.5 million.  The Daily Caller reports that Joshua Spivak, a recall elections expert and senior fellow at the Hugh L. Carey Institute for Government Reform at Wagner College, said the effort could backfire by giving Democrats less time to motivate their voters, while Republicans have already motivated their base.  Jack Citrin, a political science professor at the University of California, Berkeley said, "They're trying to create a situation that is most favorable for the partisan outcome that they favor."  He contended that changing the calendar threatens to reinforce the narrative that politicians will do whatever they want to stay in power.

June 28: Breitbart News: U.S. intelligence agencies are illegally spying on
Tucker Carlson and his associates, whistleblower reveals
Monday, Fox News host Tucker Carlson said the federal government was spying on him and those associated with his program, which Carlson said was revealed through a whistleblower within the government.  According to Carlson, the proof was the whistleblower revealed details of a story they had been working on that could have only been known through his texts and emails.  "The whistleblower, who is in a position to know, repeated back to us information about a story we're working on that could only have come directly from my texts and emails," Tucker Carlson said. "There's no other possible source for that information, period. The NSA captured it without our knowledge for political reasons. The Biden administration is spying on us. We've confirmed that," Carlson went on.  He called upon the federal government to cease the behavior immediately.  It is illegal – a felony -- for U.S. intelligence agencies to spy domestically on U.S. citizens and especially against a reporter or news operation with whom they disagree.  If it can happen Carlson, it can happen to any of us Carlson said.

June 28: The Washington Times: Dan Crenshaw: US Olympic qualifier should
be kicked off the team for turning back on the flag
Rep. Dan Crenshaw (R-TX)  said Monday that activist athlete Gwen Berry should be removed from the U.S. Olympic team for her protest of the national anthem, arguing that supporting the country they represent should be a "bare minimum requirement" for Olympic competitors.  Berry, 31, touched off an outcry by turning her back on the American flag during "The Star-Spangled Banner" after she qualified Saturday with her third-place finish in the women's hammer throw at the U.S. track-and-field trials.  She failed to face the flag or to place her hand over her heart as she stood to the side of the podium, unlike the gold and silver medalists, and then held up a T-shirt that said "Activist Athlete."  This raises the question by some that perhaps Berry should find another country that better represents her views and join its Olympic team.

June 26: Texas Scorecard: Texas woman arrested and charged with
multiple felony counts related to a vote harvesting operation
State authorities arrested a Texas woman accused of voter fraud after a grand jury indicted her on multiple felony charges related to mail ballots in a 2018 local election.  Attorney General Paxton's office announced his Election Fraud Unit arrested and jailed Monica Mendez on 31 felony election fraud counts.  These included: seven counts of illegal voting (second-degree felony—2 to 20 years in prison, fine up to $10,000); eight counts of unlawfully assisting a voter voting by mail (third-degree felony—2 to 10 years in prison, fine up to $10,000); eight counts of unlawful possession of a ballot (state jail felony—180 days to 2 years in jail, fine up to $10,000) and eight counts of election fraud (state jail felony). The charges relate to a May 2018 water district election in a town of about 2,000 residents near Victoria, TX.  The case was brought to the attention of Paxton's office by the Secretary of State when 275 new voters were discovered using the same address.  A total of 563 ballots were cast in the election with just twelve votes separating the winning and losing candidates. 

June 26: Fox Business: Facebook could be held liable for sex trafficking
The Texas Supreme Court ruled Friday that  Facebook can be held liable if sex traffickers use the platform to prey on children.  The state court ruled that Facebook is not a "lawless no-man's-land" and could be held accountable following three Texas-based lawsuits that involved teenage sex traffic victims, the Houston Chronical first reported.   The victims were reportedly preyed on through the social media platform's messaging system – prompting prosecutors to claim the site was negligent in not better blocking sex trafficking opportunities.  Facebook contended that it is protected under Section 230 – an internet law that says online platforms are not responsible for third-party content posted on the service's site.   "Holding internet platforms accountable for words or actions of their users is one thing, and the federal precedent uniformly dictates that section 230 does not allow it," the court found.  "Holding internet platforms accountable for their own misdeeds is quite another thing. This is particularly the case for human trafficking."

June 26: The Epoch Times: Louisiana Gov. vetoes gun bill nixing concealed
carry without a permit
Louisiana Gov. John Bel Edward vetoed a bill passed by the bipartisan state lawmakers that would have nixed the permit requirement for carrying a concealed handgun.  Edward, a Democrat, said he's a strong supporter of the Second Amendment and an "enthusiastic outdoorsman and hunter," but he can't support carrying concealed without a permit.  "I simply cannot support carrying a concealed carry firearm without proper education and safety training," he said.  "Our current system strikes the right balance of ensuring that people can bear arms while also keeping reasonable permitting and training processes in place … Simply put, it is not too much to ask that a person who wishes to carry a concealed weapon in public be required to attend basic marksmanship and safety training so they understand the regulations associated with such an action."

June 26: One America News Network: Dems backing off the defund the police
messaging as the midterms approach; it wasn't selling
Democrats appear to be backing off the call to defund the police as evidence shows its hurting the party heading into the 2022 midterms.  The idea that funding should be scaled back or reallocated from the police department became the rallying cry of the left through much of 2020 following the death of George Floyd. However, amid surging crime rates in multiple U.S. cities, it seems public support for the idea is dropping.  Progressive lawmakers have admitted it's a bad idea, acknowledging the public likes having police to keep them safe. They also acknowledged the need to do a better job of advocating for police reform while also supporting the police, but only pushed the defunding call throughout 2020.

June 25: The Texas Tribune: TX Dems sue Gov. Abbott over veto of funding
for the state legislature
A group that includes Texas House Democrats and legislative staffers is asking the Texas Supreme Court to override Gov. Abbott's recent veto of part of state budget that funds the legislative staffers and legislative agencies. More than 60 Democratic members of the House signed a petition along with the House Democratic Caucus, the Mexican American Legislative Caucus, four state employees and the Texas AFL-CIO.  The veto came after Democrats broke a quorum by leaving in the few remaining hours of the session. Abbott said if they aren't going to work then he wasn't going to agree to fund them! The Dems action was taken to kill an election integrity bill that they opposed, but which would have passed if they had not walked out. That bill, an Abbott priority, would have expanded the number of hours polls are open while prohibiting 24-hour voting. It would also have tightened absentee voting requirement to reduce the possibility of fraud, prohibited ballot harvesting, and restricted the ability for local jurisdictions to wave provisions of the election code. State legislators are funded under the Texas constitution but their staffs and other legislative agencies are subject to the budget and appropriations every two years. The group's attorney Chad Duncan claimed "The state is in a constitutional crisis." It will be up to the Texas Supreme Court to determine the outcome.

June 25: News Max: Biden's Justice Dept. sues Georgia over its
election integrity law
The Justice Department is filing a lawsuit against the state of Georgia to try and overturn a new voting law that Democrats allege discriminates against minorities.  Georgia's Governor Brian Kemp signed the bill into law back in March.  The law strengthens absentee voting requirements while expanding the times polling places are open for voting.  But some believe DOJ drank the "cool-aid" that race, not integrity, was the intent, if not the result, of the legislation.  Similar allegations were made about the election integrity legislation that failed to pass the Texas House because Democrats walked out of the chamber forcing the lack of a quorum.  Governor Kemp issued a statement saying: "This lawsuit is born out of the lies and misinformation the Biden administration has pushed against Georgia's Election Integrity Act from the start."  Georgia is just one of several states that have been working on tighten up election laws to guard against voter fraud.

June 25: One America News Network: Mitch McConnell criticizes Biden for
mixed messages on the infrastructure package
Senate Minority Leader Mitch McConnell (R-KY) has criticized Joe Biden for already caving to the left on the proposed infrastructure deal. While speaking on the Senate floor on Thursday, McConnell decried Democrat leadership for their "short-lived" bipartisanship.  This comes after Biden threated to veto the infrastructure proposal if lawmakers didn't additionally pass a separate reconciliation bill. McConnell also accused House Speaker Nancy Pelosi (D-CA) and Senate Majority Leader Chuck Schumer (D-NY) of "pulling the rug out from under their bipartisan negotiators."  McConnell added how Biden's remarks prove that he has no desire to reach a bipartisan outcome, warning that Democrats will stop at nothing in order to "keep their runaway spending train chugging along all summer."  "But really caving completely in less than two hours, that's not the way to show you're serious about getting a bipartisan outcome. So, look, I hope our colleagues can recover and get their good faith efforts back on track," he concluded.

June 25: Fox News:  Too little, too late as Harris goes to El Paso on her
first visit, 90 days after being designated border czar
As Kamala Harris made her first trip El Paso, TX, on Friday. Worthy of note is Harris' avoidance of areas of the border in the Rio Grande Valley region which has borne the brunt of the mass migrations.  Meanwhile the Republican National Committee (RNC) followed her to Texas with an on-the-ground ad campaign designed to highlight what it described as the "failed policies" and "open-borders agenda" they say has fueled the immigration crisis in the first place.   RNC Chairwoman Ronna McDaniel said in a statement. "After more than 90 days of lying to the American people and fueling the crisis at the border, Kamala's layover in El Paso is too little, too late."   Meanwhile, Harris was the recipient of sharp criticism after an El Paso press conference in which she blamed the Trump Administration for the migrant crisis.  While answering questions from reporters, Harris proceeded to list various border policies implemented in El Paso by the Trump administration, claimed they had "disastrous effects," and praised the Biden administration for work she claimed alleviated the crisis.  Apparently, some people have a hard time separating fact from fiction!

June 24: Texas Scorecard: What to expect from the special session of the
Texas legislature
It has been decided that there will be a thirty day special session of the Texas legislature starting on July 8th.  Still up in the air is the subject of that session.  The Governor has provide some hints which includes election integrity legislation and bail reform measures.  He is also holding the legislature hostage because come September the funding for their staffs will runout because Gov. Abbott exercised his line-item veto to scratch this funding in response to the House Democrats vacating the chamber in order to stop the passage of election integrity measures.  Also possible items for the special session are protections of free speech on social media platforms.

June 24: One America News Network: Biden's AG breaks from gun control to
focus on "illegal" guns
Attorney General Merrick Garland appeared to admit illegal guns are the main cause of violent crime in Democrat-controlled cities. Garland announced he will be holding illegal firearms traffickers accountable.  "The strike forces will focus on addressing significant firearms trafficking corridors that fuel violence in New York, Chicago, Los Angeles, the San Francisco Bay Area and Washington, D.C.," he said.  This statement contradicts Joe Biden's claims that a tougher control of legal gun owners would help reduce violent crime. Biden's attorney general also said he will support the police in fighting illegal guns, which doesn't fall in line with the Democrat agenda.

June 24: The Washington Free Beacon: Biden Administration turning its back
on Israel? Walks back Trump policy that the Golan Heights belongs to Israel
n 2019 the Trump administration declared the Golan Heights territory which was seized by Israel from Syria in 1967 war and then annexed by Israel to be wholly part of the Jewish state.   That position was reaffirmed in 2020 by Secretary of State Mike Pompeo visited the area.  Now Secretary of State Antony Blinken is raising questions about the Biden administration's view on the matter by not being willing to say if his State Department continues to abide by the former administration's decision. At the time, Blinken would only say the Golan Heights "remains of real importance to Israel's security," but that its formal status remains unclear.

June 24: Fox News: Russia claims it fired a live warning shot at NATO (British)
vessel near Crimea in the Black Sea
Russia is prepared to target intruding warships if they fail to heed warnings, a senior Russian diplomat said Thursday in a tough statement in the wake of a Black Sea incident in which a British destroyer sailed near Crimea in an area that Russia claims as its territorial waters.  The Russians have claimed they fired warning shots and dropped ariel bomb in the path of the HMS Defender near the port of Sevastopol.  Britain denies the account saying they were fired upon in Ukrainian waters.  This is the first time since the Cold War that Moscow has acknowledged using live ammunition against NATO warships.

June 23: One America News Network: Senate GOP; Dems support for
election-take over bill blatantly political and not serious legislation
"Today we'll be voting on S number one, which means it is the number one priority for the Democrats in this country and in the Senate," Senator Barrasso stated. "They make it a higher priority than the economy and inflation, a higher priority than the crisis at the border or the crime in our cities."  Policy Committee Chairman Roy Blunt (R-MO) pointed out one the major faults of the election reform bill was the most effective reforms did not originate at the federal level. Conference Vice Chairman Joni Ernst (R-IA) added to Blunt's point by saying Democrats were trying to push their already expansive reach even farther.  "Instead of focusing on the things that are really important to our constituencies back home, you know, the rising prices of good that our families need every single day," she expressed. "These politicians here in Washington D.C. have decided they want to focus on consolidating power."

June 23: Fox News: Harris to go to the border; Really? 90 days after
appointment as border czar?
Kamala Harris is set to visit the U.S.-Mexico border Friday amid mounting criticism from Republicans for not yet doing so, following her appointment by Joe Biden to handle the "root causes" of migration.   Harris has come under heavy criticism from Republicans and some Democrats for the way she has handled the role since being appointed to it 91 days ago. While the White House has emphasized, she is tasked with the "root causes" of the border crisis, Republicans have criticized her repeatedly for not having visited the border at all – with former Trump officials saying she needs to go to the border in order to be able to conduct the talks effectively.  Harris, earlier this month, visited Guatemala, for her first visit abroad since being appointed by President Biden to lead diplomatic efforts to the region to help solve the massive spike in migration to the border in recent months.

June 22: One America News Network: PA Senate Chair backs a full forensic
audit of 2020 election in his state
Pennsylvania state Sen. David Argall announced his support for a full forensic audit of the 2020 elections in his state. In a statement, Argall said he supports an Arizona-style audit in Pennsylvania due to the growing evidence of violations that could've changed election outcomes.  Argall asserted such an audit would be backed by the subpoena power of his State Government Committee. Election integrity activists have called on Argall to authorize the audit immediately.  "We know that we have legislators that are for it. Obviously, some of ours visited Arizona last week and came back with a plan in place, but this is not going to be easy," Toni Shuppe of Audit the Vote PA explained. "The other side is not just going to roll over and give it to us. I believe a lot of them know what they did."  Meanwhile Argall went on to say the decision to begin the audit could be made in the coming weeks… adding right now a Pennsylvania audit is a real possibility.

June 22: The Washington Examiner: Senate GOP kills Federal election takeover
bill, heighten pressure on Democrat holdouts to get rid of the filibuster
Senate Republicans blocked a measure authored by Democrats that would overhaul election and voting laws, calling the legislation a partisan power grab. Democrats voted unanimously to begin debate on the For the People Act, a bill they framed as critical voting rights legislation but which they admit is to counter the increasing number of state legislatures that are enacting election integrity measures. The Democrats only control up to 50 votes which means Republican senators can filibuster it and stop debate, which is what they did. This, in turn, is causing the left-leaning Democrat leadership to increase the pressure on their own senators from West VA and Arizona to support getting rid of the filibuster.  The bill the GOP stopped would overhaul campaign finance laws, ban state-imposed voter ID requirements, extend early voting days, reform redistricting, and enable ballot harvesting.

June 22: The Daily Caller: Parents in Northern VA arrested for protesting
CRT in Loudoun County Schools
Parents were arrested while objecting to Critical Race Theory (CRT) and a transgender policy at a Virginia school board meeting Tuesday.  The meeting in Loudoun County Virginia, abruptly ended after the crowd became too boisterous and was later declared an unlawful assembly.  Two arrests were made for trespassing after some parents refused to leave.  More than 200 people signed up to speak at the public comment section during the meeting.  Despite not being on the official agenda, CRT became a hot button when people spoke out against the teaching of it in Loudoun schools.

June 22: The Epoch Times: Navy warship transits Taiwan Straight after
28 Chinese aircraft entered the Taiwan defense zone
A U.S. warship has again sailed through the sensitive waterway that separates Taiwan from China, a week after the self-ruled island reported the largest incursion here to date of Chinese air force jets in Taiwan's air defense zone.  The U.S. Navy's 7th Fleet said the Arleigh Burke-class guided missile destroyer USS Curtis Wilbur conducted a "routine Taiwan Strait transit" in accordance with international law.  The Chinese regime condemned the United States as the region's greatest security "risk creator."  The same ship transited the strait a month ago, prompting the Chinese regime to accuse the United States of threatening peace and stability.

June 21: KTRH News:  Are the Maricopa County missing ballot
really smoking guns?
The Arizona audit in Maricopa County is almost complete, (you probably also didn't even know they were doing a recount!), and according to reports, 200,000 votes somehow went missing.  "If that's the case, that is a very serious problem" said Hans Von Spakovsky of the Heritage Foundation. "It could raise all kinds of questions about not only the election, but the fact that it would be a violation of federal law. It's a crime."  The Democrats did everything they could to block the audit, which is odd because if you have nothing to hide? and everything was legit? than why not welcome it? But that was not the case.  "Everyone should want an audit" Von Spakovsky said, "It may finally settle all the questions that people still have about the conduct of last year's elections."  And it would be some massive vindication, and a smoking gun, for former President Donald Trump. Not enough to change the election, but more than enough to clearly see the need for election integrity.

June 21: The Daily Caller: House GOP demand to know how group allegedly
channeled private funds to election agencies in 48 states
A group of House Republicans sent a letter Monday to the left-leaning group Center for Tech and Civic Life (CTCL), calling on them to explain where the hundreds of millions of dollars they were given during the COVID-19 pandemic went, saying the group spent less than one percent on personal protective equipment (PPE).  The letter mentions that CTCL gave $350 million to nearly 2,500 election officials in 48 states and the District of Columbia in 2020. The lawmakers call on the CTCL to immediately publish their full financial 990s for public review, saying it is the groups legal obligation as a registered 501(c)(3).

June 21: The Washington Examiner:  GA judge mulls over whether to dismiss
a Fulton County ballot review
A Georgia judge heard arguments on Monday on whether to dismiss a 2020 election fraud lawsuit in the state's most populous county with an inspection of close to 150,000 absentee ballots hanging in the balance.  Attorneys for Fulton County claimed the court lacked jurisdiction and the proponents of the audit lacked evidence.  Those wanted to conduct the audit argued fraud led to a violation of their constitutional rights and relief from the courts is needed to combat fraud in upcoming elections. Superior Court Chief Judge Brian Amero said he needed time to consider the case and put everything on hold until he could do so.   If the case moves forward, a review of Fulton County absentee ballots could commence starting with the 147,000 absentee  ballot images that were unsealed in late May.  The result of such an audit would not over turn the election of Biden but could be helpful in ensuring there is no election fraud and better election integrity in the future.

June 16-22: The Epoch Times [Print Edition]: Arizona AG tells DOJ he
"will not tolerate" efforts to thwart election audit
The Arizona Attorney General Mark Brnovich told the U.S. Department of Justice that his office "eill not tolerate" any efforts to thwart the 2020 election audit currently underway in Maricopa County, the state's largest – and also heavily Democrat – county.  "My office is not amused by the DOJs posturing and will not tolerate any effort to undermine or interfere with our State Senate's audit to reassure Arizonians of the accuracy of our elections," he said.  In a letter to U.S. Attorney General Merrick Garland he wrote. "We stand ready to defend federalism and state sovereignty against any partisan attacks for federal overreach."  As reported earlier on this blog, AG Garland had announced that DOJ will be doubling its division's enforcement staff in order to protect voting rights.  DOJ is also scrutinizing new voter integrity laws being passed by various states across the nation.  In his letter, Brnovich cited the 10th Amendment and Articles I and II of the U.S. Constitution, stating that Garland's statements were "troubling" and "displayed an alarming disdain for state sovereignty." He also reminded the U.S. AG that the states created the Federal government and not the other way around!

June 20: The Washington Examiner: Despite Biden's promises,
over 60% of taxpayers will see a tax increase
An analysis by the nonpartisan Tax Policy Center found that 60% of households would face a higher tax burden under Joe Biden's proposals.  "For those looking to see if Biden kept his promise to not raise taxes for those making $400,000 or less, the answer is: mostly, but not entirely," senior fellow Howard Gleckman said.  "Including corporate tax increases, most households would pay more in 2022. About three-quarters of middle-income households would face an average tax increase of around $300."  Biden pledged during the 2020 campaign not to raise taxes on people making less than $400,000, but the analysis shows the majority would see at least some increased taxes from his proposals. Roughly three-quarters of households earning between $75,000 and $100,000 would see their burden rise about $440, while 69% of those making between $100,000 and $200,000 would see an increase of $830 on average.

June 20: One America News Network: Major cities decide to refund,
not defund, the police departments
Major cities are looking to re-fund the police after axing department budgets in response to national unrest. Instead of defunding the police, several cities have begun to sing a new tune.  Cities like New York City, Oakland and Los Angeles are re-funding the police due to an increase in crime. In NYC they are building a new police precinct building. In Oakland, the City Council voted to allocate $10 million to restore vital community services for fire and police. "At the end of the year, this department was impacted by a loss of millions of dollars to our budget as a result of budget cuts," Chief Armstrong said. "Those millions of dollars were resources, they were officers…. "…We lost all of these resources and we're seeing the tremendous impact that loss is having on our community."  Additionally, the Los Angeles City Council signed off on a plan by Mayor Eric Garcetti (D) in May to increase funding for the Los Angeles Police Department by three percent, despite activists urging for the police to be defunded. The boost in funding will allow the department to begin rebuilding its workforce as it has lost hundreds of officers this past year

June 20: The Epoch Times: NV GOP Chair: We need an AZ type election audit
After visiting the election audit of Arizona's Maricopa County, the head of Nevada GOP said a similar review is needed in Nevada—although the possibility appears slim as Democrats control both houses of the state Legislature.  "Hats off to the leadership here in Arizona … I think that sets the model, that sets the tone for Nevada," GOP Chairman McDonald said.  "We want to duplicate that in Nevada."   Starting in April, a private company has led efforts to audit all 2.1 million ballots cast in Maricopa County following an order by Arizona's GOP-controlled Senate.   McDonald, who said he has a law-enforcement background, said he believes the audit's security and procedures are sufficient. The GOP Chair wants to be able to say "…we looked at all the problems we had, all the anomalies that took place, to make sure that it was a clean and fair election… Because it wasn't."

June 18: Business Insider: Abbott vetoes state legislature funding after
Dems walkout over Election Integrity
Texas Gov. Greg Abbott vetoed Article X of the state budget on Friday, effectively defunding the entire state legislature after Democrats staged a walkout to prevent restrictive voting laws from passing in May.  "Texans don't run from a legislative fight, and they don't walk away from unfinished business," Abbott said.  Funding should not be provided for those who quit their job early, leaving their state with unfinished business and exposing taxpayers to higher costs for an additional legislative session. I therefore object to and disapprove of these appropriations."  In the closing days of the session, Democrat lawmakers walked off the House floor in order to stop legislative action (due to the lack of a quorum) on an election integrity bill.  Abbott's veto will, however, only impact legislative staffers because the pay for state legislators is set by the Texas state constitution.

The bill the Democrats wanted to kill would make it a felony for election officials to distribute unsolicited ballot by mail applications, ban drive-thru voting, and limit voting hours in the eight largest counties in the state to specific hours while expanding the number of hours a person could vote. 

June 18: Fox News: Over 55 House members call for removal of Harris
as point person overseeing border crisis
More than 55 House Republicans are urging Joe Biden to remove Kamala Harris from her role dealing with the migrant crisis that has overwhelmed the southern border in recent months -- accusing her of "inaction" on the crisis due to her failure to visit the border. Some are calling to prohibit her from international travel. "Despite being in the midst of a border crisis this country has not seen in two decades, …Harris has not yet shown adequate interest in observing this crisis first-hand," the 56 lawmakers, led by Rep. Glenn Grothman, (R-WI) wrote. "In the 85 days since the Vice President has been tasked with solving this crisis, she has yet to visit the border and meet with Border Patrol agents, Immigration and Customs Enforcement (ICE) officials and local law enforcement officials.

[Related] Fox News: Bill introduced to restrict Harris international travel
amid inattention to border crisis
Iowa Republican Rep. Ashley Hinson appeared on the House floor to press for legislation that would bar Kamala Harris from taxpayer-funded international travel until she visits the southern border first.  Harris, whom Joe Biden deputized to lead efforts in Central America to eradicate the "root causes" of the massive waves of illegal immigrants from there to the U.S. border, has faced strong Republican criticism for not bothering to experience firsthand the crisis she's playing a role in ending. [June 14]

June 18: One America News Network: Senate Bill 1 is a Democrat power grab
Republicans are bashing Democrats for their attempt at influencing future election outcomes with what they are calling the Corrupt Politician's Act. This comes after GOP senators slammed the Democrat sponsored elections and voting Bill, S-1.  During a press conference Thursday, Minority Leader Mitch McConnell (R-KY) called the piece of legislation a solution in search of a problem. He then pointed out Democrats have wanted to control elections at the federal level for several years. "After the 2016 election, the same bill was introduced in the House and as soon as they got the majority, they passed it," McConnell explained. "And the rationale at that point was we needed to clean the system up. Then they liked the outcome of the 2020 election and so the rationale became we need to prevent states from somehow making it more difficult for people to vote."  The Kentucky Republican added, every new state law passed is legitimate and there is no rational basis for the federal government to seize power over elections.

June 18: The Epoch Times CA exodus and falling birthrates impacts state
As California's population drops due to a mass exodus of residents escaping high taxes, exorbitant housing costs, and increasing homelessness, there's another factor that's been quietly contributing to the downturn: the declining birth rate.  Data shows that while the Golden State's population continues to grow old, young adults are having fewer kids.  John Moorlach, a former state senator and Orange County supervisor said if immigration is minimized and there is zero growth, "the old rule in businesses" would apply: "If you're not growing, you're dying."  The state's birth rate compared to the death rate has been slowing since the 1990s, according to the Public Institute. In 2019, California had 11.3 births for every 1,000 residents, according to the report—the state's lowest rate in over a century

June 17: The Epoch Times: IRS denies tax exempt status to Texas religious
group because prayer, bible reading boost the Republican Party
An IRS official denied tax-exempt status to a Texas group that encourages church members to pray for state and national leaders, regardless of their party affiliation, because it benefits "the private interests of the [Republican] Party."  "You do not qualify as an organization described in IRS Section 501(c)(3). You engage in prohibited political campaign intervention," wrote Stephen A. Martin, director of the IRS Office of Exempt Organizations Rulings and Agreements, in a May 18 letter (pdf) to Christians Engaged, the Garland, Texas-based prayer group recognized by Texas officials as tax-exempt.  "Specifically, you educate Christians on what the Bible says in areas where they can be instrumental, including the areas of sanctity of life, the definition of marriage, biblical justice, freedom of speech, defense, and borders and immigration, U.S. and Israel relations," he wrote.  "The Bible teachings are typically affiliated with the [Republican] D party and candidates. This disqualifies you from exemption under IRS Section 501(c)(3)."

June 17: The Washington Post: Senate GOP will block SB-1
Senate Republicans vowed Thursday to block voting legislation from advancing later this month, rejecting a key Democrat senator's compromise offer that adopted some GOP ideas in a bid to break partisan gridlock on the issue.  The pledge from Senate Minority Leader Mitch McConnell (R-KY) all but guarantees that Republicans will filibuster a sweeping voting bill that Majority Leader Charles E. Schumer (D-NY) is sending to the floor Tuesday.  Parts of the bill are meant to overrule provisions contained in a host of GOP-passed state laws that have placed restrictions on early voting, mail-in voting, ballot drop boxes and other policies that make it easier to cast a ballot, in response to former president Donald Trump's claims of a stolen 2020 presidential election.

June 17:The Daily Caller: A parent-led rebellion against CRT is
storming school boards across the nation
A parent-led rebellion against Critical Race Theory (CRT) is storming school boards across the country and demanding accountability for what is being taught to American children.  At least 165 local and national groups have formed to combat CRT instruction in schools an NBC analysis found.  Many of these groups were founded by parents appalled to discover what was being taught to their children. Their advocacy has launched small town CRT debates onto the national stage, spurring far-left activists and establishment media outlets to accuse conservatives of ignorance and in some cases, racism.  "Parents are right to revolt against critical race theory in the classroom," senior fellow at the Manhattan Institute Christopher Rufo said.  "Children are not inherently 'oppressors' and should not be implicated for historical crimes on the basis of their race. That's the kind of propaganda that belongs in a Soviet history museum—not American K-12 classrooms."

June 17: One America News Network: GA officials admit "bad things"
happened in 2020 election
Investigative reporter John Solomon sounded off on Georgia's decision to probe the missing chain of custody documents. During a recent interview, Solomon cited a Fulton County election report, which described voter irregularities found by Secretary of State Brad Raffensperger.  "Raffsenberger's own guy is saying bad, bad things are happening in Atlanta. Somebody left ballots and equipment out on a dock insecure," he explained. "There [is] a suitcase of election materials that walk out, no chain of custody, no one even noticed who the person is that took it."  He went on to report up to 15,000 ballots have been unaccounted for. Although these ballots were assigned a number, they were not run through voting machines and officially counted. He also reported that some ballots were scanned multiple times.   "There are many batches of documents, more than 2 dozen that are marked as having been double scanned, meaning they went through the machine and counted twice," Solomon reported.  Experts say up to 330,000 ballots could be impacted in a state Joe Biden won by fewer than 12,000 votes.

June 17: Fox News: All fifty of Portland's special police unit resign
en-masse over indictment of one of their own
All 50 of Portland police's highly trained rapid response unit (RPT) voted unanimously to resign Wednesday during a union meeting in response to the recent indictment of Officer Corey Budworth for allegedly assaulting a photographer with his baton during as an overnight riot broke out last August.  "Unfortunately, this decorated public servant has been caught in the crossfire of agenda-driven city leaders and a politicized criminal justice system," the Portland Police Association said.  "After nearly 75 consecutive nights of violence, destruction, and mayhem, a small group of RRT officers—including Budworth—were again tasked with dealing with the riot.  Per PPB Command Staff orders, RRT officers cleared the rioters from the area to allow the Fire Bureau to extinguish the blaze. But the rioters were not satisfied, " the union contended.  Rioters re-amassed and began marching back as the RPT was working to clear the area, Officer Budworth "was forcefully knocked to the ground" and officers deployed pepper spray and less lethal munitions as the crowd grew more aggressive. "RRT officers, including Officer Budworth, used their Police Bureau-issued batons to try and stop the crowd's criminal activity," the union contended.  

June 17: The Epoch Times: TX Gov. demands feds return seized land
set aside for border wall
Texas Gov. Greg Abbott is demanding that the Biden administration return property that was seized by the federal government for construction of a border wall, as the governor announced a proposal for a state- and crowdsource-financed border barrier.  "I write now to demand that you immediately return to Texans any land taken by the federal government but not used for building a border wall," Abbott said in his letter to Biden.  Abbott contended since the Trump Administration used "condemnation powers" to obtain formerly Texan-owned property along the U.S.–Mexico border; and because the Biden administration has issued  order to rescind Trump's directions mandating that the wall be built; that the federal government should return any land that was acquired from Texans and isn't being used to construct the wall.

June 17: Breitbart News:  Army battalion commander under inquiry after
allegedly telling soldiers "white people are the problem"
Army Lieutenant Colonel Andrew Rhodes, commander if the first battalion at Fort Carson is under preliminary inquiry after allegedly telling troops that "white people are the problem," an Army spokesperson said.   The command is aware of an event involving one of our battalion commanders, we are conducting a preliminary inquiry to gather more information."  According to an eyewitness source, after soldiers in the battalion received a quarterly Equal Opportunity (EO) brief by an EO representative, Rhodes made the additional remarks.  He allegedly told soldiers that EO and SHARP (Sexual Harassment/Assault Response and Prevention) were very important to him, that he would take every accusation very seriously, and he believed there was only a .01% false accusation rate.  He then reportedly said that white people correcting white people is the way to fix the culture in the military, and that soldiers could not depend on minorities to correct the majority. 

June 17: The Washington Times: SCOTUS sides with Catholic Social Services
in LGBTQ case
A unanimous Supreme Court ruled Thursday that the city of Philadelphia violated Catholic Social Services' First Amendment rights by forcing the agency to place children with same-sex couples despite the organization's religious beliefs.  "Government fails to act neutrally when it proceeds in a manner intolerant of religious beliefs or restricts practices because of their religious nature," Chief Justice John G. Roberts Jr. wrote for the court.  The justices grappled with how to square religious liberty and LGBTQ rights after Philadelphia stopped Catholic Social Services from placing foster children in homes because the charity's policy barred homosexual couples from serving as foster parents.

June 16: Reuters: Biden Administration considering response to Federal
judge order to resume oil drilling lease bidding
U.S. Interior Secretary Deb Haaland said on Wednesday her department was reviewing a federal court's decision that it must resume auctioning oil and gas leases on federal acreage but did not say when those auctions might restart.  The Biden administration had suspended drilling lease auctions in January to review the program's environmental costs, a move widely seen as a first step to delivering on Biden's campaign promise to end new federal drilling to fight climate change.  But a federal judge in Louisiana on Tuesday ordered an end to the pause after Louisiana and 12 other states that support drilling on federal lands sued, arguing the suspension was against the law and would cause economic damage and kill jobs.

June 16: One America News Network: FED signals rate hikes in 2023;
the stock markets react
The Federal Reserve on Wednesday brought forward its projections for the first post-pandemic interest rate hikes into 2023 and opened the debate on when and how it may be appropriate to start tapering the U.S. central bank's massive bond-buying program.  Following the two-dayt meeting Fed Chair Jerome Powell, said they  were talking about tapering the central bank's $120 billion in monthly asset purchases, which officials said would continue until "substantial further progress" has been made toward the central bank's maximum employment and 2% inflation goals.   New projections saw a majority of 11 of 18 Fed officials pencil in at least two quarter-percentage-point rate increases for 2023, even as officials pledged in a statement to keep policy supportive for now to encourage an ongoing jobs recovery.

June 15: Fox News: Barrasso (R-WY): make Biden a half term President
Senator Barrasso says he's determined to make Biden a "one-half-term president." He didn't mince words when speaking at a recent breakfast discussion with the Ripon Society. "I'm looking forward to a very successful 2022. Mitch McConnell came under a lot of criticism for saying at one point he wanted to make sure that Barack Obama was a one-term president," Barrasso said. "I want to make Joe Biden a one-half-term president. And I want to do that by making sure they no longer have the House, Senate and White House." He also claimed that a Democratic senator told him that Sen. Bernie Sanders, I-Vt., predicted that Democrats would lose the House and Senate in 2022.

June 15: The Epoch Times: All the Utah sheriffs sign promise to
uphold the 2nd Amendment
Every sheriff in Utah signed a letter saying they would safeguard the Second Amendment in the midst of proposed legislation and recent executive orders authorized by Joe Biden. "Importantly, the Second Amendment of our divinely inspired Constitution clearly states … 'the right of the people to keep and bear Arms shall not be infringed,'" the letter signed by all 29 Utah sheriffs said. "We hereby recognize a significant principle underlying the Second Amendment: the right to keep and bear arms is indispensable to the existence of a free people."

June 15: The Epoch Times: Biden to focus national security efforts
exclusively on domestic terrorism and racism
Joe Biden's administration on Tuesday unveiled a national security strategy that focuses exclusively on domestic terrorism, naming white supremacists and militia extremists as "the most persistent and lethal threats" to America among ideologies motivating domestic terrorists. "We cannot ignore this threat or wish it away. Preventing domestic terrorism and reducing the factors that fuel it demand a multifaceted response across the Federal Government and beyond," Biden said in the strategy's introduction. While domestic terrorist attacks have been a threat to the United States for centuries, officials with the National Strategy for Countering Domestic Terrorism said, a resurgence of the homegrown violence has been seen in recent years, including in the surge of attacks against Jews and the mass shooting at a Walmart in El Paso, Texas in 2019.

June 15: The Daily Caller: Did Biden overrule staff on Russian pipeline deal?
Joe Biden reportedly overruled Secretary of State Blinken and other senior staff members in preventing sanctions against the Nord Stream 2 pipeline between Russia and Germany from going forward. The administration scrapped plans for sanctions against Russia aimed at the construction of the pipeline earlier in June. Blinken and his staff reportedly recommended a suite of sanctions that could derail the construction of the pipeline, which is now already 90% complete. Biden reportedly overruled the plan, arguing the sanctions would jeopardize U.S. relations with Germany and were likely to only slow construction Republicans on Capitol Hill have repeatedly attacked Biden for removing obstacles to the pipeline's completion while at the same time cancelling the XL Keystone pipeline in the U.S.

June 15: The Daily Signal: US Civil Rights Commissioner about Chicago
Mayor's not talking with White Journalists
Peter /Kirsanow, a member of the US Commission on Civil Rights, blasted Chicago Mayor Lori Lightfoot's policy that barred white reporters from interviewing her. Lightfoot was sued by the Daily Caller and Judicial Watch after she announced her policy on May 19. "A government official, such as yourself, depriving individuals of opportunities on the basis of their race is explicitly discriminatory," Kirsanow wrote in the letter. "Government-sanctioned bigotry is the same sort of horrid behavior that Americans of all stripes rejected, fought against, and ultimately conquered decades ago."

June 15: The Daily Caller: Lawsuit filed against Pelosi for unequal
treatment of GOP Congressmen
Republicans Texas Rep. Louie Gohmert and Georgia Rep. Andrew Clyde filed a lawsuit asserting that new security protocols put in place by Speaker Pelosi are not being uniformly applied to both Republicans and Democrats. "Upon information and belief, Speaker Pelosi has instituted an unconstitutional policy of enforcing the Screening Rule against only members of the Republican minority in the House of Representatives, and exempting members of the Democratic majority from its enforcement, resulting in only Republican members being fined and having their congressional salaries reduced, all for the purpose of creating a false narrative for the political benefit of the House Democratic majority," the complaint read.

June 14: Fox News: US educational institutions called into question
by North Korean defector
As American educational institutions continue to be called into question, a NK defector fears the US' future "is as bleak as North Korea" after she attended one of the country's most prestigious universities. Yeonmi Park, one of several hundred North Korean defectors settled in the United States, said she was deeply disturbed by what she found. "I expected that I was paying this fortune, all this time and energy, to learn how to think. But they are forcing you to think the way they want you to think," Park said in an interview with Fox News. "I realized, wow, this is insane. I thought America was different but I saw so many similarities to what I saw in North Korea that I started worrying."

June 14: Fox News: NK defector surprised by what she found in U.S. institutes of higher learning
As American educational institutions continue to be called into question, a North Korean defector fears the U.S.'s future "is as bleak as North Korea" after she attended one of the country's most prestigious universities.  Yeonmi Park, one of several hundred North Korean defectors settled in the United States, transferred to Columbia University from a South Korean university in 2016 and was deeply disturbed by what she found.   "I expected that I was paying this fortune, all this time and energy, to learn how to think. But they are forcing you to think the way they want you to think," Park said,  I realized, wow, this is insane. I thought America was different but I saw so many similarities to what I saw in North Korea that I started worrying."

June 13: One America News Network: The Republican National Committee (RNC)
may not participate in the next Presidential debates unless the Commission on
Presidential Debates addresses some major issues
In a letter the RNC has said they may not participate in future network television debates following their calls on the Commission on Presidential Debates to make significant changes. The commission has been slammed by the RNC on their selection of debate moderators as well as last minutes schedule changes of previous debates.  Some Republicans don't believe the GOP needs to count on the networks and has many platforms to get its message out. They also suggest GOP presidential primary debates might be moved from network television altogether. The RNC letter calling for changes noted the commission's scheduling the 2020 debates after eight states had already started early voting; unilaterally changing the agreed upon formats (i.e., moving from in person to virtual) at the last minute without notifying the candidates; and the commissions' inclusion of moderators who had obvious conflicts of interest.

June 13: Fox Business:  Biden's biggest tax is hiding in plain sight -
it's called inflation
In the first six months of the Biden Administration, rising inflation has squeezed businesses and families still reeling from the effects of the pandemic. That could spell trouble for Democrats.   As Americans return to normal life and spending habits, Republicans are sounding the alarm on rising prices, and laying blame squarely on what they see as President Biden's spendthrift recovery agenda.  Senate Minority Leader Mitch McConnell, (R-KY) blamed the American Rescue Plan, Biden's $2 trillion COVID recovery package, for "both people not wanting to work and raging inflation."  U.S. consumer prices increased 5% in May, the biggest surge since August 2008, before the financial crisis hit, the Labor Department reported Thursday. The staggering consumer price index increase comes as demand from the rebounding economy surpasses supply chain output, with food makers and manufacturers scrambling to make up for lost production time during the pandemic.

June 13: The Epoch Times: PA representatives introduce legislation
to ban CRT funding in the state's educational system
Two Pennsylvania state representatives are attempting to ban the teaching of critical race theory (CRT) in the state's schools, with the introduction of a bill aimed at "prohibiting the teaching, funding, or dissemination of racist and sexist concepts."  The legislation HB 1532 or the Teaching Racial and Universal Equality (TRUE) Act, was introduced by Russ Diamond and Barbara Gleim, both Republicans. It has collected at least 25 sponsors so far and was referred to the state Education Committee for consideration on June 7.

June 13: The Daily Caller: Netanyahu removed from post of prime minster
after 12 years of service leading Israel
Israeli Prime Minister Benjamin Netanyahu has officially been removed from power after the Israeli Knesset voted to form a new coalition government Sunday.  After 12 years at the helm of America's closest ally in the Middle East, Netanyahu will become the parliament's opposition leader as head of the Likud party.  He has been replaced as prime minister by Naftali Bennett of the New Right party.  Israel was forced to hold four elections in just two years after attempts to form a coalition government repeatedly failed. Sunday's coalition was formed by a narrow 60-59 vote, and Bennett will lead a government comprised of a diverse array of eight different parties.  Netanyahu has accused the incoming government of being weak on Iran and Palestinians.

June 12: Fox News: Trump on DOJ announcement about fighting
election integrity measures by state legislatures
Former President Donald Trump said Saturday that states should fight back against what he called the Biden Justice Department's efforts to whitewash "massive voter fraud" in the 2020 presidential election.  Referring to AG Garland 's announcement Friday that he's doubling the Justice Department's voting rights enforcement staff to combat state efforts to restrict ballot access, Trump said the move "should not be an attempt by the Biden administration to suppress the accountability of a dishonest election."  "They want to cancel anything having to do with the result of that election because they know what was done," Trump continued. "States cannot allow that to happen and should not be intimidated or suppressed by a government that wants nothing further to do with what took place during that period of time."

June 12: Townhall.com: CA Gov slams judge while announcing appeal of
decision on banning "assault weapons"
Last week U.S. District Judge Roger Benitez ruled that a 32-year old law out of California which banned assault weapons was unconstitutional. The judge's decision involved a permanent injunction against the law, though it was stayed for 30 days, so as to allow the state to appeal. And appeal it did.   On Thursday, Rob Bonta, the state's Democratic attorney general and Gov. Gavin Newsom (D-CA) announced their decision.  Newsom emphasized and contended Judge Benitez is "a stone-cold ideologue" and "a wholly owned subsidiary of the gun lobby and the National Rifle Association," claiming his decisions were "might as well be" the "editorial pages of Gun & Ammo magazine."  "We got a lot of work to do, but you need to call folks out, and we need to call this federal judge out," Newsom said. "He will continue to do damage. Mark my words," the governor warned.

June 12: The Washington Times: Federal Judge halts Biden Administration's
race-based farm loan program
A federal judge has halted the Biden Administration's program offering loan forgiveness for minority farmers only, stating that the federal government "cannot discriminate on the basis of race."  U.S. Distrtict Court Judge William C. Griesbach granted Thursday a temporary restraining order in response to an anti-discrimination lawsuit filed in April by the Wisconsin Institute for Law and Liberty on behalf of 12 White farmers in eight states.  The program, part of the $1.9 trillion American Rescue Plan, earmarks about $4 billion for up to 120% in debt relief for "socially disadvantaged" farmers and ranchers as defined by their race, not losses sustained during the pandemic or specific claims of financial need.

June 12: One America News Network: AG Merrick Garland announces DOJ will
fight voter integrity laws.
[Of course he will, but is it the states or federal government that has the authority under the Constitution to write election laws?]
Attorney Gen. Merrick Garland announced the Department of Justice's plans to aggressively fight voting laws. In a speech on Friday, Garland heavily criticized the ongoing election audit in Arizona and said the Justice Department plans to implement measures to stop Republicans from putting policies in place that ensure election integrity.  The Democrat judge also stated the DOJ will double the number of lawyers in its civil rights division within the next 30 days. The increase in staff will be utilized to challenge new laws that restrain voter access as well as monitor future election audits.  The bottom line is that elections have consequences and we are seeing, regardless of whether he was actually elected, what impact the Biden Administration is having on free and fair elections.  Texas is likely to be just one of the targets of the DOJ initiative.


June 12: Texas Trash Talk: Harris County voter requested an annual ballot by mail 29 years after she died, and she's not the only one!
On Feb. 10, 2020, the Harris County Clerk's Office received an annual application for Ballot by Mail, including the Democratic Party Primary, from voter Kathleen Hooey who is registered to vote at 7014 Jay Street in Houston. At first glance, all appears normal. The voter was born in 1919 so she qualifies to vote by mail under Texas Law. She signed the form and mailed it in on time, so nothing seems concerning.  But, Kathleen Hooey passed away in 1991 – 29 years BEFORE this application was signed and mailed.   And, she was not the only one. Get the details along with copies of the documentation.

June 12: Fox News: Anti-CRT parents and teachers gather in Loudoun County VA to protest indoctrination vs. information
Opponents of Critical Race Theory (CRT) panned the ideology Saturday during an "Education, Not Indoctrination" rally in a Virginia community that has become a flashpoint for the controversial curriculum amid a national debate over whether it belongs in public schools.  More than a dozen speakers delivered remarks outside the Loudoun County Government Center in Leesburg, including parents, activists and even a couple of district teachers opposed to the curriculum. An invitation to the event said demonstrators would meet to condemn what they perceive is the local school district's embrace of CRT.  "While the experts make themselves prominent before the public... our student body suffers from a myriad of issues created by the very initiatives these race problem solvers say that they are here to fix," Monica Gill, a teacher at Loudoun County High School, told those who had gathered. [Its call critical race "theory" which means its not a fact, in fact it's a flawed theory that pits people against each other as opposed to bringing people together!]

June 11: The Washington Examiner: MI Supreme Court orders panel to certify petition seeking repeal of Governor Whitmer's COVID19 orders
The Michigan Supreme Court ordered the Board of State Canvassers to certify a petition seeking to repeal a law used by Democratic Gov. Gretchen Whitmer to impose sweeping restrictions meant to curb the spread of the Chinese Communist Party coronavirus.   Justices said in a unanimous Friday order the canvassing board "has a clear legal duty to certify the petition," which allows the Republican-led Legislature to repeal the Emergency Powers of the Governor Act, after the Bureau of Elections determined the petitioning group Unlock Michigan collected over 100,000 more signatures than the minimum required for certification.   Two Democrats on the evenly divided four-member canvassing board voted against the petition's certification in April, citing concerns about the petition's legitimacy.

June 11: The Daily Caller: Also in MI, Dem Attorney General sought to arrest bistro owner for defying lockdowns prior to her going on "Tucker Carlson Tonight"
Democratic Michigan AG Dana Nessel apparently sought to arrest a lockdown-defying restaurant owner before she went on Tucker Carlson Tonight to discuss her story, according to a copy of an email obtained by the Michigan Capitol Confidential. "Do we know her whereabouts? We should just have her picked up before she goes on. This is outrageous," Nessel reportedly wrote in an email to her staff on March 12.  Pavlos-Hackney, who appeared on the Tucker Carlson show March 17, was arrested two days later before her release from jail on March 23.  In the meantime, the MI AG wrote in another email "I hope she gets the full 93 days for this."  The incident shows the extent to which some government officials will go in order to maintain power over individuals and local businesses.

June 11: The Washington Free Beacon:  Critical Race Theory (CRT) opponents win board elections at nation's top high school
A group of anti-critical race theory candidates this week won seats on the governing body of the nation's top high school after campaigning against the school's racially driven admissions practices.  As part of Fairfax County Public School's push for diversity and inclusion, it scrapped the admissions test for Thomas Jefferson High School for Science and Technology in October.  Two months later the district adopted a quota system to boost black and Hispanic enrollment numbers. A slate of four candidates opposed to the school's recent embrace of "equity" won seats on TJHS Parent Teacher Student Association.  resident-elect Harry Jackson, the first black man to lead the association, said that if left unchecked, critical race theory will tear communities apart.  "It's teaching that white people are inherently racist," Jackson contended "teaching that other children are there to oppress you. This is not the way to go."

June 9: The Washington Times:  Illegal immigration flow shifts as authorities nab 180.000 migrants in May
Homeland Security said Wednesday that it tallied more than 180,000 encounters with illegal immigrants in May, keeping up a pace that's the worst in 20 years.  But the flow is shifting, with single adults increasing, while the number of families and children traveling alone drops.  Also, more of those families are choosing to show up at border crossings and demand entry through asylum claims. That number more than doubled from 1,797 in April to 3,931 in May, CBP said.

June 9: One America News Network: Biden reportedly on track to
surrender protections for U.S. steel and aluminum producers
Joe Biden is expected to reverse U.S. tariffs on steel and aluminum imports that were put in place by the Trump administration. The rumor is that Biden will commit to lifting the tariffs during his meeting with European leaders next week.  Trump put these tariffs in place in order to stop U.S. dependence on foreign metals, which a government review found would be a national security threat. It was of great concern that becoming dependent on imported steel and aluminum would enable other countries to use their metal production to regulate U.S. policy.

June 9: The Daily Caller: Developer: The XL Keystone Pipeline officially terminated
The developer of the Keystone XL Pipeline announced that it was abandoning the contested project months after President Joe Biden revoked the pipeline's federal permit.  TC Energy permanently canceled further construction of the pipeline after conducting a comprehensive review of its options alongside the Government of Alberta, Canada, which had been a project partner, according to the energy company's announcement on Wednesday afternoon. The company noted that the project, which had been criticized by environmental groups, was suspended on Jan. 20 after Biden issued an executive order revoking its permit.

June 9: The Washington Times: Dept. of Education buried in an avalanche of over 35,000 complaints about plans to fund critical race theory (the 1619 Project)
The U.S. Department of Education has been inundated with thousands of complaints about its plan to encourage schools to teach a race-based view of American history that opponents say is inaccurate and racially divisive.  Most of the more than 35,000 comments opposed the idea.  The Biden administration invited input last month on proposed grants to K-12 schools that focus on slavery and racism as the defining characteristic of the American experience. The curriculum is known as critical race theory.

June 8: One American News Network: Study shows no bats were sold in wet market near the Wuhan, China wet market
A new study by Oxford University has discovered there were no bats or pangolins sold in the Wuhan wet market. In fact, the study reported no bats or pangolins were found anywhere around Wuhan at the beginning of the Coronavirus outbreak.   Through their investigations, the scientists are believed to have effectively debunked the natural origin argument. The Chinese Communist Party government and Dr. Anthony Fauci have long claimed COVID-19 jumped from a bat to a pangolin, which was then sold at the wet market, leading to the spread among humans. However, recent studies have shown the virus likely originated in a lab.

June 8: The Daily Caller:  Senator Capito (R-WV) accuses White House
officials of "walking Back" her agreement with Biden
Sen. Shelley Moore Capito accused White House officials Tuesday of walking back an initial agreement she had with Biden on an infrastructure package.  Biden "very clearly" agreed to "$1 trillion over 8 years, she contended.   Capito announced that her negotiations with Biden were ending without an agreement. Capito described the news as "disappointing." Perhaps there is a disconnect between Biden and his staff, or worse, that he does not negotiate in good faith. Other news outlets are reporting that the White House wants to raise taxes and the Republicans will not support such a move.

June 8: Fox News: Ex-NYPD captain/mayoral candidate slams AOC-backed candidate who supports defunding the police while having a private security service
A former NYPD captain turned NYC mayoral candidate slammed his"Squad-backed" rival for her comfortable neighborhood's hiring of a private security guard as she pushes to defund the police.  "To me that's the highest level of hypocrisy," Brooklyn Borough President Eric Adams said at a news conference Tuesday. "Security can't be for the affluent — it must be for every New Yorker."  Maya Wiley has called for slashing $1 billion from the NYPD's budget even as police crime statistics show a massive increase in violent crime in numerous neighborhoods.

June 8: The Epoch Times:  Texas adopts resolution combating Communist
China's "murder in the form of forced organ harvesting"
Yesterday, Texas governor Greg Abbott signed a resolution the officially condemns the Chinese communist regime's systematic killing of prisoners of conscience for their organs.  Thousands of desperately ill people from around the world come to China each year seeking organ transplants. Typically within two weeks the surgery is conducted.  However, in doing so, some of these patients may be "unwittingly becoming involved in murder in the form of forced organ harvesting," reads the resolution signed by the Texas governor.  The resolution urges Congress and Biden to adopt policy that would prosecute those responsible for the abuse, banning them from entering United States, and barring U.S. medical and pharmaceutical companies from collaborating with any complicit Chinese counterparts.  The resolution was unanimously passed by both the Texas House and Senate.

June 8: The Daily Signal: VA judge reinstates teacher who opposed transgender policy
A Virginia court ruled Tuesday that a county school system must reinstate a gym teacher it suspended for opposing proposed policies that would require all teachers to refer to students by their preferred pronouns regardless of the students' biological sex. The judge granted an injunction to stop Loudon County's Board of Education from suspending the teacher while the case is being considered.   "Educators are just like everybody else—they have ideas and opinions that they should be free to express," Tyson Langhofer, one of teacher's lawyers said in hailing the judge's decision.


June 7: The Daily Caller: Harris arrives, greeted by protestors saying go home and Trump won
Kamala Harris reportedly gave out cookies resembling herself to people aboard Air Force Two on the anniversary of D-Day before her arrival at a Guatemalan airport where she was heckled by protestors.  The cookies reportedly depicted her official White House portrait and Air Force Two and were handed out to members of the accompanying press corps in the aircraft.  Upon arrival Harris was greeted by protesters with various signs telling her to go home.  One sign apparently said "Kamala mind your own business" and another read "Kamala go home," according to the Floridian Press. Others said, "Kamala, Trump won" and "no constitutional reforms, Guatemala is pro-life."

June 7: The Epoch Times: US recovers most of pipeline's random
The United States has seized about half of the cryptocurrency paid to hackers that took hostage portions of Colonial Pipeline's system last month.  DOJ seized nearly 64 bitcoin, worth approximately $2.3 million. The action was made possible by a search warrant.   The authorities were able to pinpoint the transfer of the ransom to a specific address. They obtained the private key required to access the assets. The warrant authorized them to seize property located in the Northern District of California.  This incident highlighted the increase in attempts to hold cities and businesses hostage. 

June 7: One America News Network:  Former NYC PC; We need to
refund not defund the police
Former New York City Police Commissioner Bill Bratton referred to law enforcement as essential medicine amid the movement to defund the police. In an interview on Sunday, he argued being a cop in America these days is tougher than any other time in history.  He supported some of the reforms initiated after the death of George Floyd, but remains frustrated by the movement to defund the police.  "You need to refund the police," he expressed. "…The George Floyd Bill, when it comes out, it will effectively force government to spend resources on the essential medicine to fix this thing and police are the essential medicine."

June 7: Fox News: Judge orders Chicago mayor to clarify policy of
granting interviews to only journalists of color
A judge ordered Democrat Chicago Mayor Lori Lightfoot to provide a declaration by the end of the week as to whether her policy of only granting interviews to journalists of color was still in effect or would be in the future.  Conservative watchdog Judicial Watch asked the court for an injunction against Lightfoot's policy last week, saying it was unconstitutional.  Lightfoot's attorneys said the injunction was not needed because the policy is no longer in effect.  Judicial Watch filed the suit on behalf of the Daily Caller Foundation stating that one of their white reporters who had requested multiple interviews.  Judicial Watch argued the reporter should have equal protection under the 14th amendment.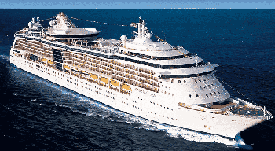 June 7: Travel Pulse: Royal Caribbean: No vaccine passports for Texas and Florida ports; Not so for Seattle and other ports
On Friday, Royal Caribbean announced a reversal of its previously planned requirement that passengers be fully COVID-19 vaccinated in order to sail aboard its cruises.  This policy change flies in the face of the company's original mandate that both guests and crew be fully vaccinated in order to board its vessels when the line returns to cruising from U.S. homeports in June 2021. The vaccination requirement will no longer apply for ships sailing out of Florida or Texas, although it holds for cruises departing from anywhere else. The prime mover in this change of plans are the Texas and Florida prohibitions that are set to go into effect. Apparently, the market for these states is just too lucrative to fight the states' laws.

June 7: One America News Network: SECCOM: There is no hurry to
strike a bipartisan infrastructure bill
Disagreements between Joe Biden and Senate Republicans have continued to stall a bipartisan deal on infrastructure reform. In an interview on Sunday, Commerce Secretary Gina Raimondo stated the administration is not in any rush to reach a bipartisan solution and added there is no "hardwired deadline" for bipartisan talks on infrastructure to make a deal.  Raimondo went on to suggest there is a broad desire among lawmakers in both parties to have a bipartisan agreement on infrastructure. "We won't do this forever, but right now there are good faith efforts on both sides," she said. "We're going to continue the work of doing our job and trying to get a bipartisan agreement."  Other reports have indicated that Republicans will not agree to a tax hike while the Biden Administration thinks one is needed.

June 6: The Daily Caller: Former FDA Commissioner: Fauci briefed world
leaders a year ago that COVID19 might have come from a lab leak
Former FDA Commissioner Scott Gottlieb said Sunday that he was told Dr. Anthony Fauci had briefed world leaders on the possibility that the novel coronavirus leaked from a lab.  Gottlieb said that a senior official in former President Donald Trump's administration had informed him there was suspicion that the strain "looked unusual," which prompted Fauci to address the possibility that it had leaked from a research laboratory in Wuhan.  Gottlieb said he "didn't think there was anything remarkable in those (Fauci) emails. I don't think there was anything that Tony said that expressed any ill intent, and nothing that was new." He continued, "We have other information now that fits into this picture. The science is one piece of information, but there is a lot of other information that points in the direction that this could have come out of a lab, that we need to have a broader view about the potential risk that this was a lab leak."

June 6: The Epoch Times: Manchin (D-WVA) to oppose election bill
that federalizes elections
Sen. Joe Manchin (D-W.Va.) said he will vote against a sweeping election reform bill pushed by his Democrat colleagues, saying forcing it through via the partisan reconciliation process will further deepen divisions.  "I believe that partisan voting legislation will destroy the already weakening binds of our democracy, and for that reason, I will vote against the For the People Act," he wrote in home-state newspaper.  Manchin also reaffirmed that he will not vote to weaken or eliminate the filibuster.  He criticized Democrats and Republicans for politicizing election reform to seek partisan advantage and urged both sides to work along to find a path forward.

June 6: The Washington Times: NATO naval exercises scheduled to
commence near Russia
The Navy is joining almost 20 other NATO countries in a half-century-old annual naval exercise near Russia's front door.  The annual BALTOPS (Baltic Operations) maneuvers that kicked off Sunday are considered the premier maritime-focused exercise in the Baltic region. Organizers say it is meant to "increase interoperability and enhance flexibility" among the participants. 

June 6: The Washington Examiner: Michigan election audit decision
before an appeals court
There is still life in a 2020 election fraud lawsuit in northern Michigan.  County and State officials are objecting to a proposed order from Matthew DePerno, the attorney for the plaintiff, filed after a judge rejected an effort last month to force a new audit of the results.  In anticipation of an appeal, 13th Circuit Court Judge Kevin Elsenheimer said it was is his understanding that all other matters had been put on hold for the time being and noted the court "will take all pending motions under advisement."  Michigan Assistant Attorney General Erik Grill contended  "The Court had stated that 'all matters' would be stayed — including discovery. But the Plaintiff's proposed order stays only unresolved motions and would not stay discovery or any other matters." A hearing for arguments is scheduled for July 12.

June 6: Fox News: Thousands killed 77 years ago today while trying
to stop a tyrant
Today marks the 77th anniversary of D-Day, a pivotal moment in WWII, when more than 2,500 American soldiers selflessly stormed the beaches of the French coast at Normandy, to help liberate Europe from the grip of the German-led Axis forces. The largest seaborne invasion in history, it ultimately led to the end of Nazi control of Europe. Not only was the invasion a pivotal war effort, but it was also considered to be the most calibrated in all of history. "It was the most complex military operation ever attempted," described Cheek-Messier. "All of these Allied Forces coming together on an international scale to defeat Nazi tyranny."  Though largely successful, the operation still meant the sacrifice of all too many lives.

June 5: The Epoch Times: Federal judge: CA gun law doesn't pass
Constitutional muster
A federal judge ruled Friday that California's ban on so-called assault weapons violates the Second Amendment.  The government through the law "bans an entire class of very popular hardware—firearms that are lawful under federal law and under the laws of most states and that are commonly held by law-abiding citizens for lawful purposes," U.S. District Judge Roger Benitez, a George W. Bush nominee, wrote in his ruling.  "Under no level of heightened scrutiny can the law survive," he added.  The California law had prohibited the manufacture, use, or sale of semiautomatic rifles with certain characteristics such as a fixed magazine that has the capacity to hold more than 10 rounds. People who violated this law would face felony charges that could put them in prison for up to eight years.  

June 4: The Daily Caller: Facebook roots out leakers and fires them
Executives at Facebook, including CEO Mark Zuckerberg, allegedly admitted to seeking out employees who leak information about the company and firing them, according to a new video from Project Veritas.   During a company meeting, a woman identified by Project Veritas as Internal Communication Director Melinda Davenport appeared to ask what the company is doing to handle leaks. Davenport mentioned Project Veritas had released videos that released the names of Facebook employees, allegedly putting them at risk.  Zuckerberg said the company has "a number of efforts to find people" who leak and "terminate people and pursue the recourse that we have when we identify them," according to the Project Veritas video. Zuckerberg then noted Facebook usually does not "talk about it, or go out of our way when we find folks who leak." <

June 3: The Daily Caller:  Report: U.S. Officials encouraged cover up
of origin of the CCP coronavirus
A U.S. government official allegedly ordered his employees not to publicly acknowledge American connections to, and funding of, the Wuhan Institute of Virology (WIV), the site implicated in a potential lab-leak of COVID19.  According to an article in Vanity Fair, Christopher Park, the director of the State Department's Biological Policy Staff in the Bureau of International Security and Nonproliferation, did not want to open the "Pandora's Box" of U.S. funding "for gain-of-function research."   Reportedly the U. S. government knowingly funded, through a third party, enhancement of the virus in Wuhan by giving grants to the nonprofit group (EcoHealth Alliance).   Apparently, this funding wasn't subject to an HHS review board that could have rejected the grant, because the sub-agency that awarded grants did not alert the review board.  According to a person who attended the meeting where Park told his employees not to say anything publicly about the funding, related the incident the publication Vanity Fair.  The individual apparently described Park's comments as "so nakedly against transparency" as to be "shocking and disturbing."

June 3: One America News Network: China threatens nuclear war
over probe to determine the origin of the CCP coronavirus
The Chinese Communist Party (CCP) has seemingly threatened a nuclear war against the U.S. amid calls for a real probe into the origins of COVID-19. The Global Times newspaper, which is controlled by the CCP, printed an editorial -- days after Joe Biden announced the launch of a new probe into whether the virus was leaked from the Wuhan lab -- saying Beijing is preparing for a nuclear war with the U.S.  The article claims China is building new warheads and missiles to deter he U.S. stating "the number of China's nuclear warheads must reach the quantity that makes U.S. elites shiver…should they entertain the idea of engaging in a military confrontation with China." This comes as China currently has some 350 nuclear warheads while the U.S. has 6,000.   The outstanding question is whether the Biden Administration will cave to CCP threats and bullying.

June 3: Fox News: California to pay $2 million in church's legal fees
over state closing down the church over COVID-19 pandemic
The state of California has agreed not to impose greater coronavirus restrictions on church gatherings than it does on retail establishments in a pair of settlements that provide more than $2 million in fees to lawyers who challenged the rules as a violation of religious freedom.  A deal approved Tuesday by a federal judge comes after lawyers for a San Diego-area Pentecostal church took their challenge against the state to the U.S. Supreme Court three times and won.  The settlement includes a permanent injunction in line with Supreme Court rulings that found restrictions on houses of worship cannot exceed those on retail businesses, attorney Paul Jonna said.

June 2: The Free Beacon: Federal judge dismisses Planned Parenthood challenge to Texas sanctuary city
A federal court struck down Planned Parenthood's attempt to thwart a Texas city from declaring itself a sanctuary for the unborn.  Northern District of Texas judge James Wesley Hendrix dismissed the lawsuit, ruling that the nation's largest abortion provider lacked the jurisdiction to challenge the law. "Because the ability to remedy a plaintiff's injury through a favorable decision is a prerequisite to a plaintiff's standing to sue—an ability absent here—the court dismisses the case for lack of jurisdiction," Hendrix wrote.  On May 17, Planned Parenthood and the American Civil Liberties Union of Texas filed a lawsuit to stop the Lubbock ordinance from going into effect on June 1. It declared that the city would automatically outlaw abortion if the Supreme Court overturns Roe v. Wade. "It shall be unlawful for any person to procure or perform an abortion of any type and at any stage of pregnancy in the City of Lubbock, Texas," the ordinance says. Lubbock, with a population north of 250,000 people, is the largest city in Texas to adopt such a ban.

June 2: Fox News: MacCallum pushes back on NIH Chief denying he
r ejected lab-leak theory
National Institutes of Health Director Dr. Francis Collins denied ever rejecting the theory that the COVID-19 pandemic originated in a laboratory in Wuhan, China Wednesday.  Collins, a geneticist and physician tapped by President Barack Obama to lead the Bethesda, MD agency in 2009, rejected any claim that he dismissed the lab-leak theory out of hand in 2020.  Still, Collins maintains the most plausible explanation for the pandemic is that the virus spread through animal-to-human transmission.  Martha MacCallum pushed back, pointing to partially-redacted emails released by BuzzFeed that included correspondence between Collins and Anthony Fauci, the head of the NIH's National Institutes of Allergy and Infectious Disease (NIAID).  MacCallum pressed Collins on the recently-released emails and whether he did or didn't downplay the lab-leak theory.  Collins replied that any references to "conspiracy theories" in the emails were meant to describe more colorful claims like that of China purportedly using a virus as part of an "engineered bioweapon."

June 2: The Daily Caller: Dems are sounding an alarm over the Texas
election bill.  Here is what it actually does!
The bill (SB7) includes provisions on early, mail-in and weekend voting, as well as sections pertaining to how elections are run, how ballots are counted and how to deal with potential cases of voter fraud. Similar bills in other states have been introduced, with some in states like Florida, Georgia, and Arizona having already been signed into law.  Before the bill passed the state Senate last Wednesday, Democrats were able to weaken some measures, compromising on amendments that lessened criminal penalties for those breaking election laws, allowed problematic poll watchers to be removed and reaffirmed that election officials who made honest mistakes would not be held criminally liable.  

If SB7 had been enacted – which it was not because the Democrats fled the House floor, raising a point of order that a quorum was not present – it would have added ID requirements to mail-in voting, increased early voting hours and banned drive-thru voting.  Texans opting to vote by mail will have to request an absentee ballot application and provide either their driver's license number or the last four digits of their social security number to ensure they could be identified. That same information would also have been required on the carrier envelope that returns their ballot to election officials, ensuring thereby that it is actually the voter, and not some vote harvester, submitting the voted ballot.   The bill would have made it a crime for election clerks to send out unsolicited absentee ballot applications to voters.  It would have also provided a system to allow individual absentee voters to track on line where their mail in ballot is in the process.  The bill would also expand Sunday voting from five hours to six and require that Sunday voting be conducted no earlier than 1 p.m. nor later than 9 p.m.  Currently, early voting polls are normally open on Sunday from 1-6 p.m., so the bill would have expanded access to voters, not restrict voting as the Democrats are falsely accusing.

June 2: The Guardian: Dems walk off the Texas House floor to kill
election integrity legislation
For five months, Democrats across the country have been doing everything they can to stop tightening up state election laws that will improve the integrity of the vote and restore voter confidence in the election process.  But despite their efforts, Democrats have not been able to stop what The Guardian describes as "sweeping new voting restrictions" from going into place in states such as Arizona, Georgia, Florida, Iowa, and Montana where the left-leaning Guardian says Republican-controlled legislatures have "ram[ed] through the bills."  In Texas, with Republicans on the verge of passing what The Guardian describes as "one of the most restrictive new voting laws in the country," Democrats in the state house of representatives walked out of the legislature, denying Republicans a quorum and killing the legislation. In response, Texas Governor Greg Abbott has promised to call a special session of the legislature in order to pass election integrity legislation.  What Democrats don't understand is that the bill they are likely to get from a special session will probably be less to their liking than SB7, which was watered down in the conference committee during the regular session.[See what SB7 would have done]

June 1: Associated Press: Iran's largest warship catches fire and sinks
The largest warship in the Iranian navy caught fire and later sank Wednesday in the Gulf of Oman under unclear circumstances, the latest calamity to strike one of the country's vessels in recent years amid tensions with the West.  The blaze began around 2:25 a.m. and firefighters tried to contain it, the Fars news agency reported, but their efforts failed to save the 679-foot Kharg, which was used to resupply other ships in the fleet at sea and conduct training exercises. State media reported 400 sailors and trainee cadets on board fled the vessel, with 33 suffering injuries.  The ship sank near the Iranian port of Jask, some 790 miles southeast of Tehran on the Gulf of Oman near the Strait of Hormuz.

May 31: Breitbart News: Big Tech and the Chamber of Commerce and
outsourcing industry unite to keep foreign workers in American jobs
The USA's biggest technology corporations joined forces with the U.S. Chamber of Commerce and the outsourcing industry to keep foreign visa-holders in American jobs, even as about16.4 million Americans remain jobless.  Executives with Google, Amazon, Apple, IBM, HP, the U.S. Chamber of Commerce, the Business Roundtable, Microsoft Corporation, Twitter, Facebook CEO Mark Zuckerberg's FWD.us, Michael Bloomberg's New American Economy, and other corporations have filed an amicus brief in a lawsuit to ask a federal court to keep more than 90,000 foreign visa-holders in the U.S. workforce.  The lawsuit was first filed in 2015 by Save Jobs USA, a group of former American workers at Southern California Edison who had their jobs outsourced to foreign visa workers, to block the Obama administration from giving work permits to H-4 visa-holders who are the spouses of H-1B visa workers.

May 31: The Daily Caller: Former Navy SEAL turned actor leaves
Hollywood; here's why
Former Navy SEAL-turned-actor Cade Courtley claimed he left Hollywood because he couldn't express his "true core values."  Courtley opened up about going from Navy SEAL to performing Hollywood stunt work. He even hosted his own show, "Surviving Disaster," in 2009 before making the decision to leave Hollywood about five years ago. "I guess every individual has to make a decision," Courtley said. "What's important to you? Being able to freely express your opinions and your beliefs?  You're not going to be working in that business (acting in Hollywood) if you have patriotic or conservative values. That's just the reality of that business," he continued. "So I made a personal decision that my beliefs are more important than getting a pretty decent paycheck in that town and having my own TV show. And I am super happy with that decision."

May 30: The Washington Times: Businesses grapple with seasonal worker shortage as demand for service grows
Businesses across the U.S. are facing a conundrum: a rising demand for service as coronavirus pandemic restrictions are lifted and a shortage of seasonal workers to help meet that demand.  A combination of factors — from fewer immigrant workers to expanded unemployment benefits to worry about contracting COVID-19 — has contributed to the worker shortage, which has hit hard in businesses such as restaurants, hotels, summer camps and agriculture.  High demand for hired help has many restaurants in the beach town trying to "outbid each other" for these student workers


May 30: One American News Network: Rolling to Remember forges ahead despite Biden and Pentagon rejections
Rolling to Remember is an annual event aimed at honoring war veterans who were either taken prisoner or are still missing in action. The motorcycle event formerly known as Rolling Thunder will take place Memorial Day weekend in Washington, D.C.  This year's turnout is expected to be overwhelming due to the attention the event has received after being denied a permit for a staging area from the Pentagon, under Joe Biden. The national executive director of  AMVETS said this attempt to block a tradition backfired as he is expecting an even larger than projected crowd of over 100,000 riders to show up at RFK stadium.

May 30: The Washington Free Beacon: Senators Cruz and Hagerty arrive in
Israel to assess damage from Hamas rocket attacks
Senators Ted Cruz (R-TX) and Bill Hagerty (R-TN) landed in Israel on Sunday to assess the damage from the country's most recent war with Hamas and meet with the Jewish state's leaders.  The lawmakers—both members of the Senate Foreign Relations Committee—will tour Israel's southern cities, which were heavily targeted by Hamas, and sit down with Israeli leaders to reaffirm the Republican Party's unwavering support for the security alliance with America.  The visit comes as Democrats in Congress are increasingly divided over U.S. support for Israel. Some want Biden to freeze security aid to Israel and consider sanctioning the country for carrying out defensive strikes on Hamas positions in the Gaza Strip.

May 30: Fox News: CCP Wuhan Lab leak just got more creditable
Calls for further investigation of the pandemic's origins have intensified in recent days.  Former Food and Drug Administration Commissioner Scott Gottlieb said Sunday that accidental lab leaks "happen all the time" amid mounting concern regarding the origins of the COVID-19 pandemic.  Gottlieb expressed concern about safety protocols at research labs in the U.S. and abroad.   He said a conclusive determination on where the pandemic originated was critical to prevent deadly outbreaks in the future. 

May 29: The Epoch Times: 209 House members urge Pelosi to move to
uncover source of COVID19
More than 200 House Republicans are putting pressure on their Democrat counterparts to get down to the origins of COVID-19 and hold the Chinese regime accountable for the pandemic coverup.  "We request that you instruct the appropriate Democrat committee chairs to immediately join Republican calls to hold the Chinese Communist Party (CCP) accountable for its role in causing the global COVID-19 pandemic," stated a May 28th letter to Speaker Nancy Pelosi (D-CA).  The lawmakers said Pelosi had "falsely claimed" that "questions about the CCP's liability" were a "diversion"—likely referring to Pelosi's remarks from last May describing then-President Donald Trump's placement of blame on China.  "There is mounting evidence the pandemic started in a Chinese lab, and the CCP covered it up. If that is the case, the CCP is responsible for the deaths of almost 600,000 Americans and millions more worldwide," they stated in the letter. 

May 29: The Washington Free Beacon: Rahm Emanuel's China ties are "disqualifying" for Japan Ambassadorship
Sen. Josh Hawley (R-MO) told the Washington Free Beacon Rahm Emanuel's past dealings with China could compromise his effectiveness as Joe Biden's ambassador to Japan.  As ambassador to Japan, Emanuel would need to coordinate with Tokyo to counter China's regional power, as Japan is widely considered one of America's most important allies in standing up to China. Republicans said Emanuel's close relationship with Chinese elites warrants serious investigation and could stand in the way of his Senate confirmation. Hawley said Emanuel's "reckless" record in office demonstrates he does not understand the China threat.  "Rahm Emanuel clearly does not understand the China threat and can't be trusted to serve as ambassador to Japan," Hawley said. "That Joe Biden would attempt to put someone so reckless in charge of relations with one of our most important allies is very concerning."

May 28: The Washington Times: Abrams (D-GA) sues over new
Georgia election integrity law
Failed Georgia gubernatorial candidate Stacy Abrams is targeting safeguards in the state's new election integrity law that restrict photographing a voter's ballot touch screen and limit the ability to relay ongoing vote tallies.  The state legislature included the rules to prevent voting-buying in which the touch screen could be photographed to show how the person voted to collect payment. Same-day vote tabulating would tell political candidates how many votes they need to win. Additionally, Abrams objects to rules restricting poll watchers from being so close to a person voting that the watcher cannot see the selections being made by the voter.   She also opposes the requirement that mail in ballots be accompanied by a copy of the voter's photo ID.  All of these measures were enacted to increase the integrity of the election process.

May28: The Washington Examiner: GOP hands the Dems a defeat
Senate Republicans on Friday thwarted an effort to create an independent bipartisan commission to investigate the Jan. 6 riot at the Capitol, blocking legislation which many have said would be used to attack Republicans in future elections.  Most Republicans refused to back the measure, depriving the Democrats of the 60-vote threshold needed to break the filibuster threshold and begin debate on the bill.   It was the first GOP filibuster of major legislation since the Democrats reclaimed the Senate majority in January.   Six Republican senators backed the proposal to cut off debate on the bill for a Jan. 6 commission: Sens. Bill Cassidy (LA), Susan Collins (ME), Lisa Murkowski (AK), Mitt Romney (UT), and Ben Sasse (NE).  All of them were among the seven Senate Republicans who voted to convict President Trump on the trumped-up impeachment charge that he incited the riot. Rob Portman (OH) also voted with the Democrats.

May 28: The Daily Caller: Wife of Wuhan bio-lab died of COVID-19-like
illness in December 2019
The wife of a Wuhan lab researcher working on coronaviruses died of what appeared to be COVID-19 in December 2019, the leader of a State Department investigation under the Trump administration said.  It would have been an early clue that the virus could be transmitted among humans, yet Chinese authorities said that the virus was not transmissible for at least a month after they knew it was, allowing it to spread, according to David Asher, who led an investigation on COVID-19's origins and served in the State Department under Democrat and Republican presidents. 

May 28: The Free Beacon: Biden pushes for taxpayer funded abortions in his budget
Joe Biden's proposed federal budget throws open the door for taxpayer-funded abortion by not including the Hyde amendment that blocks federal funds from being spent on abortion services. As a senator Biden supported the provision, but now has left it out.  The Biden administration's 2022 fiscal budget massively boosts federal spending, calling for $6 trillion in funding overall, the majority of which will go to pay for entitlement programs and interest on the national debt.  HHS' request includes for $133 billion in discretionary funding, none of which includes the Hyde Amendment. The request represents a nearly 25 percent increase from last year.    

May 28: Fox News: 24 states urge SCOTUS to take case challenging
NJ large-capacity gun magazine ban
24 states, led by Arizona and Louisiana, have filed an amicus brief urging the Supreme Court to take a case seeking to overturn New Jersey's ban on high-capacity magazines -- arguing that such a ban criminalizes possession of commonly-used firearms and violates the Second Amendment. "The Amici States the Attorneys General serve are among the forty-three states that permit the standard, eleven-plus capacity magazines that New Jersey has banned...and have advanced their compelling interests in promoting public safety, preventing crime, and reducing criminal firearm violence without a magazine ban such as the one here," the states write in an amicus brief.  The 2018 law bars "large-capacity" magazines that can hold 11 rounds or more, and was upheld by the Third Circuit Court of Appeals last year. It also bars the ownership, not just the sale of such magazines. The New Jersey gun association challenging the law has asked for the Supreme Court to take the case.

May 27: The Free Beacon:  Biden Admin cannot guarantee taxpayer aid
won't enrich Hamas
As the Biden administration allocates more than $100 million in U.S. taxpayer aid to the Palestinian government and aid groups, critics are raising concerns that the State Department cannot ensure this aid won't reach the Iranian-backed terror group Hamas.  State Department officials haven't outlined what mechanisms, if any, it will put in place to stop a tranche of aid money from reaching Hamas, which controls the Gaza Strip and is responsible for initiating a deadly conflict with Israel this month. The State Department admitted this week that it could not guarantee the tranche of money will be kept from Hamas. 

May 26: Fox News: As the 2022 midterms approach, Democrats are getting
increasingly nervous about "woke" culture
A New York Times opinion writer wondered on Wednesday if the progressive cancel culture push will backfire on Democrats at the polls, and he isn't the only analyst asking the question.  "Is Wokeness 'Kryptonite for Democrats?'" Times contributor Thomas Edsall's headline asked.  He quoted several surveys finding most people are against the more radical campaigns, such as efforts to defund the police and upend traditional gender norms. And yet, he said, Republicans can still point to the extreme minority that is pushing these ideas to argue that the Democratic Party is increasingly beholden to the radicals.  

May 26: The Daily Caller: 15 states threaten to pull assets from big banks
that cut off fossil fuels
A coalition of fifteen state treasurers is threatening to pull assets from financial institutions that "refuse to lend to or invest in" the coal industry and other fossil fuels.  The state treasurers, led by Riley Moore of coal-dependent West Virginia, sent a letter to special climate envoy John Kerry on Tuesday that criticized his efforts to pressure big banks and lenders to cut off fossil fuels, stating their opposition to the Biden administration's "command and control" policies.  "We intend to put banks and financial institutions on notice of our position, as we urge them not to give in to pressure from the Biden administration to refuse to lend to or invest in coal, oil and natural gas companies," the state treasurers wrote. 

May 26: Breitbart News: ME Democrat Speaker strips GOP members of
committee assignments over failure to wear masks
The Democrat Speaker of the Maine state House stripped Republican lawmakers of their committee posts this Monday after they entered the state House without masks in accordance with the governor's most recent executive order.   Governor Janet Mills (D) lifted the mask mandate for everyone in the state except children age five or older in school or daycare. A spokesperson for the said because it is extremely difficult to differentiate between vaccinated and unvaccinated Mainers, and because Mills wanted the same rules to apply to everyone, she decided to lift the mask requirement for everyone.  Individual businesses are allowed to establish their own rules but mask requirements are no longer required by the state.

May 26: The Washington Examiner:  Biden nominee to head ATF is unable to
define an "assault weapon" during his confirmation hearing
Joe Biden's nominee to lead the Bureau of Alcohol, Tobacco, Firearms, and Explosives (ATF) was stumped during his confirmation hearing when he was asked to define an "assault weapon."  "I got 35 seconds left, define it for me, would you please, sir. What's an assault weapon?" Sen. John Kennedy asked ATF nominee David Chipman on Wednesday.  "There's no way I could define an assault weapon," Chipman said.   "I'll give you one definition that ATF currently uses" Chipman continued, as Kennedy interjected that he wanted Chipman's personal definition.

May 26: Rumble.com: I agree with Bill Mather (video)
I never thought I would agree with Bill Mather, Donald Trump, Jr. posted.  "Do you know why advertisers love the 18-34 demographic?" Mather said.  "Because it's the most gullible.  33% of people under 35 say they're in favor of abolishing the police.  Not defunding it, abolishing it entirely"  Watch this video and see if you also agree with him!

May 25: The Free Beacon:   Worker petitions SCOTUS to strike down
mandatory union dues
A railway worker is petitioning the Supreme Court to stop unions from forcing members and nonmembers to fund union political lobbying against their will.  The worker asks the Court to draw on its 2018 Janus decision, which barred public sector employers from mandatory union dues on First Amendment grounds. The petition, filed Tuesday, argues the 5-4 ruling did not go far enough in cracking down on union attempts to subvert right-to-work laws through mandatory dues deductions.  The petition aims to have the Court rule that "window periods," or the brief period of time when workers have to opt out of the union, are unconstitutional. If workers do not opt out during the required "window period," then dues are automatically deducted from their paychecks.

May 24: The Washington Times: Biden's economic assumptions in doubt as spending talks hit a brick wall
The Biden administration is leveraging rosy projections and a bit of budget trickery to make the math work on the president's $4 trillion-plus economic agenda, which is getting bogged down on Capitol Hill as lawmakers eye the typically sleepy summer months.  The White House has pointed to projections that say Biden's broader economic agenda would boost labor force participation by nearly 1 percentage point over the next decade.  However other analysis, including from industry groups like the NAM (National Association of Manufacturers), are much more pessimistic about how the Biden tax increases will impact the economy. 

May 24: One American News Network: Internal GOP memo highlights inflation spurred on by Biden Administration spending
A leading Republican representative has warned of the dangers of Joe Biden's plans to dramatically increase federal spending.  An internal GOP document highlighted the dangers of unfettered inflation caused by the Biden administration's massive spending packages. The memo, which came to light on Sunday, was sent to members of the Republican Study Committee last week by Rep. Jim Banks (R-IN).  It highlights the effects Biden's push for unprecedented levels of federal spending is projected to have on the cost of necessities Americans depend on.

May 24: The Daily Caller: Sasse urges Biden to "Tighten the Screws" after
Belarus hijacks plane with dissident reporter on board
Sen. Ben Sasse (R-NE) urged Joe Biden to punish Russian President Vladimir Putin on Monday, arguing that the Belarussian government's recent hijacking of an airplane was done with "Moscow's blessing."  Belarus military jets  forced down a Ryanair flight between Greece and Lithuania on Sunday and arrested a dissident journalist on board. Sasse argues the incident shows Putin and his allies are "emboldened" thanks to Biden's decision to end sanctions against the Nord Stream 2 oil pipeline last week.  Biden condemned the hijacking but to date has yet to announce any specific reprisals beyond demanding an investigation.

May 23: One American News: Union criticizes Biden on
closure of prisons, impact on jobs
Joe Biden has requested that the Bureau of Prisons withhold from renewing contracts with 11 prisons that are known for holding mostly foreign convicts. In a letter released last week, the International Association of Machinists and Aerospace Workers (IAMAW) requested the Biden administration reconsider their decision. If followed through, the IAMAW said the move would impact 1,200 union jobs.  The union noted the facilities that Biden is looking to close are some of the largest employers in their localities. Because of this, they emphasized how much of a negative impact these closures would have on the community.  "The closure of these facilities will result in thousands of hard-working Americans losing their good jobs during one of the most economically challenging times in our country's history," IAMAW President Robert Martinez wrote.

May 23: Fox News: Senator Paul, a doctor, refusing to get vaccinated
Sen. Rand Paul (R-KY) said he won't get the coronavirus vaccine because he has already had the coronavirus and believes he now has "natural immunity."   Paul, one of the first senators to test positive for the virus last March, told WABC 770 AM radio that it's a personal decision to opt-out of the vaccine.   An ophthalmologist, Paul said unless he sees evidence proving that the vaccine is more effective than having survived the virus, he won't be getting the shot.  "Until they show me evidence that people who have already had the infection are dying in large numbers, or being hospitalized or getting very sick, I just made my own personal decision that I'm not getting vaccinated because I've already had the disease and I have natural immunity," Paul said in the interview that aired Sunday.

May 23: The Daily Caller: Son of Hamas co-founder who became a Christian
talks about Hamas terror attacks on Israel
Hassan Yousef, the son of a Hamas group co-founder, urged Israel to assassinate leaders of the terror group after the Friday ceasefire to "teach them a lesson," Yousef thinks that Hamas needs to pay a price for firing rockets into Israel, telling the New York Post. "Next time, before you (Hamas) get civilians on both sides involved in a bloodbath, you need to think 1,000 times. This is my personal suggestion."   Mosab Hassan Yousef was raised to be a leader in the Palestinian terrorist organization but converted to Christianity and sought asylum in the United States after Hamas operatives torture and murder Israelis, according to the Post.

May 22: The Washington Examiner: Left-leaning judges retiring, especially in the 9th Circuit, opening an opportunity for Biden to nominate prospective justices of a similar stripe
Several liberal appellate judges have announced retirement plans in the past few weeks, giving Joe Biden a foothold on the branch of government most transformed by former President Donald Trump.  The most movement has occurred in the California-based U.S. Court of Appeals for the 9th Circuit, where there are currently 16 Democratic-appointed judges and only 13 appointed by Republicans. The narrow liberal majority was much wider before Trump began submitting his nominations, but Biden may have a chance to firm up what was once a solid liberal consensus.

May 22: The Washington Free Beacon: NLRB shoots down Biden appointee's
decision to dismiss a complaint against union leaders
The National Labor Relations Board's (NLRB) acting general counsel, Peter Ohr, attempted to withdraw the agency's support for a Texas nurse who accused union and company officials of conspiring against workers.  Three members of the five-member NLRB, which enforces federal labor law, said the Biden appointee ignored "significant legal issues" the case presented and reversed Ohr's move to withdraw.  "This case presents significant legal issues regarding the duty of fair representation and the appropriate framework for resolving allegations that a union breached that duty," the board wrote in its decision. "This case presents the Board with an opportunity to examine these issues, based on a fully briefed and litigated record, and to provide guidance to employees and unions alike. Accordingly, after careful consideration, we conclude that the Acting General Counsel's motion should be denied.

May 22: The Epoch Times: Seventeen state attorney generals join South Dakota
lawsuit on July 4th fireworks at Mount Rushmore
Seventeen attorneys generals have filed an amicus brief in support of a lawsuit brought by Gov. Kristi Noem (R-SD) against the Biden administration over its decision to deny a request to hold a fireworks display at Mount Rushmore National Memorial in July to celebrate Independence Day.  The administration canceled the display in March, citing coronavirus concerns.  Noem sued over the decision, saying Mount Rushmore "the very best place to celebrate America's birthday and all that makes our country special.  On Friday the seventeen attorney generals from Arizona in the west to Kentucky and Tennessee in the east filed a court document that calls the Biden administration's action "arbitrary and capricious."

May 22: Fox News: White House Border Crisis Czar's last visit to the border
was in 2018 to protest Trump's policies
Kamala Harris has come under criticism for not having visited the border in her leading role in dealing with the migrant crisis -- although she visited it in 2018 to protest Trump-era policies.  Harris was appointed in March by Joe Biden to lead diplomatic talks with Mexican and Northern Triangle leaders in order to solve the surge in migration that has led to an overwhelming crisis at the southern border.  While the White House has said that Harris' role is not the border per se, and is instead focused on dealing with the "root causes" of the crisis, critics have pushed back by arguing that in order to do that outreach, it is first necessary to see what is happening at the border.  Former acting DHS Secretary Chad Wolf said earlier this month that Harris needed to go the border in order to understand the conditions that are being experienced and to talk with the men and women of the Border Patrol.  There is no sign that Harris has any plan to visit the border any time soon.  This is in contrast to in 2018, when as a California senator she visited the San Diego border with Mexico, and opposed President Trumps immigration policies.

May 22: The Daily Caller: Rep. Greene says AOC is responsible for
attacks on Jewish people
Republican Georgia Congresswoman Marjorie Taylor Greene called Democratic New York Congresswoman Alexandria Ocasio-Cortez a "terrorist" and said she was "responsible for attacks on Jewish people" in a tweet Saturday.  This isn't the first time that Green and Ocasio-Cortez have been caught in a feud. Green previously issued a "direct challenge" to debate Ocasio-Cortez on the Green New Deal and Ocasio-Cortez has previously stated that Green is "deeply unwell."

May 21: The Daily Caller: Biden remains silent regarding increases
in anti-sematic crimes in the U.S.
The troubling rise in anti-Semitic attacks across the United States coincides with an explosion of conflict between Israel and militants in Gaza earlier in May. While Joe Biden sought to be at the forefront of the conflict overseas, he neglected to condemn violence happening in his own country. With an administration busying itself with violence overseas and backing Israel's right to defend itself, attacks against members of the Jewish community – spurred on by the conflict in the Middle East – have occurred in California, New York, New Jersey, Illinois and other areas across America.

May 21: Breitbart News: Arizona Secretary of State says Maricopa County
voting machines may be decertified
The Arizona Secretary of State, Katie Hobbs, a Democrat, sent a letter to the Maricopa County Board of Supervisors warning them that she may decertify the election machines used by the county in the November 2020 election and which were turned over to the Arizona State Senate which is having them audited.  However, her reason for possibly decertification is based on the county not having a chain of custody over the equipment while the audit was taking place, not because she believes there were any irregularities during the 2020 Presidential election. Arizona State Senator Warren Petersen (R-12) responded to Secretary Hobbs' letter saying,"The Senate wanted to do the audit on site at Maricopa County. The county said no. Furthermore the county has been offered access at the audit site. Audits make the machines more legitimate not less legitimate." 

May 20: The Daily Caller: Consumer prices outpace Americans' wage growth
as inflation surges
Massive government spending has decreased the value of the American dollar and triggered increased consumer prices, which economic experts said will only get worse.  Americans will continue to see higher prices across the board, from food and gasoline to home appliances and cars, as the federal government continues to propose more stimulus into the economy without an adequate plan to pay for it, according to several experts. Even if the government doesn't pass legislation increasing taxes, higher prices ultimately amount to an "inflation tax," some of the experts said.  Since January, prices have outpaced wage growth meaning Americans' average salary isn't keeping up with the cost of goods and services. While wages have grown 1% since the beginning of the year, consumer prices have grown 2.1%.  [See related column]

May 20: Fox News: Biden attempts to claim credit for Israel-Hamas cease fire
Joe Biden sought to take credit for a cease-fire Thursday between Israel and Hamas, despite reports that it was Egypt that brokered the peace.   Biden, who spoke at the White House, included a sentence in his remarks commending Egyptian officials for their "critical role" in ending the fighting. But he repeatedly emphasized the intensive work he said was done by his own administration. 

May 20: The Washington Times: Dems brace for defeat on commission to
investigate the January 6th breach of the Capitol
The White House and Democratic leaders on Capitol Hill fumed Thursday about Senate Republicans yanking their support from a proposed congressional commission to investigate the Jan. 6 breach at the U.S. Capitol, as reality set in that the plan faced all but certain defeat.   Senate Majority Leader Mitch McConnell said such an investigation would be a political hit job aimed at former President Trump and other Republicans.

May 19: The Daily Signal: Editorial: What progressives would have you believe
When you meditate for a moment on what the left expects honest and decent people to believe, you confront the world of absurdities and lies in which we live.  The left demands we believe and announce that men menstruate and give birth, and that it is in no way unfair to girls and women when biological men compete in girls and women's sports.  In tens of thousands of American schools, students are brainwashed to believe that America was not founded in 1775 but in 1619, the year the first Africans were brought to North America as indentured servants or slaves. This is the 1619 Project lie: It was labelled a lie by almost every leading historian of early America, many of whom are Democrats and liberals who supported the impeachment of former President Donald Trump.  And now, with Hamas—a totalitarian theocratic Islamist terror group—unleashing thousands of rockets on Israel's civilian population and Israel responding to this latest of repeated attempts at mass murder, the world's left demands that we believe Israel is the villain and Hamas is the victim.

May 19: Townhall.com: NCAA will not attempt to punish states prohibiting biological
males competing against women in sporting events
Earlier this week, the NCAA proved they weren't going to punish states which passed laws to protect young women from competing in sports against biological men after all. Three of the states to be regional hosts for the postseason softball tournament include Alabama, Arkansas, and Tennessee. These states recently passed such legislation banning transgender athletes from competing with young women.

May 19: The Washington Times: Five Oregon counties considering joining Idaho
Five eastern Oregon counties voted Tuesday to consider joining Idaho, the biggest victory to date for the movement to split off from the Democrat-controlled blue state by redrawing state lines.  Citizens for Greater Idaho said that the five rural counties — Sherman, Lake, Grant, Baker and Malheur — approved measures directing county commissioners to promote the concept of border relocation, joining two other counties, Union and Jefferson, that did so in November.  The Nov. 3 election also saw two other counties defeat the Greater Idaho proposal, but on Tuesday, all five counties with the initiatives on the ballot passed them.

May 19: Fox News: House Intel committee, significant evidence CCP virus
came from a Wuhan lab leak
Republicans on the House Intelligence Committee say there is "significant circumstantial evidence" that the COVID-19 outbreak stemmed from a leak at the Wuhan Institute of Virology, urging the federal government to put "more pressure on China" to allow for a "full, credible investigation" into the source of the global pandemic.   Committee Ranking Member Devin Nunes (R-CA) and Republicans on the panel released a report Wednesday saying it is "crucial for health experts and the U.S. government to understand how the COVID-19 virus originated" to prevent "or quickly mitigate future pandemics." Republicans pointed to China's "history of research lab leaks resulting in infections," and warnings from U.S. diplomats in China as early as 2017 that the Wuhan lab was conducting "dangerous research" on coronaviruses without following "necessary safety protocols, risking the accidental outbreak of a pandemic."

May 19: The Daily Caller: Pelosi mask rule under cuts trust in vaccines
Retired Admiral Brett Giroir, a former member of the White House coronavirus task force, said Wednesday that Speaker of the House Nancy Pelosi's mask rule damages the public's trust in vaccines.  He called the mask requirement on the House floor that became subject of House Republicans' discontent Tuesday "pure political theater" that is "not based in science."

May 19: The Epoch Times: Large scale mail in ballots could facilitate
voter fraud, Canadian MP says
Mail-in ballots done on a large scale could open the door to manipulation and election fraud, says Canadian independent MP Derek Sloan, who recently voted against a federal government bill that includes this option as one way of helping to make voting safer during the pandemic.  "We typically avail [mail-in] ballots for people that are out of the country or overseas, the military, and so on, and that's fine. But when it's done in a large-scale manner in Canada, I think it does open to possibilities for fraud and manipulation," Sloan said.  The C-19 mail-in ballot legislation would allow people to vote by mail on a widespread basis.

May 18: The Daily Signal: House Republicans target teaching critical race theory
House Republicans seek passage of legislation to push back against a rule proposed by the Biden administration to promote teaching Americans to judge each other based on skin color.   House GOP members last week announced legislation, with two bills targeting schools, one the military, and one all federal institutions.   Public comment closes Wednesday on the Department of Education's proposed rule to prioritize K-12 grants based in part on whether schools teach CRT.  This would include teaching the that the U.S. started when the first African-American arrived on the continent in 1619.   Critical race theory is a theoretical framework that contends individuals either are oppressed or are oppressors based on their skin color; it makes race the prism through which proponents analyze all aspects of American life.

May 18: The Epoch Times: Texas, Oklahoma, and Indiana ending Federal unemployment benefits in June
Texas, Oklahoma, and Indiana have announced that they will be joining a growing number of GOP-led states in ending the expanded federal  unemployment benefits that were implemented during last year's pandemic relief efforts.  In a letter to the Biden administration, Texas Gov. Greg Abbott said that the $300 weekly extra payments under the president's new $1.9 trillion stimulus plan will end on June 26, ahead of its September expiration date.  He joins at least a dozen other governors who are opting out of the additional federal unemployment benefits this summer arguing that these benefits have discouraged people from returning to the workforce and have become a drag on the recovery. 

May 18: Breitbart News: Inflation: Housing starts crash as rising costs crimp construction
Construction of new homes in the U.S. slowed by much more than expected in April as homebuilders held back on projects because of the rapidly rising cost of materials and labor.  Private home starts declined at an seasonally adjusted annual rate of 1.569 (a 9.5% decline from March) the U.S. Department of Commerce reported.  The decline was even sharper in the single‐family home market, where the housing shortage is most acutely felt. Single-family housing starts in April fell to a rate of 1,087,000 (a, 13.4% decline from March).  However, the housing starts are up 69% from last year during the pandemic lockdowns. Single‐family authorizations to building homes in April fell to a rate of 3.8% below the revised March figure. That indicates that the shortage of housing could continue in the months ahead, a promising development for home-sellers hoping prices will continue to rise or remain high but bad news for those looking to buy a first home.  [See related column]

May 17: Fox News: Texas reports zero CCP virus deaths in two months after Biden slammed the state's "Neanderthal thinking"
Texas reported zero deaths from Chinese Communist Party [CCP] virus on Sunday, just two months after Gov. Greg Abbott [R-TX] drew heat from the White House for rolling back business restrictions and lifting the state's mask mandate.   It marked the first time the Lone Star State reported no coronavirus deaths in about 14 months, according to state health data. Abbott said the case numbers reported on Sunday – 388 – were the lowest in more than 13 months, while the number of hospitalizations was the lowest in 11 months.   Biden skewered Texas, as well as Mississippi, at the beginning of March for relaxing lockdown measures, accusing state officials of "Neanderthal thinking." At the time, Abbott had announced that businesses would be allowed to operate at full capacity – even though some health experts cautioned at the time that dropping preventative measures could lead to a spike in cases.

May 17: The Daily Caller: Supreme Court takes case directly challenging Roe v. Wade
The United States Supreme court has agreed to take up a major Mississippi abortion case that could directly challenge Roe v. Wade.  The court announced Monday that it will hear Dobbs vs. Jackson Women's Health Organization beginning in October, and a decision on the case will likely come by June 2022,.  This will be the first major abortion case in which all three of former President Donald Trump's Supreme Court justice appointees participate.  "This is a landmark opportunity for the Supreme Court to recognize the right of states to protect unborn children from the horrors of painful late-term abortions," Susan B. Anthony List's Marjorie Dannenfelser, the president of one of the nation's most influential pro-life advocacy groups, said in a statement. The case deals with a 2018 Mississippi law banning abortions after 15 weeks.  The Fifth Circuit Court of Appeals struck down the law in December 2019, the state of Mississippi asked the Supreme Court to take up the case.

May 17: The Washington Examiner: SCOTUS decides to support 4th Amendment
rights against unwarranted search and seizure
The Supreme Court on Monday shut down a police attempt to enter homes without a warrant, siding against the Biden administration.  The court, in a unanimous decision, found that police, using the "community caretaking" exception to the Fourth Amendment's prohibitions on unreasonable searches and seizures, were not allowed to enter a Rhode Island man's home and take his guns. Justice Clarence Thomas wrote the court's opinion, saying that police had violated the "very core of the Fourth Amendment."  The case arose out of a 2015 incident in which a Rhode Island married couple argued over attempted suicide. At one point, the husband, Edward Caniglia, gave his wife, Kim, an unloaded gun and told her to kill him. She left the house instead and later called local police to check on him. 

May 17: The Washington Times: Israel air strike kills high ranking
Iran-backed military commander
Fresh Israeli strikes on Gaza killed a top military official Monday of the Palestinian Islamic Jihad [PIJ] , a group the State Department considers an Iranian-backed terrorist group blamed for some of the thousands of rockets launched at Israeli in recent days.  The killing of Hussam Abu Harbeed, the armed commander of PIJ in north Gaza, was seen as a major battlefield gain for Israel at a moment when Israeli leaders are reportedly weighing whether to pull back and embrace international calls for a cease-fire after more than a week of war.  "There is a sense Israel could seriously talk cease-fire by midweek," one diplomatic source in the region said.

May 17: Townhall.com: Revelation of teachers' union influence
on CDC guidance raises questions
Two weeks ago it was revealed the Centers for Disease Control allowed the American Federation of Teachers to heavily influence, word for word, official government guidance about reopening schools.   "The powerful teachers union's full-court press preceded the federal agency putting the brakes on a full re-opening of in-person classrooms, emails between top CDC, AFT and White House officials show," the New York Post reported.  Now, Democrats are being hit with a $1 million ad campaign on the issue, which opens the door to questions about dark money funding for politicians at the expense of America's kids.   The CDC has shown schools have been safe for full reopening since July 2020. In February, CDC Director Dr. Rochelle Walensky said teachers do not need to be vaccinated before returning to in-person instruction.

May 16: Breitbart News: Air Force Lt. Colonel fired after remarks about Marxism, Critical Race Theory spreading in the military
A U.S.A.F. lieutenant colonel was fired from his command at Space Force after he gave interviews about his new book in which he said Marxism and critical race theory are spreading in the military.   Lt. Gen. Stephen Whiting, the head of Space Operations Command, fired Lt. Col. Matthew Lohmeier from his post as commander of 11th Space Warning Squadron at Buckley Air Force Base, Colorado, after at least two interviews in which he discussed his new book, Irresistible Revolution: Marxism's Goal of Conquest & the Unmaking of the American Military.  Lohmeier, an Air Force Academy graduate, gave an interview on May 7 on the podcast Information Operations with host Air Force veteran L. Todd Wood, and he said critical race theory is rooted in Marxism and "our diversity, inclusion, and equity industry and the training we're receiving in the military are rooted in critical race theory."  "The language of the training… [is] intended to be divisive and yet we spread it about the military services pretending it's going to unify everyone."  Lohmeier noted in the interview that given the climate at the moment that people who sense that something is "off" with the training are unwilling to speak up or take a stand, perhaps because they may not be promoted.  Lohmeier was fired from his command because he spoke up and took a stand!
[Is this part of the "cancel culture?" To attempt to quiet voices that are not politically, correct?  You decide!]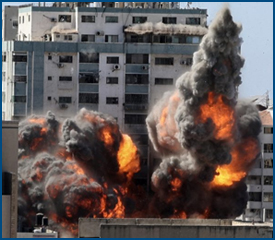 May 15: The Washington Free Beacon: Israel strikes Hamas headquarters in Gaza, Associated Press makes outrageous claim that it was the real target!
In the wake of an IDF attack on Hamas militants housed in an office building shared with the Associated Press, the wire service issued an outraged response suggesting news outlets were in fact the Israelis' real target, even though they received a warning shortly before the attack.  "We are shocked and horrified that the Israeli military would target and destroy the building housing the AP's bureau and other news organizations in Gaza," AP president and CEO Gary Pruitt said in a statement that did not acknowledge the fact that Hamas militants were operating out of the same building.  Along with the AP, the Qatari-funded Al Jazeera allegedly worked out of the same building, which doubled as a Hamas outpost.  Hamas, the terrorist organization that governs the Gaza Strip, has a track record of firing rockets into Israel from schools and mosques. Journalists at the AP and Al Jazeera are the latest human shields the organization has used to complicate Israel's ability to respond to terrorist attacks.  
[Editor's Note: According to the Free Beacon report, reporters routinely omitted from their analyses Hamas's presence in the building, so who knows who the real target(s) were!]

May 15: The Epoch Times: Hundreds of empty travel trailer sit while
thousands of people in LA are homeless
When the state of California gifted the LA 1,300 trailers to house the homeless last year during the peak of the Chinese Communist Party coronavirus outbreak, there was hope that some of the 66,000 people experiencing homelessness in the county would have shelter.  A year later, many trailers are sitting empty and unused in parking lots next to the LA Zoo and Dodger Stadium, according to local news reports.  "It's upsetting to see all of those trailers sitting there in parking lots empty, when you know you have a humanitarian crisis playing out on the streets," Daniel Conway, an adviser for the LA Alliance for Human Rights said.  "It's just hard to kind of make sense of it."  The trailers were bought from FEMA at a cost of $50 million in taxpayer money.  According to an investigative report by CBS Los Angeles more than a hundred trailers – each costing $40,000 – were parked and unused.   LA city officials claim part of this is because each unit requires a sewage hook up.  At the same time the city is building affordable housing projects that can cost $700,000 per unit.  [Go figure!]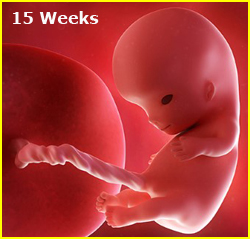 May 15: The Washington Free Beacon:
Study casts doubts on Abortion talking points
Researchers who reviewed data on millions of pregnant women threw cold water on the pro-abortion talking point that women use the procedure for family planning, i.e., the spacing of births between children.  A study published in the peer-reviewed Journal of Primary Care and Community Health found that just 1 percent of almost five million Medicaid-eligible women who have an abortion after having given birth once go on to give birth again. Meanwhile Joe Biden, following up on promises made during his campaign has already freed up billions of taxpayer funded dollars that can be used to fund abortion services. The funding primarily came from the American Rescue Plan, which passed without Hyde Amendment protections.  "[Our] findings support the conclusion that it is quite uncommon for Medicaid eligible women to utilize abortion for the purpose of child spacing," the study states.  "The data is clear … abortion is almost never used as a family planning tool," Stephen Billy, executive director of the Charlotte Lozier Institute, said.  The data also suggest that taxpayer-funded abortion has a disparate racial impact. Black women composed 19 percent of the study's population but made-up 37 percent of the women with one or more abortions.   The study's authors said that expanded taxpayer funding for abortion would have negative impacts on minorities. 

May 15: The Epoch Times: Fuel shortages ease as pipeline returns to normal service
A major fuel pipeline in the Eastern U.S. has resumed "normal operations," its operator announced on Saturday.  "We have returned the system to normal operations, delivering millions of gallons per hour to the markets we serve," Colonial Pipeline said in a statement.  The Georgia-based firm initiated the restart of the approximately 5,500-mile pipeline, which stretches from Houston, Texas, to Linden, New Jersey, on Wednesday, but said at the time it would take several days for operations to fully resume.  Markets served by the pipeline include Louisiana, Georgia, and Maryland.  About 13,450 stations were out of fuel on Saturday, a drop from 16,315 that could not serve customers two days prior, according to GasBuddy.

May 14: The Daily Caller: News Media elevated a coronavirus conspiracy
theorist in an attempt to hurt Governor Ron DeSantis (R-FL)
Former dashboard manager for the Florida Department of Health (FDOH), Rebekah Jones, was promoted by the mainstream media for months while making unfounded claims about Republican Florida Gov. Ron DeSantis.  Jones claimed in May 2020 that she was fired for refusing to alter Florida's COVID-19 data to make the state's virus response look better. Fact checks and analysis done in recent months revealed that there weren't any significant issues with the state's COVID-19 reporting.  Charles C.W. Cooke claimed in the New York Post that Jones was fired for accusations that she sabotaged the state's dashboard, shared confidential data and disrupted operations in her department.

May 14: The Washington Times: Police outraged after being "canceled"
from jobs for slamming BLM on social media
Police officers across the country have been fired, demoted or otherwise disciplined for social media posts that voice opposition to Black Lives Matter and violence during "racial justice" protests.   In recent weeks, two policewomen in New Jersey were fired or demoted for calling BLM protesters "terrorists" and a police officer in Virginia was canned for criticizing political leaders who side with racial justice rioters.   It's also happened in New Jersey, Idaho, and Georgia.  Some police officers have sued saying their free speech rights have been violated.  But the fact remains that the "cancel culture" supporters out there are trying to suppress voices that don't agree with their point of view. 

May 14: Fox News: Maxine abuses privileges; reassigns air marshals,
what is she scared of?
A program created after 9/11 to protect the flying public is being abused by Congress, according to an association representing federal air marshals, essentially creating, in their words, a VIP "concierge service" for members of Congress.   The Air Marshal National Council, which represents some of the nation's roughly 2,000 air marshals, says the problem began after the Jan. 6 protest at the Capitol. Following that, some fearful lawmakers began requesting security -- not just on Capitol grounds, but to and from their districts and even to vacation spots.  The TSA which runs the Federal Air Marshal Service, began reassigning agents from "high risk" commercial flights to accompany members of Congress instead. This angered some sky marshals, as protecting the public is their primary mission, not Congressmen. Capitol police, and when necessary, the U.S. Secret Service, are tasked with protecting lawmakers. After 9/11, then-President George W. Bush gave the air marshals responsibility to protect the flying public, upping the number of agents from 33 to more than 4,000. Today, the program covers some 30,000 commercial flights a day.  "Air marshals can only be assigned to high-risk flights. That means flights that have been deemed through our vetted process that have a security risk," said Sonya Hightower LoBasco, executive director of the Air Marshal National Council.  LoBasco submitted a formal congressional ethics complaint about one such flight involving Rep. Maxine Waters (D-CA), who flew from Washington, D.C., to Minneapolis on April 17 to attend the trial of former police officer Derek Chauvin. LoBasco asserts Waters was already accompanied by two-armed Capitol Police and two U.S. Secret Service agents when she allegedly requested two air marshals and two more marshals on touchdown to escort her in the airport.  The Capitol Police and USSS deny providing these services to the Congresswoman.

May 14: The Daily Caller: The invasion that never happened:
IDF deception and the real target
A clever act of deception may have led to the Israeli Defense Force (IDF) scoring a massive victory against terror targets in the ongoing conflict with Hamas, several reports indicate.  Israeli officials hinted earlier in the week that an extended campaign against Hamas was likely to come. Defense Minister Benny Gantz said in a Tuesday press conference that "this is just the beginning — the first in a long line of actions we have planned."  At around 9 p.m. local time Thursday night, the IDF began building up armored and infantry battalions along the Gazan border following a week of non-stop rocket attacks from Hamas.  Many western media outlets reported that an Israeli invasion of Gaza was imminent.    Based on reports from the media that a ground assault was imminent, Hamas and Islamic Jihad reportedly sent their anti-tank missile teams and mortar squads into their "Metro," a large network of tunnels built by the terrorists under the border between Gaza and Israel with the goal of launching surprise strikes at incoming Israeli ground forces.  The only problem, the invasion never came.  The Metro was subsequently hit with a massive bombardment from the Israeli Air Force and the militants were subject to the fire upon emerging from the tunnels, The Jerusalem Post reported.

May 13: The Epoch Times:  Israel respond to Hamas rocket attacks
Israel fired artillery and mounted more air strikes from its border on Friday against Palestine terror groups in the Gaza Strip amid constant rocket fire deep into Israel's commercial center.  As hostilities entered their fifth day, with no sign of abating, the Israeli Defense Forces (IDF) said in a statement shortly after midnight that air and ground forces were attacking the Hamas-run enclave. Rocket barrages from Gaza swiftly followed.  Israeli military affairs correspondents who are briefed regularly by the armed forces said it was not a ground invasion, and that troops were firing artillery from Israel's side of the border.  At least 109 people were killed in Gaza, including 29 children, over the previous four days, Palestinian medical officials said. On Thursday alone, 52 Palestinians were killed in the enclave, the highest single-day figure since Monday.  Seven were killed in Israel. Some of the Palestinian casualties may have been caused by rockets misfired by Hamas that had fallen back on the Gaza Strip. 

May 12: Fox Business: pipeline back on line, may take awhile to get to the pumps
The Colonial Pipeline has returned to operations following a cyberattack that snarled gas supply for the eastern U.S. for days, according to Energy Secretary Jennifer Granholm.  "Following this restart, it will take several days for the product delivery supply chain to return to normal," the pipeline company said.. "Some markets served by Colonial Pipeline may experience, or continue to experience, intermittent service interruptions during the start-up period." 

May 12: The Epoch Times: If HR 1 passes a flood of Constitutional
challenges are expected
Passage of Democrats' top legislative priority—the massive registration and voting reform package HR-1, wil prompt "a rush to the courthouse steps," according to Jason Snead, executive director of the Honest Elections Project.  "There are a number of constitutional infirmities and deficiencies that stem from its treatment of presidential and congressional elections identically, even though Congress has vastly reduced powers to regulate presidential elections under the Constitution," Snead said.  
- "There are problems under the 14th Amendment, for instance, when it comes to felon re-enfranchisement, because the 14th Amendment clearly allows states to make determinations about whether someone is going to lose their voting rights when they commit a felony and are convicted," Snead said.
- "There are problems with redistricting where, again, the Constitution says state legislatures have that power, but this bill compels by an act of Congress that they effectively cede that to independent redistricting commissions…" 
- He also noted that 20 state attorneys general recently wrote to Congress in a letter "that pointed out just a few of the constitutional issues that would undoubtedly undergird some of their challenges."
The Senate Committee on Rules and Administration held a markup session on May 11 on S.1, the upper chamber's version of H.R.1, which the House passed earlier this year on a 220-210 vote that included no Republican supporters and one Democratic opponent.  The panel couldn't agree on a final version of S.1 to report out to the full Senate. 

May 11: The Epoch Times: Arizona joins the list of states updating their election integrity laws 
Arizona Gov. Doug Ducey signed into law a bill that updates eligibility requirements to remain on the state's early voting list in an effort to protect the integrity of elections.  The law seeks to keep only active voters on the "Active Early Voting List," who wish to vote by mail in elections. Voters who don't return at least one mail-in ballot over four years, or two consecutive primary elections and general elections, will be asked whether he or she wishes to stay on the list. If there is no response they will be removed from the list., text message, or email. If they do not respond, then they could be removed from that list.   Democrats have opposed the bill, which they characterize as a "purge" bill. They pulled the "race card" claiming the bill will disproportionately impact low-income, black, lutino, and Native American voters.  Republicans have pushed back on what they say is a "false narrative" on the bill, arguing the law is designed to bolster the security of elections and will not disenfranchise any voters. Voters who are removed from the list can still request an early ballot or vote in person, according to the law.

May 11: The Daily Caller: News from the UK; the Queen speaks out on
conversion therapy
Queen Elizabeth II promised to ban conversion therapy in a Tuesday speech before both Houses of Parliament.  "Measures will be brought forward to address racial and ethnic disparities and ban conversion therapy," the Queen said.  A set of practices also referred to as "gay cure therapy" or "reparative therapy" are aimed at changing one's sexual orientation or suppressing their gender identity, according to NHS England.  While many forms of conversion therapy are already outlawed under the current UK law, the proposed ban is expected to ensure that it is eradicated once and for all.

May 11: The Epoch Times: U.S. Steel cancels billion-dollar investment in
PA over objections by Democrat officials
Exactly two years ago, U.S. Steel Corporation announced that the company would turn its Mon Valley Works operations into a key source of lightweight steel for the automotive industry.  At the time, local leaders and company officials called the investment "transformational."  It involved a whopping $1.5 billion upgrade to the three Pennsylvania plants with technology and improvements that would have resulted in cleaner air for communities as well as good-paying jobs providing regional prosperity for decades.   Dragged out delays by local politicians contributed to the decision as the company started to focus on sustainability, U.S. Steel said.  Meanwhile, a local Democrat official said he was "blindsided by the news."  Lt. Gov. John Fetterman, also a Democrat, was simply devastated.   Local economic development forecasters estimate over 1,000 direct jobs will be lost, as well as countless supporting jobs that would have facilitated the buildout.  A local economic group of manufacturing, steel, energy and labor union officials said the unknown costs and implications from the U.S. Steel decision are formidable and long-lasting and could impact other companies considering moving to Pennsylvania.  They may include evaluating the economic climate into their decision making the group suggested.  


May 11: Fox Business: Colonial Pipeline hack causes shortages at gas pumps in mideastern US
Fuel shortages have widened across the East Coast as consumers continue to panic buy amid the fallout from a cyberattack on the Colonial Pipeline last week by Russian ransomware group Darkside. Gasoline outages have been reported in Virginia, Tennessee, North and South Carolina, Georgia, Alabama, and Florida.   The 5,500-mile pipeline system transports more than 100 million gallons of gasoline, diesel, jet fuel and heating oil per day, or roughly 45% of fuel consumed on the Eastern Seaboard between the Gulf Coast and the New York metro area. The pipeline company said Monday that it is aiming to substantially restore its system by the end of the week.

May 11: Fox News: Paul to Fauci about the origins of the Wuhan lab research
Senator, and physician, Rand Paul (R-KY) and Dr. Anthony Faucii sparred once again at a Senate hearing Tuesday, this time over the funding of the controversial Wuhan Institute of Virology -- the Chinese lab that is believed to have played a role in the initial outbreak of  the Wuhan coronavirus.  Fauci and Paul have come to verbal blows before over both the virus and related restrictions such as lockdowns and mask-wearing. On Tuesday, Paul zeroed in on gain of function research -- which works on making pathogens deadlier or more easily transmissible. He alleged that a U.S. virologist had been working with the Chinese institute on such research and said it was funded by the National Institute of Health (NIH)."Dr. Fauci, do you still support funding of the NIH funding of the lab in Wuhan?" he asked the NIH chief. Fauci responded that  "… NIH has not ever and does not now fund gain of function research in the Wuhan Institute of Virology."

May 10: The Epoch Times: Kansas sheriff says 12 cases of election
fraud still under investigation
The Kansas, Shawnee County, Sheriff's Office confirmed last week it is still investigating claims of voter fraud from the Nov. 3 election.  A spokesperson told a local news outlet that 12 cases are being investigated, but couldn't release more details about the investigation. The statement came after state Rep. Vic Miller, a Democrat, had asked Shawnee County District Attorney Mike Kagay to look into the 12 cases of alleged election fraud, noting that the alleged fraud cases involved addresses that were listed at two UPS stores and two businesses in Topeka.  Andrew Howell, the Shawnee County election commissioner, said that he doesn't recall anyone contacting office but said they are trying to "clean up the list." He added that using a UPS address or business address does not necessarily mean there was election fraud involved.  Here, in Texas, it is a violation of the Texas Election Code to register claiming a U.S. post office box as your residence and efforts are underway to expand that to include commercial P.O. boxes as well. 

May 10: News Max: Rep. Liz Chaney (R-WY) to be primaried by retired Army Colonel
A retired U.S. Army colonel from California says he will challenge Liz Cheney in next year's Republican U.S. House primary in Wyoming.  Denton Knapp, of Trabuco Canyon, California, said he plans to move back to Gillette, where he graduated from high school in 1983, the Gillette News Record reported Monday.  Five Republicans as of Monday had filed paperwork with the Federal Election Commission stating their intent to run against Cheney in 2022.  The list didn't include Knapp yet but has been growing amid Republican discontent with Cheney for continuing to dispute former President Donald Trump's claim that vote fraud cost him re-election.  Cheney was among 10 Republican representatives who voted to impeach Trump over the riots at the Capitol on Jan. 6. She has called her impeachment vote an act of conscience in defense of democracy and the Constitution.  Meanwhile Chaney faces a likely action by the House GOP to remove her from her position as "Conference Chair." the third-highest Republican leadership post in the House. 

Meanwhile News Max also reported that former President Donald Trump threw his support toward Elise Stefanik (R-NY) to replace Cheney (R-WY).  The House GOP Conference needs someone with "experience flipping districts blue to red," Trump said on Monday, hailing Rep. Elise Stefanik, R-N.Y., as the replacement chair.   "We need someone in leadership who has experience flipping districts from blue to red as we approach the important 2022 midterms, and that's Elise!" Trump wrote.    "She knows how to win, which is what we need!"  Trump's statement said "Elise has intelligence, an endorsement from American Patriot Brandon Judd and the National Border Patrol Council, she has an A+ from the NRA, and she loves our Veterans."

May 10: Fox News: Israeli and Palestinians clash at Jerusalem holy site
Israeli police clashed with Palestinian protesters inside a flashpoint Jerusalem holy site on Monday.  Officers fired tear gas and stun grenades and protesters hurled stones and other objects at police.  Police said protesters threw stones from the Al-Aqsa Mosque compound onto an adjoining roadway.

May 9: Fox News: NBC Anchor fails to ask Fauci key Wuhan coronavirus
question in an interview
"Meet the Press" host Chuck Todd failed to ask guest Dr. Anthony Fauci about the origins of the coronavirus on Sunday, which some viewers considered an oversight, particularly in light of reports that the National Institute of Allergy and Infectious Diseases funded research at the Wuhan Institute of Virology.  Rep. Mike Gallagher (R-WI) was one of the first to notice Todd's missed opportunity.  "...Chuck Todd didn't ask him a single question about the origin of the disease and whether U.S. taxpayer dollars went to gain of function research at the Wuhan Institute of Virology," Gallagher said on Twitter.  "No one," he added, "seems to be interested in getting to the bottom" of how this pandemic started.

May 9: The Washington Times: Senator Tim Scott and Race Theory
Thanks in part to Sen. Tim Scott (R-SC), it looks like we have hit the peak of the "America is a systemically racist country" craze.  About 10 days ago Scott, in response to Joe Biden's address to Congress, as well as the general tone and tenor of the times, made it clear that he did not believe that America is a racist country and that the notion of institutional or systemic racism is pretty much nonsense. Scott, who is of African-American decent, said plainly: "America is not a racist country."  In so doing, he offered the most consequential response to a presidential address since that tradition was started in 1966. Mr. Scott both carpet-bombed a talking point the Democrats have spent 50 years curating and launched himself immediately into the mix for the 2024 presidential contest. That's solid work for just five minutes.

May 9: The Epoch Times: Weak jobs report reflects on Biden economic policies
U.S. jobs growth for April was far lower than what the market had predicted, adding to worries that excessive stimulus payments could have undesirable side effects in the long term, making the road to recovery rocky.  The April jobs report was the biggest miss on record. According to the Bureau of Labor Statistics, the U.S. economy added 266,000 jobs last month versus an estimate of 1 million. As a result, some economists believe that the path to full employment could be much longer than expected.  The economy is still 8.2 million jobs below pre-Wuhan coronavirus levels.  While Joe Biden inherited a strong economic recovery, his policies are hurting companies, especially Main Street businesses, critics say.

May 9: The Washington Times: Homeland Security officer accused of lying
about his own immigration history
The case of a Homeland Security immigration officer accused of lying about his own immigration history is getting even more sordid with the revelation in court documents that his wife also works for the department — as part of an anti-fraud unit.  Investigators said the woman, identified in court documents only by initials "O.I.", knew about her husband Karl Ifemembi's fraud and helped conceal it from U.S. Citizenship and Immigration Services, the legal immigration agency for which they both worked.  Court documents suggest she may even have helped her husband apply for jobs based on which identity story he wanted to use at the time.

May 8: The Epoch Times: Arizona lawmakers to Maricopa County,
provide routers or face another subpoena
Arizona lawmakers and officials in the state's largest county clashed anew last week over election audit subpoenas, with county officials refusing to hand over routers and claiming they don't have passwords to access administrative control functions of election machines.  Arizona's Senate told Maricopa County that it would issue subpoenas for live testimony from the county's Board of Supervisors unless it receives materials that are being withheld.  The Arizona Senate subpoenaed election materials, such as ballots, following the 2020 election; lawmakers also issued subpoenas for election machines, passwords, and other technology.  A judge said their request was "the equivalent of a Court order," but the county continued to stonewall turning over routers or router images, claiming that doing so poses a significant security risk to law enforcement.  The county has said it doesn't have passwords to access administrative functions on Dominion Voting Systems machines that were used to scan ballots during the election.  Democrat, John Brakey, who serves on the state Senate's liaison team told a local broadcaster that he was "blown away" by the password development.  "It's like leasing a car and they refuse to give you the keys. They're supposed to be running the election. You know what's wrong? Sometimes these vendors have too much power, and we're voting on secret software, and that's why this recount down here is very important," he said. 

May 8: News Max: Big U.S. pipeline shutdown by cyberattack
A company that operates a major U.S. energy pipeline says it was forced to temporarily halt all pipeline operations following a cybersecurity attack.  In a statement, Colonial Pipeline said the attack took place Friday and also affected some of its information technology systems. The company describes itself as the largest refined products pipeline in the United States. It says it is responsible for transporting more than 100 million gallons of fuel daily, through a pipeline system spanning more than 5,500 miles between Texas and New Jersey.  The company said it hired an outside cybersecurity firm to investigate the nature and scope of the attack and has also contacted law enforcement and federal agencies. "At this time," the company said, "our primary focus is the safe and efficient restoration of our service and our efforts to return to normal operation. This process is already underway, and we are working diligently to address this matter and to minimize disruption to our customers and those who rely on Colonial Pipeline."

May 7: The Washington Free Beacon: Milton Friedman and the economy
Treasury Secretary Janet Yellen got into trouble Tuesday for telling the truth. That morning, at a conference sponsored by the Atlantic, she raised the possibility that one day the Federal Reserve may raise interest rates "to make sure our economy doesn't overheat."  Anyone with a basic understanding of economics knew what she was talking about. The combination of Joe Biden's gargantuan spending and the accelerating economic recovery may well lead to a rise in consumer prices and hikes in interest rates. But an end to the Federal Reserve's program of easy money would hurt asset prices and possibly employment as well.  Something investors don't want to hear.  When Yellen's words reached Wall Street, the market tanked. By the afternoon she was in retreat.  A specter inflation is haunting the Biden administration.  Past inflations have not only harmed consumers, savers, and people on fixed incomes, they have also brought down politicians. The classic definition of inflation is too much money chasing too few goods. That might also describe America sometime soon, it if doesn't already.  The economy has started its post-virus comeback. Jobs and growth are on the upswing. U.S. households sit on a trillion-dollar pile of savings. Over the last year, on top of its regular spending, the federal government has appropriated a mind-boggling $2 trillion CARES Act, a $900 billion Wuhan coronavirus relief bill, and a $2 trillion American Rescue Plan. And President Biden wants to spend an additional $4 trillion, bringing the total to over $8 trillion!  This indicates that we can expect inflation and with it a negative impact on the U.S. economy, something that helped ruin the presidencies of Gerald Ford and Jimmy Carter.

May 7: The Epoch Times: Texas house passes election integrity
legislation, more to do
The Texas state House on Friday passed a GOP-backed election overhaul bill that would add new penalties and rules, becoming the latest state Republican-led legislative body to pass similar legislation in recent days.  The bill (SB 7) was adopted by a 78-64 vote and will make it a felony to provide voters with a vote-by-mail application if they haven't requested one. It would also bar the usage of public funds to facilitate the distribution of mail-in voting applications.  Additionally, poll watchers could only be removed "if the watcher engages in activity that would constitute an offense related to the conduct of the election." In November 2020, over 20 Republican poll watchers were banned from entering polling places in Democrat-controlled Harris County, even though they were duly appointed.    As has been used in other states like Florida and Georgia, Democrats and progressive groups criticized the bill claiming it is tantamount to "voter suppression," claiming it adversely impacts "people of color" and disregarding the claim that it is to ensure election integrity. 

May 6: The Daily Signal: Myth vs. fact; the Florida election integrity bill
Florida Gov. Ron DeSantis signed an election integrity bill into law Thursday morning to make it easier to vote and harder to cheat. Unfortunately, the mainstream media is helping to circulate misinformation about the law, here are some examples:
Myth: Florida is trying to suppress mail-in voting.
Fact: Florida's reforms simply make the process more uniform by strengthening ID requirements for absentee voting that already apply to in-person voting.  Two-thirds of Florida voters agree that applying voter ID requirements to absentee ballots is a good way to safeguard ballot integrity.  Additionally, research shows that voter ID requirements don't actually negatively impact turnout. 


Myth: Florida is trying to make it harder for seniors or disabled voters to have their absentee votes turned in by others.
Fact: Florida's reforms allow a person to collect immediate family members' ballots and up to two ballots from unrelated persons.  The law about restricting ballot trafficking/harvesting and maintaining a secure chain of custody of ballots, which benefits voters.  It also expands the list of people authorized to handle vote-by-mail ballots.  Limiting who handles other voters' ballots ensures that paid political operatives will be prohibited from picking up and potentially mishandling or changing absentee ballots and pressuring or coercing vulnerable voters in their homes.
 

Myth: Florida's reforms put new limits on drop boxes to make it harder for voters.
Fact: The reforms ensure sufficient security to protect voters' ballots, while maintaining access to drop boxes.  This includes the staffing of drop boxes to ensure the safety of ballots dropped off and provides voters with confidence their vote will be counted correctly. 


Myth: Allowing access to the absentee ballot signature verification process will allow partisan operatives to file frivolous challenges.
Fact: Observation by poll watchers for in-person voting has been allowed for decades, and with the growth of mail-in voting, the same protections should be applied. Transparency instills confidence in the electoral process and reduces the temptation of election workers to commit fraud.
May 6: The Epoch Times:  Senators object to amnesty for academics
funded by China
Eight Republican senators aren't happy that the Department of Justice (DOJ) is moving forward with amnesty for researchers who admit getting past funding from foreign sources.   "America's successful research enterprise is built on reciprocity, integrity, and transparency. These values foster a free exchange of ideas and ensure that researchers and institutions receive the benefit of hard work," the senators told Attorney General Merrick Garland in a May 5 letter made public Thursday.  "… the United States must also take reasonable steps to protect taxpayer-funded research from theft, diversion, and ultimately weaponization against our own long-term national interests," the senators said.  "This is a complex problem, but an amnesty program rewarding individuals who broke federal law to steal U.S. taxpayer-funded research is simply not the answer," they contended.

May 5: News Max: Democrats, Arizona Senate in deal to ensure
recount security
The Arizona Democratic Party has reached a deal with the Republican-controlled state Senate to ensure that voter and ballot privacy is guaranteed during an unprecedented recount of the 2020 presidential election results in Maricopa County.  The agreement puts teeth in a court order that already required the Senate and its contractor, Florida-based Cyber Ninjas, to follow state laws around ballot privacy. Any violations of the agreement would be enforceable by seeking an emergency court order.  The agreement also puts in writing a verbal agreement between the Senate and Arizona Secretary of State Katie Hobbs that allows her to have three observers inside the Veterans Memorial Coliseum at the state fairgrounds.  Under the court order, the Senate and Cyber Ninjas last week released their policies and procedures for the recount.

May 4: Fox News: Trump launches new social media platform after
being banned from Facebook and Twitter
Former President Trump on Tuesday launched a communications platform, which will eventually give him the ability to communicate directly with his followers, after months of being banned from sites like Twitter and Facebook. The platform, "From the Desk of Donald J. Trump" appears on www.DonaldJTrump.com/desk.    The space allows Trump to post, and allows followers to share the former president's posts to Twitter and Facebook, however, the new platform does not have a feature to allow users to "reply" or engage with Trump's posts.  "This is just a one-way communication," one source familiar with the space said. "This system allows Trump to communicate with his followers."   Trump's new platform surfaced Tuesday, after advisers had said the former president planned to "move forward" to create a social media platform of his own after being banned from Facebook, Twitter, Instagram, YouTube, and Snapchat.

May 4: The Daily Caller: TX Democrat official resigns after
calling Senator Scott an "oreo"
Democratic Party Chair Gary O'Connor of Lamar County, Texas, resigned Tuesday after facing backlash for calling Senator Tim Scott (R-SC), an African-American, an "oreo."  O'Connor called Scott the racially derogatory term following Scott's rebuttal to Joe Biden's address to a joint meeting of Congress.  O'Connor faced backlash from fellow Texas politicians who called his comments "disgusting, hateful, and completely unacceptable."

May 3: The Epoch Times: Socialism at its finest - encourage other nations to increase taxes so corporations won't flee the US as Biden increases taxes on them at home!
Cecilia Rouse, chair of the Council of Economic Advisers, said the Biden administration continues to urge its trading partners to adopt a global minimum tax on corporations to offset the impact of Joe Biden's proposed domestic corporate tax increase.  "The idea is to make sure that corporations are paying 'their fair share,' to button up some of the loopholes, which have meant more corporations were actually putting more money offshore and having a global minimum tax so that … that we're working with the rest of the world so that corporations are paying their fair share worldwide," Rouse said.  The Biden administration's appeal for international cooperation on the global corporate minimum tax rate is a bid to at least partially counteract any disadvantages that might arise from the Biden proposal to raise the U.S. corporate tax rate from 21% to 28%, a move panned by Republicans and business groups as hurting the competitiveness of American companies and slowing wage growth.  "These tax hikes would be devastating to American businesses and would see U.S. businesses pay a 32 percent rate after state taxes, one of the highest rates in the developed world," Alexander Hendrie of the Americans for Tax Reform said.

May 2: Fox News: Texas special election: Dems come up short
as two Republicans end up in the runoff election
Republicans Susan Wright, the wife of the late Republican Congressman Ron Wright, and Jake Ellzey advanced this weekend to a runoff election for Texas' Sixth Congressional District, which many see as a bellwether for future contests.  There were over twenty people in the race (both Republicans and Democrats) with the closest Democrat coming in third, 400 votes behind the second-place (Republican) finisher  The runoff election will be between to Republican candidates..  The New York Times reported that the special election results disappointed Democrats who hoped for a better showing for Democrat Sanchez.  Sanchez said in a statement on Sunday. "Unfortunately, tonight we came up short, and two Republicans will be competing to represent this Congressional district.

May 2: Townhall.com: VA senators chiming in as GOP candidate
could win the state in November 2021
It is less than a week away from the Republican convention in Virginia, which will select the party's nominees for governor, lieutenant governor, and attorney general. Democrats will pick their nominees during a June 8 primary, and the general election will be on November 2, 2021, to decide if Virginia will remain under one-party rule. FiveThirtyEight noted that "The biggest election of 2021 is probably for governor of Virginia," with original emphasis. Sitting senators are even weighing in now.  A recent, major endorsement came on Sunday from Sen. Ted Cruz (R-TX), in favor of former Carlyle Group executive, Glenn Youngkin.  The video endorsement highlights Youngkin's credentials as a businessman and a political outsider, who knew "a new kind of leader was needed to get things done and get things back on the right track." In addition to listing other credentials, Sen. Cruz offered that "Glenn is the best chance Republicans have of winning in Virginia this year."

May 2: The Epoch Times: May Day anti-lock-down party broken up
by police in Brussels
Police fired water cannon and tear gas in a Brussels park on Saturday to break up an anti-lockdown party of several hundred people designed to defy coronavirus social distancing rules.  The crowd of mostly young people responded to a post on Facebook announcing the unauthorized party. It took place a month after police cleared 2,000 people who gathered in the same Bois de la Cambre park for la Boum (the party), an event that had begun as an April Fool's joke.

May 2: The Washington Times: The Filibuster becomes a litmus test
in Democrat Senate midterm races
Wisconsin State Treasurer Sarah Godlewski made it crystal clear when she launched her US Senate bid last month that she wants to ax the legislative filibuster.   Godlewski is among the Democrats in the developing field of Senate candidates who are betting primary voters will reward them for vowing to remove the 60-vote threshold required to pass bills through the upper chamber.  "Yes, we can get rid of the filibuster because that's what it takes to get the job done," Ms. Godlewski said toward the end of her launch announcement. "People say we can't fix the Senate, but I don't buy that."  Despite the filibuster's unpopularity among liberals, Democrats have not changed the decades-old rule in part because of opposition from the likes of Sens. Joe Manchin III of West Virginia and Kyrsten Sinema of Arizona. Meanwhile, Democrats were unable to stop Trump's judicial appointments because they got rid of the filibuster for nominees when they controlled the Senate, in part because the GOP was using it to block Democrat nominations.  They found that their actions back then, came back to bite them.

May 1: The Epoch Times: Florida joins the state legislatures tightening
voter integrity requirements
On April 26, in a vote of 23-17, the Florida State Senate approved SB 90 (pdf), which overhauls the Florida election law ahead of the 2022 primary and 2024 presidential election cycles. State Sen. Jeff Brandes was the only Republican to vote against the measure.  The House passed a similar version a week earlier.  Both chambers must agree on the language of the legislation in order for the bill to advance to the desk of Florida Gov. Ron DeSantis.  The new legislation seeks to mandate that vote-by-mail ballot signatures match the most recent signature on file to be counted. The measure also dictates that political parties and candidates cannot be shut out from observing the signature matching process. 

May 1: Fox News: Cancel culture, maybe there are some limits as
CA teacher placed on a leave of absence
It seems that academia's unbridled wokeism does have limits, after all -- at least in this case, where the subject didn't have tenure. A left-wing California college professor who defended cancel culture and repeatedly talked down to a student who called police "heroes" has herself been canceled after video of the virtual class went viral.  The educator told 19-year-old student Braden Ellis, a business major, that police were created in the American South to track down runaway slaves and suggested that policing is inherently a form of systemic racism.  "I pray for the success of Cypress College, but we need to root out this liberal ideology that's tearing our country apart," Ellis told Fox News Saturday after the school's announcement. "Always do it with gentleness and respect, but Republicans, conservatives, Christians and independent thinkers need to fight back and defend our country's values."  Video of the exchange shows his calm response to the teacher's aggressive line of questioning and attempt to derail his arguments against cancel culture and antipolice sentiment.

May 1: The Washington Examiner: Romney showered with boos at
event as hecklers call him a "traitor"
Sen. Mitt Romney (R-UT) was showered with loud boos by a Republican audience in Utah as he attempted to slam Joe Biden's agenda.  "I'm a man who says what he means, and you know I was not a fan of our last president's character issues," Romney said to delegates at Utah's Republican convention.  He was met with boos from the crowd as some delegates called him a "traitor."  "Aren't you embarrassed?" Romney asked the crowd at one point.  Romney also touted his Republican credentials and told the crowd that the boos don't bother him.  "You can boo all you like," said Romney. "I've been a Republican all of my life. My dad was the governor of Michigan, and I was the Republican nominee for president in 2012."  The jeers finally stopped when the outgoing party chairman urged the delegates to "show respect."

May 1: The Epoch Times: Political interference in Census Bureau
population apportionment?  Congressional leaders want to know
A group of House Republicans is questioning whether political interference contributed to what they describe as questionable results from the recently completed 2020 Census.  The lawmakers on April 30 pointed to the discrepancy between projections of census numbers last year and the final figures, and also that the Census Bureau referred them to the White House when questioned about the apportionment count.  "While Democrats falsely accused the Trump Administration of using the Census process for political gain, [Joe] Biden has done just that," the group wrot to Secretary of Commerce Gina Raimondo.  "Even as President [Donald] Trump sought to ensure the accuracy of the 2020 Census apportionment results by excluding illegal aliens from the apportionment count, [Joe] Biden reversed course, deciding to dilute American citizens' representational interests by rescinding this commonsense measure. Several liberal states with sanctuary policies may have lost more congressional seats if illegal immigrants had not been included in the apportionment base."  Population numbers for each state garnered through the census, a once-per-decade query of Americans, is used to tally how many seats in the House of Representatives each state receives.

May 1: The Washington Times: Abbott calls on Dem official to resign
for labeling Senator Scott an "oreo"
A Texas Democratic Party official is facing calls to step down after referring to Sen. Tim Scott, South Carolina Republican, as an "oreo." Texas Gov. Abbott demanded Saturday the resignation of Gary O'Connor, chair of the Lamar County Democratic Party, after he said in a since-deleted Facebook post criticizing Mr. Scott as "little more than an oreo with no real principles."  "This is disgusting, hateful, and completely unacceptable," the Republican governor tweeted. "O'Connor must apologize to @SenatorTimScott & step down immediately."

April 30: Breitbart News: WVA Senator Manchin puts the nail in the
coffin of Dems dreams of federalizing elections
Senator Joe Manchin (D-WVA) said Friday that he "would not be able to support" the House bill HR-1 that federalizes elections.   He said regarding the bill that he believes election integrity is necessary.  "Every vote should be accessible, it should be secure, and it should be fair. That's the responsibility we have, and [if] the states are subverting that, then we should put guard rails on it," he said.  Manchin did not say, however, which parts of the 800-page bill, named H.R. 1, dissatisfies him, which passed the House on March 3 along partisan lines, irking Manchin.  "How in the world could you, with the tension we have right now, allow a voting bill to restructure the voting of America on a partisan line? I just believe with all my heart and soul that's what would happen, and I'm not going to be part of it," he said.

April 29: The Epoch Times: Arizona Democrat criticizes Biden for the border crisis
Sen. Mark Kelly (D-AZ) criticized Joe Biden for ignoring the current surge of migrants at the nation's southern border during his first speech before Congress on Wednesday night.  "While I share President Biden's urgency in fixing our broken immigration system, what I didn't hear tonight was a plan to address the immediate crisis at the border," Kelly said following Biden's  speech. "I will continue holding this administration accountable to deliver the resources and staffing necessary for a humane, orderly process as we work to improve border security, support local economies, and fix our immigration system."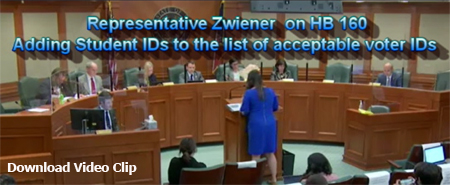 April 29: Texas House Committee on Elections: Representative lays out HB 160
On April 29th Texas House Representative Erin Zwiener (D-Kyle) laid out her bill HB 160 which would add student IDs from public institutions to the list of acceptable forms of voter IDs. She suggested that because students may not carry with them one of the currently acceptable forms of voter IDs that student IDs should be added. One witness pointed out that students should take responsibility for their own actions, just like all other voters do. If they have an acceptable form of ID but failed to bring it with them to the polls, then they need to go get it.

April 29: Fox News: The police are more popular than Joe Biden
Police and other law enforcement agencies are more popular among Americans than Joe Biden, according to a new poll.  An NBC News survey published Thursday shows Biden trailing behind law enforcement in popularity by almost 10 points.  The poll also showed Major League Baseball trailing well behind both police and Biden with 34%. MLB has faced an intense backlash over its decision to move its annual All-Star Game from Atlanta to Denver due to Georgia's recently passed election law.


April 29: Texas Senate State Affairs Committee: Texas state legislature considers combining Early Voting and Election Day into one two week "Election Period"
Senator Bob Hall (R-Nacogdoches) has proposed doing away with early voting and election day in Texas and combining them into one two week period for voting. Doing so would be a paradigm shift for many, doing away with the current four day break between the two. He has worked closely with the Secretary of State's office in drafting SB 2232. During the hearing some witnesses opposed the measure, while others were having a problem wrapping their arms around the concept. Still others praised the senator for his ability to think outside the box. Doing this would free up equipment for many counties while not disadvantaging any voters, one witness suggested.
[FYI: Downloading this clip may take awhile depending on the speed of
your Internet connection because it is a very large file]

April 29: The Washington Free Beacon: Senator Scott outshines Biden
with inspiring tale of overcoming adversity
Sen. Tim Scott (R-SC) delivered a powerful and inspiritingly diverse response to Joe Biden's Congressional address on Wednesday. Scott argued that Biden—a "good man" whose speech was "full of good words"—had failed to deliver on his promise to unite the country and "lower the temperature" after his victory in the 2020 election. "The Biden administration has pushed us apart," he said, praising the bipartisan COVID-19 relief legislation passed under former president Donald Trump and the success of Operation Warp Speed. The radical policies Democrats have proposed, he argued, were not intended to find "common ground."  Invoking his personal story of being raised in poverty by a single "prayin' momma," Scott challenged the lock down policies backed by Democratic politicians that have closed down the institutions that aided his improbable rise, including schools and churches. He spoke of his experience as a black man in America and his struggle to be taken seriously by Democrats and their supporters.

April 29: The Epoch Times: Biden gets push back over $6 trillion spending proposal
Joe Biden's $6 trillion in early-term spending initiatives—his $1.9 trillion American Rescue Plan that passed with zero Republican votes, along with his proposed $2.3 trillion American Jobs Plan and $1.8 trillion American Families Plan—have drawn sharply critical reactions from Republicans, and more muted criticism from some Democrats, for their lofty price tags.  Biden unveiled his newest legislative proposal, the sweeping $1.8 trillion package for families and education, during his first speech to a joint session of Congress on April 28, calling it a "once-in-a-generation" investment that would bring lasting benefits to the economy, expand the middle class, and reduce child poverty. The plan includes $1 trillion in spending on education and child care and $800 billion in tax credits aimed at middle- and low-income families, funded mainly by tax hikes on wealthier Americans.  Republicans say the bulk of the $6 trillion proposed spending in Biden's early term is aimed to satisfy his liberal base and amounts to socialism.

April 28: Breitbart News: Trump to bring back MAGA rallies
Former President Donald Trump is planning to bring back his famous "Make America Great Again" political rallies, a source has confirmed.  CNN reported Trump may resume his political rallies as soon as May.  Since 2015, Trump's record-setting political rallies allow his supporters to express their enthusiasm for his political agenda and his willingness to be politically incorrect.  The former president is expected to emerge as a focal point of opposition to Joe Biden's radical-left agenda, and members of the Republican establishment who tried to distance themselves from his political brand after the 2020 election.  "I am looking at it very seriously, beyond seriously," Trump said about 2024 in a recent interview. "From a legal standpoint, I don't want to really talk about it yet." 

April 27: The Daily Caller: Biden's nomination to head ICE didn't like reporting
illegals to the Federal authorities 
The Texas sheriff picked to lead Immigration and Customs Enforcement (ICE) pushed back on the agency's request to screen inmates through their database and detain them for possible deportation, Courthouse News reported.  Joe Biden nominated Texas Sheriff Ed Gonzalez to lead ICE, Tuesday. Gonzalez opposed training deputies to use ICE's database to screen inmates for their immigration status in February 2017 as part of the agency's detainer program, Courthouse News reported.  Gonzalez reassigned 10 deputies being trained to use the database to screen inmates to address overcrowding and understaffing issues at the Harris County jail, Courthouse News reported. He said the additional screening measures could result in racial profiling, according to Courthouse News.  Although Gonzalez opposed ICE's screening database, he said inmates would be held at the agency's request regardless of the crime they were charged with, adhering to Trump-era immigration policies, Courthouse News reported. Sheriffs could be charged with a Class A misdemeanor for not cooperating with ICE detainees.

April 27: Fox News: Louisville having a problem staffing police
department as crime runs out of control
Nearly 190 cops left the Louisville Metro Police Department (LMPD) in 2020 and 43 have stepped away from the Kentucky city's agency so far in 2021, either choosing to retire or resign altogether, as law enforcement officials struggle to recruit new members to make up for a deficit in manpower, authorities and a union spokesperson told Fox News on Tuesday.  "I would say that we're in dire straits," said River City Fraternal Order of Police press secretary Dave Mutchler, speaking to the current condition of LMPD staffing. Mutchler also serves as a spokesperson for the Louisville Metro Officer Union.  LMPD has hired 26 new members so far this year, while 43 have left. The 1,069-person department falls 255 people short of its "authorized strength" of 1,324 -- the number of personnel it is authorized to employ, statistics show.

April 27: The Washington Times: John Kerry pressed to resign amid
alleged sharing of intelligence with Iran
John Kerry's backroom conversations with foreign officials have sparked a fierce backlash in Washington again as the former secretary of state and Biden's point man on climate issues faced growing calls to resign Tuesday over reports that he fed Iran sensitive information about Israeli military strikes.  With a history of seemingly using private discussions with world leaders — in and out of office — for political purposes, Mr. Kerry's latest firestorm threatens to overshadow White House hopes of resuming diplomatic overtures to Tehran. The controversy centers on Mr. Kerry's relationship with Iranian Foreign Minister Mohammad Javad Zarif.  Zarif claimed in a recently leaked audiotape that Kerry revealed previously unknown details about Israel's covert bombing campaign against Iran-backed militias in Syria.  The Department of State and Kerry have denied the accusations.

April 26: News Max TV:  AZ judge recuses himself over election audit case
A Maricopa County Superior Court judge late Sunday recused himself from a case challenging an election audit underway in Phoenix after he got new documents saying "one attorney whose name appeared on the filings for the first time today requires me to recuse."  A hearing had originally been scheduled for Monday, but it has been postponed. Coury said the court will also assign a new judge on Monday, but he is not sure when the delayed hearing will be rescheduled.  The audit almost ended before it started. Coury on Friday ordered the Arizona Senate to pause the procedure, but only if the state's Democratic Party, which wanted the audit stopped, could post a $1 million bond that would cover additional costs from the delay.   However, the party said it would not post the money to stop the recount. It had brought a last-minute court action with Maricopa County Supervisor Steve Gallardo — the board's only Democrat — claiming the audit process violated state election laws.

April 26: The Washington Times: Red states see an increase in
Congressional representation
Political power shifted slightly from blue to red states Monday as the Census Bureau announced how seats in the U.S. House will be divvied up for the next decade, giving Texas two new seats and Florida one seat, while California and New York each lost seats.  Also gaining seats were Colorado, Montana, North Carolina and Oregon, while Illinois, Michigan, Ohio, Pennsylvania and West Virginia ceded seats.  The changes are smaller than analysts had predicted, with just 13 states seeing changes — the fewest since the current method of apportionment began in 1941, said acting Census Director Ron S. Jarmin.

April 26: Breitbart News: Over 90% of Venezuelan households struggle to find food
A Venezuelan human rights non-governmental organization found in a national poll that over 90% of people living in the country were food insecure, according to the office of President Juan Guaido.   Guaidó — who remains largely powerless despite his status as the constitutional head of state of the country — has repeatedly condemned the regime of socialist dictator Nicolás Maduro for starving the Venezuelan people since the former was sworn in as president in early 2019, when Maduro's last legitimate term as president ended. Socialist mismanagement of the economy and extreme corruption on the part of Maduro's top henchmen have devastated what was once Latin America's richest nation, leaving many relying on eating garbage to survive or surviving on barely one meal a day since at least 2016. A study published that year found 15 percent of Venezuelans depended on consuming food scraps found in piles of garbage to survive.

April 25: The Washington Times: CCP nixed meeting on biowarfare
concerns as CCP virus queries increased
China Communist Party (CCP) canceled an online meeting with American officials last year to discuss mounting concerns regarding secret Chinese biological weapons work in possible violation of an international treaty, according to a new report.  The meeting between State Department arms control officials and their Chinese counterparts was planned as a video conference rather than in person because of COVID-19 travel curbs. Chinese officials, citing unspecified technical problems, failed to show for the session, according to an account published this month in the State Department's annual report on compliance with arms agreements.  It was the first time in four years that Beijing refused to meet with U.S. officials to discuss suspected Chinese violations of the 1975 Biological and Toxin Weapons Convention, known as the BWC, fueling concerns that Beijing is working on weapons that kill with microbes or toxins.


April 25: Townhall.com: KY's AG throws cold
water on Biden's claims of systematic racism
Kentucky Attorney General Daniel Cameron, a prominent Republican office-holder in a red state tossed several buckets of cold water on the left's contention that America is 'systemically racist' during a Sunday appearance on Fox News' "Sunday Morning Futures."  "Well, no, I don't believe this country is systemically racist," Cameron told anchor Maria Bartiromo. "What I believe is that this country has always tried from the very beginning to become a more perfect union. And certainly, we've had our challenges throughout this nation's history and there's no hiding from that, but when you hear comments like you heard from [Joe] Biden and others that throw fuel on the fire, that explode the tensions that we have in this country, that's not good for hoping to unify this country, and so for my part, I try to stay away from hyperbolic terms."  When you read words like [those spoken by Joe Biden] you'd almost be forgiven for thinking blacks in America were one step removed from chattel slavery. It's obviously absurd, but such rhetoric is a powerful tool. The myth of 'systemic racism,' of course, is nothing more than a rhetorical ploy by leftists to gain power. While individual racists certainly exist, albeit thankfully in fewer and fewer numbers, America hasn't been 'systemically racist' since the laws that kept racism, well, systemic, were abolished in the '60s.

April 25: The Epoch Times: Watch the Arizona election audit live!
An audit of votes cast in Arizona's largest election during the 2020 election is proceeding after the Arizona Democratic Party on Friday refused to pay a $1 million bond.

April 25: Fox News: Sen. Manchin rails against eliminating the filibuster,
says he's not going to be part of blowing up the Senate
Sen. Joe Manchin (D-WV) on Sunday pushed back against progressive Democrats who call him a "roadblock" to their liberal proposals, emphasizing he is "not going to be part of blowing up this Senate."  He said on CNN, when asked how he would respond to Democrats who say that he is one of the "main roadblocks" to Joe Biden passing his "ambitious agenda," prompting Manchin to say, "I'm not a roadblock at all."   In referring to the liberal Democrat push to get rid of the filibuster, Manchin responded "I am not going to be part of blowing up this Senate of ours or basically this democracy of ours or the republic that we have."  "The House was designed to be hot as a fire cracker. We were designed to cool it off, and that's the Founding Fathers. It was a brilliant strategy they looked at, so why can't we try to make this work?" Manchin continued.

April 24: The Epoch Times:  Kansas Dem Gov vetoes election reform and gun bills
Kansas Gov. Laura Kelly on Friday vetoed election reform legislation and a bill that would have let more people carry guns.  Kelly, a Democrat, vetoed two bills that would have changed election laws, such as requiring counties to verify signatures on early voting ballots and making it illegal for any person to knowingly alter a postmark on a mail-in ballot.  The bills were passed by the Kansas House by votes of 80-42 and 83-42 respectfully and by the Kansas Senate by a votes of 27-11.  Kelly alleged the bills would have suppressed votes.  Kelly also vetoed another bill that would have let teenagers conceal carry guns if they had a proper permit.

April 24: Fox News: Alabama joins the ranks of states banning biological
boys from competing in girls sporting events
Republican Gov. Kay Ivey on Friday signed legislation restricting transgender students from participating in K-12 sports, making Alabama the latest conservative state to ban transgender girls from playing on female sports teams.  Ivey's office announced in an email that she had signed the bill that says a public K-12 school "may never allow a biological male to participate on a female team." Asked if the governor had a comment on the decision, spokeswoman Gina Maiola said she could confirm the governor signed the bill but did not elaborate.Supporters of the bill, HB 391, say transgender girls are born bigger and faster and have an unfair advantage in competition. Opponents argue the bills are rooted in discrimination and fear, and violate the federal law barring sex discrimination in education.

April 23: Fox News: Montana Gov. signs bill making his state a gun sanctuary state
Montana Gov. Greg Gianforte signed a bill into law Friday that's intended to protect gun owners in the state from any new federal regulations or bans on firearms.  "Today, I proudly signed Rep. [Jedediah] Hinkle's law prohibiting federal overreach into our Second Amendment-protected rights, including any federal ban on firearms," Gianforte, a Republican, wrote on Twitter. "I will always protect our #2A right to keep and bear arms."  Republicans in the state passed the law amid Biden's push for federal gun reform measures in the wake of a series of mass shootings across the country this year. Previous efforts to pass similar legislation in the last decade were thwarted by then-Democratic Gov. Steve Bullock.  The Montana law prohibits law enforcement officials and other state employees from enforcing federal restrictions or spending state funds on particular kinds of firearms, ammunition and magazines.  Arizona Gov. Doug Ducey signed a similar law earlier this month.

April 23: The Epoch Times: Texas sues Biden Administration for ignoring
COVID 19 rules at southern border
Texas has filed a fresh federal lawsuit against Joe Biden arguing his policies violate federal law and are causing an influx of illegal aliens infected with the CCP virus that causes COVID-19, which jeopardizes public health and the burgeoning economic recovery.  The new legal proceeding, the seventh filed by Texas against the Biden administration since the president's inauguration, seeks a return to Trump-era border policies.  "Biden's outright disregard of the public health crisis in Texas by welcoming and encouraging mass gatherings of illegal aliens is hypocritical and dangerous," Attorney General Ken Paxton, a Republican, said in a statement.  "This reckless policy change stifles the reopening of the Texas economy at a time when businesses need it the most and when our children need to get back to in-person learning as soon as possible. Law and order must be immediately upheld and enforced to ensure the safety of our communities and the reopening of the strongest economy of the country."

April 23: The Washington Free Beacon: 48 hour waiting period stands for
now as parties to lawsuit battle it out in court
A federal appeals court on Friday reinstated Tennessee's 48-hour waiting period for abortions, which a federal trial judge said was unconstitutional.  The Sixth U.S. Circuit Court of Appeals issued the order, a temporary stay, which allows the waiting period to take effect while the state fights a trial court ruling that sided with abortion providers. The order also means that the Supreme Court will not get involved at this stage, a step the state urged the justices to take earlier this month.  Tension is mounting around abortion cases at the High Court. The justices are weighing an appeal from Mississippi, which wants to enforce a ban on abortions after 15 weeks. After months of internal deliberation, the Court has yet to announce whether it will hear the case. Pro-choice and pro-life advocates alike see the case as a threat to Roe v. Wade. The Sixth Circuit's decision on Friday spares the High Court a second, more pressing abortion appeal.   Tennessee's waiting period requires a patient to consult with a physician about abortion and its alternatives at least 48 hours before the procedure. Providers must relay information about the gestational age of the child, the health risks of abortion and childbirth, and support services for women who choose to carry the child to term. There is an exception for medical emergencies.

April 23: The Daily Caller: Welcome to the wrong border Kamala!
The New Hampshire GOP called out Vice President Kamala Harris' planned visit to the "wrong border" rather than traveling to the southern border amid the ongoing migrant crisis.  Harris has faced Republican criticism for delaying a visit to the southern border even though she had been nominated as the overseer of the administration's response to the migrant crisis by President Joe Biden. The NH Republican Party tweeted Friday that the country would be better served if she visited the southern border rather than campaign for Democratic Sen. Maggie Hassan in the state.  "Welcome to the #WrongBorder, VP Kamala Harris! As you travel over 2,300 miles away from El Paso, our country would be better served with an official visit to our southern border, not a campaign trip for Maggie Hassan," the New Hampshire GOP tweeted.

April 22: The Washington Free Beacon: Biden labor board ignores worker, requires them to stay in a union they don't want, union's PAC supports Democrat candidates
Joe Biden's labor arbiter threw out hundreds of votes from workers attempting to cut ties with a Delaware union.  The National Labor Relations Board overruled hundreds of Delaware poultry workers who had voted to reject union leadership. The agency said in a 3-1 ruling released Wednesday that a provision prohibiting workers from leaving a union for a set time period after a contract is signed allowed the board to ignore the workers' March 2020 vote. The decision reversed a regional NLRB director who had initially ruled in the workers' favor.  "We are very mad that the American labor law system let us down and is forcing us to pay dues and be in a union we don't want," Cruz Sosa, the leader of the effort said. "While politicians scream about 'counting every vote' and making it easier to vote, they just ordered our 800 votes to be destroyed and never counted." 

April 21: News Max TV: Portland rioters smash coffee shops after
former Minnesota police officer found guilty
Rioters in Portland assaulted a police officer, smashed the windows of and defaced two Starbucks stores and started a dumpster fire after former Minnesota police officer Derek Chauvin was found guilty of the murder of George Floyd.   Two people were arrested, according to the Portland Police Bureau.  Late Tuesday afternoon a Minneapolis jury found Chauvin guilty of murder and manslaughter for pinning Floyd to the pavement with his knee on the Black man's neck in a case that touched off worldwide protests, violence and a furious reexamination of racism and policing in the U.S.

April 21: The Washington Free Beacon: Senators go to NY and SCOTUS
after Biden appointee to DOJ lies under oath
Hours before Vanita Gupta was confirmed as Joe Biden's associate attorney general, several senators urged for an investigation into her conduct during confirmation hearings.  In a letter to legal officials representing New York and the U.S. Supreme Court, Sens. John Cornyn (R-TX), Thom Tillis (R-NC), and Joni Ernst (R-IA) called for an investigation into Gupta for lying under oath during her testimony to the Senate's Judiciary Committee. The three senators, all of whom voted against Gupta's confirmation, say that Gupta made several false statements during her testimony.  The letter points to several statements that are contradicted by the public record. For example, she told senators that she did not support decriminalization of drugs, even though she wrote in 2012 that "states should decriminalize simple possession of all drugs," and she told senators that she opposes defunding the police, even though in 2020 she called on leaders to "decrease police budgets and the scope, role, and responsibility of police in our lives." "Ms. Gupta made a number of misrepresentations and false statements—while under oath—to the Senate Judiciary Committee," the letter states. "For us to properly vet and determine the fitness of lawyers to serve in the Department of Justice, it is imperative that nominees exhibit the utmost candor and truthfulness."  The letter further says her statements violate New York's rule of professional conduct, which states that a "lawyer shall not knowingly … make a false statement of fact or law to a tribunal."

April 20: News Max TV: Trump considering a run in 2024 but won't commit
President Donald Trump is now saying he is "beyond seriously" considering another bid for the White House in 2024, but is still declining to fully commit to a campaign.   "…I don't really want to talk about it yet. It's a little too soon," Trump said during a sit-down interview with Fox News' Sean Hannity Monday. "So, I say this: I am looking at it very seriously. Beyond seriously."  However, he pointed out 2024 is still "a long time" away, Trump said, "there is more popularity" than there was the day before the November election.   "They see how bad things are at the border," he told Hannity. "They see what is going on."  He also mentioned that there are growing concerns about the Second Amendment with Biden, adding that taxes are going up and "regulations are going through the roof."  Further, Trump said that job rates are going up, but if regulations sought by [the] Biden's administration are added, "the jobs are going to be gone. Your energy independence is going to be gone."

April 20: The Daily Signal: Twenty-one black leaders denounce "leftist lies"
about Georgia Election Law
Twenty-one civil rights leaders and prominent black conservatives defended Georgia's new election law in a letter to the Senate Judiciary Committee, rejecting opponents' comparisons to Jim Crow laws.   "It has become clear that even well-intentioned critics of the law simply have no idea what the law is," the black leaders write in the letter.  "It is clear they have no idea how favorably Georgia's new law compares with most other states—including Biden's home state of Delaware. And it is clear they have no idea that a majority of black voters across the country support the key provision under attack by critics—the simple requirement that voters be able to identify themselves when voting. This is the same simple requirement needed to pick up baseball tickets or board a plane—activities hardly as important as voting."  The Senate Judiciary Committee is holding a hearing Tuesday titled "Jim Crow 2021: The Latest Assault on the Right to Vote." Stacey Abrams, the Democrat who lost the last governor's race in Georgia, is among those scheduled to testify against the state's new voting law.

April 19: News Max TV: Rep. Greene to introduce legislation to expel
Rep. Waters over statements to spur rioting
Rep. Marjorie Taylor Greene says she will introduce a resolution to expel Democrat Rep. Maxine Waters from Congress "for her continual incitement of violence," The Hill reported.  The Georgia Republican issued a statement Sunday specifically citing Waters for egging on protesters at a demonstration in Brooklyn Center, Minnesota, Saturday. Demonstrations erupted in the city last week after police fatally shot 20-year-old Daunte Wright during a traffic stop.  Waters told reporters over the weekend that protesters needed to "stay on the street" demanding justice until there is genuine police reform,  Fox News reported.  The California congresswoman vowed that she is "going to fight with all of the people who stand for justice," adding, "We've got to get justice in this country, and we cannot allow these killings to continue."

April 18: The Daily Caller: HR 1 The Truth about this bill
There aren't a lot of people who tell the truth about voting rules. As the Senate takes up the bill the House just passed to drastically amend the rules that govern our elections, it seems like a good time to step back and examine what's really going on. For some reason, the truth is missing from almost all the reporting, both in the liberal press and in conservative media.  Preconceived notions aside, it now appears that highly educated people are now voting Democrat more than they used to, and working people are voting Republican more than they used to.    The problems with the Democrats' partisan election "reform" bill are numerous.  One provision in particular gives away the partisan motivations. The bill would ban states from requiring voters to show an ID when voting or even when requesting absentee or mail-in ballots. Thirty-six states have ID laws in place that this federal law would preempt. Even aside from the fact that our Constitution puts states in charge of these issues, why would you ever want to ban IDs for voting? Isn't that an invitation for voter fraud? Proponents of the ban say ID requirements suppress the vote, especially in minority communities — but we require identification for so many things in our day-to-day lives that it would be impossible to get by without one. You couldn't cash a check, rent a car, buy beer or wine or do hundreds of other tasks without one. To pretend that a simple security measure like identification is somehow voter suppression is to give away your partisan motivation.  We need a voting system that lets any eligible voter who wants to vote do so conveniently, and we need systems in place to assure voters that our elections are fair. The Democrats' proposed partisan voting law misses this balance altogether.

April 17: The Washington Times: Bill introduced  to withdraw antitrust
exemption in wake of MLB decision to move the all-star game
If Major League Baseball (MLB) wants to yank the rug out from under Atlanta, then the league should pay, as far as House and Senate Republicans are concerned.  They introduced bills last week to eliminate MBL's antitrust exemption as well as to allow localities to seek damages from the league over the relocation or cancellation of the All-Star Game.  Congressman Buddy Carter (R-GA) called MLB commissioner Rob Manfred's decision to move the July 13 Midsummer Classic to Denver in a show of opposition to the Georgia election integrity law "a spineless decision based on lies."  "What this [bill] would do is to allow the local communities to recoup some of the costs that have been lost by hardworking Georgians and small businesses that have suffered the consequences of this," Carter, who sponsored the Community Protection in Sports Act, said.  The measure "would make it unlawful for MLB to cancel or relocate a team competition event that is not a part of the regular season, unless it is because of a pandemic, a natural disaster, inclement weather, or disaster declared by the federal or state government," his office said in a statement.  With a Democrat controlled Congress it is highly unlikely this bill will see the light of day, but it makes the point that unwarranted actions can have ramifications.

April 17: Breitbart News: Joe Biden overrules staff, increases immigrant inflow
Pro-migration Democrats and business allies got Joe Biden to quickly overrule a Friday announcement by his top staff that would have capped the 2021 inflow of refugees at 15,000.  "The President's directive today has been the subject of some confusion," White House press secretary Jen Psaki said in an afternoon statement. "We expect the President to set a final, increased refugee cap for the remainder of this fiscal year by May 15," she added.  The scale of the reversal may not be known until May 15, when the final 2021 number is scheduled for release. But pro-migration groups are hoping that Biden will announce a 2021 goal of importing several tens-of-thousands of refugees before October, up from the 15,000 scheduled by former President Donald Trump.

April 17: Townhall.com: Murkowski's (R-AK) challenger is off to
an impressive fundraising start
On March 29 Alaska Commissioner of Administration Kelly Tshibaka resigned her position to announce her run as a primary challenger to Sen. Lisa Murkowski (R-AK). According to Must Read Alaska, in the three remaining days of the reporting period, she managed to raise $214,844. In contrast, Sen. Murkowski had raised $380,687 for the entire quarter, with $1,353,204 cash on hand.  It's also noteworthy where the funds came from: Tshibaka's fundraising report shows that the vast majority of her funds came from Alaskans. Tshibaka got more small-dollar donors in her three days than Murkowski got in three months. Murkowski had more checks from political action committees than she did from Alaskans, and five of her Senate colleagues, including Sen. Susan Collins, chipped in to help her with her reelection.

April 17: The Washington Examiner: Queen Elizabeth and the
commonwealth mourn loss of Prince Philip
Queen Elizabeth II mourned the loss of her husband, the late Prince Philip, Duke of Edinburgh, with the rest of the British royal family on Saturday.  Philip died April 9 at the age of 99.  The  funeral did not include a eulogy or sermon, which is meant to reflect his ties to the military,  Buckingham Palace said. The Dean of Windsor conducted the funeral service while the Archbishop of Canterbury would be doing the blessing.

April 16: The Galveston County Daily News: Election Integrity needs
"Real Time" enforcement
Neither of the two major election integrity bills being considered in the Texas legislature [SB 7 and HB 6] have "real time" enforcement capabilities included in them. There is, however, still hope! Senator Paul Bettencourt of Houston has a bill that does some of what the Ad Hoc Election Integrity Team wants done. That bill is likely to have a hearing scheduled in the near future. Without getting this bill or something like it enacted, much of the work that has been done this year to further election integrity may be a worthwhile undertaking that has little impact on the ground.

April 16: The Daily Caller: FBI reportedly investigating government official
who debunked the Russian collusion narrative
Kash Patel, the former GOP congressional aide who uncovered the FBI's surveillance abuse against the Trump campaign, is the target of a federal leak investigation, according to a report from The Washington Post.  David Ignatius, a columnist for the Post, reported Friday that two sources familiar with the probe said that Patel is being investigated for unauthorized disclosures of classified information.  The investigation was sparked by a complaint made by an intelligence agency, according to Ignatius.  By his own admission, Patel has ruffled feathers in the intelligence community, FBI and Justice Department due to his aggressive efforts to unlock details of the counterintelligence investigation against the 2016 Trump campaign.  Patel served as an investigator for Republicans on the House Intelligence Committee before joining the Office of the Director of National Intelligence (ODNI) and the Defense Department during the Trump administration.

April 15: NewsMax TV: GOP on attempts to expand [stack] the supreme court
Republican lawmakers are blasting plans by congressional Democrats to introduce legislation expanding the Supreme Court by four justices.  The Democrats' proposal is aimed at breaking the conservative grip on the court, according to Reuters news service. Sen. Ed Markey (D-MA) and Congressmen Jerry Nadler (D-NY), Hank Johnson,(D-GA), Mondaire Jones (D-NY) are expected to announce Thursday the introduction of the legislation in both chambers.  Republicans quickly reacted to the plan.    The Washington Times said Rep. Mike Johnson's (R-LA) denounced the plan to increase the size of the court from nine justices to 13.  "The idea of packing the Supreme Court is so dangerous, we have to address it now," Johnson said.  Dan Bishop, (R-NC)  tweeted: "The cat is out of the bag. Dems will pursue power at any cost. Make no mistake. They will vote to pack #SCOTUS next."  Jim Jordan (R-OH) also condemned Democrats for their plans.  "Imagine if we reduced the number from nine to five and just kept the Republicans," Jordan is quoted by the Times. "You guys would go crazy."  "Does expanding the Supreme Court count as infrastructure too?" he added.

April 15: The Washington Free Beacon: China-backed student group
pressures Cornell over move against partnership with CCP institution
A student group backed by the Chinese embassy is pressuring Cornell University to ignore faculty and student opposition and push forward with a multimillion-dollar partnership with the Chinese Communist Party (CCP) regime.  The Cornell chapter is circulating a petition calling on Cornell to launch a controversial dual degree program bankrolled by the Chinese Ministry of Education. The group dismisses allegations of Chinese human-rights abuses as an attempt to "deliberately discredit and attack China."  Students frequently launch petition campaigns—but unlike most student groups, this group has the official backing of a foreign government. It is the "ONLY Chinese student organization officially supported by [the] Embassy of People's Republic of China at Cornell University," according to its website.   It is unclear what role the Chinese government played in this petition, but Beijing has a history of using these student organizations to influence campus discourse. According to Foreign Policy, the Chinese consulate has also ordered the 150 student chapters across the country to disseminate CCP propaganda on social media and have encouraged the groups to denounce anti-China views on campus.  According to an ABC news report the group's Australian chapter also spied on students on behalf of the Chinese government.

April 15: NewsMax TV: Vice President Pence receives a heart pacemaker
Former Vice President Mike Pence received a heart pacemaker device during routine surgery on Wednesday and is expected to fully recover, his spokesman said on Thursday.  Pence, 61, who previously disclosed an "asymptomatic" heart condition, underwent the procedure at the Inova Fairfax medical facility in Virginia after experiencing symptoms associated with a slow heart rate over the past two weeks. "I am grateful for the swift professionalism and care of the outstanding doctors, nurses and staff at Inova Heart and Vascular Institute," Pence said in a statement, adding thanks to his doctors in his home state of Indiana.

April 14: The Washington Free Beacon: Federal Appeals Court upholds
Ohio law banning down syndrome abortions
appeals court upheld an Ohio law banning abortions of babies diagnosed with Down syndrome Tuesday, marking a victory for the pro-life movement at the state level.  The Sixth Circuit Court of Appeals upheld Ohio's Down Syndrome Non-Discrimination Act in a 9-7 ruling, overturning a three-judge panel that ruled against the law. The court found the law did not create an "undue burden" on the right to an abortion because it limited doctors from performing abortions only when a mother discloses she's requesting the procedure because her child has been diagnosed with Down syndrome.   "[The law] furthers three valid and legitimate interests by protecting: (1) the Down syndrome community from the stigma associated with the practice of Down-syndrome-selective abortions, (2) pregnant women and their families from coercion by doctors who advocate abortion of Down-syndrome-afflicted [babies], and (3) the integrity and ethics of the medical profession by preventing doctors from becoming witting participants in Down-syndrome-selective abortions," the court wrote in its opinion. "[The law] allows doctors to perform such abortions when they do not know that Down syndrome is the reason, without undermining [the law's] specific purposes or objectives."

April 14: NewsMax TV: Almost half of GOP says they will not get
the CCP coronavirus vaccine shot
Almost half of all Republicans said they would never get the Covid-19 vaccine in the latest poll from the Mommouth University Polling Institute, far more than the portion Democrats or independents who said the same.  "The number of people who have been skittish about the vaccine has dropped as more Americans line up for the shot, but the hard core group who want to avoid it at all costs has barely budged. The recent news about J&J vaccines is probably not going to help that situation." said Patrick Murray, the independent institute's director. The poll showed that 43% of Republicans, 5% of Democrats, and 22% of independents said they would not get the vaccine.


April 13: The Washington Free Beacon: Biden Administration gives
valuable defense contract to Chinese collaborator
The Biden administration awarded a lucrative defense contract to a Singaporean company that works with Chinese military firms.  On April 6, Singapore-based ST Engineering won a contract alongside defense contractor BAE Systems to build a prototype military ground vehicle for use in Arctic environments. One of ST Engineering's direct subsidiaries does business with the Chinese military industry, ultimately providing maritime and satellite technology to Chinese authorities. The use of a defense company that collaborates with China raises concerns about industrial espionage and could expose vulnerabilities in the Pentagon, one expert on military acquisition said.  Mark Vandroff, a former Navy officer and former member of the National Security Council, said the contract could pose an "attractive" way for Beijing to gain inside knowledge on valuable national security technology.  Army officials picked the firm to develop crucial military equipment as competition with China and Russia in the Arctic heats up. China hopes to ascend to "polar great power" status by 2030.

April 13: The Daily Signal: What can be done to combat left-wing
influenced corporate America's infiltration?
The radical left has infiltrated corporate America and is using big business to promote a political agenda.   Justin Danhof, general counsel for the National Center for Public Policy Research and director of the Free Enterprise Project, is a member of a new coalition called Stop Corporate Tyranny.   He says we've been screaming from the rooftops to conservatives largely that: Pay attention, big business is no longer with us. Big business is advocating against traditional values, conservative values at a record pace. He said the coalition is giving people tools that will allow you directly engage with business leaders that are taking actions that offend their values.

April 12: The Daily Signal: Arizona Election integrity Law will ban financing
from out-of-state sources to run elections
Arizona Gov. Doug Ducey has signed significant election integrity legislation into law.  "With public confidence in our elections in peril, it's clear our elections must be pristine and above reproach—and the sole purview of government," Ducey said. Arizona's new law prevents private funding from going into elections, such as the $419 million in donations made by Facebook CEO Mark Zuckerberg and his wife Priscilla Chan.  The Zuckerbergs gave a total of $350 million to a left-leaning technology group, that in turn issued grants to 2,500 election offices in 49 states. The spending included $5 million for Arizona, according to preliminary data from the Foundation for Government Accountability. House Bill 2569 makes Arizona the first in the nation to fully ban billionaires from influencing the administration and management of Arizona elections.  According to the sponsor of the legislation, "We have sent a clear message that it doesn't matter how much money you have, Arizona elections are not for sale."

April 12: The Federalist Papers: SC Governor says No to request to put unaccompanied minors in his state's foster care and residential facilities
Republican South Carolina Gov. Henry McMaster has taken executive action to prevent the Biden administration from placing unaccompanied minors from the border in his state.  McMaster cited coronavirus concerns and limited resources to justify the order, which he signed Monday.  The governor's order directed the state's Department of Social Services "to prevent placements of unaccompanied migrant children entering the United States via the southern border into residential group care facilities or other foster care facilities located in, and licensed by, the State of South Carolina."

April 12: The Daily Signal: After Zuckerberg money, Wisconsin
legislature eyes election changes
A Wisconsin Senate committee took up election reform bills at a hearing Thursday, one aimed at keeping third-party groups from dumping money on elections in targeted areas.  The state Senate Committee on Elections, Election Process Reform and Ethics also heard from Milwaukee Election Commission chief Claire Woodall-Vogg, who sounded defensive in explaining her dealings with left-leaning election groups.  The bill, SB 207 would require private funds like the millions of dollars in grants handed out by the Center for Tech and Civic Life first go to the Wisconsin Elections Commission. They would then be evenly distributed to local election offices statewide on a per capita basis.  Senator Stroebel (R-Saukville) says there were "significant strings attached" to the Center for Tech and Civic Life's generous grants, that the money wasn't an "altruistic blank check donation."  Mark Zuckerberg's organization distributed more than $8 million in election "safety and security" grants last year to Wisconsin's five largest cities—Milwaukee, Madison, Green Bay, Kenosha, and Racine. The cities also happen to be Democratic strongholds.

April 11: The Washington Times: Biden's commission on court packing seen
as a delaying tactic and called a move to placate the left wing
Joe Biden's commission to examine changes to the U.S. Supreme Court is a move to placate his base, which is agitating to add liberal justices to the conservative-leaning court, according to court watchers.  But liberals are split on whether any real court-packing will result from the president's panel.  "There is nothing productive that is going to come from this," said Josh Blackman, a professor at South Texas College of Law. "If anything, this report will probably counsel against expanding the court."  The commission, created through an executive order Friday, will be co-chaired by Bob Bauer, a legal adviser to Biden's 2020 campaign, and Cristina Rodríguez, a Yale Law School professor and deputy assistant attorney general during the Obama administration.   It has 36 members with some Republicans included, but conservatives said they are outnumbered by a ratio of 2-to-1.

April 11: The Epoch Times:  It would be a big mistake for China to
attack Taiwan; SecState says
U.S. Secretary of State Antony Blinken said on April 11 it would be a "serious mistake" for the Chinese regime to attack Taiwan and expressed "real concern" about Beijing's growing intimidation against the island.  In an interview with NBC," however, Blinken stopped short of saying whether the United States would respond militarily if the Chinese regime were to seize Taiwan by force, saying he wasn't "going to get into hypotheticals."  "All I can tell you is we have a serious commitment to Taiwan being able to defend itself," he said, referring to the United States' obligations under the Taiwan Relations Act to provide arms to the island for its self-defense. "We have a serious commitment to peace and security in the Western Pacific.  "In that context, it would be a serious mistake for anyone to try to change that status quo by force."  The Chinese regime, which sees self-ruled Taiwan as part of its territory, has in recent months been dialing up military aggression toward the island, which some analysts say is a test of the Biden administration to see whether it will take concrete action to respond. This year, the Chinese military has sent multiple aircraft into Taiwan's air defense identification zone on a near-daily basis.

April 11: The Daily Caller: Corporate America plans to combat
election integrity measures
The leaders of over 100 major corporations spoke via Zoom on Saturday about how they could combat election integrity laws similar to the one passed in Georgia, according to multiple reports.  The executives on the call reportedly expressed concern about legislation that they view as restricting voting rights. They included the owner of the Atlanta Falcons, who also co-founded Home Depot, the chairwoman of the Starbucks board, and the CEO of AMC Entertainment.  Corporations including Citibank, Coca-Cola, Delta, and Microsoft criticizzed Georgia's new election integrity bill . The law expands early voting opportunities for most counties, while expanding voter ID requirements to include absentee ballots. In response to corporate criticism, Kentucky Sen. Mitch McConnell slammed the use of "economic blackmail to spread disinformation and push bad ideas that citizens reject at the ballot box."

April 11: News Max: Chang: The world is not safe with John Kerry having
a diplomatic passport
The Biden administration is pulling itself in a number of different directions on China as it seeks deals and is slow to press China on its human rights abuses, according to far east foreign affairs expert Gordon Chang.  Joe Biden's climate czar John Kerry is one of the pull forces against the push to hold China accountable, Chang told Sunday's "The Cats Roundtable" on WABC 770 AM-N.Y.  "John Kerry has been working to try to get a climate deal," Chang told host John Catsimatidis. "He's had these preliminary negotiations with China. He was seen in New Delhi talking to the Russian foreign minister.  "He's been more quiet than I thought he would be, but, John, we've got to remember that the free world is not safe when John Kerry carries a diplomatic passport."

April 11: The Epoch Times: Abbott dismisses Biden gun control measures
Texas Gov. Greg Abbott on Sunday pushed back on Joe Biden's newly announced executive actions on gun control, saying those proposals are no more than a "show" that doesn't actually address crimes involving guns.  In an interview Abbott rejected the idea that a president could use executive orders to limit the Second Amendment.  "I think that there is no acceptable way that a president by executive order can infringe upon Second Amendment rights or alter Second Amendment rights," Abbott said.  "If [Biden] wanted to do something more than show—if [he] really wanted to do something substantively, what he really could do by executive order is to eliminate the backlog of complaints that have already been filed about gun crimes that have taken place."  Abbott went on to say that Americans need their guns for self-defense now more than ever, citing the border crisis being taken advantage of by Mexican drug cartels, the "Defund the Police" movement, and bail policies that allow "very dangerous criminals" to be released back onto the streets.   "That is exactly why we should not have any further limitations of our Second Amendment rights," Abbott said.  His comments came after he endorsed a proposed bill to turn Texas into a "Second Amendment Sanctuary State." The House Bill 2622 would prohibit state and local government agencies from enforcing or providing assistance to federal agencies on any new federal laws or rules regarding firearms, ammunition, and accessories. 

April 10: News Max: SCOTUS halts California's CCP Coronavirus limit on home worship
The Supreme Court is telling California that it can't enforce coronavirus-related restrictions that have limited home-based religious worship including Bible studies and prayer meetings.  The order from the court late Friday is the latest in a recent string of cases in which the high court has barred officials from enforcing some coronavirus-related restrictions applying to religious gatherings.  Five conservative justices agreed that California restrictions that apply to in-home religious gatherings should be lifted for now, while the court's three liberals and Chief Justice John Roberts would not have done so.  The case before the justices involved California rules that in most of the state limit indoor social gatherings to no more than three households. Attendees are required to wear masks and physically distance from one another. Different restrictions apply to places including schools, grocery stores and churches.  "California treats some comparable secular activities more favorably than at-home religious exercise," allowing hair salons, retail stores, and movie theaters, among other places, "to bring together more than three households at a time," the unsigned order from the court said. A lower court "did not conclude that those activities pose a lesser risk of transmission than applicants' proposed religious exercise at home," it said.

April 9: News Max: James Carville concerned Democrats will lose at the voting
booth if they embrace identity politics, cancel culture
Democrats will lose future races if they continue to embrace identity politics, cancel culture and efforts to defund the police, says veteran Democrat strategist James Carville.  ''It's the thing I most worry about,'' Carville said in an interview this week with former Weekly Standard editor Bill Kristol. Carville was asked whether he was concerned about Democrats giving ''enough oxygen to'' those complex issues that allows Republicans to ''scream about it and yell about it for two years or four years and really have an effect.''  ''I don't know of a single person that thinks of themselves as a'person of color,'' Carville said. ''I really don't. I had Ruben Gallego, who's a Democratic congressman from Arizona, and we did much better in Arizona than we did in Texas or Florida, and he said.

April 8: The Washington Times: Biden's defense budget splits the difference,
progressives are not happy
Biden has tipped his hand on how much he wants to spend on the nation's defense, and predictably has left both hawks and doves unhappy.   With Russian troops massing on the border with Ukraine and China making threatening overtures to Taiwan, leading Republicans in Congress are blasting Biden for submitting his first preliminary Pentagon budget late last week that is essentially unchanged from the last budget under President Trump.   Biden plans to ask for $715 billion for the Department of Defense, according to "top line" FY 2022 budget summary revealed on Friday. The amount is higher than the $704 billion for 2021 but effectively flat when adjusted for inflation. The administration says the proposal means key investments to defend the nation through "modernization, innovation and enhanced readiness."  Including non-Pentagon defense spending, including the Department of Energy's nuclear weapons programs, Biden is proposing a total of $753 billion for all defense needs — again roughly flat in real terms compared to the current fiscal year.  Liberal Democrats had pushed for a significant cut, while top GOP officials on Capitol Hill were less than impressed, saying, "Talk is cheap but defending our country is not."

April 7: The Daily Caller: Where the $2 Trillion infrastructure money will go
Joe Biden's roughly $2 trillion infrastructure plan allocates hundreds of billions of dollars toward improving the nation's transportation networks, buildings and utilities, but also devotes enormous sums of money to causes that are only tangentially related to public works projects.  The sweeping package grants massive subsidies to electric vehicle and renewable energy companies in an effort to meet Biden's climate change goals, and contains billions of dollars for affordable housing, academic research and in-home care.  The plan also sets aside $50 billion for the National Science Foundation and $20 billion for projects intended to "advance racial equity and environmental justice." It allocates $40 billion toward a new "Dislocated Workers Program," which will help workers who "have lost their jobs through no fault of their own," and grants $100 billion toward expanding nationwide broadband access, especially in rural and low-income communities. 

April 7: Fox News:  Sexual abuse allegations surface at migrant facility; Abbott reacts
Gov. Greg Abbott (R-TX) demanded that the White House close a San Antonio facility housing migrant children Wednesday following allegations that children there were being sexually assaulted.  During a Wednesday evening press conference, Abbott said he received tips that alleged the children at the Freeman Coliseum facility were being sexually abused and were not eating enough.  "These problems are a byproduct of Biden's open border policies and the lack of planning for the fallout for those disastrous policies," Abbott told reporters.  The governor said that separate complaints were sent to HHS and the Texas Department of Family and Protective services Wednesday, alleging four different kinds of child abuse.   The agencies then informed the state leadership.  Abbott said allegations of sexual assault, an insufficient number of staffers, children not eating, and an inability to separate COVID-19 positive children from virus-free children, were the most critical complaints the Texas government has received.  "In short, this facility is a health and safety nightmare. The Biden administration is now presiding over the abuse of children," Abbott told reporters, calling on the White House to immediately shut down the facility.

April 7: The Epoch Times: Taiwan may shoot down Chinese drones over the
South China Sea
Taiwan has spotted Communist Chinese drones circling the Taipei-controlled Pratas Islands in the South China Sea and may shoot them down if they stray too close, a government minister said on Wednesday, a move that could dramatically increase tensions with Beijing.  Lee Chung-wei, who heads the Taiwan Ocean Affairs Council said they had recently spotted Chinese drones circling the Pratas, though they have not flown over the islands.  While China does not recognize Taiwanese claims of sovereignty, its aircraft and ships generally stay outside Taiwan's restricted zone, which extends 3.7 miles from its coast.  Asked how the Coast Guard would react if a Chinese drone entered that restricted zone, Lee said they had rules of engagement.  "After it enters it will be handled under the rules. If we need to open fire, we open fire."  The Pratas lie at the top end of the disputed waterway, and have become a relatively new source of intrigue between Chinese-claimed Taiwan and Beijing.

April 7: The Washington Free Beacon: Prominent Iranian Americans urge
Biden to publicly support a regime change in Iran
A group of more than 300 prominent Iranian Americans are petitioning the Biden administration to publicly support dissident efforts to overthrow the Islamic Republic's hardline clerical government.  As the Biden administration seeks direct talks with Iran's mullahs in pursuit of a revamped nuclear agreement, the group of Iranian Americans—including scholars, professors, physicians, and industry executives—is warning the White House against unwinding economic sanctions that have crippled Iran's economy and sparked widespread anti-government protests.  "In the last 4 years, hunger, poverty, and dire economic conditions have been the initial trigger of the uprisings, but people's demands quickly evolved to regime change. Their call is loud and clear, and cannot be ignored," the leaders wrote.  "Furthermore, no sanctions relief or concessions should be provided to the Iranian regime, unless that regime verifiably ends its human rights abuses in Iran and terrorism abroad, and abandons its destructive support for proxies in the region."

April 6: The Daily Wire: Nevada Democrat mayor leaves the party; they are
extremists, GOP is the party of the working class
North Las Vegas Mayor John Lee announced on Tuesday morning that he has left the Democratic Party after a "socialist" takeover of the party in the state of Nevada and has joined the Republican Party because he believes it is the party of the working class, opportunity, and freedom.  Lee made the announcement on his campaign website and then joined Fox News discuss it, saying that the Democratic Party is run by "card-carrying socialists" in the state.  "It's not the party that I grew up with 25 years ago in this environment, and it's not the party I can stand with anymore."  Lee said that the Democratic Party has abandoned the working class and is an elitist party that does not support individual liberty

April 5: The Epoch Times: Border Patrol captures two Yemen nationals who are
on the FBI watch list
Within the past two months, Border Patrol agents have apprehended two Yemeni men who are on the FBI's Terrorism Watch List and the No-Fly list, according to Customs and Border Protection (CBP).  Both men were arrested in separate incidents after crossing the border illegally just west of the Calexico Port of Entry in California.  Agents apprehended the first man, a 33-year-old, on Jan. 29. They also found a cellphone sim card hidden underneath the insole of his shoe, according to CBP.  The man was transferred to Immigration and Customs Enforcement.  The second man, a 26-year-old illegal alien, was arrested on March 30. CBP said he's being held in federal custody pending removal. In February, Border Patrol apprehended eleven Iranians who crossed illegally near Yuma, Arizona. Iran is considered a "special interest country" with ties to terrorism.

April 4: The Epoch Times: Trump urges Republicans to "never submit," boycott
companies over Georgia voting reform opposition
President Donald Trump on Saturday continued his calls for Republicans and conservatives to stand firm against the campaign by several large corporations to openly oppose newly enacted election reforms in Georgia. This comes as corporations are being compelled by left wing activists to take a stance on the ongoing public battle over voting rights and election integrity in America.  Georgia recently voted to enacted a sweeping number of election reforms aimed at protecting the sanctity of the ballot box. However, Democrats, some civil rights activists, and other critics claim the law could disproportionately impact minority groups' accessibility to voting in the Peach State.  Meanwhile on Thursday, it was revealed by a Democrat lawmaker in Austin, TX that American Airlines and Microsoft had publicly come out in opposition to Texas efforts to improve integrity of its election process.  In response one witness at the hearing noted Microsoft is from Seattle, Washington and they should not be telling Texans how to run their elections!  Top executives from several large corporations have come out to condemn the law amid mounting pressure from progressive civil rights groups. Similarly, the Major League Baseball (MLB) said on Friday that it intends to protest the Georgia law by moving its All-Star Game and Draft out of Atlanta.  Perhaps what these corporations are not considering are the millions of voters who believe there was malfeasance in the 2020 election and who could decide not to do business with companies that stand against ensuring election integrity.

April 4: Fox News: Ingraham: Biden, Abrams on GA boycotts – here's what
happens when reality bites social justice warriors
Whoops! Well, it turns out that bowing down to the social justice warriors really is a dangerous and self-defeating strategy.  Case in point: Democrats' lies about Georgia's voter integrity law, equating it to Jim Crow. Well, it sends an all sorts of far-left activists down the boycott Georgia warpath, including, Joe Biden, who eagerly jumped on the punish Georgia train.  "The [Ingraham] Angle" told you last night, these left-wing boycotts of the All-Star Game or frankly, any other event or product, would cause huge economic damage and send jobs to other low-tax states. They'll hurt Georgia. So, the blowback against this is growing, which forced even liberal Georgia Sen. Jon Ossoff (D-GA) to put out a statement last night saying, "I absolutely oppose and reject any notion of boycotting Georgia." And then Stacey Abrams, the mastermind behind the fraudulent attack on Georgia's voter ID law, also has been caught in a trap of her own making.  She said in a statement, "To our friends across the country, please do not boycott us. I understand the passion of those calling for boycotts of Georgia following the passage of SB 202, but here's the thing. Black, Latino, AAPI, and Native American voters whose votes are most suppressed under SB 202 are also the most likely to be hurt by potential boycotts of Georgia."

April 4: The Washington Times: Georgia state legislators ask Coke to remove
its products from their suites amid mistruths about the voter integrity law
A number of Georgia state legislators are pushing the unthinkable — kicking Coca-Cola out of state legislative offices over its criticism of Georgia's new voting rules.  In a letter to Coke eight members of the House of Representatives declared their offices Coke-free zones and demanded that the Atlanta-based soda behemoth stop "intentionally" misleading the public.  "Given Coke's choice to cave to the pressure of an out of control cancel culture, we respectfully request all Coca-Cola Company products be removed from our office suite immediately," they wrote. "Should Coke choose to read the bill, share its true intentions and accept their role in the dissemination of mistruths, we would welcome a conversation to rebuild a working relationship," the lawmakers said, echoing Republican claims that the national hubbub over the law is based on lies and/or misleading facts.

April 4: The Epoch Times: MLB expands ties with Communist China one day
before boycotting Georgia over the state's efforts to improve voting integrity
Major League Baseball had extended and expanded its contract with a Chinese telecommunications giant shortly before boycotting the state of Georgia over the league's disagreement with the election reforms recently enacted by the Peach State's democratically elected governor and legislature.  Chinese state media  reported on April 1 that the MLB will continue to be aired on the streaming platform operated by Chinese tech giant Tencent, which has significant ties to the Chinese Communist Party (CCP). Tencent is of the Chinese companies that had temporarily dropped NBA games as a form of censorship after former Houston Rockets general manager Daryl Morey spoke out in support of the pro-democracy protests in Hong Kong.

April 3: The Washington Free Beacon: Biden fails to capitalize on Trump's
vaccine, more than one of every US COVID deaths are on Biden's watch
More than 25 percent of Americans killed by COVID-19 have died on President Joe Biden's watch, according to a recent analysis.  Of the 551,638 total COVID-related deaths in the United States, nearly 142,000 of them have occurred since Biden was inaugurated on Jan. 20. On average, just over 2,000 Americans per day have died from COVID-19 during Biden's presidency.  The high number of deaths on Biden's watch have occurred even with the stunning success of the COVID-19 vaccines developed during the Trump administration.

April 2: he Daily Caller: Suspect in killing of Capitol Hill police officer was apparently
a Nation of Islam sympathizer
The 25-year-old man who allegedly killed a Capitol police officer on Friday was a supporter of the Nation of Islam, the extremist group led by Louis Farrakhan, according to NBC News. Noah Green was fatally shot after ramming his vehicle through a checkpoint at the Capitol, the network reported. He hit two officers, killing one of them. Green was shot after exiting his vehicle with a knife and lunging at officers, a spokesperson for Metropolitan police said at a press conference. NBC cited federal law enforcement officials familiar with the attack.  Green's Facebook page, which was taken offline after the Capitol attack, showed multiple posts about the Nation of Islam and Farrakhan. In a post on March 17, Green said that he has faced personal struggles in recent years and also recently lost his job.

April 2: Fox News: Baseball fans erupt in disgust over MLB decision to move
the All-Star Game from Atlanta
Conservative baseball fans erupted in disgust Friday after Major League Baseball (MLB) announced that this year's All-Star Game will be relocated out of Atlanta in response to Georgia new voting law.  Apparently, they don't support maintaining election integrity measures!  Fox Sports Radio host Clay Travis called the decision "simply pathetic" before blasting it in a series of tweets.  "This is the worst decision baseball has made since the [1994] strike," Travis wrote. "You need an ID to pick up tickets to attend a baseball game. Or to get a beer inside once you're there. But MLB is moving the all-star game because you need an ID to vote? This is pure insanity."  MLB Commissioner Rob Manfred made the announcement just one day after the 2021 season began following mounting pressure from liberals to move the game and Major League Baseball's amateur draft in response to Republican-backed election reform legislation.

April 1: The Washington Free Beacon: Cornell's professors vote down partnership
with China
Cornell University professors voted overwhelmingly (16-39-20) to reject the university's proposal for a joint degree program bankrolled by the Chinese government.  They did so citing the authoritarian regime's human rights abuses, as well as its threats to academic freedom. The sizable opposition to the resolution complicates the university's plans to push forward with the China partnership paid for by the Chinese Ministry of Education.  The growing faculty opposition is part of a society-wide reckoning about the lucrative relationship between America's elite universities and China.   Professor Richard Bensel, a government professor leading the charge against the partnership, said "The central administration is much more revenue conscious, much more materialistic than it was five years ago." The Cornell professors are not alone in their disapproval. Cornell's student leaders unanimously voted to demand a "halt" to the Peking University partnership, a sign that the faculty discontent is spilling over into the student body.

April 1: Breitbart News: Georgia Legislature moves to remove Delta Airlines
multimillion dollar fuel tax break over CEO's lashing out
at the Georgia election integrity law
Delta Air Lines CEO Ed Bastian released a memo to employees on what he called "unacceptable" new voting laws in Georgia.  In response the state's House of Representatives voted to strip the company of a tax break on jet fuel. The response came via a late provision to tax bill HB 477, adding new levies on jet fuel as of July 1.  Bastian had excoriated the voting rights bill which adds ID requirements for mail in votes, restricts the use of ballot drop boxes, expands weekend voting access, and bans the practice of "line warming."   Although the House acted, there was not enough time for the measure to make it to the Georgia Senate before they adjourned.  Even so, the House made its intent clear: "They like our public policy when we're doing things that benefit them," House Speaker David Ralston (R) said. "You don't feed a dog that bites your hand. You got to keep that in mind sometimes."  Governor Brian Kemp (R) said "Today's statement by Delta CEO Ed Bastian stands in stark contrast to our conversations with the company, ignores the content of the new law, and unfortunately continues to spread the same false attacks being repeated by partisan activists."

April 1: Texas Scorecard: Texas Senate advances election integrity bill
In the wee hours of the morning, the Texas Senate passed (18-13) an election integrity bill that now goes to the Texas House of Representatives for consideration.  Following eight hours of debate and amendments that began Wednesday evening Senate Bill 7 was adopted on a party line vote.    Election integrity is a top legislative priority of the Texas GOP and the only one also declared an emergency item by Gov. Greg Abbott, who said last month he is ready to sign "robust" election reform bills.  SB 7 is loaded with reforms sought by election integrity advocates (like yours truly) and intended to make voting more secure, accurate, and transparent.  The bill includes dozens of provisions recommended at a Friday hearing last week, including changes to voter registration, voting by mail, voter assistance, poll watchers, and voting systems.  It also adds criminal and civil penalties for fraud and official misconduct.  As passed, the bill makes paid mail-in ballot harvesting illegal and provides a civil penalty.  It also prohibits drive-thru voting, 24-hour voting, and the mass distribution of unsolicited ball by mail applications by governmental officials acting in their official capacity.   The bill also outlaws the use of donations from outside sources for deviations from provisions of the Texas Election Code.  In the November 2020 election Texas Democrat Party Vice Chair Chris Hollins of Harris county used $9.6 million dollars in donations from Facebook founder Mark Zuckerberg to pay for deviations from what is allowed in the code.  Dallas county accepted $15 million to be used for similar purposes.

April 1: The Daily Signal: Why did California Team Biden firm get $35 million
in taxpayer funding; GOP wants to know
House Republicans say they want to know why $35 million in taxpayer dollars went to a Democrat-aligned consulting firm to boost voting last year in California—and whether it was even legal.  The federal agency that oversees related issues seems uninterested in investigating why federal money sent to California was used in part to pay for election safety measures in a $35 million contract with a political consulting firm that touted itself as part of "Team Biden."   At least $12 million of the total came from federal taxpayers, while the remainder was from California taxpayers.   Using federal funds for a get-out-the-vote operation or to help one political party over another would violate federal law, lawmakers say.  California's secretary of state at the time was Alex Padilla, a Democrat who recently was appointed to replace Vice President Kamala Harris as the state's junior U.S. senator. The Sacramento Bee first reported that the California Secretary of State's Office, under Padilla, awarded the grant for a program called Vote Safe California to the partisan consulting firm SKDK in August.