May 16: Independent Journal Review: Family of Murdered DNC Staffer
Seth Rich Speaks Out After Shocking Report Ignites WikiLeaks Conspiracy
The family of murdered Democratic National Committee staffer Seth Rich refuted a shocking report suggesting he was in contact with WikiLeaks before his death. The report, based on the unconfirmed claims of a private investigator, ignited new conspiracy theories about Rich's tragic murder on social media.  Rich was gunned down on a Washington, D.C., street close to his home in what police believe was possibly a botched robbery.

In a statement released through a spokesperson, the family said the private investigator behind the new report was "paid for by a third party" and is "contractually barred from speaking to press or anyone outside of law enforcement or the family unless explicitly authorized by the family."

May 16: The Hill:  Dems Prepare to launch "Resistance Summer"
The Democratic National Committee is attempting to harness resistance to President Trump into a national effort aimed at building out state and local party ranks.  Billed as the "Resistance Summer," the DNC will hold events with allies across the country in early June before sponsoring a national training summit in the hopes of registering scores of new Democratic voters. The move is the first concrete action from Democrats' promise to return to a "50-state solution" in light of massive Republican gains in state legislatures across the country.

May 16: The Daily Caller: Dems want Trump to provide transcript of meeting with the Russians
A report in the Washington Post Monday that said the president disclosed information about a terrorist threat from the Islamic State in a meeting with Foreign Minister Sergei Lavrov and Russian Ambassador Sergey Kislyak. This drew concern and outcry from Capitol Hill, and now several Democratic lawmakers are demanding the White House release a transcript of the meeting — if one exists.
April 1: Fox News: Trump vs. Freedom Caucus: Caucus targeted in Social Media
The list of House Freedom Caucus members being targeted by President Trump for sinking Republicans' ObamaCare overhaul plan grew Saturday when the White House singled out Michigan GOP Rep. Justin Amash for a primary defeat. 

"Donald Trump is bringing auto plants & jobs back to Michigan," tweeted White House social media Director Dan Scavino Jr. "@justinamash is a big liability. #TrumpTrain, defeat him in primary."

Most of the ultra-conservative caucus' roughly 35 members withheld their support for the Republican House leadership's overhaul plan, which kept it from even getting a final vote in the GOP-led chamber, despite Trump's rigorous deal making efforts.

March 26: The American Mirror: Pelosi confronted by constituents in townhall
Just how far left are the Indivisible activists?  Even Nancy Pelosi is too conservative for them.  The House Minority Leader found that out the hard way when her constituents attending a Saturday town hall meeting in San Francisco repeatedly shouted out and jeered as she said what they apparently thought were wobbly statements.  Several times, she clashed with her own constituents, who were largely sympathetic to her agenda.  When Pelosi told the group that she has supported a single-payer health scheme for 30 years, shouts and jeers erupted.  "Sorry?" a confused Pelosi said looking out into the crowd.  When Pelosi said "certain respects" of Obamacare have gone "to the left" of "Medicare for all," many in the crowd weren't buying that, either.
March 6: The Daily Caller:  Former Obama spokesman won't
deny the Trump campaign was bugged by Obama's administration
When pressed by ABC's Martha Raddatz on Sunday, Josh Earnest opted not to categorically "deny that the Obama Justice Department" monitored Trump Tower during the 2016 election.  President Obama's former press. February 18: Breitbart News: Trump invites supporter
on stage to speak at Melbourne FL rally
Trump returned to the site where he held one of many rallies in the Sunshine State — but this time as President of the United States. He was accompanied by his wife, first lady Melania Trump, before a crowd of at least 9,000 and another few hundred watching the rally on big screen televisions assembled outside the hangar on the airport grounds. secretary opened his interview by calling reports that "President Obama ordered a wiretap" false, yet backpedaled when the "This Week" guest host asked him to "categorically deny" that President Trump's campaign headquarters was under surveillance.
February 21: Reuters: French rightwing presidential candidate
cancels meeting over head scarf requirement
French far-right National Front presidential candidate Marine Le Pen canceled a meeting on Tuesday with Lebanon's grand mufti, its top cleric for Sunni Muslims, after refusing to wear a headscarf for the encounter.  Le Pen, among the frontrunners for the presidency, is using a two-day visit to Lebanon to bolster her foreign policy credentials nine weeks from the April 23 first round, and may be partly targeting potential Franco-Lebanese votes.  Many Lebanese fled to France, Lebanon's former colonial power, during their country's 1975-1990 civil war and became French citizens.
February 16: McClatchy: Everyone seems angry as Congress Heads for its first break:
It's going to be ugly for congressional lawmakers next week back home. If they go home. Congress Friday begins its first "district work period" – since Donald Trump became president January 20. It returns to Washington February 27.  "As I've told our staff in the district, 'Be prepared next week that we go home, everywhere we go there's going to be droves of people coming out,' " said Rep. Mark Walker, R-N.C., chair of the conservative Republican Study Committee.  The anger is bipartisan and bifurcated and has already erupted in town hall meetings and at local congressional offices over the past few weeks.

"People are clearly upset," Craig Holman, a lobbyist for Public Citizen, a nonpartisan government watchdog group said. "We have seen the impact on members of Congress – we have canceled town hall meetings. This is being talked about at kitchen tables throughout the country."

February 16: The New York Post: Sorry Main Stream Media…
Trump's  News Conference was the Greatest Show on Earth!
Amid feverish reports of chaos on his team and with Democrats fantasizing that Russia-gate is another Watergate, Trump took center stage to declare that reports of his demise are just more fake news.  Far from dead, he was positively exuberant. His performance at a marathon press conference was a must-see-tv spectacle as he mixed serious policy talk with stand-up comedy and took repeated pleasure in whacking his favorite pinata, the "dishonest media."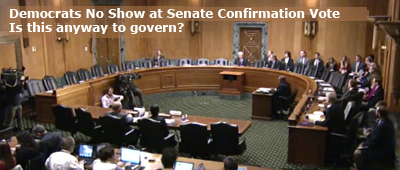 January 31: The Hill: Democrats boycott Senate
confirmation hearings in an attempt to block votes
on Trump nominees:
Senate Democrats on Tuesday refused to attend a committee vote on two of President Trump's more controversial nominees, effectively delaying their consideration, thus raising the question "Is this any way to govern?"
Democrats on the Senate Finance Committee boycotted votes to advance Rep. Tom Price (R-Ga.), Trump's pick to head the Department of Health and Human Services, and Steven Mnuchin, his selection to head the Treasury Department. The pair had been among some of the more contentious selections to join Trump's Cabinet.

January 31: The Hill: White House blasts Democrats for boycotting confirmation hearings votes:
The White House on Tuesday blasted Senate Democrats for delaying a confirmation votes on two of President Trump's nominees by refusing to attend committee votes.   Press secretary Sean Spicer called the move an "outrageous" example of partisan obstruction. "The idea that these highly qualified nominees .. are being stalled because Democrats are boycotting the committee vote is outrageous," he told reporters. "The mere idea that they are not even showing up for these meetings is outrageous."

January 21: The Wall Street Journal: New White House Website mirrors campaign pledges
The Trump administration overhauled the White House's website Friday and published action plans that ranged from building a wall along the Mexico border to pulling back from trade deals, transforming a number of populist campaign themes into concrete agenda items.  The revised website created six different issue pages for energy policy, foreign policy, economic policy, expanding the size of the military, bolstering law enforcement, and rethinking trade.

The changes include removing language about climate change and the White House's commitment to LGBTQ issues. The only speech listed on the website is President Donald Trump's inaugural address from earlier Friday, pared back from the hundreds of speeches previously listed—just as the incoming Obama administration wiped the slate clean in 2009.
January 20: The Wall Street Journal[Noonan]: Trump Declares Independence:
The inaugural address was utterly and uncompromisingly Trumpian. The man who ran is the man who'll reign. It was plain, unfancy and blunt to the point of blistering. A little humility would have gone a long way, but that's not the path he took. Nor did he attempt to reassure. It was pow, right in the face. Most important, he did not in any way align himself with the proud Democrats and Republicans arrayed around him. He looked out at the crowd and said he was allied with them.
January 16: Fox News: Clinton Global Initiative lays off workers as donations dwindle
The Clintons are moving ahead with plans to downsize their controversial foundation's network of offshoots, a decision carried out as the powerful family's political influence wanes and its once-lengthy donor list shrinks.  In a decision announced last week, 22 additional employees are being laid off from the Clinton Global Initiative – known for its annual glitzy gathering of high-powered leaders and celebs. The layoffs are tied to a decision to shutter CGI that originally was announced in an Aug. 22 letter from former President Bill Clinton.

January 16: The Wall Street Journal: Democrats Seeking Leadership without Divisions:
The Democratic fissures exposed in last year's presidential primary campaign between Clinton and Sanders have roared back to life, with party officials wary the split will hamper their ability to fight President-elect Donald Trump.  The divide was in full view in Phoenix, where Democratic National Committee members from western states gathered over the weekend for the first of four scheduled "future forums" for candidates running to lead the party.

In meeting rooms, hallways and at the bars of the Sheraton Grand hotel here, Democrats fretted the Clinton-Sanders fight has been rekindled in the race for DNC chairman, which pits Sanders surrogate Keith Ellison, a Minnesota congressman, against Labor Secretary Tom Perez, who was on Mrs. Clinton's running- mate short list. They two men are widely seen as the leading candidates while five other candidates are running.

January 13: The Washington Examiner:  Pelosi Still Blames Bush for $9 Trillion in Debt
House Minority Leader Nancy Pelosi blamed former President George W. Bush and the Republicans on Friday for the more than $9 trillion that has been added to the national debt under President Obama's watch.  Pelosi argued that under Obama, the annual budget deficit, which contributes to the national debt, has been reduced dramatically, and said that without Obama's work, the national debt would be even higher. She also mostly blamed Bush for not paying for the wars in Afghanistan and Iraq.

January 3: Reuters News Service: No proof Russian hacking influenced U.S. election: Trump spokesman 
No evidence has emerged to suggest Russian hacking influenced the outcome of the U.S. presidential election and it would be irresponsible to jump to conclusions before receiving a final intelligence report, Donald Trump's spokesman said on Monday.  "There is zero evidence that they influenced the election," Sean Spicer told Fox News.
Due to become White House press secretary when Trump enters the White House on Jan. 20, Spicer told CNN the president-elect would see the intelligence report once it was completed later this week. On Saturday, Trump warned against being quick to pin the blame on Russia for the hacking of U.S. emails.  "The idea that we're jumping to conclusions before we have a final report is irresponsible," Spicer told CNN.

January 3: The Daily Caller: House Intelligence Chair: No Proof Russians hacked election to get Trump elected
The intelligence community has no proof Russia hacked the 2016 presidential election to get Donald Trump elected, according to the chairman of the House Permanent Select Committee on Intelligence.  "There's no proof that we have from intelligence sources that I've seen that show that the Russians were directly trying to help Trump," said Rep. Devin Nunes during an interview with the Washington Examiner's "Examining Politics" podcast Monday.
Nunes did not rule out that Russia possibly had a hand in the recent hacking of various political institutions. He noted that Russia is very much a major threat to U.S. interests and is capable of the "sophisticated" hacking required to breach U.S. government computer networks.
January 3: Bloomberg Business: Ryan Re-Elected tries to make peace with Trump
Paul Ryan was formally re-elected House speaker Tuesday as he intensifies his efforts to move past his differences with Donald Trump after a divisive campaign. But Ryan's victory was marred by controversy over a last-minute effort by Republicans to weaken the independent congressional ethics office, a reminder of the splits within the new Republican majority. Trump blasted Republicans for prioritizing the ethics change, leaving the caucus to reverse itself moments before formally opening the 115th Congress.  Ryan won resounding re-election with 239 votes -- clearing the 218 needed -- with only one Republican voting for someone else. But his relationship with the incoming president will face a test as he carves out his own agenda for Republicans in Congress.

January 3: McClatchyDC News: What ever happened to the smooth transition Obama promised?
"You better stop stealing money from your mother's purse, young man, or I will punish you late this year or perhaps sometime in 2018," said no parent who was serious about punishment. Yet that's pretty much what President Obama did with his old-fashioned expulsion of 35 Russian diplomats over alleged political hacking by Moscow interests going back 18 months. In a very strange retro-response from a president​ who mocked Mitt Romney for suggesting in 2012 that Russia was America's worst strategic threat. Obama said: "The 1980s are now calling to ask for their foreign policy back because the Cold War's been over for 20 years."  As has often happened when Obama shoots from the hip (think his red line in Syria, ISIS is a JV squad). 

December 30: The Observer: Russian media response to Obama's last minute anti-Russian actions
The silent, months-long contempt expressed by the Russian political class toward the departing White House Administration was suddenly interrupted on Thursday by U.S. President Barack Obama's announcement of a new set of anti-Russian sanctions.  In Russian media, in the political class and among government officials, the reaction in Moscow was fierce, vocal and pugnacious. 

Obama's decision to expel Russian diplomats—in addition to sanctioning a number of Russian companies and individuals—is nothing but evidence of the agony of the outgoing administration, Konstantin Kosachev, head of the International Committee of the Russian Upper House of Parliament, said to RIA Novosti. "The leaving administration has no reason and no political or moral right for such drastic and disruptive steps with regards to bilateral relations with Russia. Forgive me for being harsh, but I just cannot find other words: this is the agony of not the lame ducks, but of political corpses," the Russian Senator said. "[President Obama] put at stake the U.S.'s reputation as an adequate state that ensures policy continuity in the process of change of power."
December 29: The Hill: Obama Under Pressure to Prove Russian Interference in U.S. Election:
The Obama administration is under intense pressure to release evidence confirming Russian interference in the presidential election before leaving office.  The administration up until now has provided little documentation to back up its official October assessment that the Russian government was attempting to interfere in the U.S. election. Nor has it corroborated subsequent leaks from anonymous officials contending that the CIA believes the campaign was an attempt by Russian President Vladimir Putin to ensure Trump's victory. [In a related story, Obama announces sanctions against Russia]
December 27: The Hill:  Pardon the Interruption: Obama and Allegations Against Clinton:
In dashing through his last few weeks in office, will President Obama's final acts be to pardon Hillary Clinton for any violations of federal law she might have committed while she was secretary of state?  It's an interesting and complex question.  Until the statute of limitations runs out there is nothing that would restrict a Trump administration from prosecuting Clinton.  This leaves the door open to prosecution for either her improper handling of classified information on  a private server or allegations of "pay to play" arrangements between the secretary of state and donors to the Clinton Foundation, which might constitute bribery.

The benefit of being pardoned is that it eliminates even the possibility of federal prosecution. The downside is there is solid legal precedent that first it must be accepted by the person being pardoned and second it's the equivalent to confessing to being guilty of the criminal activity.  From Obama's perspective granting a pardon is a political and a personal one, not a legal one. But it is evident he is concerned about his  "legacy."   Does he really want to pardon the person who served him as the Secretary of State for his entire first term in office – thereby tainting his own "legacy?" 

December 20: U.S. News: Clinton Campaign Tries to delegitimize Donald Trump
In a typical year, Hillary Clinton's 2016 Presidential campaign would go down as one of the most startlingly deficient endeavors in political history. But a postliminary campaign by Clinton allies to shape why the heavily favored and first major party female nominee lost to an eccentric billionaire reality television star is already bending the storyline in their favor through a concerted media offensive meant to undermine the president-elect, his tactics and the ultimate outcome.

The Clinton campaign's stunning and largely unforeseen loss has only hardened its own resolve to win the post-mortem of how it happened. In the six weeks since the election, her aides have cited white supremacy, FBI Director James Comey, the apparent Russian hacking of campaign emails and a delinquent press corps as primary reasons for Clinton's loss.
December 17: The Wall Street Journal:  Trump Rebuttal to Michelle O on Loss of Hope
President-elect Donald Trump took issue Saturday with First Lady Michelle Obama's contention that she and others are now feeling the loss of "hope," saying there is good reason for Americans to feel optimistic about the nation's future.  Speaking at a rally in Mobile, Ala., Mr. Trump brought up Mrs. Obama's comments toward the end of an hour-long address in which he laid out plans for his presidency and savored his surprise victory.

He made reference to part of a televised interview that aired Friday in which Mrs. Obama told Oprah Winfrey, "Now we're feeling what not having hope feels like."  Normally biting in his treatment of critics, Mr. Trump took a softer approach in his rebuttal. "Michelle Obama said yesterday that there's no hope," he said.  He went on to say that "we have tremendous hope and we have tremendous promise and we have tremendous potential." 
Editor's Comment: Freedom brings Hope while control and oppressive regulations brings despair and hopelessness.
December 12: The Wisconsin State Journal: Final Count in Wisconsin Increases Trump's Lead by 131 votes:
Wisconsin's historic presidential recount ended Monday resulting in a net gain of 131 votes for President-elect Donald Trump over Democrat Hillary Clinton, the Wisconsin Elections Commission said.  Trump added 844 votes to his total for the Nov. 8 election, while Clinton added 713.  Overall, the commission said, voters cast 2.976 million ballots. The recount resulted in a net increase of 837 ballots.
December 12: Reuters: Top U.S. spy agencies don't embrace CIA assessment of Russia hacking the election:
The overseers of the U.S. intelligence community have not embraced a CIA assessment that Russian cyber attacks were aimed at helping Republican President-elect Donald Trump win the 2016 election, three American officials said on Monday.  The Office of the Director of National Intelligence (ODNI) does not dispute the CIA's analysis of Russian hacking operations.  However, it has not endorsed CIA assessment that Moscow intended to boost Trump over Democratic opponent Hillary Clinton, said the officials.  The position of the ODNI, which oversees the 17 agency-strong U.S. intelligence community, could give Trump fresh ammunition to dispute the CIA assessment, which he rejected as "ridiculous" in weekend remarks, and press his assertion that no evidence implicates Russia in the cyber attacks.

December 9: The Daily Caller:  One in Clinton Camp Warned She Would Lose and was Ignored:
A major figure in Hillary Clinton's presidential campaign warned she was in danger of losing the election days before the vote, but was ignored by the rest of her staff, a new write-up in Politico says.  In the end, though, Jake Sullivan was vindicated entirely. Clinton's "Blue Wall" in the Rust Belt crumbled, and she suffered shocking defeats in Pennsylvania, Michigan, and Wisconsin by a combined margin of less than 100,000 votes. Had she won all three, should would have been the president-elect. In the case of Wisconsin, she lost narrowly after not bothering to visit the state a single time during the general election campaign.

December 9: The New York Post: Losing Campaign Cost $1.2 Billion:
Hillary Clinton and her supporters spent a record $1.2 billion for her losing presidential campaign — twice as much as the winner, Donald Trump, according to the latest records.  The president-elect, who confounded critics during the campaign by saying there was no need to raise or spend $1 billion or more, ended up making do with $600 million.
November 29: Roll Call: Rural Democrats: Party Ignored Rural Communities, Suffered the Consequences:Democrats in rural America have a blunt message for the rest of their party: We saw the electoral disaster coming — and it's your fault.  Strategists and party officials say their warnings about the party's lackluster outreach to rural voters went unheeded by Democratic leaders for years, culminating in this month's shock defeat to Donald Trump.   A presidential candidate who actually performed poorly in many cities and suburbs nonetheless scored an upset victory because of a surge in support from small towns and rural areas.
November 17: The Hill:  Cruz Tells Friends he would be interested in the Attorney General Position:
Senator Ted Cruz has told confidants he's interested in serving as attorney general in the Trump administration, according to two sources familiar with the conversations. Cruz also wandered into the office of Trump's chief strategist Steve Bannon for an impromptu meeting, according to a source close to Bannon.  Cruz may not be the frontrunner for the job, which is a target for others in Trump's orbit — including Sen. Jeff Sessions (R-AL), an early supporter of the businessman. Cruz, in contrast, memorably fought with Trump while finishing second in the GOP primary.
November 17: The New York Post: How the Clinton Foundation brought down Hillary's campaign:
The Clinton family foundation turned out to be a liability for Hillary Clinton's presidential campaign. But it wasn't foreordained. Here's how it happened.  Hillary's sky-high favorable ratings were the result of a general lack of scrutiny in the previous four years.  When reporters were talked to about the Clintons' vulnerabilities, to their credit, they were almost always interested in the Clinton Foundation. There were suspicions about the foundation unethically blurring the lines and bending the rules. The organization represented the intersection of politics and money, the favorite topic of any good political reporter.

In August 2013, the New York Post broke a story showing the Clinton Foundation had spent $50 million on private travel.. Former President Bill Clinton had apparently become addicted to private jets. The general election was still more than three years away, and already the Clinton Foundation was transforming from a well-meaning charity to a private slush fund enriching the Clintons, making a mockery of Hillary's claim the next year that her family was "dead broke."

November 17: Financial Times: U.S. Tech Groups Doing Some Soul Searching after Big Election Loss (Facebook, Google, and Twitter getting push back over "Fake News")
Facebook, Twitter and Google have each, in their way, been cast in an unflattering light. They stand accused of helping to circulate fake news and conspiracy theories, most of it favoring the Trump camp, that may have worsened what was already a deeply partisan battle. And the raucous debate on Twitter often tipped into outright harassment and hate speech.   Under attack from outside and within — their deeply liberal workforces were guaranteed to be unsettled by any suggestion they played a part in the Trump victory — they have engaged in soul searching and some quick responses.

November 12: The New York Times: Obama's Policies Face a Reckoning with History:
As he raced across the country before the election, Obama warned supporters about the stakes. "All the progress we've made over these last eight years," he said, "goes out the window if we don't win this election."  Hillary Clinton, his anointed successor, did not win, and so now Mr. Obama will find out whether his prediction was just campaign hyperbole or if his legacy really has just gone out the window. Not only are specific initiatives like his healthcare and climate change programs at risk, but so, too, is the broader vision Mr. Obama articulated for America.

Suddenly, the progressive, post-racial, bridge-building society he promised has given way to an angry, jeering, us-against-them nation to be led by a new president.   In none of Mr. Obama's worst-case scenarios when he came to office was this the way he imagined leaving.
November 12: The Hill: There are Differences between Trump and Capitol Hill
but the reduction of regulations isn't one of them!
Here are just a few of the regulations Congress and the new White House could focus on.  (1) The Clean Power Plan: Repealing the EPA's plan which has been a centerpiece to outgoing president Obama's climate change policy.  (2) The Clean Water Rule: Known as the Waters of the United States this rule expanse the reach of the EPA and Army Corps of Engineers to include non-navigable waters such as a pond on a farmer's land. (3) The Overtime Rule: Which goes into effect December 1st, increases pay for salaried workers who work more than 40 hours per week.

November 11: The Daily Caller: Anti-Trump Rallies Funded by Left-Wing "Charity"
A left-wing charity organization with unknown sources of money is providing the funding for protests around the country — some of which have turned into violent riots — that have threatened a divided nation's ability to unify after a contentious presidential election.  The Progress Unity Fund is a tax-exempt 501(c)3 organization — the same classification as the Red Cross. The group's mission is to "provide a progressive alternative to mainstream charities," according to its IRS filings.

The fund provides the financial backing for Act Now To Stop War & End Racism (ANSWER) Coalition, a left-wing activist group that began organizing "emergency protests" immediately after Trump's election.  But ANSWER describes Progress Unity Fund as its "fiscal sponsor." And the group is asking its supporters to financially support the next round of anti-Trump protests — Trump's January 20 inauguration — by donating to the Progress Unity Fund.

November 11: ABC News (Arizona): Anti Trump Protestor Paid $3,500 to rally against Trump
For months now, rumors have circulated that individuals were being paid to protest at rallies held by presidential hopeful Donald Trump. Today a man from Trump's rally in Fountain Hills, AZ back in March has come forward to say that he was paid to protest the event.  "I was given $3,500 to protest Donald Trump's rally in Fountain Hills," said 37-year-old Paul Horner. "I answered a Craigslist ad about a group needing actors for a political event. I interviewed with them and got the part."

"As for who these people were affiliated with that interviewed me, my guess would be Hillary Clinton's campaign," Horner said. "The actual check I received after I was done with the job was from a group called 'Women Are The Future'. After I was hired, they told me if anyone asked any questions about who I was with or communicated with me in any way, I should start talking about how great Bernie Sanders is." Horner continued, "It was mostly women in their 60's at the interview that I went to. Plus, all the people that I communicated with had an AOL email address. No one still has an AOL email address except people that would vote for Hillary Clinton."
November 11: The Daily Caller: Clinton Campaign can't accept defeat; blames FBI not Clinton's actions.
A Clinton campaign official is blaming FBI director James Comey for Hillary Clinton's monumental loss to Donald Trump on Tuesday.  Clinton campaign official Navin Nayak said "Comey's letter in the last 11 days of the election both helped depress our turnout and also drove away some of our critical support among college-educated white voters — particularly in the suburbs."   On Oct. 28, Comey sent a letter to Congress in which he said that new evidence had been found that may relate to the FBI's closed investigation of Clinton's emails. He suggested that the investigation was being reopened. The Clinton campaign blasted Comey for issuing a vague letter that provided few details about what the new evidence might be.  Comey attempted to redress those grievances on Sunday, when he sent out another letter stating that the new evidence did not change the FBI's decision in July to not charge Clinton with mishandling classified information.  But Nayak said that Comey's follow-up letter may also have hurt Clinton and helped Trump.

November 9: Breitbart News: Anti Trump rallies organized by George Soros's  MoveOn.Org:
Anti-Trump rallies – organized by MoveOn.Org and allies – were a move by the left wing George Soros organization to  show their continued rejection of President-elect Donald Trump. 
[See related story about protestor being paid to protest against Trump]

"This is a disaster. We fought our hearts out to avert this reality. But now it's here,"  MoveOn.Org staff wrote to members on Wednesday. "The new president-elect and many of his most prominent supporters have targeted, demeaned, and threatened millions of us—and millions of our friends, family, and loved ones. Both chambers of Congress remain in Republican hands. We are entering an era of profound and unprecedented challenge, a time of danger for our communities and our country. In this moment, we have to take care of ourselves, our families, and our friends—especially those of us who are on the front lines facing hate, including Latinos, women, immigrants, refugees, Black people, Muslims, LGBT Americans, and so many others. And we need to make it clear that we will continue to stand together."
November 9: The Daily Caller:  The Joke's on Us (The Mainstream Media)
Journalists flatly admitted they completely failed to understand the 2016 presidential election following Republican nominee Donald Trump's win Tuesday.  "To put it bluntly, the media missed the story," Margaret Sullivan wrote in The Washington Post.  "We were all wrong," Anna Palmer and Jake Sherman wrote in Politico's Playbook newsletter. "That seems obvious, right?  But we were more than wrong. We were laughably oblivious. The entire Washington political-media complex completely missed the mark. Not by inches or feet, but by miles."  Jim Rutenberg added in The New York Times: "The news media by and large missed what was happening all around it, and it was the story of a lifetime. The numbers weren't just a poor guide for election night — they were an off-ramp away from what was actually happening."

November 9: Los Angeles Times:  Trump Victory ensures conservative Supreme Court
Donald Trump's presidential victory preserves the Supreme Court's narrow conservative majority by clearing the way for the new president to choose a jurist next year to fill the seat of the late Justice Antonin Scalia.  And with Republicans maintaining control of the Senate, Trump will have a free hand in selecting someone with strong conservative credentials, confident his nominee will be confirmed.  The election dashes the hopes of liberals, who lost their best opportunity in more than 40 years to create a majority on the high court.
November 8: Fox News: Election Night Returns
Clinton appears to have wn 228 Electoral Votes;
Trump has gotten 290, with 270 needed to win the election. Not all of the returns are in at this point but it appears that Donald Trump will be the next President of the United States.

Clinton appears to have garnered 60.8 million votes with Trump getting 60.3 million of the popular vote nationwide.
However, it is the Electoral Votes that determine the outcome of the election. The founding fathers set it up this way so that smaller states would have say in the selection of the President.
[Editor's Note: Some states do not count absentee ballots unless the vote count is close. Texas is not one of those states. Absentee votes tend to favor Republican candidates. So it is entirely possible that Mr. Trump also won the popular vote in addtion to the Electoral Vote count.]
October 28: The Washington Free Beacon: Congress: Attorney General "Pleads the Fifth" on secret Iran payments:
Attorney General Loretta Lynch is declining to comply with an investigation by leading members of Congress about the Obama administration's secret efforts to send Iran $1.7 billion in cash earlier this year, prompting accusations that Lynch has "pleaded the Fifth" Amendment to avoid incriminating herself over these payments, according to lawmakers and communications exclusively obtained by the Washington Free Beacon.  Sen. Marco Rubio (R-FL) and Rep. Mike Pompeo (R-KS) initially presented Lynch in October with a series of questions about how the cash payment to Iran was approved and delivered.  In an Oct. 24 response, Assistant Attorney General Peter Kadzik responded on Lynch's behalf, refusing to answer the questions and informing the lawmakers that they are barred from publicly disclosing any details about the cash payment, which was bound up in a ransom deal aimed at freeing several American hostages from Iran.

October 25: Gateway Pundit: Trump on Track to Win More Black Votes than Any GOP Candidate since 1960
In the past month the number of black voters for Donald Trump has increased significantly.  At the beginning of October 9% of African Americans supported Trump. 

October 25: Fox News: TEA Party-tied group calls for delay in Speaker Vote as Ryan Faces Unrest
An influential conservative group is urging the Republican-led House to postpone its looming leadership vote, potentially offering House Speaker Paul Ryan a chance to get his 'house' in order at a time when his detractors are renewing threats to oust him in the aftermath of the "chaotic" 2016 election.  The Tea Party-tied FreedomWorks sent a message Monday to the House Republican Caucus telling members to wait until December to decide on a speaker.  FreedomWorks leader Adam Brandon said Tuesday the push does not reflect support for Ryan; only a call for members "to reassess and reflect" after a "historically long, chaotic election cycle."

October 17: Fox News: "Quid pro quo": FBI files show top State official tried to
"influence" bureau on Clinton emails
A senior State Department official and friend of Hillary Clinton proposed a "quid pro quo" to convince the FBI to strip the classification on an email from Hillary Clinton's server – and repeatedly tried to "influence" the bureau's decision when his offer was denied, even taking his plea up the chain of command, according to newly released FBI documents.  (By changing the classification from Secret to unclassified it would make it appear that Hillary Clinton did not handle classified information on her personal server.)  Notes from an interview with an unnamed FBI official reveal the State Department Undersecretary for Management Patrick Kennedy tried to horse-trade with the FBI, offering additional slots for the bureau overseas if they would de-classify a particular email marked "SECRET."

According to the documents, the unnamed individual said he was "pressured" to "change the classified email to unclassified."  "[Redacted name of agent] indicated he had been contacted by PATRICK KENNEDY, Undersecretary of State, who had asked his assistance in altering the email's classification in exchange for a 'quid pro quo,'" the 302 states. "[The agent] advised that in exchange for marking the email unclassified, STATE would reciprocate by allowing the FBI to place more Agents in countries where they are presently forbidden."

October 17: Liffezette.com: WikiLeaks: Politico Reporter Offered Clinton Camp Chance to edit story.
The latest trove of emails released by WikiLeaks Monday proves even further collusion between large, ostensibly mainstream media outlets and the Democratic Party.  In an astonishing email, Politico chief White House political correspondent and senior staff writer Glenn Thrush ran his latest article by Hillary Clinton campaign Chairman John Podesta to make sure nothing offended the Clinton henchman.

The revelation comes on the same day as the release of a new report by the Center for Public Integrity, which showed that the vast majority of politically active journalists have donated money to the Clinton campaign.

October 12: The Washington Times: Clinton campaign mocks Catholics,
Southerners, and Latino's in recently released emails
Long before Hillary Clinton called millions of Americans a "basket of deplorables," her top campaign advisers and liberal allies openly mocked Catholics, Southerners and a host of other groups, according to newly released emails that offer a stunning window into the vitriol inside the Clinton world less than a month before Election Day.  The emails, published by WikiLeaks after a hack of Clinton campaign chairman John Podesta's private account, also show Clinton campaign officials and Democratic leaders disparaging supporters of Senator Bernie Sanders as "self-righteous" whiners, calling Hispanic party leaders such as Bill Richardson "needy Latinos," labeling CNN anchor Jake Tapper "a d—k" and even lambasting longtime Clinton ally Sidney Blumenthal.  The sheer number of insults in the email trove has left the Clinton campaign, along with outside organizations such as the Center for American Progress that were routinely involved in the brutal bad-mouthing, unable or unwilling to respond. Instead, they have blamed the hack on Russia and have refused to even confirm that the emails are genuine, though they also haven't denied their authenticity.

October 12: Breitbart News:
Hillary Tried to Silence me after the rape: Broaddrick
Juanita Broaddrick, the woman who accused Bill Clinton of raping her twice in a hotel room in 1978, recounted an alleged encounter with Hillary Clinton in which Broaddrick says the future presidential candidate attempted to intimidate her into being silent about the alleged rapes.  Broaddrick said she believed that Hillary Clinton knew that her husband had raped her during their encounter.

Oct 10: The New York Post: Clintons nearly drove top staffer to suicide, email claims
Chelsea Clinton was "more concerned" about an article in The Post "about her father and a multitude of women over the years" than about the health of two senior Clinton Foundation officials — one of whom threatened to kill herself, according to an explosive WikiLeaks email released Monday.  In a December 2011 email exchange, Bill Clinton's closest aide, Doug Band, told other Clinton aides that he had to talk foundation COO Laura Graham out of driving her car into the water on Staten Island because she was under such stress caused by "WJC and CVC as well as that of her family." The reference appears to be to William Jefferson "Bill" Clinton and Chelsea Victoria Clinton.

"She was on Staten island in her car parked a few feet from the waters edge with her foot on the gas pedal and the car in park. She called me to tell me the stress of all of this office crap with wjc and cvc as well as that of her family had driven her to the edge and she couldn't take it anymore," Band wrote to Hillary Clinton's then-State Department chief of staff, Cheryl Mills, along with Bill Clinton's former chief of staff, John Podesta, and Justin Cooper, the aide who helped set up and maintain Hillary Clinton's private email server.
October 10: InfoWars: Wikileaks Emails: Clinton Campaign Insiders Fear Bill's Sex Life could Sink Hillary:
A new Wikileaks email dump released today reveals that some Hillary campaign insiders are petrified that Bill Clinton's sordid sexual past could severely damage Hillary's chances.  The revelation is of particular note because it dovetails with Donald Trump holding a press conference yesterday before the debate with three of Bill Clinton's sexual abuse victims.

The email, which is marked "confidential," was sent to Clinton campaign chairman John Podesta by prominent left-wing journalist Brent Budowsky. It includes details of Budowsky's exchange "with someone in the media," who told him that, "there are people close to the Clintons who says WJC's (William Jefferson Clinton) sex life could be damaging to her."  Although Budowsky stresses his view that the more Bill Clinton the better for Hillary, he adds that, "there were people purportedly close to the Clintons pushing the line that the less WJC the better."

October 9: Fox News: Trump has News Conference with Clinton Victims by his side:
Trump held a news conference a hour before the second debate and was flanked by Paula Jones, Kathleen Willey and Juanita Broaddrick, who have each previously accused Bill Clinton of sexual assault. Some have also accused Hillary Clinton of intimidating them.   "Actions speak louder than words," Broaddrick said. "Mr. Trump may have said some bad words but Bill Clinton raped me and Hillary Clinton threatened me. I don't think there's any comparison."  Also present was Kathy Shelton. Hillary Clinton defended the man who raped a then 12-year-old Shelton in 1975.  "Hillary put me through something that you would never put a 12 year old through," Shelton said. "And she says she's for women and children."

October 9: The Daily Mail: Trump keeps his campaign alive with
barnstorming come back after confronting Hillary with four Clinton Sex Victims
The debate night that will be discussed for generations in Political Science classes – and Women's Studies seminars – ended with Republican Trump landing more punches than Democrat Hillary Clinton, and successfully deflecting attention successfully away from a two-day-old crisis about graphic sexual language that threatened to derail his White House bid.   Clinton established herself as a superior bureaucrat Sunday night with more mature knowledge of foreign policy minutiae and a more intelligible way of communicating details about how laws are made.  But Trump won on points in what has become the Year of the Outsider, playing to a national television audience that polls show are weary of Washington's same-old same-old and eager for new blood.

He had Clinton playing defense for most of the 90-minute clash, saying she would be 'in jail' if he ran the Justice Department – a reference to her classified email scandal – and declaring that she had 'tremendous hate in her heart' when she branded 'half' his supporters as 'deplorables.'  He even bested her on her recollection of her own tenure at the helm of the U.S. State Department.  Trump recalled that Clinton was secretary of state when President Barack Obama drew his now-infamous rhetorical 'red line' in Syria, ineffectively warning Bashar al-Assad not to use chemical weapons against insurgents and civilians.  Clinton insisted she had retired from the government by the time that happened. Not so: Obama dared Assad to cross his line in August 2012, six months before Clinton's term ended.

October 2: Heat Street: October Surprise Thwarted? Wikileaks Cancels highly Anticipated on Tuesday
Wikileaks has abruptly canceled a much-anticipated announcement on Tuesday, according to NBC News. The announcement had been expected to be founder Julian Assange's long-promised document dump on Hillary Clinton.  NBC reported that the Tuesday announcement  was canceled due to "security concerns".

October 2: The Washington Examiner: Bill Clinton's accuser Kathleen Willey:
Hillary was complicit in his sexual misconduct
One of many women who have accused former President Bill Clinton of sexual misconduct is speaking out, saying Hillary Clinton shouldn't be exempt from criticism over her handling of the affairs that nearly ended her husband's presidency in the 1990s.  Kathleen Willey — a former volunteer White House aide who accused Bill Clinton of making aggressive, unwanted advances during a private meeting in 1993 — said she holds Hillary Clinton responsible for smearing her and the many other women who have come forward with stories about their treatment at the hands of her husband. "This no longer about Bill Clinton's transgressions or his infidelities or girlfriends or sex ... it's not about that anymore," Willey told the Washington Examiner. "What it's about is the actions that his wife has taken against the women that he has raped and assaulted."

October 2: The Daily Caller:  Kathleen Willey says another Clinton Woman to step forward
A woman is expected to step forward and tell her story about her experiences with Bill Clinton in Arkansas Kathleen Willey announced on her Facebook page Sunday night.  The woman was an Arkansas TV reporter and is expected to tell radio host Aaron Klein her story Sunday night. This is a developing story.  Willey is a former White House aide who, in 1998, claimed on "60 Minutes" that Bill Clinton had sexually assaulted her on November 29, 1993, during his first term as President.

October 2: The American Mirror: Hispanic man films white woman being beaten over Trump yard sign:
A pair of California men went on an apparent Donald Trump yard sign-stealing spree this week and filmed several of their exploits for the enjoyment of their Twitter audience.  One citizen IDed Lemoore, California residents Angel Mendoza and Rolando Vega as the culprits, and combined their videos into a single one, likely in case they were deleted.  The first video shows a woman being beaten on the front lawn of a home while she tries to protect a Trump sign.

September 30: Politico: Clinton's Take on Sanders; leaked 
Hacked audio of a conversation between Hillary Clinton and donors during a February fundraising event shows the Democrat nominee describing Bernie Sanders supporters as "children of the Great Recession" who are "living in their parents' basement."  Speaking at a Virginia fundraiser hosted by former U.S. ambassador Beatrice Welters, Clinton says in a clip released by the Free Beacon that many of her former primary opponent's supporters sought things like "free college, free health care," saying that she preferred to occupy the space "from the center-left to the center-right" on the political spectrum.

September 30: Fox News: Clinton's Treatment of Women
Donald Trump's campaign is signaling that Bill Clinton's history of affairs and alleged sexual misconduct – as well as Hillary Clinton's treatment of the women involved – is now fair game, after his Democratic opponent took the first shot by calling out his own negative comments toward women at Monday's debate. 

September 30: Real Clear Politics:  Trump to Obama; Warning: Don't Pardon Hillary
At a campaign rally in Novi, Michigan Friday evening, Donald Trump asked President Barack Obama not to "pardon Clinton and her co-conspirators" if any charges were filed related to the email scandal.  "Mr. President," Trump said. "Will you pledge not to issue a pardon to Hillary Clinton and her co-conspirators for their many crimes against our country, and against society itself. No one is above the law."

September 30: McClatchy DC: Obama's Political Correctness: Jerusalem isn't in Israel… Right!
The White House forgot its own policy on Jerusalem Friday — at least temporarily.  The administration initially sent out a copy of President Barack Obama's remarks at former Israeli Prime Minister Shimon Peres' funeral in Jerusalem, indicating that the remarks had been given in Jerusalem, Israel. But later Friday afternoon, the press office sent out a correction to the previous email, striking out "Israel" from the header of the transcript.

U.S. policy has long refrained from recognizing any nation's sovereignty over Jerusalem. Both Israelis and Palestinians claim Jerusalem as their capital, with Israel declaring in 1980 the city was its undivided capital. A 2015 Supreme Court decision reaffirmed U.S. practice that forbids Americans born in Jerusalem to list Israel as their country of birth on passports. The U.S. embassy in Israel is in Tel Aviv, but the country maintains a consulate in Jerusalem. Congress passed a law in 1995 calling for the embassy to be moved to Jerusalem, but presidents since then have used their waiver authority to prevent the change.

September 26: The Hill:  Senate to vote on 9/11 veto on Wednesday:
The Senate is moving forward with a pledge by leadership to try to override President Obama's veto of legislation that would allow families of 9/11 victims to sue Saudi Arabia in court.  Senate Majority Leader Mitch McConnell (R-KY) set the vote on overriding the veto, along with two hours of debate, for Wednesday.  The showdown could end with lawmakers nixing the president's veto for the first time in his administration. 

September 26: The Hill: House to vote the week on contempt for former Clinton staffer:
The House will vote this week on a resolution to hold former State Department IT technician Bryan Pagliano in contempt of Congress, Majority Leader Kevin McCarthy told reporters Monday.  "We'll be taking up contempt on Bryan Pagliano for his lack of attending," McCarthy said, referring to a committee hearing Pagliano skipped.  McCarthy provided no further details on plans for the vote.  Pagliano was responsible for setting up Hillary Clinton's private email server during her tenure as secretary of State.
September 26: UPI: State Polls: Trump Edging Out Clinton in Electoral College
Donald Trump would earn enough votes to win the presidency in the Electoral College based on UPI/CVoter's state tracking poll released Monday.  Trump would amass 292 votes and Clinton would get 246 with 270 needed to secure the oval office.  But the candidates' leads are narrow enough -- 5 percent or less -- in 12 states to classify them as swing states, meaning 156 electoral votes could be up for grabs. If the battleground states are not counted, the race would be tied 191-191.
September 24: The Daily Mail: Debate Rules: No Stepstool and No breaks for coughing or fainting spells
Short Hillary (5'4") wanted to debate a tall Trump (6'2") on a step stool, the Commission on Presidential Debates said no!  But Hillary will have a "custom-made podium" which will accommodate the difference in stature.  She also won't get commercial breaks for any coughing fits or fainting spells.

September 24: The New York Post: Bill Clinton's Gennifer Flowers will be front row center at the first debate!
When Hillary Clinton takes the podium at Monday night's first presidential debate, she could be staring down an old romantic rival sitting in the front row.  Gennifer Flowers, who carried on a 12-year affair with Bill Clinton when he was attorney general and  governor of Arkansas, might attend the debate at Hofstra University as Trump's guest.   "Ms. Flowers has agreed to join Donald at the debate," her personal assistant, Judy Stell, wrote in an e-mail to BuzzFeed, according to the Web site.  It was a shot at Clinton's decision to seat Cuban, a frequent Trump critic, in the front row as her debate guest, and a signal that the Republican nominee might dredge up past Clinton scandals as ammunition.

September 17: Yahoo.Com: Presidential Race Tightens in Projected U.S. Electoral College Vote:
An election analysis conducted in the Reuters/Ipsos States of the Nation project shows that the race has tightened considerably over the past few weeks, with Republican presidential nominee Donald Trump projected to win Florida, an essential battleground state, if the election were held today.  The project, which is based on a weekly tracking poll of more than 15,000 Americans, shows that the 2016 presidential race could end in a photo finish on Nov. 8, with the major-party candidates running nearly even in the Electoral College, the body that ultimately selects the president.  If the election were held today, the project estimates that Clinton has a 60 percent chance of winning by 18 electoral votes. Last week, the project estimated that Clinton had a 83 percent chance of winning the election.
September 16: The Daily Caller: Just 5.7% of the Clinton Foundation Funds went to Charitable Grants:
Just 5.7 percent of the Clinton Foundation's massive 2014 budget actually went to charitable grants, according to the tax-exempt organization's IRS filings. The rest went to salaries and employee benefits, fundraising and "other expenses" IRS filings show. But less than $5.2 million of that went to charitable grants.
September 14:  Breitbart.Com:  Doctors Raise Concerns Over Clinton's Pneumonia Diagnosis and Treatment:
Dr. Jane Orient, Executive Director of the Association of American Physicians and Surgeons said "Most people with pneumonia are sick in bed and they have a fever and it's very hard for them to be up and about.   I would have advised her to cancel the event."  Clinton's staff initially blamed the abrupt exit from the 9/11 memorial and subsequent stumbling on Hillary being overheated even though the temperatures in New York City that day were in the 70s with a light breeze blowing.  Dr. Orient continues to be concerned for Clinton's lingering cough, saying "Now, I don't think this pneumonia begins to explain the terrible cough that she's had for months on end," she stated. "Interestingly enough, people haven't been talking about her cough this weekend." "Now, I don't think this pneumonia begins to explain the terrible cough that she's had for months on end."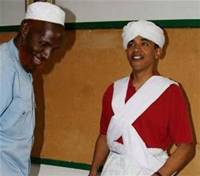 Flash Back: Politico: February 25, 2008:  Obama Slams "smear photo"
Obama campaign manager David Plouffe accused the Clinton campaign Monday of "shameful offensive fear-mongering" by circulating a photo as an attempted smear. Plouffe was reacting to a banner headline on the Drudge Report saying that aides to Sen. Hillary Rodham Clinton (D-NY) had e-mailed a photo calling attention to the African roots of Sen. Barack Obama (D-IL).  "The photo, taken in 2006, shows the Democrat front-runner dressed as a Somali Elder, during his visit to Wajir, a rural area in northeastern Kenya," the Drudge Report said. The photo created huge buzz in political circles and immediately became known as "the 'dressed' photo," reflecting the Drudge terminology.


September 6: The Daily Caller: Republicans on Capitol Hill Gain Confidence in Trump
South Carolina Republican Sen. Lindsey Graham said he is pleased Republican presidential nominee Donald Trump is holding up against Democratic presidential nominee Hillary Clinton.  "Trump is getting better," Graham told reporters Tuesday pointing to the recent polling. "You can see a more disciplined message. If he can hold it together for another 8 weeks."  Graham, who ran against Trump in the primary and doubted that the New York billionaire could beat Clinton, appeared impressed that Trump could withstand the amount of political attacks he had taken so far. "He's had massive political body blows that would knock anybody else out. If he can cross the lines in the eyes of the public and be ready for the job, then I think you're gonna have one hell of a race," Graham added.
September 4: PageSix.com: CNN's Dr. Drew loses show after discussing Hillary's Health!
Dr. Drew's show was cancelled just eight days after he (Drew Pinsky) discussed Clinton's health on a radio program, saying he was "gravely concerned not just about her health, but also her health care."  CNN, the sister network to the one Pinsky's program is on, "… is so supportive of Clinton, network honchos acted like the Mafia when confronting Drew," inside sources have said.   

September 3: The Washington Examiner: From FBI fragments; Did Clinton's Team
destroy evidence covered by a subpoena?
The incomplete records of the Hillary Clinton email investigation released by the FBI raise questions about the conduct not only of Clinton but of her top aides and the staffers working under their direction. Perhaps the most serious is whether the Clinton team destroyed evidence which they were under legal order to save and produce to congressional investigators.

Out of a massive investigation, the FBI has released two documents: a heavily-redacted version of its summary report and a write-up from agents' July 2 interview with Clinton. The rest, including reports from interviews with other players, remains secret.  Upon release of the documents Chairman Trey Gowdy (R-SC)  said, "The FBI selectively releasing Secretary Clinton's interview summary is of little benefit to the public unless and until all relevant documents and witness interview summaries are released," Gowdy said. "The public is entitled to all relative information, including the testimony of the witnesses at Platte River Networks, the entity which maintained the private server. The public will find the timeline and witness responses and failures to respond instructive."
September 2: National Review: The Clinton Emails: The Gift that keeps on Giving!
Some of the notes from the FBI interview with Hillary Clinton are mind boggling reading.  Most bracing is the fact that Mrs. Clinton had her server wiped clean sometime between March 25 and 31, 2015, only three weeks after the New York Times on March 3 broke the story of the server system's existence. David notes that, at the same time the Democrats' Janus-faced presidential nominee was outwardly taking the position that she "want[ed] the public to see my email," she was having her minions frantically purge her emails behind the scenes.  And remember; there were 30 Benghazi-related emails on the server she had purged, emails she never turned over to the Department of State while she continually claimed that the surrendered all of her government emails.
August 31: The American Mirror: Many empty seats and Hillary's Speech to Veterans:
Hillary Clinton's speech to the American Legion looked good for the cameras pointing towards the stage, but a crowd shot showed dozens of empty seats in the audience.  This was not as they were waiting for Clinton. She's at the podium and on the big screen. This is during her speech. This was not as they were waiting for Clinton. She's at the podium and on the big screen. This is during her speech.

August 30: The Hill: Polls tighten in the Presidential Race
Donald Trump is gaining some ground on Hillary Clinton in the polls, leaving the Democrat with a smaller lead heading into the crucial month of September.  Clinton opened her largest margin on Aug. 9, when she had a 7.6 percentage point advantage over Trump in the RealClearPolitics average of national polls. At the time, she was consistently reaching 50 percent support.  But Clinton's lead has shrunk since then, to 4.3 points and she's fallen short of the 50 percent mark in the last six national polls. The Democratic presidential nominee has settled into the mid-40 percent range, presenting an opportunity for her Republican rival. Despite the improving picture for Trump, Clinton remains the favorite to win.

August 30: The Hill:  Trump to Meet with Mexican President in private meeting:
Donald Trump says he will meet with Mexican President Enrique Pena Nieto on Wednesday, hours ahead of a high-profile immigration speech the GOP nominee is scheduled to give in Arizona.  I have accepted the invitation of President Enrique Pena Nieto, of Mexico, and look very much forward to meeting him tomorrow.  The Washington Post first reported Tuesday night that Trump was considering the last-minute trip to Mexico City. Trump tweeted confirmation shortly before he took the stage for a rally in Washington state Tuesday night, but he did not mention the visit in his remarks.

August 30: The Daily Caller: Obama's Doctor thinks Hillary should undergo a thorough neurological examination
President Obama's longtime doctor, David Scheiner, said Tuesday that Hillary Clinton should undergo a "thorough neurological examination" to see if she has lasting damage from a Dec. 2012 concussion she suffered after a fall.  Scheiner also raised numerous questions during an interview with CNN's Erin Burnett over Donald Trump's health.
Clinton has claimed to be in good health as well. She released a two-page letter from her doctor which addressed her Dec. 2012 fall. Clinton suffered a concussion and a blood clot and was slow to recover.

August 30: Fox News: Clinton Team digging for ways to trip up Trump at debate
With the first presidential debate just a few weeks away, Hillary Clinton's campaign has more than two-dozen staffers digging deep into Donald Trump's background and looking for ways to get under his skin.  Their quest for damaging

August 30: US News:  A Candidate's Death Could Delay or Eliminate the Presidential Election
The presidential election could be delayed or scrapped altogether if conspiracy theories become predictive and a candidate dies or drops out before Nov. 8. The perhaps equally startling alternative, if there's enough time: Small groups of people hand-picking a replacement pursuant to obscure party rules.  "There's nothing in the Constitution which requires a popular election for the electors serving in the Electoral College," says John Nagle, a law professor at the University of Notre Dame, meaning the body that officially elects presidents could convene without the general public voting.
August 27: Associated Press:  US State Dept. to withhold Clinton calendars until after the election:
Seven months after a federal judge ordered the State Department to begin releasing monthly batches of the detailed daily schedules showing meetings by Hillary Clinton during her time as secretary of state, the government told The Associated Press it won't finish the job before Election Day.  The department has so far released about half of the schedules. Its lawyers said in a phone conference with the AP's lawyers that the department now expects to release the last of the detailed schedules around Dec. 30 (weeks after the November 8th election).  The AP's lawyers late Friday formally asked the State Department to hasten that effort so that the department could provide all Clinton's minute-by-minute schedules by Oct. 15. The agency did not immediately respond.
August 27: Infowars: Report: Google Censors "Hillary Clinton Health Problems" search results:
Google users who were attempting to search for information regarding the health of Hillary Clinton were given suggestions that had nothing to do with the issue; Twitter postings revealed this weekend.  Google users when typing in "Hillary Clinton's he" were finding their auto-complete suggestions going to her 'health plan" "healthcare plan" and "headquarters" while avoiding "health" or "health issues."  By contrast Microsoft's Bing.com and Yahoo's search engines suggested links to discussions of Hillary Clinton's health issues.  [Read the column on Questions about Hillary's Health]
August 24: Real Clear Politics: Former UK Independent Party Leader:
Anything is Possible if enough Decent People Fight the Establishment:
Former leader of the UK Independent Party Nigel Farage, credited for Brexit, addressed the audience at a Trump campaign rally in Jackson, Mississippi on Wednesday night. "You can beat the pollsters, you can beat the commentators, you can beat Washington," Farage said to cheers. "If you want change, you better get your walking boots on." "Anything is possible if enough decent people want to fight the establishment."

Farage also took a shot at President Barack Obama for campaigning against Brexit.   "The big card the prime minister (David Cameron) decided to play in the referendum is he got a foreign visitor to come to London to talk to us. Yes, we were visited by one Barack Obama. And he talked down to us. He treated us as if we were nothing," Farage said.
August 24: United Press International:  Trump and Hillary: A one point spread:
The UPI/CVoter daily presidential tracking poll released Wednesday shows Hillary Clinton leading Donald Trump by less than 1 percentage point for the third day in a row.  The online poll shows 48.35 percent for Clinton to 47.48 for Trump.  Both candidates edged up slightly in the newest data compared to data collected a day earlier, though Trump has gained considerable ground on Clinton over the past seven days, the poll's full sample size.
Trump has gained 3.3 percentage points in the past week, while Clinton has lost 2.3 points, leaving the race in a virtual tie.  The UPI/CVoter online tracking poll surveys at least 200 people each day, leading to a sample size of at least 1,400 people during any seven-day span.

August 21: The New York Post:  Clinton Campaign Make Desperate Plea for Funds
Campaign manager Robby Mook has written a panicky pitch to Hillary Clinton supporters warning that fundraising numbers are dipping – even adding "that's how elections are lost." "Our poll numbers are holding steady, which is good. We're growing our field organization, building out neighborhood teams in communities all over the country — which is even better," Mook wrote. "But that's happening at a time when our fundraising levels are, frankly, dipping." Mook appears to attribute lower fundraising numbers with overconfidence.

August 24: The LA Times: Clinton exploring the outer limits of fundraising
like no presidential nominee ever has
If there were a moment in this presidential race when Hillary Clinton could act on her stated outrage over the obscene amount of money in politics, it is probably now, having eclipsed her rival Donald Trump in terms of cash in the bank and blocked off his most direct paths to victory. But Clinton isn't tapping the brakes.

August 21: The New York Post: American Journalism is Collapsing Before Our Eyes:
Donald Trump may fix his campaign and Hillary Clinton may become the first female president. But something else happening before our eyes is almost as important: the complete collapse of American journalism as we know it.  The frenzy to bury Trump is not limited to the Clinton campaign and the Obama White House. They are working hand-in-hand with what was considered the cream of the nation's news organizations. 
The shameful display of naked partisanship by the elite media is unlike anything seen in modern America. The largest broadcast networks — CBS, NBC and ABC — and major newspapers like The New York Times and Washington Post have jettisoned all pretense of fair play. Their fierce determination to keep Trump out of the Oval Office has no precedent.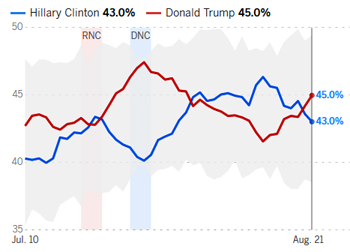 August 20: The Los Angeles Times:
Daily Presidential Polling Numbers
The USC Dornsife/Los Angeles Times "Daybreak" poll tracks about 3,000 eligible voters until election day, asking on a regular basis about their support for Hillary Clinton, Donald Trump or other candidates as well as their likelihood of actually casting a ballot.  The data is updated each day based on the weighted average of poll responses over the previous week. That means results have less volatility than some other polls, but also means the poll lags somewhat in responding to major events in the campaign.
August 19: Lifezette.com: Trump Plays Role of President in Louisiana
In a move timed to complement his campaign revamp, Donald Trump today landed in Louisiana to witness first-hand the devastation wrought by flooding not seen there since Hurricane Katrina pummeled the Gulf Coast in 2005.  Trump's arrival on the scene helps him on a number of levels; most importantly, it provides a dramatic contract to Hillary Clinton and President Obama, both of whom have neglected to visit the region where more than a dozen have died and tens of thousands have been forced out of their homes.
August 18: The Daily Signal:  Voter Fraud is Real, Here are some examples:
The topic of voter fraud is popping up much more frequently.  Progressives insist that voter fraud is a myth, a charade meant to justify repressive voting laws. The facts, however, tell a different story: Voter fraud is real, and if we ignore it, we leave our ballot boxes open to fraudsters who would rather steal elections than risk losing in a fair and open contest.
- Kentucky: Ruth Robinson, the former mayor of Martin, was sentenced to 90 months' imprisonment on a variety of charges that included vote buying, identity theft, and fraud.
- Texas: Guadalupe Rivera and Graciela Sanchez illegally "assisted" absentee voters in Rivera's 2013 re-election bid for city commissioner. Rivera won the election by 16 votes, but the result was invalidated after a judge determined that 30 absentee ballots had been submitted illegally.
- Iowa: Erin Venessa Leeper registered and voted in a 2015 school board election. As a convicted felon, however, she was ineligible to do so, and pleaded guilty to perjury last May. She was ordered to pay a $750 fine, plus $240 in court costs, and was sentenced to a suspended five-year prison term and two years of probation.
August 16: The New York Times: Trump Questions Hillary Clinton's stamina
First there was "low energy." Now increasingly it's "no stamina  As Mr. Trump faces an uphill battle in the general election campaign against Hillary Clinton, the Republican presidential nominee is trying to reprise the winning formula that got him this far, slipping it into rallies and speeches that his opponent appears too tired to lead the country.  In a prominent national security address on Monday, Mr. Trump could not have been more explicit when he said that Mrs. Clinton "lacks the mental and physical stamina to take on ISIS, and all the many adversaries we face."

August 16: Heatstreet.Com: One photo of Hillary propped up on a pillow is no big thing but
bunches of similar photos in different venues raises some eyebrows.
Hillary is being propped up by a pillow, and it's hardly the first time this has happened. In fact, the former secretary of state used to include propping cushions on her list of demands during her lucrative time on the paid celebrity speaking circuit. According to the Washington Post, for one speech at UCLA, a public university that she graciously offered a discounted rate of $300,000, Hillary demanded that "chairs be outfitted with two long, rectangular pillows — and that two cushions be kept backstage in case the chair was too deep and she needed additional back support."

August 16: The Washington Times: Trump pushes law and order agenda in direct appeal to black voters
Republican Donald Trump made his most direct appeal yet Tuesday for black voters in the presidential race, pushing forward an agenda to restore law and order and revitalize inner-city neighborhoods that he said suffer from years of misguided Democratic policies.  In a speech delivered not far from Milwaukee neighborhoods rocked by anti-police riots, Mr. Trump laid the blame for urban despair and conflict between police and minorities at the feet of Democratic nominee Hillary Clinton.

"I am running to offer you a much better future,"  Trump said in a speech in West Bend, Wisconsin. "Crime and violence is an attack on the poor and it will never be accepted in a Trump administration."  He said the policies holding back minority neighborhoods were part of the "rigged system" led by Mrs. Clinton, who he said pandered to black voters but didn't really care about their suffering.

August 16: Washington Free Beacon: Clinton: Illegal Tapped to
Run Voter Registration Drive is Tied to George Soros:
An illegal immigrant who was tapped by the Hillary Clinton campaign for a new effort to register Latino voters is tied to a multi-million dollar voter registration effort funded by George Soros.  The Immigrant Voters Win PAC was established to fund the Families Fight Back campaign. Soros and other liberal donors vowed to spend $15 million on the effort.  Soros cut a $3 million check to the PAC on March 11. He was the only funder of the PAC until late May when the Civic Participation Action Fund, a group that seeks to advance "racial equality, economic opportunity, and civic engagement," added a $1 million donation.

August 14:  The Washington Times:  Obama Administration provides Clinton's
first line of defense amid scandals:
Just as stunning as the unending stream of reports of scandal and subterfuge that has come to define Hillary Clinton's tenure as secretary of state is the Obama administration's tireless effort to keep a lid on it.  Whether it's the Justice Department taking a pass when afforded the opportunity to investigate or the State Department steadfastly defending every controversy, President Obama's Administration has emerged as a first line of defense for the woman who would carry on his legacy.

The kid-glove treatment of Mrs. Clinton, the Democratic presidential nominee, has helped shield her from bad headlines as Republican nominee Donald Trump has been battered by the news media over his remarks on the stump and rants on Twitter.

August 14: The Washington Examiner:  Hillary drafts illegal dreamers to get people registered to vote
Hillary Clinton's campaign on Sunday announced a program to recruit undocumented "Dreamers" into a voter registration army even though they are not allowed to vote.  Celebrating the four-year anniversary of President Obama's Deferred Action for Childhood Arrivals program, Clinton launched "Mi Sueno, Tu Voto" (My Dream, Your Vote), to rally and "secure commitments" from immigrants who can vote.

The DACA program created so-called "Dreamers," the children of illegal immigrants who the president has offered renewable two-year work visa and deportation deferral. The goal for many in the program is amnesty.  "We may not have the right to vote, but 'Mi Sueno, Tu Voto' will help ensure that our stories are heard and it will send a clear signal to Donald Trump that we cannot be silenced," said Astrid Silva, Nevada Dreamer and immigrant rights activist.

August 12: Fox News: Carly's Comeback? Is she eyeing a run for RNC Chair?
Former Hewlett Packard CEO and 2016 presidential hopeful Carly Fiorina is reportedly eyeing up a new political run – this time to replace Reince Priebus as chair of the Republican National Committee – although some fear her refusal to back Donald Trump may hurt her chances.
 
Fiorina, who was largely seen as an unlikely candidate for the GOP nomination when she announced her candidacy last year, surprised many commentators with a strong run.  Fiorina has been spending the time since then campaigning for Republican House and Senate candidates, and has not endorsed Trump.
A number of outlets, including Time and Politico, reported Tuesday that the Fiorina is mulling a bid to replace Priebus after the November election – and is reaching out to state party chairs offering to help "in any way" as a way of laying the groundwork for a run.
August 10: The Gateway Pundit: Hillary Clinton Propped Up by Man to Keep From Falling Over while making a Campaign Speech:
A photo from April shows now-Democratic Party presidential nominee Hillary Clinton being firmly held up by a man on her right side to keep her from falling over as she addressed an overflow crowd during a campaign stop in Los Angeles, while a man on her left side is seen urgently extending his arm to aid in propping up Clinton. Obscured behind Clinton is a third person whose extended hand can be seen reaching out to steady her left arm.

The man holding Clinton up has one hand clasping her right hand and his other hand grasping her bicep. Clinton is leaning forward speaking to the crowd using a microphone held in her left hand.

August 10: The Daily Mail: DNC's Possible Leaker Murdered
The mystery surrounding the murder of rising Democrat star Seth Rich took a sudden sinister turn Wednesday with claims that he was responsible for the email dump that brought down close Hillary Clinton ally Debbie Wasserman-Schultz.  Julian Assange, the head of Wikileaks, the organization that released the emails, announced a $20,000 reward for information leading to Rich's July 10 death, hinting that Rich was responsible for leaking the documents.

The new theory suggests Rich, who was murdered in what looked like a botched robbery, was behind the leak.  Rich, 27, was gunned down on his way home in an affluent neighborhood of Washington D.C. last month while on the phone to his girlfriend.  He was still alive when he was found but died on his way to the hospital. Police still have no leads and are offering a $25,000 reward for information.

August 8: Real Clear Politics: Video Discussing Possible Medical Issues Related to Hillary Clinton
The 'FOX News Medical A-Team' talks about a photo that caught internet buzz over the weekend from February that showed Hillary Clinton needing the help of aides to walk up a set of stairs and reports of Clinton health problems in general.

August 8: The Daily Caller: CNN asks: Will Trump Follow Drudge's Lead and Question Hillary's Health?
On CNN Newsroom Host Carol Costello and Donald Trump supporter Jeffry Lord discussed this past weekend's banner on the Drudge Report that questioned Hillary Clinton's health.
August 8: The Morning News: Hillary Clinton's Seizures: A Bizarre Neurological Disorder?
Hillary Clinton's health condition is being questioned as the presidential campaign enters the ultimate stages.  Along with last week's perplexing "short-circuit" comment, Clinton seemed to have been projecting bizarre, erratic behavior on the campaign trail. There were uncanny signs that left some to ponder with the thought that she might be seriously ill.  There have been times when Hillary Clinton seemed to have multiple convulsions on camera that look alike seizures. According to some reports this included a series of apparent and incomprehensible coughing fits.. The video focuses on strange eye movements and overreaction to external stimuli. It talks about reports that the  former Secretary of State has difficulties standing up after giving a speech.

All of this could be related to coughing fits known as Dysphagia, another side effect of strokes, which is a condition that involves choking on liquid food.  Another eccentricity projected by the Democratic nominee is the sudden bursts of laughter, which becomes socially uncomfortable. This again may be an after effect of a stroke.
August 4: Breitbart News: Speaker Ryan Running Scared in Primary Election?  No Debates, No open press events, Declining Fox News interviews:
House Speaker Paul Ryan's policy record is collapsing among voters here under scrutiny from Republican challenger Paul Nehlen, so badly that Ryan is refusing to appear even on the Fox News Channel.  "We know Speaker Ryan, he's been on this program many, many times," Fox and Friends host Steve Doocy opened an interview with Nehlen on Thursday morning by saying. "We did invite Speaker Ryan to appear today, and he declined." 

The fact that Ryan is shunning former media allies and generally refusing interviews except with his closest friends on local radio shows how terrified he and his team are ahead of next week's primary showdown with Nehlen. No recent polling has been done on the race, so it's unclear whether Nehlen is within striking distance here on Tuesday. But Ryan's team is certainly taking nothing for granted, especially after last cycle's embarrassing loss by then House Majority Leader Eric Cantor to now Rep. Dave Brat (R-VA).
August 2: NewsMax: Clinton Strategy: Continue to Assert She Told the Truth Regardless of what is true!
Senior Clinton Strategist Joel Benenson appeared on MSNBC to refute the multiple stories — including in the left-leaning Washington Post — that accuse Clinton of continued lying about her server.  The Washington Post story accuses Clinton — and her campaign — of parsing the facts to give straight-faced assertions of being truthful.

"Clinton is cherry-picking statements by Comey to preserve her narrative about the unusual setup of a private email server," Washington Post fact-checker Glenn Kessler wrote. "This allows her to skate past the more disturbing findings of the FBI investigation."  And The
Atlantic begged Team Clinton to quit spinning lies.

July 30: Reuters:  Clinton Campaign also Hacked
A computer network used by Democratic presidential nominee Hillary Clinton's campaign was hacked as part of a broad cyber attack on Democratic political organizations, people familiar with the matter told Reuters.   The latest attack, which was disclosed on Friday, follows two other hacks on the Democratic National Committee, or DNC, and the party's fundraising committee for candidates for the U.S. House of Representatives.   A Clinton campaign spokesman said in a statement late on Friday that an analytics data program maintained by the DNC and used by the campaign and a number of other entities "was accessed as part of the DNC hack."

July 29: Politico: Trump: Hillary wants two of three debates during prime time NFL football games
Donald Trump says he wants three presidential debates. But he stands by his complaint that their scheduling is rigged to favor Hillary Clinton.   In an interview aired Sunday on ABC News' "This Week," Trump said: "Well, I'll tell you what I don't like. It's against two NFL games. I got a letter from the NFL saying, "This is ridiculous. Why are the debates against--" 'cause the NFL doesn't wanna go against the debates. 'Cause the debates are gonna be pretty massive, from what I understand, okay? And I don't think we should be against the NFL. I don't know how the dates were picked."
July 29: Fox News: Moment of Silence at Democratic Convention interrupted by Black Lives matter Jeering
A hard-won moment of silence for fallen police officers Thursday night at the Democratic National Convention was marred by chants from the crowd of "black lives matter!" in an ugly moment that angered law enforcement representatives and underscored the anti-cop climate that has gripped the nation.  After the mothers of black men who had been killed in racially charged incidents were welcomed onto the stage earlier in the week, Philadelphia's Fraternal Order of Police chapter pressed the DNC to honor fallen cops. Dallas County Sheriff Lupe Valdez was invited to speak about the five cops killed in her city July 7, and said she and her fellow officers took the job to "serve and protect, not to hate and discriminate."

July 27: News Now.com: Empty Seats Witness Hillary's Breaking the Glass Ceiling Speech:
Much like a tree falling in the woods, what if the first woman is nominated as president of the United States and nobody's there to see it?   "This is amazing. This place is empty," left-wing filmmaker Josh Fox reported Tuesday night from the Wells Fargo Center, where Hillary Clinton was officially nominated as the Democratic candidate.  The seats were vacated by Sander's supporters after Clinton cinched the nomination and after they learned of the DNC's collusion to get Hillary nominated.  But you wouldn't know it from media coverage that predictably fawned over Clinton becoming the first female nominee.


July 23: The Hill: Clinton VP Pick could face Left's Ire
The Virginia senator, chosen Friday to be Hillary Clinton's running mate, will take the stage at the Democratic National Convention in Philadelphia, where party leaders are hoping to send a message of unity — and highlight stark divisions in the Republican Party intensified by Donald Trump  — on the tails of a boisterous GOP gathering in Cleveland.  Kaine, for those purposes, is something of a gamble.  The moderate Democrat has backed abortion restrictions; supported fast-track authority for a controversial Pacific Rim trade deal; and just this week joined a push to deregulate some of the nation's largest banks — all positions that are anathema to the liberals being wooed by the Clinton team heading into November.  Raising the stakes, the convention marks the end of a bruising Democratic primary contest between Clinton and Sen. Bernie Sanders (I-VT) in which Sanders's liberal supporters continuously bashed the former secretary of State for being too conservative on some of those same issues, including trade and her ties to Wall Street.

July 23: Associated Press: Political Scandals Linger as Philly Readies for Convention
The streets are freshly swept, the hotel rooms are pristine, the party invitations have gone out and extra police patrols are assigned.  Philadelphia is ready for the Democratic National Convention.  Tougher to clean up and shine, however, is the state's political image, tarnished by recent political corruption cases that have implicated many Democrats across the state.  [Longtime Congressman convicted of money laundering; Former State Treasurer pleading guilty to attempted extortion; the Attorney General awaiting trial on charges of leaking secret grand jury material; not to mention Hillary Clinton's emails]

July 23: Breitbart.Com: Progressives May Stay Home with Kaine Selection as VP Nominee
Left-wing filmmaker Michael Moore was more than disappointed with Hillary Clinton's selection of Sen. Tim Kaine (D-VA) as her running mate, predicting Kaine would not excite the liberal base to go to the polls.  He contrasted Clinton's pick with Indiana Governor Pence, Donald Trump's running mate, who Moore predicted would excite the GOP base.

July 23: ABC News:  Sanders Campaign Chief: Someone Must Be Held Accountable for what the DNC Emails Show:
Bernie Sanders campaign manager Jeff Weaver said his team was "disappointed" by the emails from the Democratic National Committee leaked through WikiLeaks, which seemed to reveal staff in the party working to support Hillary Clinton.   "Someone does have to be held accountable," Weaver said during an interview with ABC News. "We spent 48 hours of public attention worrying about who in the [Donald] Trump campaign was going to be held responsible for the fact that some lines of Mrs. Obama's speech were taken by Mrs. Trump. Someone in the DNC needs to be held at least as accountable as the Trump campaign."

Weaver said the emails showed misconduct at the highest level of the staff within the party and that he believed there would be more emails leaked, which would "reinforce" that the party had "its fingers on the scale."   "Everybody is disappointed that much of what we felt was happening at the DNC was in fact happening, that you had in this case a clear example of the DNC taking sides and looking to place negative information into the political process.

July 23: Associated Press: Hacked Emails Show DNC Hostility toward Sanders:
A cache of more than 19,000 emails from Democratic party officials, leaked in advance of Hillary Clinton's nomination at the party's convention next week in Philadelphia, details the acrimonious split between the Democratic National Committee and Clinton's former rival, Sen. Bernie Sanders.  Several emails posted by Wikileaks on its document disclosure website show DNC officials scoffing at Sanders and his supporters and in one instance, questioning his commitment to his Jewish religion. Some emails also show DNC and White House officials mulling whether to invite guests with controversial backgrounds to Democratic party events.

July 23: The Hill: Dems vote down change to Super Delegate Rules
The Democratic Rules Committee voted down an effort to abolish the role of unbound super-delegates in the presidential primary process, dealing a blow to Senator Bernie Sanders. Many Sander's Supprters see the super-delegate system as unfair.  An amendment failed before the committee Saturday by a vote of 108-58.  The amendment received vocal support during discussion from several people who characterized the super-delegate system as "undemocratic" and contrary to the principle of "one person, one vote."
July 23: The Hill: Green Party Still open to Sanders becoming their Presidential Candidate:
Green Party presidential candidate Jill Stein once again welcomed Sen. Bernie Sanders(I-VT) into her party, suggesting in a series of tweets that he could leave the party that "betrayed" him.   "If @BernieSanders repudiates the Democratic Party that betrayed him, I'd welcome him into @GreenPartyUS to continue the revolution," Stein posted on Twitter on Saturday afternoon.   Stein's comments come in the wake of a massive leak of emails from the Democratic National Committee (DNC) this weekend that revealed party officials' plans to undermine Sanders's presidential campaign.

July 23: The Hill: Clinton to call upon Black Lives Matter at Philly Convention:
The mothers of several African-Americans killed by police or gun violence will be put in the spotlight at the Democratic National Convention. The Mothers of the Movement will put presumptive Democratic presidential nominee Hillary Clinton's embrace of the Black Lives Matter movement at center stage.

July 22: The Daily Caller:  Wikileaks Releases Nearly 20,000 Hacked DNC Email
Wikileaks has released nearly 20,000 emails it says are from the accounts of Democratic National Committee officials.  The release could cloud the upcoming Democratic party convention, which kicks off next week in Philadelphia.  It is unclear how Wikileaks obtained the records, but the release comes weeks after a hacker (or hackers) going by the name Guccifer 2.0 began releasing records obtained through the DNC's computer systems. The hacker claims to be Romanian, but many suspect that the records were taken by a team of Russian hackers.  Guccifer 2.0 has said that they obtained DNC emails. Other documents released by the hacker(s) include internal planning memos and databases of Democratic donors.
July 21: Politico:  Newt Gingrich Explains Ted Cruz Comments:
Moments after Day 3 of the Republican National Convention ended, Sean Hannity sat down with Newt Gingrich to discuss Ted Cruz getting booed off the stage for refusing to endorse Donald Trump. "I had the text of what Ted Cruz was gonna say, and I thought it was funny," Gingrich said. "I mean, Ted gets up and he says, 'Look, vote your conscience for someone who will support the Constitution.' Well, in this particular election year, that by definition cannot be for Hillary Clinton. …there's no other candidate that fits the criteria Ted Cruz set up."

July 19: The Hill: Several Democratic Senatorial Candidates to skip the convention:
When Democrats gather next week to crown Hillary Clinton as their presidential nominee, some of the party's top Senate challengers won't be there.   A handful of Senate Democratic hopefuls are planning to skip the convention because of conflicting schedules or to campaign in their home states.  Representative Kirkkpatrick (D-AZ), Cortez Masto (D-NV), Kander (D-MO), and Feingold (D-WI) who are in competitive Senate races that could determine which party controls the upper chamber next year. Democrats needs to pick up five Senate seats — four if they keep the presidency — to win the majority.

July 18: YouTube: Rudy brings down the
house at the Republian Convention in Cleveland:
On Monday, the former Mayor of New York City, Rudy
Giuliani spoke the National Republican Party Convention
and brought the house down with standing ovations. 
Speaking about the police shootings and gives some
personal glimpses into Donald Trump.  He also
addresses radical Islam and the Obama Iranian
Nuclear Deal.  [16 minute Video]
July 18: The Daily Signal:  Senate Leadership  Claims they are more productive than any year in recent history; But what are they really doing?
Majority Leader Mitch McConnell (R-KY) recently took to the Senate floor to boast that the institution was back to work.  His proof? A Washington Times report noting that the Senate has so far this year approved 73 bills that became law, compared to only 27 during the same period last year, and 53 in 2014 when the Democrats were in control.  However, the numbers don't tell the entire story.  Lacking is a measure of content and content is more important that the quantity of bills enacted.

July 17: Reuters: Shootings Heighten Security Concerns for the Cleveland GOP Convention
Republican Donald Trump seized on the shooting deaths in Baton Rouge, Louisiana, to bolster his case the United States is leaderless and he is the better candidate in the November 8th U.S. presidential election to restore law and order than his rival, Democrat Hillary Clinton. It was not immediately clear there was a link between Sunday's shootings and recent unrest countrywide over police killings of black men, one of them a shooting in Baton Rouge about two weeks ago. D espite a lack of clarity about the motive and specifics of Sunday's incident, Trump said President Barack Obama "doesn't have a clue" on how to handle the problem after Obama voiced concern about inflammatory rhetoric on the campaign trail.  "Our country is a divided crime scene, and it will only get worse!" Trump said.

July 13: The Hill: Clinton torn between Caution/Risk VP Pick
Such criticism is at the center of the most important question facing her today. Who should she pick as her running mate?  Does the presumptive Democratic presidential nominee stick to her cautious impulses and pick Virginia Sen. Tim Kaine? Or does she seek to shake up her campaign with a riskier choice, such as Massachusetts Sen. Elizabeth Warren?  Most Clintonites aren't expecting a surprise. They think she will pick Kaine.  "He checks off all the boxes," said one longtime Clinton confidante.  It's not just that Kaine would be a strong and safe surrogate for Clinton on the campaign trail, the confidante said. It's that she'll be able to work with him if she's elected, something very important to Clinton.

July 13: The Hill: Trump down to Gingrich and Pence for VP
Newt Gingrich on Wednesday said Donald Trump's field of possible running mates is down to two people.   "He clearly, I think, is down to two," Gingrich said on Fox News's "Hannity," predicting the choice is now between himself and Indiana Gov. Mike Pence, knocking out other contenders like New Jersey Gov. Chris Christie and Alabama Sen. Jeff Sessions. "Mike Pence is a great personal friend," Gingrich said. "We've worked together on many projects over the years. He had a fine career in the U.S. House and ended up as the fourth-ranking Republican in the House. He's done a fine job and been a very good governor of Indiana."
July 11: The Washington Post:  In Bashing Trump Ginsberg Crossed a very important line
Generally you don't hear a Supreme Court justice bashing political figures.  In fact, you generally don't hear a Supreme Court justice talking at all — much less about the big political issues of the day.  Most justices aren't Ruth Bader Ginsburg, though. And in a new New York Times interview,  Ginsburg didn't hold back when it comes to the 2016 election.  "I can't imagine what this place would be — I can't imagine what the country would be — with Donald Trump as our president," Ginsburg told the Times' Adam Liptak. "For the country, it could be four years. For the court, it could be — I don't even want to contemplate that."

Ginsburg is known for pushing the bounds of a justice's public comments and has earned something of a cult following on the left. But some say she just went too far.  "I find it baffling actually that she says these things," said Arthur Hellman, a law professor at the University of Pittsburgh. "She must know that she shouldn't be. However tempted she might be, she shouldn't be doing it."

July 9: The Hill: GOP Senator: Outrageous for Dems for blocking "Sanctuary Cities" bill:
Sen. Pat Toomey (R-PA) said the Senate Democrats' blocking of his "sanctuary cities" bill is "just outrageous." Toomey vowed to keep fighting for the passage of the bill that would limit federal grant funding for cities that don't comply with federal immigration law.  "Well, this week the Senate tried to take action on my legislation and indeed it was supported by a bipartisan majority, but unfortunately, a minority of the U.S. Senate — led by Minority Leader Harry Reid — blocked us from even debating the bill," Toomey said. "It's just outrageous and this must not stand. The safety of the American people is too important...to allow sanctuary cities to remain, and this is why I will continue fighting to protect our communities."  Senators voted 53-44 on the bill Wednesday. Sixty votes were needed to overcome the procedural hurdle and formally start debate on the measure.

July 9: The Hill: Green Party Offers Sanders a Presidential Ticket
Green Party presidential candidate Jill Stein says Bernie Sanders can run for president on her party's ticket if he wants.  "I've invited Bernie to sit down explore collaboration — everything is on the table," she told the Guardian Friday. "If he saw that you can't have a revolutionary campaign in a counter-revolutionary party, he'd be welcomed to the Green party. He could lead the ticket and build a political movement." Stein said she emailed Sanders about the offer but never received a response.

July 8: Breitbart.com: Hillary Blames Whites for Deaths of Dallas Police Officers:
Hillary Clinton used a CNN interview to completely embrace the Democrats' claim that white people and cops must change to help reduce the number of exchanges with police. "I will call for white people, like myself, to put ourselves in the shoes of those African-American families who fear every time their children go somewhere, who have to have 'The Talk,' about, you now, how to really protect themselves [from police], when they're the ones who should be expecting protection from encounters with police," Clinton told CNN's Wolf Blitzer.  "I'm going to be talking to white people, we're the ones who have to start listening to the legitimate cries coming from our African-American fellow citizens," she said.

July 8: CNN: Obama says U.S. "not as divided as some have suggested"
Frankly acknowledging a "tough week" in the United States after anxious days of shootings and racial tensions, President Barack Obama said Saturday that he did not believe the United States was "as divided as some have suggested." "There is sorrow, there is anger, there is confusion about next steps," Obama said during a news conference in Poland. "But there's unity in recognizing that this is not how we want our communities to operate. This is not who we want to be as Americans."
July 8: The Washington Examiner: Ginsburg: Everything on the Table if Trump Wins
Supreme Court Justice Ruth Bader Ginsburg believes "everything" will be up for grabs if Donald Trump is elected president and has the opportunity to appoint several justices to the high Court.  "I don't want to think about that possibility, but if it should be, then everything is up for grabs," Ginsburg said of the presumptive Republican nominee succeeding in his bid for the White House in an interview published Friday by the AP. 

The 83-year-old justice, who belongs to the court's liberal wing, said it's "likely that the next president, whoever she will be, will have a few appointments to make." Ginsburg is the oldest of the eight justices currently on the bench, while two of her colleagues – Anthony Kennedy and Stephen Breyer – are closing in on 80.
July 5: The Daily Signal:  Confused Over who has the Majority in Congress?  You're not alone!
In 2014, Republicans won a majority in Senate. However, if you've been watching the Senate lately, you'd be forgiven for wondering who is actually in charge.  Democrats demand—and receive—amendment votes, while Republican amendments are stifled. Appropriations bills, ostensibly written by Republicans, come to the floor lacking any GOP priorities, while conservative efforts to amend the bill are set up to fail.  
June 30: The Guardian: A Female Prime Minister?
Theresa May has launched her bid for the Conservative leadership, pledging that "Brexit means Brexit" and that there would be no general election before 2020.  The home secretary, who campaigned to remain in the EU, positioned herself as the candidate of stability and experience.  Asked for her pitch, she said: "I'm  Thersa May and I'm the best person to be prime minister."  The event was electrified by Michael Gove's surprise announcement just minutes before she stood up that he would run for the leadership because, he said, Boris Johnson was not a suitable candidate.
June 29:  The Daily Caller:  Bill Clinton meets Privately with Attorney General Lynch;
Case against Hillary discussed?
Attorney General Loretta Lynch met with former President Bill Clinton for a half-hour on her government airplane at the Phoenix airport on Tuesday, an Arizona news station is reporting.  The unannounced meeting, which comes as Lynch's Justice Department is investigating the handling of classified information on Hillary Clinton's private email server, came to light only when Phoenix's ABC15 TV station asked Lynch about it during a press conference.  The Obama appointee told the TV station that she and Clinton did not discuss the investigation or any other government business. Instead, she says they talked about Clinton's grandchildren and golf. 

"I did see President Clinton at the Phoenix airport," she told ABC15.  ABC15 reported that the meeting on board Lynch's plane lasted about 30 minutes. The FBI is conducting the email server investigation. Investigators are said to be near the end of their investigation. FBI director James Comey will make a recommendation to Lynch on whether to press charges against Clinton or any of her aides at the end of its probe.

June 29: The Washington Examiner:  Federal Election Commission Moves to
Punish Conservative Media – it was stopped
Finally making good on long-harbored anger at conservative media, Democrats on the FEC voted in secret to punish Fox News' sponsorship of a Republican presidential debate, using an obscure law to charge the network with helping those on stage.  It is the first time in history that members of the FEC voted to punish a media outlet's debate sponsorship, and it follows several years of Democratic threats against conservative media and websites like the Drudge Report.  The punishment, however, was blocked by all three Republicans on the commission, resulting in a 3-3 tie vote and no action.
June 7: Associated Press: Sanders "disappointed" that AP called the campaign
Bernie Sanders said Tuesday he was "really disappointed" and "upset" that The Associated Press declared rival Hillary Clinton the presumptive Democratic nominee on the eve of primary elections in six states, adding a somewhat muted voice to the outrage expressed by many of his supporters.

In an interview with NBC News, Sanders expressed concern that the news of Clinton's victory came the night before "the largest primary" and that it was based on what he described as "anonymous" commitments from super-delegates — the party insiders and Democratic officials who can vote for the candidate of their choice at the summer convention.

"They got on the phone as I understand it, and started hounding super-delegates to tell them in an anonymous way who they were voting for. The night before the largest primary, biggest primary in the whole process, they make this announcement," he said. "So I was really disappointed in what The AP did."
The AP's delegate count is based on pledged delegates won in primaries and caucuses, as well as a survey of super-delegates. The AP only included super-delegates in its tally if they said they would unequivocally vote for Clinton or Sanders at the convention.

June 7: The Gateway Pundit:  Clinton Caught Colluding with AP for Announcement prior to California Primary:
On Monday night – the day before California's primary election – the Associated Press announced Hillary Clinton had finally secured enough delegates to win the Democratic Party nomination.  But now there is evidence that this announcement the night before the nation's largest primary was planned days in advance.

June 6: Politico:  Sanders: Not so quick! Condemns Rush to Judgment on Clinton Nomination
Bernie Sanders' campaign on Monday evening condemned the media for its "rush to judgment" in declaring Hillary Clinton the Democratic presidential nominee, saying super-delegates should not be automatically counted.  "It is unfortunate that the media, in a rush to judgment, are ignoring the Democratic National Committee's clear statement that it is wrong to count the votes of super-delegates before they actually vote at the convention this summer," Sanders' spokesman Michael Briggs said.

The statement came after The Associated Press declared that Clinton had secured enough support to cross the threshold of 2,383 delegates needed to clinch the Democratic nomination.  Sanders has been adamant in recent days that he is ready to fight all the way to the Democratic National Convention in July, and that he will try to flip super-delegates to clinch the nomination.
June 5: The Hill: Sanders Slams Hillary for taking millions
from foreign dictators while serving as Secretary of State:
Democratic presidential hopeful Bernie Sanders criticized the Clinton Foundation for accepting donations from foreign governments in an interview aired Sunday, calling it a conflict of interest.   "Do I have a problem when a sitting secretary of State and a foundation run by her husband collects many, many dollars from foreign governments — governments which are dictatorships?  "Yeah, I do have a problem with that. Yeah, I do," Sanders said on CNN's "State of the Union."   When host Jake Tapper asked if he thought it was a conflict of interest, Sanders said, "I do."
June 1: The Independent Journal: Ryan Decides to Support Trump for President:
Just as Hillary Clinton started giving a major anti-Trump speech on Thursday, news broke that Ryan had made his decision.  Ryan penned a column for the The Janesville Gazette, listing the various topics he has discussed with the presumptive GOP nominee.  At the end of the column, Ryan assured readers that he will indeed be supporting Trump in November.

May 31: The New York Post: Hillary's Long Record of Lying; Keeping the Public in the Dark:
The last time she lived in the White House, Hillary Clinton was in charge of a health care task force that met in secret under a veil of lies. That episode highlighted the haughtiness, deceit and disdain for transparency that continue to cause trouble for the presumptive Democratic presidential nominee, as illustrated by the recent inspector general's report on her email practices as secretary of state.

May 31: The Wall Street Journal: Hillary Clinton may not be the Democratic Party Nominee
There is now more than a theoretical chance that Hillary may not be the Democratic nominee for president.  How could that happen, given that her nomination has been considered a sure thing by virtually everyone in the media and in the party itself? Consider the possibilities.  The inevitability behind Mrs. Clinton's nomination will be in large measure eviscerated if she loses the June 7 California primary to Bernie Sanders. That could well happen.  Another problem: In recent weeks the perception that Mrs. Clinton would be the strongest candidate against Trump has evaporated. The Real Clear Politics polling average has Mrs. Clinton in a statistical tie with Mr. Trump, and recent surveys from ABC News/Washington Post and Fox News show her two and three points behind him, respectively.

May 31: The Daily Caller:  20,000 Committed to Protest Hillary at Philadelphia Democratic Convention:
More than twenty thousand people have committed to protest Hillary Clinton's likely nomination at the Democratic National Convention in Philadelphia — and that number is quickly growing.  The protesters are united in their support for Bernie Sanders, as well as their opposition to "a fraudulent Hillary nomination," according to the group's Website.  Protesters are encouraged to read documents one of which is titled "Civil Disobedience Training." Another is titled "Health and Safety at Militant Actions" and includes tips on first-aid and withstanding tear gas.
May 26: The Daily Signal: Over 40 Republicans to Ratify the Obama Transgender Executive Order
There was one Republican from Texas who joined the Democrats in the state's Congressional Delegation who supported the Maloney Amendment to the energy and water spending bill.   Whereas last week Congress voted to reject this proposal,  last night they voted to ratify Obama's 2014 executive order barring federal contractors from what it describes as "discrimination" on the basis of "sexual orientation and gender identity" in their private employment policies.  And, of course, "discrimination" on the basis of "gender identity" can be something as simple as having a bathroom policy based on biological sex, not gender identity. 
May 22: NewsMax: Surprise: Washington State GOP Supports Cruz!
Despite his overwhelming position as the presumptive Republican presidential nominee, Trump is still facing some pockets of resistance.  On Saturday, the Washington State GOP's convention awarded 40 out of 41 elected delegate slots to Texas Senator Ted Cruz who formally suspended his campaign several weeks ago.  Regardless of the convention vote the delegates are bound by party rules to cast national convention ballots based upon Tuesday's primary results.  
May 21: The Hill: Dems Promise to Target House Republicans for LGBT Vote
Democrats are vowing to target House Republicans in tough reelection races who allegedly switched their votes to ensure a measure to prevent discrimination against the LGBT community wouldn't pass.  Democrats see the vote-switching as a prime way to counter those Republicans' claims of independence from their leadership and paint them as hiding their actions from the public.

Members of the House GOP leadership lobbied multiple Republicans to change their votes when an amendment authored by Rep. Sean Patrick Maloney (D-N.Y.) had enough support to pass on Thursday. The night before, the House had passed the annual defense authorization with a provision that effectively exempts religious organizations from an executive order President Obama issued in 2014 that prohibits federal contractors from discriminating on the basis of sexual orientation or gender identity. Maloney's amendment to a spending bill for the Department of Veterans' Affairs (VA) would have prohibited the use of funds that don't comply with Obama's executive order.  Republicans held the vote open for seven minutes so that GOP leaders could persuade enough of their members to change votes and ensure it failed by a single vote, 212-213.
May 21: The New York Times: Hillary's the Nominee, Really?
She should have been able to finally savor shattering that "highest, hardest glass ceiling" — the one she gloried in putting 18 million cracks in last time around — when she attends her convention in Philadelphia in July.  Instead, she is reduced to stomping her feet on CNN, asserting her dominance in a contest that has left her looking anything but dominant. Once more attempting to shake off the old socialist dude hammering her with a sickle, Clinton insisted to Chris Cuomo on Thursday: "I will be the nominee for my party, Chris. That is already done, in effect. There is no way that I won't be." 

It's a vexing time for the Clintons. As Bill told a crowd in Fargo, N.D., on Friday, it's been an "interesting" year: "That's the most neutral word I can think of." After all, why should Bernie Sanders get to be the Democratic nominee when he isn't even a Democrat? And how is Donald Trump going to be the Republican nominee when he considers being a Republican merely a starting bid?
May 5: The Daily Caller:  Donate to Clinton Foundation, Businessmen Get out of Iranian
Just before an Iranian-American businessman was freed from jail in Iran in Oct. 2010, his son met with Bill Clinton and also made the first of what would become more than $1 million in donations to the Clinton Foundation.  Sources tell The Daily Caller that Nima Taghavi, who owns businesses in California, grew impatient in 2010 with negotiations to secure his father Reza's release from an Iranian prison, and so he turned to the former president for help.  The elder Taghavi was detained in May 2008 during a trip to the Islamic regime and accused of financing terrorist activity after he gave $200 to an Iranian man who turned out to have ties to a terrorist group suspected in a mosque bombing in Shiraz. Taghavi, who was 69 years old when arrested, said he was only doing a favor for his friend in the U.S. and had no idea that the man who would receive the money was involved in terrorism.
April 28: NewsMax: Limbaugh: Boehner's Derogatory Remarks about Cruz are a great endorsement!
Rush Limbaugh says John Boehner's slap at Ted Cruz as "Lucifer in the flesh" is the "best endorsement" the Texas senator could hope for as he attempts to kick-start his stalled campaign for the GOP presidential nomination.  "Ted Cruz just got the best endorsement he could ever get. He could not have gotten a better endorsement than he got out of John Boehner," the conservative talk-show host said on his radio program on Thursday.  Boehner, who's had a long running feud with Cruz, went ballistic when asked about him during a chat with government and history students at Stanford University.
April 28: Business Insider: Cruz: Boehner allowed his inner trump to come out!
Senator Cruz fired back on Thursday to former Speaker John Boehner's  disparaging remarks at Stanford University.  The Presidential hopeful said he had no previous working relationship with the Speaker. "The truth of the matter is I don't know the man" Cruz said adding he'd be surprised if he said more than 50 words to him over the years.  "I've met the man two or three times" Cruz said and most of his conversations where interchanges like "Good to see you, Mr. Speaker" and that was all.
April 21: The Daily Signal: ESPN has the right to fire Shilling, but what rights to people of faith have?
ESPN has the right to fire Curt Schilling because of his view that  biological men don't belong in women's bathrooms.  It also has the right to recognize Caitlyn Jenner for being a man who publically identifying as a woman. The bigger issue is that any company a right to control its message, which means it should be generally free to make employment decisions based on its values.  The same is true for religious institutions, only more so. So shouldn't the same principles that apply to ESPN also apply to bakers, florists, and photographers who have certain beliefs about marriage – that marriage is to be a union between a husband (a man) and wife (a woman)?   Isn't it true that the Government should not be in the business of forcing ESPN or people of faith to take actions that are contrary to their core beliefs?
April 20: The Independent Journal: Trump Wins NY but Must Have Been Heartbroken over these results:
GOP delegate frontrunner Donald Trump had one of his biggest nights of the Republican primary on Tuesday, winning 60.5% of the vote in New York state and at least 89 of the 95 delegates up for grabs.  Incidentally, the one place where the billionaire businessman did not win might carry a rather personal sting.

Unofficial results show that Ohio Governor John Kasich beat Trump in New York County (Manhattan), the state's third most-populous county and the one where he has lived nearly all of his life.   A further look at the Congressional districts that make up New York County, however, prove to be even more disappointing for Trump – as they show that he came in second place, albeit it by just a handful of votes, to Kasich in New York's 12th Congressional District which includes the Upper East Side where the Trump Tower is located.

April 17: The Hill: RNC: No changes likely to delegate requirements:
Republican National Committee Chair Priebus said Sunday the GOP isn't likely to change a rule that requires candidates to have 1,237 delegates to clinch the GOP presidential nomination.  "Having a plurality of the delegates means the field has the majority. You have to have the majority, it's the United States of America," he said.  "The majority rules, and that is an American concept I can't imagine us turning our backs on."

GOP presidential front-runner Trump has said repeatedly that he should receive the party's nomination if he has more delegates than his opponents, even if he hasn't reached 1,237.  In other words he, Trump, wants to change the rules to favor himself.  He has ramped up his attacks against the RNC in the past week, accusing party officials of "canceling the vote" in Colorado, which had a convention to award delegates instead of a primary of caucus.

April 17: Fox News: Trump's Campaign Manager dismisses criticism that the Trump camp failed to understand delegate rules issued before their campaign began
Donald Trump campaign manager Corey Lewandowski dismissed criticism, Sunday, about his team failing to understand GOP delegate rules and declared his candidate the party's "presumptive nominee."  He said the Trump campaign indeed comprehends the rules -- which vary among states and sometimes apply to conventions, not primaries or caucuses but nevertheless, thinks the rules are not always fair. In order to win the nomination outright a candidate needs to garner the votes from 1,237 delegates, something Trump's two challengers are attempting to deny him.
April 9: Politico: Trump Getting Trounced In Indiana and the votes haven't been counted yet!
Indiana hasn't cast its ballots for president yet, but Donald Trump is already losing.  Republican Party in the state will select 27 delegates to the national convention on Saturday, and Trump is assured to be nearly shut out of support, according to interviews with a dozen party leaders and officials involved in the delegate selection process. Anti-Trump sentiment runs hot among GOP in Indiana, and it's driving a virulent rejection of the mogul among likely delegates.

April 9: The Hill:  Sanders Extends Winning Streak with Votes in Wyoming:
Democratic presidential candidate Bernie Sanders has won the Wyoming caucuses, giving him eight wins in the last nine contests.  Sanders won 56% of the vote but he and Hillary will split the state's 14 delegates down the middle.  Even so, this give Sanders another jolt of momentum heading into the critical New York primary on April 19th.
April 8: NewsMax.Com: Cruz Adds Colorado Delegates in his march to the goal
Sen. Ted Cruz continued his Colorado winning streak Friday, locking up the support of 21 total delegates to the Republican National Convention, representing a majority of the delegates Colorado will send to Cleveland in July. Slates loyal to Cruz won every assembly in Colorado's seven congressional districts, which began April 2 and culminated Friday with 12 delegates selected. The Texas senator is well-positioned to pad his total Saturday, when 13 more delegates will be chosen at Colorado Republicans' state convention.  Of Cruz's delegates, only 17 were formally pledged to him, and in theory the other four could change their vote in Cleveland. But they were all included on the senator's slates and are largely state party officials who said they were barred from signing a formal pledge for Cruz but have promised to back him in balloting at the convention.
The result shows how Cruz's superior organization has helped him as he tries to catch up with front-runner Donald Trump. While Cruz's campaign spent months recruiting slates of delegates and securing pledges, Trump only this week hired a Colorado state director. Two candidates Trump's campaign told backers to support in one district were not even on the ballot.   The Trump campaign said it wasn't worried and had always expected to fare poorly in Colorado because its assembly process is dominated by party insiders. "If we had a primary, yes, we would have done very well here," said Trump senior adviser Alan Cobb.  "Cruz also appeals to Colorado Republican activists who dominate party functions, a deeply conservative, religious crowd with a libertarian streak."
April 5: Politico: Trump Campaign in Disaray?
Donald Trump's campaign is increasingly falling into disarray as the Manhattan billionaire braces for a loss in Wisconsin that could set him on course for an uncertain convention floor fight for the Republican presidential nomination.  Since March, the campaign has been laying off field staff en masse around the country and has dismantled much of what existed of its organizations in general-election battlegrounds, including Florida and Ohio.  Last month, the campaign laid off the leader of its data team, who did not train a successor.

April 2: Associated Press: Clinton's Frustration Drags On
Hillary Clinton snapped at a Greenpeace protester. She linked Bernie Sanders and tea party Republicans. And she bristled with anger when nearly two dozen Sanders supporters marched out of an event near her home outside New York City, shouting "if she wins, we lose." After a year of campaigning, months of debates and 35 primary elections, Sanders is finally getting under Clinton's skin in the Democratic presidential race.

Clinton has spent weeks largely ignoring Sanders and trying to focus on Republican front-runner Donald Trump. Now, after several primary losses and with a tough fight in New York on the horizon, Clinton is showing flashes of frustration with the Vermont senator — irritation that could undermine her efforts to unite the party around her candidacy.  According to Democrats close to Hillary and former President Bill Clinton, both are frustrated by Sanders' ability to cast himself as above politics-as-usual even while firing off what they consider to be misleading attacks. The Clintons are even more annoyed that Sanders' approach seems to be rallying — and keeping — young voters by his side.

March 29: Newsmax: Trump Campaign Manager arrested for battery against a member of the press
Republican presidential candidate Donald Trump's campaign manager has been charged in Florida on Tuesday with simple battery, police records show.  The report from the Jupiter Police Department said Corey Lewandowski, 42, was charged for intentionally grabbing and bruising the arm of Michelle Fields, a reporter at the time for the conservative news outlet Breitbart, against her will at a Trump campaign event on March 8.  "He was arrested this morning and released with a notice to appear," Adam Brown, a spokesman for police in the town in Jupiter said.

March 27: ABC News: Bernie Sweeps three states in a rout of Clinton:
Bernie Sanders did not just win all three states that voted this weekend -- Washington, Alaska and Hawaii -- he won them by overwhelming, impressive margins. The presidential hopeful won every county in Washington, and some of his biggest victory margins came from the state's most rural and traditionally conservative areas. The win will likely mean a fundraising boost for the small-donor driven campaign. Sanders does not have a super PAC and instead has enjoyed injections of cash from his fans after big wins or important nights in the election calendar. According to the campaign, supporters from Washington State already give to his cause at disproportionately high rates, so these wins will likely produce another windfall.
March 27: CNN Politics: Trump Threatens another Law Suit over Delegate Rules
Trump won the Louisiana primary by 3.6% but Cruz may end up getting more delegates as Rubio bows out of the race.  Cruz is also making gains with the five undeclared delegates. Trump is crying foul and is threatening to file a lawsuit.   Even these small number of delegates could be important for Cruz as he tries to overcome Trump's 280 delegate lead.
March 25: The Hill: Ted Cruz Could Gain in Louisiana After Loss there to Trump
Presidential candidate Ted Cruz (R-TX) could end up with ten more delegates from Louisiana then rival Donald Trump despite Trump winning by less than four points. Both got 18 delegates from the March 5th primary but  Cruz is likely to pick up five delegates left behind when Marco Rubio ended his campaign and these can support whomever they want.  Meanwhile Cruz has picked up some important positions on the convention's rules committee.
March 20: Fox News: Speaker Ryan Gets Task of Leading the Unpredictable GOP Convention in Cleveland
All GOP House Speaker Paul Ryan wanted to do was lead the chamber's Ways and Means Committee -- toil over the minutia of tax policy including inversions, corporate tax rate and arcane provisions in international trade agreements.   But the universe often stores very different plans for all of us, drafting us for roles we didn't pursue.

The speaker's position entails a moonlighting gig as chairman of the 2016 Republican Convention. And that convocation, in Cleveland, could prove to be the most-rambunctious American political event in decades.  Ryan said repeatedly he didn't learn that the speaker leads the convention until "a week" after he assumed his current assignment.  So much for reading the fine print.

March 20: The Daily Caller: Obama's Court Nominee Shows anti-military Bent
Supreme Court nominee Merrick Garland is facing allegations he is hostile to the military, after The Boston Globe unearthed details of his involvement with an anti-military effort during his days at Harvard University.  In 1973, Garland was a member of Harvard's Committee on Housing and Undergraduate Life (CHUL), a student government body, which was preparing to hold a vote on whether to allow ROTC back on campus. [Harvard had banned ROTC in 1970 over opposition to the Vietnam War. ]  The vote never took place because the issue was taken off the table by the school's administration.  The Judge's personal feelings are unclear but it is clear he was prepared to go forward with the vote that would have continued the ban.

March 16: The Washington Times:  Supreme Court Nominee is "very liberal" in his views on Gun Control
President Obama tried to tap a moderate to fill the seat of the late Supreme Court Justice Antonin Scalia, but he ended up picking a fight with powerful Second Amendment groups that say Judge Merrick Garland has shown antipathy toward gun rights.  In one 2000 case, Judge Garland, who sits on the U.S. Circuit Court of Appeals for the District of Columbia, upheld a Clinton administration effort to store gun-buyers' records.  Later in the decade, he joined other judges in a failed bid to reconsider the landmark case that would eventually establish the Second Amendment's protection of a personal right to bear arms.

March 14: PBS.org: Trump's Violent Rhetoric
Republican presidential front-runner Donald Trump mused aloud about his feelings toward a heckler in Nevada: "He's walking out like big high-fives, smiling, laughing. I'd like to punch him in the face," he said to a roar of approval from the crowd.  Then last week, one of his supporters allegedly did just that. John McGraw was charged for sucker-punching a black protester in the face at a rally in Fayetteville, N.C. McGraw was later shown in a video saying that the best part of the rally was "knocking the hell out of that big mouth." He added that if he saw the protester again, "we might have to kill him."

March 13: The Wall Street Journal:  Trouble in Chicago – The Trump Rally
Donald Trump said Sunday that the unrest witnessed at recent campaign events is a result of planted protesters, but also shows voters' anger. Mr. Trump, appearing on Fox News Sunday, repeatedly said no one at his rallies has been hurt. Uhnewju4 Fox showed videos of combatants yelling, pushing and swinging at each other at recent Trump events. Secret Service agents surrounded Mr. Trump on Saturday during a disturbance at an Ohio rally. On Friday, the Trump campaign canceled a Chicago event due to concerns about violence.
March 8: Breitbart: Paula Jones: The Truth about Bill Clinton's affairs would destroy Hillary Clinton's Political Career
Paula Jones who had an affair with Bill Clinton made the statement in a recent interview that the truth about Bill's affairs would destroy Hillary's political career!   She was asked whether she believes female voters should be concerned about the allegations that Hillary was complicit in covering up her husband's ill treatment of women, including Jones herself.  Think about if you were in my shoes and this happened to you. And the governor or whoever it was had a wife and then they're running for public office but all that time when that was going on, the scandal and all of these women that were coming out and all of the stuff that my lawyers, investigators had dug up with other women that said the same thing. Plus, him actually doing it actually in the White House while he was the sitting president with Monica Lewinsky.  Wouldn't you think Hillary would want to get to the bottom of this, she asked.
But she never has come to any of these women to see if her husband did what he did to them, Jones said. And you know she doesn't want to. Because she knows it's true.  If she is supposedly fighting for women's rights, how does this line up with how she dealt with her abusive husband?   "The nerve to run for the presidency of the United States and run for all women and to be for all women" Jones concluded. 


March 8: Daily News: Chuck Norris to Campaign for Ted Cruz
75-year-old actor, Chuck Norris, is set to appear at a rally in Concord for the Republican front-runner, along with Glenn Beck and retired Army Lt. Gen. Jerry Boykin.

March 6: Yahoo News: Clinton Calls for Michigan Governor's Resignation
For the first time, Hillary Clinton called for the resignation of Michigan Gov. Rick Snyder during the Democratic debate Sunday night. "The governor should resign or be recalled," Clinton said, staking out a bolder claim on the issue.  Sanders made the call for Snyder's resignation in January and again at the debate, before Clinton was asked about Flint.

Clinton has made the Flint lead crisis a centerpiece of her campaign, and has repeatedly criticized the Republican governor for his role in the disaster. The governor responded to both Clinton and Sanders on Twitter. "This was never about money. This was a failure of government at all levels that could be described as a massive error of bureaucracy,"

March 6: Detroit Free Press: Flint Michigan Water Issue: Fact Checking:
Claim: "It is raining lead in Flint and the state is derelict in not coming forward in not coming forward with the money that is required."
Assessment: The amount of money made available to address the problem may be debated but the state legislature at the Governor's request has approved $67.4 million so far and the Governor has requested an additional $165 million. Clinton is correct the Rainy Day Fund has not yet been tapped.

Claim: The governor of Michigan has been derelict in a failure to respond quickly. 
Assessment:  Most experts agree that the main reason the lead contamination happened is because the Michigan Department of Environmental Quality and officials in the Flint Water Treatment Plant failed to add needed corrosion control chemicals to the Flint River water. There is no evidence that Snyder played any part in the decision to not add corrosion control chemicals to the water, or that he was even aware of it.  And when he learned of the issue he sought funding from the Legislature to help address the problem.

March 5: Bloomberg Politics: Trump still leads but Cruz is close behind.
Donald Trump and Ted Cruz got a split decision from Republican voters in four states Saturday that didn't dramatically change the nomination race but did expose unrest among party conservatives who want an alternative to the celebrity real estate mogul as their presidential nominee.  Trump: Wins Louisana by 3 points and Kentucky by 4.  Cruz: Won Kansas by 25 points and Maine by 13.

Hillary Clinton, meanwhile, scored an overwhelming win over Bernie Sanders in Louisiana's delegate-rich primary that lets her maintain a solid lead for the Democratic nomination even as the Vermont senator won caucuses in Kansas and Nebraska.

February 27: The Hill:  McConnell to Senators: Run against Trump if he gets the nomination
Senate Majority Leader Mitch McConnell (R-KY) is advising vulnerable Republican senators to break with Donald Trump if he wins the GOP nomination, according to a bombshell New York Times report Saturday.  McConnell has reportedly advised Republicans that they can run ads against Trump to create separation from the polarizing GOP frontrunner if they believe it can help their reelection efforts.  The majority leader is also preparing to pitch the Senate as a necessary check to an inevitable Hillary  Clinton presidency if Trump is the GOP's nominee, according to the Times.  Republicans risk losing their 54-46 Senate majority with several vulnerable incumbents up for re-election this year. Republican analysts and pollsters have predicted dire consequences for Republican legislators if Trump wins the GOP nomination, stifling their re-election chances.

Republican senators including McConnell have lashed out privately against 2016 candidate John Kasich's continued presence, arguing his "intransigence" is blocking Republicans from uniting behind an anti-Trump," according to the Times.  Trump has won three of the four first presidential primaries and leads in most states voting on Super Tuesday, which could virtually cement his lead.

February  20: The Hill: Rubio: Now it's a three man race
Marco Rubio declared Saturday night that the Republican presidential contest is now a "three-person race." 
Rubio is battling with Ted Cruz to finish second in the South Carolina primary, with votes still being counted late Saturday night. 

"After tonight, this has become a three-person race, and we will win the nomination," Rubio told a cheering, screaming crowd. Rubio also gave his best wishes to his former mentor in Florida politics, Jeb Bush, who quit the GOP race after finishing in single digits in South Carolina.  "I pray for [Bush] and his family tonight as they move forward in other endeavors in their life," he said.  "Jeb Bush has many things to be proud of," Rubio added. "He is an extraordinary husband, he is an extraordinary father, he was the greatest governor in the history of Florida."

February 20: The Hill:  Jeb Bush Ends White House Bid
Jeb Bush is ending his bid for the White House after a disappointing finish in South Carolina's primary.  Bush is in fourth place, well behind Donald Trump, Marco Rubio and Ted Cruz.  He announced to supporters that he would suspend his campaign in at-times emotional remarks from his headquarters in South Carolina.  Bush failed to finish any higher than fourth place in early GOP contests despite a campaign backed by outside groups spending millions on his behalf.

February 18: The Daily Caller: Hillary Refuses to say she ever lied!
Hillary Clinton refuses to definitively say whether or not she has ever lied to the American people. During a Thursday interview with CBS's Scott Pelley, Clinton said, "I don't will believe I ever had of have" lied to the American people. Pelley began by asking Clinton, "You know in '76, Jimmy Carter famously said, 'I will not lie to you.'"  "Well, I will tell you, I have tried in every way I know how, literally from my years as a young lawyer, all the way through my time as Secretary of State to level with the American people," Clinton claimed.

Pelley replied, "You talk about leveling with the American people. Have you always told the truth?"  "I've have always tried to, always, always," Clinton suggested.  "Some people are going to call that wiggle room that you just gave yourself 'always, always tried to,'" Pelley said. "I mean, Jimmy Carter said, I will never lie to you."  Disagreeing with Pelley's claim, Clinton replied, "You know, you're asking me to say, 'Have I ever?' I don't I ever have. I don't will believe I ever have. I don't believe I ever will. I'm going to do the best I can to level with the American people."
According to the latest Quinnipiac University poll, voters say Clinton is not honest and trustworthy by a two to one ratio.

February 17: Fox News: Cruz Tops Trump in New National Poll
Donald Trump has been knocked from his perch atop the GOP presidential primary field by Sen. Ted Cruz, according to a new national NBC News/Wall Street Journal poll released Wednesday evening.  The poll showed Sen. Cruz of Texas leading the New York businessman by two percentage points, 28-26, among Republican primary voters. Cruz' lead is within the poll's 4.9 percent margin of error.

Florida Sen. Marco Rubio came in third, garnering 17 percent, followed by Ohio Gov. John Kasich, Dr. Ben Carson and former Florida Gov. Jeb Bush. The survey was conducted following Saturday's debate in South Carolina.  The NBC/Wall Street Journal poll's results contradict a Qunnipiac survey released earlier Wednesday that showed Trump lapping the rest of the Republican field with 39 percent compared to second-place candidate Marco Rubio's 19 percent.

February 17: The Hill: Obama regrets leading 2006 filibuster of Supreme Court Nominee:
President Obama "regrets" filibustering the nomination of Supreme Court Justice Samuel Alito in 2006, his top spokesman said Wednesday, though he maintains that the Republican opposition to his effort to replace Justice Antonin Scalia is unprecedented. Obama and the Democratic senators who joined him in filibustering Alito "should have been in the position where they were making a public case" against the merits of his nomination to the high court instead, Earnest said.  "They shouldn't have looked for a way to just throw sand in the gears of the process," he added.

As a senator from Illinois, Obama and 23 other senators attempted to stage a filibuster to block a confirmation vote on Alito, one of former President George W. Bush's picks to serve on the bench. The filibuster bid failed and Alito was confirmed.

February 17: Fox News: Cruz to Trump: Go ahead and sue me!
Ted Cruz is daring Donald Trump to sue him over an ad running in South Carolina that questions his record on abortion, rejecting the billionaire businessman's complaints and vowing instead to run the ad "more frequently" because voters "deserve to know the truth."   "You have been threatening frivolous lawsuits for your entire adult life," Cruz said Wednesday. "Even in the annals of frivolous lawsuits, this takes the cake."  The Cruz campaign adamantly defended the ad after the Trump campaign sent a cease-and-desist letter demanding the campaign stop running it. Trump earlier this week also threatened to sue the Canada-born Cruz over his eligibility to run if he does not "take down his false ads and retract his lies."

February 12: The Daily Caller: Look Who Hillary Clinton Has Hired:
Presidential candidate former Secretary of State Hillary Clinton's campaign has expanded its team by bringing on a writer whose has previously written that those accused of sexual assault should automatically be treated as guilty, regardless of the actual evidence brought against them.
Late Thursday, news emerged Clinton's presidential campaign hired writer and political analyst Zerlina Maxwell. Maxwell is intended to help the campaign with its digital outreach efforts on issues like feminism and gender equality.

February 12: The Daily Caller: Jesse Jackson: Bernie Fought Back in Chicago During Civil Rights Movement:
Rainbow Push Coalition president Jesse Jackson said Friday that Sen. Bernie Sanders was active in the Civil Rights movement in Chicago.  "Bernie was fighting back in Chicago not in the deep-south — in affordable housing struggles in Chicago. The movement was so broad based. There were civil rights leaders in Chicago," Rev. Jackson said, confirming it might be too quick to dismiss Sanders' activist background.

February 1: Fox News: Cruz takes Iowa with 28% of the vote
Texas Sen. Ted Cruz won the Iowa Republican caucuses Monday night, beating front-runner Donald Trump in a vital victory that could shake up the primary race.   Hillary Clinton is meanwhile clinging to a very narrow lead over Bernie Sanders on the Democratic side.

Cruz, in his race, fought hard in recent weeks to make up lost ground in the polls and was helped in part by a sophisticated ground operation. He also hammered Trump for his decision to skip last week's Republican debate in Des Moines. While Trump finished second in the state, Florida Sen. Marco Rubio finished a very close third with a stronger-than-expected showing in the Hawkeye State, helped in part by late-deciders. With nearly all precincts reporting, Cruz had 28 percent, Trump had 24 percent and Rubio had 23 percent.

January 31: The Hill: Sanders calls for tax hikes across the board – Will it cost him votes?
Bernie Sanders's explicit call for tax hikes on the middle class is a political gamble that flies in the face of conventional political wisdom.  While academics and strategists believe Sanders's calls to raise taxes across the board would be more harmful in a general election, some suggested it could cost him Democratic primary voters as well.
Sanders, an Independent Vermont senator and self-professed Democratic Socialist, has proposed a number of tax increases, most of which target high earners and corporations.  But he has also called for paid leave and universal healthcare that would be funded in part by tax increases on the middle class.  "We will raise taxes. Yes we will," Sanders said this week at a town hall in Iowa — just a week before the caucuses. Sanders is locked in a battle with Hillary Clinton to win the first contest in the Democratic primary.

January 28: News Max: Trump was the big loser in the last debate before the Iowa Caucuses:
Donald Trump was the "the big loser" in Thursday's Republican presidential debate, finishing — in absentia — behind Ted Cruz and Marco Rubio, political strategist Dick Morris said.  "Trump missed a huge opportunity.""Rubio was exposed on the immigration issue — and Trump essentially let the world proceed without him," Morris said. "The question I'm wondering is why did Trump do this? He's not stupid. Why did he let this debate happen without him?  The only answer I can come up with is that he was afraid to be asked a question about abortion because he's been hit hard with that — and he really doesn't have an answer…"

January 28: The Daily Caller: Fiorina: Hillary is more qualified for the Big House than the White House
Carly Fiorina blasted Hillary Clinton, saying that she is "more qualified for the big house" than the White House. Thursday during the Fox News undercard debate, Fiorina said that Clinton "should be prosecuted."  Defending her comments from the prior debate where she discussed the Clintons' marriage,  Fiorina said, "It wasn't a personal attack. I was pointing out the fact that Hillary Clinton will do anything to gain and hang onto power. Anything. Listen, if my husband did what Bill Clinton did, I would have left him long ago."  "She is probably more qualified for the big house, honestly. She has escaped prosecution more times than El Chapo, perhaps Sean Penn should interview her. The woman should be prosecuted."

January 28: News Max: Trump offers to join the debate if Fox News donates $5 million to his charity!
Fox News Channel says Donald Trump offered to reverse his plans to skip its GOP presidential debate Thursday if the network donated $5 million to his charity as a "quid pro quo." "Roger Ailes had three brief conversations with Donald Trump today [Thursday] about possibly appearing at the debate — there were not multiple calls placed by Ailes to Trump," Fox News said in a statement, The Washington Post reports. In a statement Fox News said: "We explained that was not possible and we could not engage in a quid pro quo, nor could any money change hands for any reason. In the last 48 hours, we've kept two issues at the forefront — we would never compromise our journalistic standards and we would always stand by our journalist, Megyn Kelly. We have accomplished those two goals and we are pleased with the outcome. We're very proud to have her on stage as a debate moderator alongside Bret Baier & Chris Wallace."

January 27: The Hill: Trump refuses to reconsider boycott of Iowa Debate
Republican presidential candidate Donald Trump on Wednesday night lashed out at Fox News anchor Megyn Kelly in his first appearance on the network since he announced he'd boycott the next GOP debate. He also refused to reconsider his decision to sit out the network's Thursday night debate – the last before the Iowa caucuses in five days – and said he'd move forward with his own competing event to raise money for wounded veterans.

O'Reilly sought to appeal to Trump's capacity to forgive, reminding the billionaire businessman that he's a Christian, even if he doesn't attend church all that often, and that the Bible says to "turn the other cheek." Trump shot back, saying he's a regular church-goer, and that the Bible also says "an eye for an eye." "You could look at it that way too," Trump said. O'Reilly accused Trump of being "petty," and said he was allowing things that are out of his control to have outsized influence over his decision-making process.

January 25: Fox News Insider: Hillary Mocking FBI Emaill Probe Judge Napolitano said Hillary Clinton is mocking the FBI email probe. In order to get access to these kinds of document you need special codes that change hourly. So this could not have been just an oversight. It was a willful act to disregard highly sensitive classified material and to handle it as unclassified documents. "Even the FBI agents investigating Clinton's use of a personal server don't have access to those codes!" Judge Napolitano said.

January 24: News Max: Trump may skip Fox News Debate over Megyn Kelly
GOP presidential front-runner Donald Trump might skip Thursday's debate on Fox News Channel and hold his own televised town hall at the same time if the network doesn't drop Megyn Kelly from its team of moderators, his campaign manager tells New York Magazine's Gabriel Sherman. . Trump has been calling on Fox News to drop Kelly, who is scheduled to join Chris Wallace and Bret Baier as debate moderators. The trio moderated the first GOP debate in which Kelly and Trump sparred over a question about his treatment of women. Trump took up the feud again last week with a serious of tweets saying Fox shouldn't allow Kelly on the debate stage because she is biased against him. Fox responded that Kelly would not be removed from the team of moderators.

January 24: The Hill: Pataki: Clinton's Legal Issues will force consideration of an outsider: 
Former GOP presidential candidate George Pataki is predicting that Democrat Hillary Clinton's "legal issues" will force an outside candidate to jump into the 2016 White House race as a white knight. "People talk about the problems in the Republican Party, but I think Democrats have a bigger problem," the former New York governor said.  "Hillary Clinton is catering, the scandals just keep coming. She has grave legal issues that could totally prevent her from continuing her campaign, and the alternative is a self-avowed socialist who has never run anything."  Pataki added that it would not surprise him to see an "outsider jump into the race" like Vice President Joe Biden, California Gov. Jerry Brown or Secretary of State John Kerry.

January 23: The Hill: Rubio's 3-2-1 Early State Strategy, Unique but with some Risks:
Marco Rubio's campaign appears to be coalescing around a unique and potentially risky strategy to catch fire in the GOP presidential primary, one that isn't predicated on success in either Iowa and New Hampshire. The strategy, disclosed earlier this week after conversations with multiple Rubio aides, has earned the nickname of the "3-2-1" strategy—third place in Iowa, second place in New Hampshire and first place in South Carolina. It's an unconventional path in an unconventional cycle, with potential risks and rewards.

"It can work because it's the most realistic path," GOP strategist and former RNC aide Doug Heye told The Hill, noting that Rubio is in much better shape at the polls than those outside of Trump and Cruz. That means he'll need to hold strong in Iowa, jump two spots in New Hampshire and leapfrog both Trump and Cruz in South Carolina to achieve the 3-2-1 strategy.  But the strategy could falter if Iowa and New Hampshire don't sufficiently winnow the field, particularly of candidates competing with Rubio for votes. The winnowing is extremely important for the South Carolina strategy to come to fruition, as the winners of Iowa and New Hampshire will come roaring into the state with some momentum.

January 23: The Hill: Glenn Beck endorses Cruz
Conservative commentator Glenn Beck on Saturday endorsed Republican presidential candidate Ted Cruz for the White House.  He compared Cruz to the 16th president, Abraham Lincoln, and gave him a compass that belonged to the first one, George Washington.  "I'd like you to hold onto that," he said, passing Cruz the compass, "to make sure your compass is square and you stay true" to your values.   Beck said he had never endorsed a presidential candidate in his 40 years of broadcasting, but he made an exception because of the urgency of the moment.

The conservative media magnate took several shots at Trump, comparing him to a progressive in the likeness of President Obama. "The other guy has said he hasn't done anything in his life that actually makes him feel like he should ask forgiveness from God," he said of Trump. "The hubris of that is astonishing, as if for the last eight years we have watched a narcissist in the Oval Office and it has meant nothing to us."

January 23: The Hill: Cruz's plan to beat Hillary?  Tell the truth!
Republican presidential hopeful Ted Cruz says he hates the conventional wisdom that the only way for a conservative to win a general election is to run as a "Democrat-lite." "How do we win?" Cruz asked voters at an Exeter, N.H., rally earlier this week, according to the Associated Press."Washington consultants always say 'the way you win is you run to the middle.' You run to the mushy middle, you blur the distinctions," he added. "Every time we do that, we lose."   The Texas senator said he prefers his approach, which he characterized as "telling the truth with a smile."  "That's how we win — with a clear contrast," he said.

January 23: The New York Times:  Mayor Bloomberg, Sensing Opportunity,
Considers Potential White House Bid:
Former NYC Mayor Bloomberg has instructed advisers to draw up plans for a potential independent campaign in this year's presidential race. His advisers and associates said he was galled by Donald Trump's dominance of the Republican field, and troubled by Hillary Clinton's stumbles and the rise of Senator Bernie Sanders of Vermont on the Democratic side.  Bloomberg, a billionaire has in the past contemplated running for the White House on a third-party ticket, but always concluded he could not win. A confluence of unlikely events in the 2016 election, however, has given new impetus to his presidential aspirations.

The 73 year old Bloomberg has already taken concrete steps toward a possible campaign, and has indicated to friends and allies that he would be willing to spend at least $1 billion of his fortune on it, according to people briefed on his deliberations who spoke on the condition of anonymity. He has set a deadline for making a final decision in early March, the latest point at which advisers believe he could enter the race and still qualify to appear as an independent candidate on the ballot in all 50 states.

January 22: Fox News: Clinton Private Server Exposed Human Intel Sources
At least one of the emails on Hillary Clinton's private server contained extremely sensitive information identified by an intelligence agency as "HCS-O," which is the code used for reporting on human intelligence sources in ongoing operations, according to two sources not authorized to speak on the record.    Both sources are familiar with the intelligence community inspector general's January 14 letter to Congress, advising the Oversight committees that intelligence beyond Top Secret -- known as Special Access Program (SAP) -- was identified in the Clinton emails, as well the supporting documents from the affected agencies that owned the information and have final say on classification.

According to a December 2013 policy document released by the Office of the Director of National Intelligence: This designation "is used to protect exceptionally fragile and unique IC (intelligence community) clandestine HUMINT operations and methods that are not intended for dissemination outside of the originating agency."  It is not publicly known whether the information contained in the Clinton emails also revealed who the human source was, their nationality or affiliation.  Dan Maguire, former Special Operations strategic planner for Africom, has said the disclosure of sensitive material impacts national security and exposes U.S. sources.  "There are people's lives at stake. Certainly in an intel SAP, if you're talking about sources and methods, there may be one person in the world that would have access to the type of information contained in that SAP," he said.

January 14: The Hill: Rand Paul: I will not be silenced:
Presidential candidate Rand Paul released a video Thursday night during the GOP undercard debate — which he boycotted — saying he refuses to be silenced and that the Republican Party needs to allow "dissent" and a "diversity of opinion."  "I may have been excluded from the debate tonight, but I won't be silenced," he said.

Without his voice, he added, the libertarian wing of the party "wonders if they need to look elsewhere, outside of the party for representation."  Paul did not make the cut for the main stage of Thursday's presidential debates and decided not to take part in the undercard debate. He argued that he deserved a spot on the main stage and that without him, the party loses is unique perspective.  Instead, he asked that supporters join him in an online national Facebook town hall at 9 p.m. Thursday — the same time the main-stage debate is set to begin.

January 9: Fox News: Clinton may have "coached" aid how to send fax to unsecured machine:
A recently released email from Hillary Clinton when she was secretary of state appears to show her coaching an aide on how to send a fax on a non-secure system, renewing criticism about her perhaps skirting security measures.  Clinton wrote the email as part of an exchange in June 2011 that started when aide Jack Sullivan wrote to say his staff was having problems getting her documents on a secure fax.  Clinton responded by saying she hadn't received the documents and that Sullivan and his staff should "turn (the messages) into nonpaper with no identifying heading and send [it] nonsecure."

Sen. Chuck Grassley (R-IA), chairman of the Senate Judiciary Committee, called the email  "disturbing" and said it appears to show her "instructing a subordinate to remove the headings from a classified document and send it to her in an unsecure manner." Grassley also said that the June 2011 email "raises a host of serious questions and underscores the importance of the various inquiries into the transmittal of classified information through her non-government email server." "How long has the State Department been aware of this email?" Grassley also asked. "Why is it just now being released? Was her instruction actually carried out? If so, has the FBI opened a criminal inquiry into these circumstances?"

January 8: McClatchy News DC: At Least 1,340 Clinton emails contained classified information:
At least 1,340 emails that Hillary Clinton sent or received contained classified material, according to the State Department's latest update from its ongoing review of more than 30,000 emails. None of Clinton's emails was marked as classified during her tenure, State Department officials say, but intelligence officials say some material was clearly classified at the time. Her aides also sent and received classified information.  Clinton has been under fire for months for exclusively using personal email routed through a private server while serving as the nation's top diplomat. The FBI launched an inquiry into the handling of sensitive information after classified information was found in some.

January 4: The Daily Caller: Unusual Clinton Payments to the DNC raise Conflict of Interest Questions:
Hillary Clinton and the Democratic National Committee have an unusual agreement in which an entity she controls has paid millions of dollars to the political panel, even as its leadership plays a supposedly impartial role in fostering competition between the former secretary of state and her rivals for the party's 2016 presidential nomination. 
Clinton created a "joint fundraising committee" Sept. 10 that funneled big-money donations in excess of the per-campaign limit to the DNC. In the next 20 days, she raised and gave $600,000 to the DNC. Fourth-quarter 2015 fundraising reports haven't been filed yet, but the total would be in the millions.

"There is clearly an appearance that Clinton's ability to raise money for the DNC (and states) through her joint fundraising committee could influence the party during the primaries," Larry Noble, general counsel of the Campaign Legal Center and the former top lawyer for the Federal Election Commission, told the Daily Caller News Foundation.
"Clinton's ability to raise money for the DNC and Party committees gives her influence with the DNC," Noble said.

December 29: The Wall Street Journal:  Clinton's War on Women
Donald Trump last week used some typically coarse language to describe Hillary Clinton, who responded by accusing Mr. Trump of sexism while announcing that she is unleashing Bill Clinton to campaign for her. This was too ripe an opening for Mr. Trump, who is now attacking Hillary for acquiescing in Bill's predations against women.  Trump is rude and crude, but in this case he is raising an issue that rightly bears on the 2016 election campaign and the prospect of a third Clinton term. Clinton wants to use her gender both as a political sword and shield to win the White House. The purpose is to make male politicians less willing to take her on, while reinforcing her main and not-so-subtle campaign theme that it's time to elect the first woman President.

So she and her allies will try to spin any criticism as sexist. Even politically correct Bernie Sanders got this treatment after he said during a debate this autumn that "all the shouting in the world" wouldn't keep guns out of the wrong hands. Mrs. Clinton later said that "I haven't been shouting, but sometimes when a woman speaks out, some people think it's shouting." Against Republicans, she'll play the "war on women" theme non-stop.

December 26: The Hill: Political Right Outside the Beltway Livid with Speaker Ryan's Spending Bill:
Outside the Beltway, the right is livid with new Speaker Paul Ryan's trillion-dollar spending deal with Democrats.  Conservative Ann Coulter says Ryan, just seven weeks on the job, is ripe for a primary challenge.  Ryan is refusing to let the attacks go unanswered and is using his megaphone as the nation's top elected Republican to try to drown out the chorus of conservative critics.   In a nod to the critics, Ryan has also emphasized that he "inherited" the flawed omnibus bill from his predecessor, ousted Speaker John Boehner (R-OH), and that the cake was "already baked" by the time he was handed the reins in late October.   But those arguments have done little to sway some of Ryan's critics, particularly on conservative talk radio.

Laura Ingraham denounced the spending package as an "omni-bust" and said Ryan should be "regarded as a declared enemy of the Base." Mark Levin said Ryan is "already a disaster" and criticized the funding package for increasing the number of visas for foreign workers. Rush Limbaugh, the king of conservative talk radio, declared that the GOP sold the country "down the river."

Luckily for Ryan, the uproar on the right has yet to spill over into the House Republican Conference. Conservative hard-liners in Congress were disgusted with the $1.1 trillion spending deal, which boosted funding for most federal agencies. Almost all Freedom Caucus members voted against it.  But those same conservatives were aware the top-line funding levels had been set by the budget deal Obama negotiated with Boehner before Ryan came on board. And most held their fire as Ryan pushed the spending and tax-cuts package past the finish line.

December 26: Fox News: Child vaccine mandate, minimum wage hikes and more taking effect in new year
New Sex Ed and child vaccine mandates, higher minimum wages and relaxed pot penalties are among the new state and local laws sweeping into effect next week when the new year arrives.  Even pets will be affected, at least in Illinois, where a new law will make it a Class A misdemeanor to leave dogs and cats exposed to harsh weather conditions, leading to a hefty fine and up to a year in jail if convicted.  The most immediate and noticeable changes on Jan. 1 will be in wages. Some 12 states alone are expected to increase their minimum wages – many to $10 per hour.

Meanwhile, travelers from a number of states may soon have to bring their passports to the airport because their driver's licenses will no longer serve as valid identification for U.S. airport security checkpoints. New "Real ID" laws requiring a uniform federal standard for driver's licenses by the Department of Homeland Security are going into effect Jan. 1, and some states' licenses are not up to those standards.

Gun laws also have been among the top issues in states this year.   In Texas citizens will be able to carry handguns in plain view in belt or shoulder holsters as of Jan. 1. The Lone Star state is now poised to be the 45th state to issue open carry permits.
December 22: The Hill: Cruz: Attack me, my  family is off limits! Washington Post backs down!
The Washington Post retracted an editorial cartoon Tuesday evening, after presidential candidate Sen. Ted Cruz (R-TX) lashed out over the depiction of his grade-school daughters as dancing monkeys for their appereance in a presidential campaign ad.  The animated cartoon featured a Santa Claus-costumed Cruz winding a music box as two leashed monkeys danced in elf costumes. The monkeys represent Cruz's daugthers Caroline, 7, and Catherine, 4.  "Classy@washingtonpost makes fun of my girls. Stick w/ attacking me--Caroline & Catherine are out of your league," Cruz tweeted Tuesday with a link to the cartoon.

On Tuesday evening, a note from editor Fred Hiatt appeared on the Washington Post's website reading: "It's generally been the policy of our editorial section to leave children out of it. I failed to look at this cartoon before it was published. I understand why Ann thought an exception to the policy was warranted in this case, but I do not agree."  The ad featured Cruz, his wife, Heidi, and their daughters in a fake infomercial for a book of politically charged Christmas stories. Tales include "How ObamaCare Stole Christmas" and "Auditing St. Nick."

December 18: Politico: Chaos in Democratic Campaign
A civil war erupted within the Democratic Party on Friday after news that Bernie Sanders' campaign took advantage of a technological glitch to access, search and save one of Hillary Clinton's most valuable campaign assets -- her voter files.  Tension rapidly escalated throughout the day as the Democratic National Committee cut off Sanders' access to his own voter files, effectively crippling his field operation, and the senator retaliated by suing the party and accusing its leaders of plotting to hand the presidential nomination to Clinton.

The saga, to Sanders' aides, was proof of the Clinton favoritism it has long suspected at the DNC.   "The leadership of the Democratic National Committee is now actively attempting to undermine our campaign. This is unacceptable," said Sanders' campaign manager Jeff Weaver, on the eve of the third Democratic debate. "Individual leaders of the DNC can support Hillary Clinton in any way they want, but they are not going to sabotage our campaign — one of the strongest grassroots campaigns in modern history."

December 12: Bloomberg.com: Cruz Soars to Forefront of polls in Iowa:
Republican presidential candidate Ted Cruz has surged ahead to become the latest front-runner in the campaign for the Iowa caucuses, dislodging Ben Carson and opening an impressive lead over a stalled Donald Trump, a Bloomberg Politics/Des Moines Register Iowa Poll shows.  The firebrand junior senator from Texas is backed by 31 percent of those likely to attend the Republican caucuses that start the presidential nomination season on Feb. 1. Trump is a distant second at 21 percent, up slightly from 19 percent in October, but below his peak of 23 percent in August.

December 6: Fox News: Clinton Says Term "radical Islam" is an injustice to the vast majority of Muslims:
Democratic presidential front-runner Hillary Clinton declined Sunday to say that a "radical" form of Islam is behind terror attacks connected to the Islamic State and other such attacks committed by fringe members of the Muslim religion.  "I don't want to do that because, No. 1, it doesn't do justice to the vast numbers of Muslims in our own country and around the world who are peaceful people," she told ABC's "This Week."  Clinton spoke four days after Muslim husband-wife couple shot and killed 14 people and wounded dozens of others at an office complex in San Bernardino, California.   Her comments are among the latest in an intense debate on whether to call Muslims  -- who commit terror strikes such as the recent ones in California and Paris --  "radical Islamists" or "Islamic extremists."

November 28: The New York Post: Lies, Millions of Lies? – Hillary Clinton

- To hear Hillary Clinton tell it, she was named for Sir Edmund Hillary, the conqueror of Mount Everest — even though she was already 6 years old when he made his famous ascent. 
- On a visit to war-torn Bosnia in 1996, she claimed she and her entourage landed under sniper fire and had to run "with our heads down to get into the vehicles to get to our base" — although videos of her arrival show her waltzing serenely across the tarmac, waving to the crowd. 
- She blamed the 2012 attack on American diplomatic and intelligence-gathering installations in Benghazi on "a disgusting video" when she knew almost from the first moment that it was a jihadist assault that took the lives of four Americans, including the ambassador to Libya.

Now comes the recycling this month of another Clinton tall tale: that shortly before her 1975 marriage to Bill Clinton, she decided in a fit of patriotic fervor and dedication to "public service" to stroll into a recruiter's office in Arkansas and join the Marine Corps.

What are the odds that, in the immediate aftermath of Vietnam, the anti-war Wellesley graduate, who'd written her college senior thesis on "community organizer" Saul Alinsky, had a snazzy Yale Law degree, and who was already envisioning a career in state and national politics alongside Bill (then a candidate for Arkansas attorney general), would consider signing up for the Marine Corps.

November 21: CBS News: Cruz vaults into Second Place in Iowa
Donald Trump has returned to the lead in Iowa while Ted Cruz has now surged past Ben Carson into second place. Carson has slipped from a first-place tie into third.  While Iowa's Republicans generally feel Trump is ready to be commander-in-chief, Cruz scores even better on this measure, boosted by support from very conservative and Tea Party Iowans who feel he is ready to assume the post. That's more than say so about Trump, Carson, Rubio and Jeb Bush.
November 5: The Washington Post: Sanders says there is more butt to kick before the GOP's
As he filed Thursday to run in New Hampshire's Democratic contest for president, Sen. Bernie Sanders (I-VT) fielded a colorful question from someone crammed into the secretary of state's office here: "You ready to kick some Republican butt, Bernie?""There's some earlier butt we have to deal with," the Vermont senator replied, in a less-than-graceful reference to the Democratic front-runner Hillary Rodham Clinton.
October 26: Independent Journal:
Comedian Tim Allen takes on Obama
This past week when the show targeted a larger figure
— President Barack Obama — "Last Man Standing"
called for reinforcements. Going after the President is
a new thing, since as recently as 2012 ABC censored
one of Allen's Obama jokes.  Reinforcement came in
the form of a mechanic played by comedian Jay Leno,
a man who has never had a problem lobbing one-liners
in the direction of the White House.  Leno's Joe the
Mechanic discusses overregulation with Allen's Mike Baxter, and together they come to the conclusion that Barack Obama is conspiring to prevent garages from having pits.  Both Leno and Allen have been friends for years and are known by many to be car enthusiasts. Allen even appears as a special guest on the first episode of "Jay Leno's Garage."
October 25: The Daily Signal: How the Freedom Caucus Feels about a Ryan Speakership
On Sunday, two members of the House Freedom Caucus explained the group's majority support for Rep. Paul Ryan (R-WI) to become the next House speaker.  "We do have a commitment from Paul to work on changing the rules, and we may get some of those changed before the vote this coming Wednesday and Thursday," Jordan said. "So we think that's a good step."  Jordan said that Ryan "has the kind of vision and is the kind of messenger that our party needs to accomplish the things we told the voters we're going to accomplish."  Jordan said that Ryan has a "big, bold agenda and vision" that he's looking forward to passing in the House and sending to the Senate. 
Mark Meadows (R-NC) called Ryan's request to change a House procedure known as "the motion to vacate the chair" a "non-starter."  "I don't see us changing that except to perhaps make it a more open process within our conference, so there are no surprises," Meadows said. "Chairman Ryan is working with us to see how we can address that particular issue."  "There's more that we agree on than divides us," Meadows added.
[The motion to vacate the chair was made part of the House rules by Thomas Jefferson.  Because it is a rule of the House and not the Party it would take Democrat votes to change.  Getting enough votes to do this is highly unlikely.]
October 25: The Daily Signal: Why Haven't More than Six States Defunded Planned Parenthood?
Since the release over the summer of the videos, in which Planned Parenthood executives are seen and heard discussing the sale of body parts from babies aborted in their clinics, six states have stripped the organization of state's taxpayers' money.  That small number means the pro-life movement "has not done its job" in pressing state governments to act, said Kristan Hawkins, president of Students for Life of America. Republicans hold the governor's office in 31 states and, in 23 of them, enjoy majorities in both houses of the state legislature, according to the National Conference of State Legislatures.
So why haven't more states moved to deny taxpayers' money?  Governors and other officials generally say their state has "defunded" Planned Parenthood by taking one or more of these steps:
ceased funding the organization through state family planning programs.
diverted federal Title X family planning grants to other health clinics.
terminateda Medicaid contract with the organization or barred it from participating in the Medicaid program.
Casey Mattox, senior counsel at Alliance Defending Freedom, cautioned that state leaders who wish to act are "up against the Obama administration," even though he believes the administration's argument "fails on the law."   The Obama administration argues that termination of a Medicaid contract with Planned Parenthood violates the federal program's "free choice of provider" provision and has threatened legal action against states that terminate Medicaid contracts.
October 24: The Daily Caller: Hillary could face a second Congressional hearing
Hillary Clinton could be subpoenaed for a second time by the House Select Committee on Benghazi, according to committee member Ohio Rep. Jim Jordan. "If you made an agreement about her testifying once, and new material arrives that undermines the agreement, don't you have the right to subpoena her again?" radio talk show host Hugh Hewitt asked Jordan during an interview.  Jordan and the 11 other Benghazi Committee members questioned Clinton for 11 hours on Thursday about the Sept. 11, 2012 terrorist attacks in Benghazi. While Democrats mostly gave Clinton a free pass during the marathon session, Republicans quizzed her about her response following the attacks, which left Ambassador Chris Stevens and three others dead. She was also asked about how she and the State Department handled requests for additional security in Libya before the terrorist onslaught.

During Friday's interview, Jordan noted that the Select Committee plans to conduct another 20 interviews with officials across various government agencies, including the Defense Department and intelligence community. The committee  also only recently received about 5,000 pages of Stevens' emails. Jordan indicated that it's possible that any new information gleaned from those forthcoming interviews and Stevens' emails could warrant the second subpoena for Clinton. He said that the terms of Thursday's hearing were hammered out between the committee and Clinton's attorneys.

October 24: Fox News: Trump Trailing in Iowa – Now battling to regain the lead
New polls show Republican presidential candidate Donald Trump is trailing in first-voting state Iowa but his strategy so far appears unchanged -- touting his outsider status and attacking rivals like a scrappy up-and-comer. Trump on Friday attacked primary rival Ben Carson, whom he described as "super low energy" but who leads him in Iowa, according to the polls.  "The press was going crazy," Trump said at an event in Miami. "We have a 'breaking story,' Donald Trump has fallen to second place to Ben Carson. We informed Ben, but he was sleeping."

The New York real estate mogul and first-time candidate still leads in national polls. However, a Des Moines Register/Bloomberg Politics poll released Friday shows Trump now trailing Carson by 9 percentage points. And a Quinnipiac University poll released Thursday shows him trailing Carson, a retired pediatric neurosurgeon and social conservative, by 8 percentage points among Iowa Republican voters.

October 22: The Hill: Cruz tries to name street in front of Chinese embassy after Chinese Dissident!
Senate Democrats on Thursday for a second time blocked a proposal from Sen. Ted Cruz (R-TX) to rename the street in front of the Chinese Embassy in Washington for a Chinese dissident.   Cruz tried to get unanimous consent to pass a resolution that would name the street in front of the embassy "Liu Xiaobo Plaza" after Liu Xiaobo, a human rights activist currently imprisoned in China. It would also change the embassy's address to "1 Liu Xiaobo Plaza."

"Standing together with a wrongfully imprisoned Nobel Peace laureate, we should say to the wrongfully imprisoned dissidents around the world, America hears you and we stand with you," he said from the Senate floor.   But the Texas Republican was blocked by Sen. Dianne Feinstein (D-CA), who also objected to a similar request from Cruz late last month.

October 22: Politico: "Confidential" Planned Parenthood Video Leaked
Complete raw footage from the Planned Parenthood videos surfaced Thursday on the conservative website "Got News?", whose editor said he had gotten it from a House staffer despite lawmakers' pledge to keep it confidential. Editor Charles Johnson released the full footage Thursday even after the National Abortion Federation got a temporary restraining order a day earlier prohibiting any dissemination. Johnson vowed to "contest any unconstitutional prior restraint of speech."   Politico was informed in an email that the raw tapes were received from a high-ranking congressional staffer "who felt morally compelled to have them released."
October 21: The Daily Signal: Where Ryan Stands on Critical Policy Issues  
Aborton: Ryan has supported pro-life legislation and efforts to defund Planned Parenthood.
The Budget:  Ryan spearheaded several budget proposals. In 2014 he proposed to  balance the budget within ten years by cutting spending, reforming poverty programs, and reforming the health care entitlements.
Gun Rights: Ryan has been a strong proponent of gun rights, voting numerous times against background checks and in favor of pro-gun legislation.
Cuban Relations: Before learning of the human rights violations by Cuban authorities Ryan supported lifting restrictions on trade with that island nation.  Subsequently he opposed normalization of relations.
Immigration: Ryan has supported immigration reform bills that included amnesty for millions of illegal immigrants in the past.
Marriage: Ryan voted in 2006 in favor of the Marriage Protection Act, a constitutional amendment that defined marriage as being between a man and a woman. In 2007, though, he supported legislation that would ban workplace discrimination against gays and lesbians.
National Security: Ryan voted to go to war in both Afghanistan and Iraq, later opposing an early military withdrawal.
October 19: The Daily Caller: Senator Webb Throws Grenade into the Democrat Presidential Race:
Democratic presidential candidate Jim Webb is now considering running for the White House as an independent, his campaign said Monday.   The former Virginia senator, whose centrist views contrast with the liberal stances of primary opponents Hillary Clinton and Bernie Sanders , plans to discuss his future plans at a Tuesday news conference in Washington.  According to a press release, Webb will "discuss his candidacy, the campaign and his views of the political parties in the current election cycle."
October 18: The Daily Signal:  Freedom Caucus Seeks Changes to the Power of the Speakership
For the conservatives who helped push out Speaker John Boehner, finding a replacement isn't about picking someone who is as conservative as them.   The Freedom Caucus, a group of about 40 conservative lawmakers whose votes are key to leadership races, wants the next speaker to commit to numerous process and rules changes to the way the House currently operates.  These lawmakers believe the changes would allow them to advance conservative policies by empowering rank-and-file members to have more influence in the legislative process.

October 14: The Washington Post: The Republicans won't let Hillary off so easy:
If Hillary Rodham Clinton wins the Democratic presidential nomination, her Republican opponents will not let her off so easy.  On Tuesday night in Las Vegas, Clinton faced a set of Democratic rivals who seemed to lack the skill — or the will — to challenge her about her record on foreign policy, her changes­ in position, her handling of government data on a private e-mail server, or her claim to be an "outsider" after two decades in national politics.  When the former secretary of state praised Libya — now a cauldron of chaos and Islamist militias — as "smart power at its best," nobody scoffed. When she was challenged about her e-mail practices, a controversy that has concerned many voters, top rival Bernie Sanders actually stepped in to dismiss the question. Americans are "tired of hearing about" it, he said.

For a night, the Democratic primary looked like what it was supposed to be a year ago: a coronation. On stage stood one dominant candidate, surrounded by others with other goals that didn't include actually taking her down.  For Clinton, this night was a win. But it wasn't great preparation. If Clinton is the Democratic nominee, she will face a Republican candidate who sees the very things she talked about Tuesday — Libya, the e-mails and her closeness with President Obama — as weapons to use against her.

October 14: The Washington Examiner: Watchdog Probes possible Clinton Foundation Donations to Campaign
A watchdog group is asking the IRS to investigate whether the Clinton Foundation broke federal law by making payments to Hillary Clinton's failed 2008 presidential campaign. Matthew Whitaker, executive director of the Foundation for Accountability and Civic Trust, pressed the IRS on whether the nearly $350,000 the Clinton Foundation paid to rent Clinton's email list after she failed to secure the Democratic nomination was above "fair market value," which is the benchmark used to determine whether such payments constitute veiled donations rather than typical transactions.  The Clinton Foundation made a payment of $274,297 to the campaign in Feb. 2009 and another payment of $75,000 in March of that year, Federal Election Commission filings show.

October 11: WND News: Gennifer is Back – Hillary's Nightmare?
For the first time since Hillary Clinton announced her candidacy for president, Bill Clinton's notorious mistress for 12 years, Gennifer Flowers, is now speaking out, calling Hillary's bid to run in part on women's issues "a joke."  In the wide-ranging interview on a popular Sunday night radio program Flowers further accused Hillary of being "an enabler that has encouraged him (Bill) to go out and do whatever he does with women."  "She always got things on the back of her husband. … I think it's a joke that she would run on women's issues."

October 11: Breitbart.com: More Republicans Consider a Bid for Speakership
Several Republicans who aren't closely associated with John Boehner are considering a bid to become Speaker of the House, as Paul Ryan's bid is crumbling.  The two who have, at this time, the most likely ability to unite the GOP conference and achieve well more than the necessary 218 votes on the House floor are House Energy and Commerce Committee vice Chair Rep. Marsha Blackburn (R-TN) and former House Chief Deputy Whip  Rep. Peter Roskam (R-IL).  Other possible candidates include Matt Salmon (R-AZ), Ryan Zinke (R-MT) and Lynn Westmoreland (R-GA).  Even one former Congressman and Speaker, Newt Gingrich, are considering a run.

October 11: The New York Post: Fresh evidence keeps turning up about Hillary's email scandal:
Hillary Clinton's "there's no evidence of that" line of defense over her e-mail mess continues to crumble in the face of . . . new evidence.  For all her talk of how using a private e-mail account for her work running the State Department was just fine, it's now plain she left top-secret information vulnerable to hackers.  More evidence is likely to come out. The FBI's probe has now expanded to include another private server she used, a backup service with Connecticut-based Datto Inc.

And now The Associated Press has confirmed that her main server was the target of repeated cyber-attacks from China, South Korea and Germany. And those came after she left office, when her team belatedly agreed to use some threat-monitoring software. In other news, a FOIA request from the watchdog group Citizens United has uncovered the fact that Hill's chief of staff, Cheryl Mills, was forwarding classified info to the Clinton Foundation — so staff there could support Bill Clinton's work in Africa.
October 10: Yahoo News: Hillary's Poll Numbers Down 10 Points in a Week
Just days before she will take the stage in the first Democratic debate, Hillary Clinton's lead over rival Bernie Sanders has narrowed, according to a Reuters/Ipsos poll.  Clinton's support among Democratic voters fell 10 points within less than a week.  From October 4 to October 9, Clinton saw her support tumble from 51 percent of Democratic support to just 41 percent.

Her nearest competitors, Vermont Senator Sanders and Vice President of the U.S. Joe Biden, who has yet to decide whether he will run, both made gains. Support for Sanders jumped from just over 24 percent to 28 percent, and Biden rose from 16 percent to a even 20 percent in the same time period.

October 5: CNN: Biden Sounding More Like a Candidate to his Friends:
Vice President Joe Biden, who has been openly toying with the idea of seeking the Democratic presidential nomination, is now privately leaving the impression with some political allies that he is leaning toward running, according to two senior Democrats who have spoken with him in recent days.  The vice president -- directly, no longer only through his advisers -- has sounded more like someone inclined to jump into the race to challenge Hillary Clinton and the rest of the Democratic field. He has ramped up his interest in the mechanics of the race, and has become more comfortable with a candidacy, several people who have spoken to him say.
October 3: The Hill: Biden Entering the Race would Help Sanders, Reports Say
A Joe Biden presidential campaign would help Bernie Sanders by hurting Hillary Clinton, according to Democratic Party insiders and other experts.  Biden, whose ideology is more similar to Clinton's than the left-wing senator from Vermont, would siphon off more of her supporters, according to most polls. He could also help Sanders by turning the Democratic fight into a three-horse race.

"He should be leading the 'Run, Joe, Run' campaign," said Joe Trippi, the Democratic strategist who ran former Vermont Gov. Howard Dean's 2004 presidential campaign. There is deep skepticism in Democratic circles that Sanders can expand his national support much beyond his current high-water mark of around 35 percent. With Biden in the race, however, that's less of a problem.

September 29: The Daily Signal: Forensic Analysis: Planned Parenthood Videos are Authentic
A forensic analysis of undercover videos about Planned Parenthood's abortion practices are "authentic and show no evidence of manipulation or editing," according to a report released Tuesday by Alliance Defending Freedom.  The analysis was completed by Coalfire, a digital security and forensics firm that has worked on civil and criminal investigations. The firm had access to all audio and video investigative footage recorded by the Center for Medical Progress.

"The Coalfire forensic analysis removes any doubt that the full length undercover videos released by Center for Medical Progress are authentic and have not been manipulated," said Casey Mattox, senior counsel at Alliance Defending Freedom. "Analysts scrutinized every second of video recorded during the investigation and released by CMP to date and found only bathroom breaks and other non-pertinent footage had been removed."

"The investigative videos, whose authenticity was confirmed by the report, show that Planned Parenthood is an abortion-machine whose top executives and doctors haggle and joke about the harvesting and selling of baby body parts. Women deserve far better," Casey added.

September 28: The Hill: CNN: Biden qualifies for Democrat Presidential Debate – All he has to do is decide to run!
Vice President Biden has already qualified for next month's CNN debate, the network confirmed Monday.  Now all he has to do is jump in the race.  CNN confirmed that any candidate who has averaged 1 percent in at least three credible polls would be able to participate in the debate. Since most recent polls have tested Biden and found he would have double-digit support, he meets the threshold easily.

With that main hurdle past, Biden wouldn't even have to file official paperwork by the debate — the criteria says that a simple public declaration will suffice.  The loose criteria also allows for every declared Democratic candidate — former Secretary of State Hillary Clinton, former Maryland Gov. Martin O'Malley, Sen. Bernie Sanders (I-VT), former Sen. Jim Webb (D-VA) and former Rhode Island Gov. Lincoln Chafee — to take the stage on Oct. 13 in Las Vegas.

September 27: The Hill: Polls:  Trump & Carson Neck in Neck at top of the GOP field
Donald Trump and Ben Carson are running neck and neck atop the 2016 Republican presidential field, according to a new national poll.  The NBC News/Wall Street Journal poll released Sunday morning found 21 percent support from Republican primary voters for Trump and 20 percent for Carson.  Carson's support has doubled since July, when he attracted !0 percent in a similar poll.  Carson said Sunday that the poll "reflects what we've been seeing out on the road, just tremendous crowds but enormous enthusiasm."
"And I think it says a lot for the American people, because it means that they're not necessarily listening to the pundits, that they're starting to think for themselves," he added on ABC's "This Week." "And that, I think, is what it's going to take to get us off of this inexorable track toward destruction that we're on."

September 27: The Wall Street Journal:  GOP voter discontent over leadership is not easing up:
The tug-of-war within the Republican Party that helped end Speaker Beohhner's career is likely to intensify this year both on Capitol Hill and in the tumultuous GOP presidential race.  The Speaker's announcement Friday that he would leave Congress on Oct. 30 isn't expected to mollify either the House's most conservative faction -- which is determined to take an unyielding stance in the face of fiscal deadlines -- or dissatisfied GOP primary voters rooting for outsiders who have pledged to uproot Washington politics.
On Capitol Hill, tension is mounting between Republicans hoping to notch incremental progress in dealing with a Democratic president and hard-liners who say they would be willing to shutter the government. That struggle will play out both in House GOP leadership elections over the next few weeks and as lawmakers tackle several deadline-driven issues this winter, including a longer-term budget deal and the need to raise the federal borrowing limit, known as the debt ceiling.

September 26: Associated Press: Conservatives to GOP: Defy us at your own peril!
The Republican Party's conservative wing, pumped up by House Speaker John Boehner's stepping down, is warning the 2016 presidential candidates that defying its wishes will come at their peril.  Religious activists forcefully conveyed this message Saturday: embrace our uncompromising stance against abortion rights and gay marriage, among other priorities, even if doing so risks a federal government shutdown.

September 26: National Review: Mitch McConnell "Next Guy in the Cross Hairs"
Senate Majority Leader Mitch McConnell (R-KY) will be the next target of conservatives frustrated with party leadership, according to one of the conservative representatives who pressured House Speaker Boehner in the weeks leading up to his resignation. "Next guy in the crosshairs will probably be McConnell," Representative Matt Salmon (R-AZ) said in a text message to Senator Mike Lee (R-UT).  
Lee's response is that he doubts that will happen. Still, Salmon's speculation reflects a theory of Boehner's struggles that is common among the outgoing speaker's friends and foes alike — that his unpopularity among the grassroots stems more from McConnell's failure to take advantage of the Senate majority than anything House Republicans have done. If that's true, then Boehner's departure can hardly be expected to ease the tensions between GOP leadership and the conservative base or preempt more leadership fights in the future.

September 25: The Hill: Odds of shutdown shrink with Boehner's exit
House Republicans are confident they will avoid a government shutdown after the sudden announcement on Friday that Speaker John Boehner (R-OH) is stepping down.  "I think with the Speaker's decision, the odds of a shutdown are much less likely," Rep. Jolly (R-FL) said. "Because the 'shutdown caucus' as I call them has a small victory, and they can move forward knowing that perhaps there's a bigger battle they can fight in the coming weeks."

House Republicans are coalescing around a short-term government spending bill, just in time for the Oct. 1 deadline to fund the government. One day earlier, Congress appeared headed toward a shutdown, with leadership unable to calm the raucous internal debate sparked by the recent Planned Parenthood video controversy.  Several dozen conservative members told Boehner they would refuse to back any spending bill that included funds for Planned Parenthood — an outcome that could have forced a shutdown. But one of those members, Rep. Fleming (R-LA), said Friday that members were no longer expecting a showdown.
September 25: The Hill: McCarthy (R-CA) seen as possible successor to Boehner
House Majority Leader Kevin McCarthy (R-CA) is seen as the favorite to succeed Rep. John Boehner (R-OH) as Speaker.  Several lawmakers are talking about McCarthy, the second-ranking House Republican, as the odds-on favorite in the wake of Boehner's surprise decision to leave Congress at the end of October.  "It's important that our conference comes together behind, I assume, Kevin McCarthy," said Rep. Greg Walden (R-OR), the head of the National Republican Congressional Committee. He called for his colleagues to move beyond intraparty strife and rally around McCarthy.

Rep. Paul Ryan (R-WI), chairman of the House Ways and Means Committee, said he wasn't interested in Boehner's job and that he assumed it was McCarthy's for the taking.  Conservatives in the House Freedom Caucus have held informal talks about a leadership team that could include McCarthy as Speaker, with other conservatives below him.
 
September 25: The Hill: Cruz: Republicans have failed to deliver under Boehner's leadership
Sen. Ted Cruz (R-TX) basked in Speaker John Boehner's (R-OH) resignation announcement, saying that Republicans had failed to deliver on any of their electoral promises under his leadership.  Speaking Friday at the Values Voter Summit in Washington, the 2016 presidential hopeful learned of Boehner's resignation announcement from reporters while standing at a lectern during a press conference on religious liberty. 

"There's a frustration across this country," Cruz said. "It's not complicated to understand why. Every election Republicans promise to fight for American principles, and then the day after the election we come to Washington and we don't fight for any of the principles we said we'd fight for."

September 25: The New York Times: Boehner to Resign from Congress
Speaker John Boehner, an Ohio barkeeper's son who rode a conservative wave to one of the highest positions in government, said Friday he would relinquish his gavel and resign from Congress, undone by the very Republicans who swept him into power.  Mr. Boehner, 65, made the announcement in an emotional meeting with his fellow Republicans on Friday morning as lawmakers struggled to avert a government shutdown next week, a possibility made less likely by his decision.

Mr. Boehner told almost no one of his decision before making it Friday morning. "So before I went to sleep last night, I told my wife, I said, 'You know, I might just make an announcement tomorrow,' " Mr. Boehner said at a news conference in the Capitol. "This morning I woke up, said my prayers, as I always do, and thought, 'This is the day I am going to do this.' "
September 25: Fox News: Sign off on change in job status for top aide Abedin
Documents released by a conservative watchdog group Thursday show Hillary Clinton personally signed official forms in 2012 that allowed her top aide to attain status as a special government employee (SGE), despite the Democratic presidential frontrunner's denial of any involvement in the situation during a recent interview.
The arrangement enabled Huma Abedin to work both for Clinton at the State Department and the corporate consulting firm Teneo, as well as carry out duties on behalf of the Clinton Foundation. Abedin's status has led some lawmakers to raise questions about the possibility of conflicts of interest during Clinton's time as secretary of state.

September 23: Politico: Trump: Will Not Appear on Fox News Channel in Foreseeable Future
Citing unfair treatment, Donald Trump said Wednesday that he is not going to appear on any Fox News shows "for the foreseeable future."  ".@FoxNews  has been treating me very unfairly & I have therefore decided that I won't be doing any more Fox shows for the foreseeable future," Trump tweeted.

September 18: USA Today: Six Corporate Giants are bailing out of the Clinton Global Initiative
More bad news for the Clintons. With Hillary's presidential campaign slipping in the polls against Sen. Bernie Sanders and facing a potential fresh challenge from Vice President Joe Biden, six giants of the corporate world are bailing out on the Clinton Global Initiative.  On September 26th CGI, a branch of the Clinton Foundation, convenes its 11th annual meeting with a star-studded cast. Bill and Chelsea Clinton will be joined by other notables including far left wing advocates like  George Soros.  Missing, however, will be more than a million dollars from a who's who of corporate behemoths that sponsored the meeting last year. Six high-profile firms ended their cash donations, to be replaced with only one similar high-profile corporate donor so far. 

Backing out of the event this year are the electronics company Samsung, oil giant ExxonMobil, global financial firms Deutsche Bank and HSBC, and accounting firm PwC (PricewaterhouseCoopers). Hewlett-Packard, which just announced major layoffs, will be an in-kind donor instead of a cash contributor, and the agri-chem firm Monsanto has cut back its donation. Dow's name is missing from the donor list as well, but the chemical company's exit is not confirmed.

September 18: The Washington Post: Can Fiorina Capitalize on Post-Debate Buzz?
Her strong performance at the second Republican presidential debate has put a new spotlight on former Hewlett-Packard chief executive Carly Fiorina's long-shot bid for the 2016 nomination. Whether she can turn buzz into momentum, however, hinges on overcoming a set of substantive and logistical challenges.  Until now, Fiorina has been running near the back of the pack. One question ahead is whether she can quickly build a top-tier organization to go with her new status as a serious contender. Another is how well her corporate record will stand up once voters start examining it more closely.

September 18: The Hill: Democrats Might Not Save Boehner:
Speaker John Boehner (R-OH) shouldn't count on Democratic support if conservatives in the GOP conference attempt to oust him, Rep. Chris Van Hollen (D-MD) said on Friday.  "I cannot say that he can count on the support of Democrats," the top Democrat on the House Budget Committee, said at a Christian Science Monitor breakfast.  "My view is that the Republican caucus will have to make its own decisions," he added.

The Maryland Democrat, who's running for the Senate next year, went on to say he would have to think "long and hard" about that question again if there is a motion to vacate Boehner from the speakership. "My view is that the Republican caucus should find its leader," he said. Van Hollen is in a unique position because he's being attacked by the left from his Democratic competitor Rep. Donna Edwards (D-MD) in that Senate race. If he were to express support for Boehner, it could open up new attacks from Edwards and the left. His comments are also noteworthy because most Democratic leaders have refused so far to weigh in on the issue of Boehner's future.

September 18: The Hill: McCarthy Rips GOP-led Senate
House Majority Leader Kevin McCarthy (R-CA) unloaded Friday on the Republican Senate, arguing the chamber is standing in the way of progress on conservative priorities such as tax reform and repealing ObamaCare.  "What's stopping us is the Senate," McCarthy told host Martha MacCallum on Fox News's "America's Newsroom."  "In the House the latest metrics show this is the second-most productive Congress with any Republican minority," he said.
McCarthy, frustrated with the lack of progress in the Senate,  specifically took aim at the Senate rules, where 60 votes has become the standard for passing most legislation.  "We all watched 'Mr. Smith Goes to Washington' and we understood what a filibuster is — you stood on the floor and talked," he said.  "Today, that's not the case," he said. "Inside the Senate you have to have 60 votes instead of a majority [to get anything done]."  "You know what? That's not in the Constitution. That's a rule."

Calls for ending the filibuster flared again this week after Senate Democrats blocked action on a resolution disapproving the Iran nuclear deal. Fifty-seven House Republicans sent a letter to McConnell this week urging him to change the Senate's rules.